Often this topic is discussed and deliberated upon by journalists as well as others on the grounds of the personal risks to which journalists are exposed. There are many cases today where journalists have been abducted, harmed and even jailed or killed. Free media movements across the world, as well as many politicians, keeps harping on the need to respect the rights of media personnel.


Declining trust

There is much flak emanating from the political arena these days at the worldwide media, most specifically electronic media. In the United States of America, there is much scrutiny and increasingly, the public is becoming sceptical about the so called free press.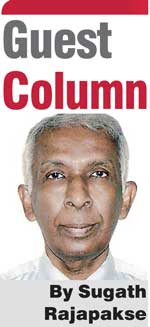 In a recent survey by Gallup for Knight Foundation, even though the American public places their trust in newspapers, only 54% say that they have a significant or fair amount of confidence in the news. As for cable news, the level is only 46%. The share of American public who see media as politically biased has risen from 25% in 1989 to 45% in 2017 (https://www.statista.com). Also a Gallup survey of the most and least trusted professions in America rank nurses high at 82% and newspaper reporters and TV reporters at 25% and 23% respectively. The mistrust is so pervasive that the often shown poll results on leading politicians in USA by media are not trusted by the public, judging from the public comments.

Even in Sri Lanka, both print and electronic media does not have the same trust with the public when compared to what it was 30 to 40 years ago. Although the media and entertainment industries have grown in leaps and bounds, it does not mean that the public have the same respect for them as before.

In the 1950 period, the only English newspaper Daily News was the source and text for school children to learn the English language. Parents gave their kids the Daily News newspaper and a copy of the G. P. Malalasekera dictionary, urging kids to read the newspaper. Back then, parents didn't have to worry about articles that might be considered inappropriate for children in the daily paper and children were well protected.

But the situation today is so very different and the front pages are often full of 'bad' news, fights between politicians, cases of stealing public money through various mechanisms, killing, violence and stealing and in some cases, prying into the private lives of others.

This is the reality with newspapers in English, Sinhala and Tamil language newspapers. These stories and articles do not create positive 'Nama-Rupa' illustrations in the consciousness of readers. For people who do not have equanimity, these negative illustrations pollute their minds. If any such action by a person or persons, where truths or lies are bared to the general public, resulting in the arousal of hatred or desires which have remained dormant so far in those people, then the ones who were the influencers will only reap negative harvest here and hereafter.


Spreading of negativity

The worst is with electronic media. Every day between 6am-7am, TV channels have at least 30 minutes of time allocated to bring the news as it appeared in all newspapers to the viewing public. Here, the TV anchor will not only tell all that is there in almost all newspapers but also give his or her comments regarding the same. Most of the articles aired by TV channels are negative news items. People who are preparing to go to work or to schools are given a dose of negative medicine early in the morning and this only results in polluting their mind-set.

The illustration of consciousness with such negative 'Nama-Rupa' in their mindset is the forerunner to negative thoughts. These negative thoughts may haunt the person for that day and even for several days after and where they often may also recall previous connected situations, thereby developing hatred and anger towards others.


The unseen danger

Even though some of these presenters may do this exposing of daily papers with a smiling face, they may not know that the harvest they will reap for their actions will not be to their liking, if not in this life, certainly in the next lives.

As for people in the entertainment industry, the danger is also quite significant. Today, especially in TV there are many teledramas that either showcase scenes which can stimulate desire, cravings or anger and hatred. Most dramas are mainly about family life and the scenes are often about family quarrels or quarrels between neighbours and other scenes that may cause chagrin to viewers. Then there are other scenes that may cause desire and craving in viewers' minds. Actors and actresses who depict these scenes may not be aware of the negative impact to their afterlives.

Also, people who use social media to spread false information or half-truths about countries or people in order to create strife also are exposed to this danger and even if they escape in this life, there is no escape in the afterlife and they will certainly find long term residency in hell, animal realms, Petha world etc.

The politicians too must understand this aspect. Daily on TV and in print media we can read and see things in which different politicians would often speak disparagingly about others. In particular, news conferences with reporters are a source of creating chagrin in the minds of others. At times some politicians may say things in a very vituperative manner. This in turn will result in a similar response from the other side. Such media exposure also stains the minds of viewers and onlookers. Sadly though, these political figures seem oblivious to the dangers they face in this life and the life after.


What the Enlightened One said

During the time when the Enlightened One was staying at Jethavana Vihar in Sravasthi, one day a dance leader named Tharaputa Nata Gamini (Nata - dance, Gamini - leader) came to the vihar. He was the leader of a dance group of 500 ladies and they went to different places in India performing to large crowds who would gather to see their dance.

After worshipping the Enlightened One, he sat to the right of Lord Buddha and said: "Our teachers told us that when we go like this and entertain people with half-truths, that after death we will be born in heavenly abodes." He wanted to know whether it is true. Lord Buddha told him not to ask that question. But he kept asking repeatedly and on the third occasion Buddha said that since he has asked the question three times, Buddha has to answer same. Buddha then told the leader that people are immersed in craving, hatred and delusion and if one performs acts stimulating the resurgence of craving, hatred or delusion, then the same dormant craving, hatred or delusion are bound to surface in their minds. Since this was due to the external influence, the one who influenced such arising of hatred, greed or delusion in others minds will be born in hell after this life. Then the dance leader began to cry.

The Enlightened One told the leader: "That is why I told you not to ask that question" upon which, wiping tears Gamini said: "No Enlightened One, I am not crying because you said so but because our teachers lied to us." Later he asked for ordination in the Sasana and striving with diligence became an Arahath (Thera Gatha – Kuddaka Nikaya).


No permanent sinners

But today the Enlightened One is not there but the Dhamma he expounded is and it is for us to follow on the path as shown by him and not deviate towards wrong paths as that can only cause untold harm here and hereafter. The life expectancy of a male in our nation is 69 years and of a female 74 years. Living for such short period, one wonders as to why these people are oblivious to the greater dangers in life hereafter. People also must realise that when they point the index finger at others, three other fingers are directed at them.

"He who sees others' faults and is ever irritable, the corruptions of such a one grow. He is far from the destruction of corruptions". (Dhammapada 18.253)

"Striving should be done by yourselves; The Buddha are only teachers. Those who are meditative who come to right practice will be released from the bondage of Mara" (Dhammapada 20.276)

However, The Enlightened One never said that there are permanent sinners. The path is there for all to take to cleanse oneself of all defilements. Only those who are diligent enough to understand this will take that path. Thus, even if one has erred so far, there is a clear path which one can take to eradicate all the defilements accrued and attain ultimate bliss even in this life or at least become a stream-enterer.

"Whoever, by a good deed covers the evil done, such a one illuminates this world like the moon freed from the clouds". (Dhammapada 13.173)
(The writer can be reached via [email protected] and [email protected])