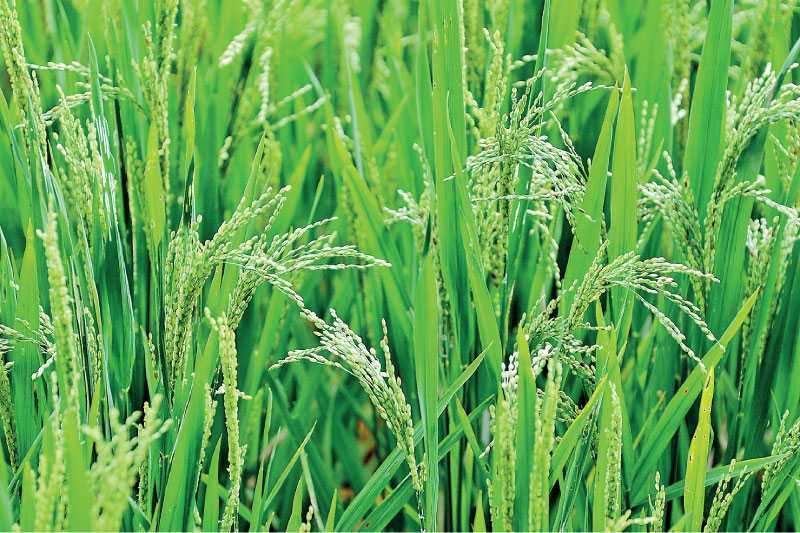 Rather than using a ban, steps could have been made to incentivise farmers to adopt safety practices including excess usage. The problem and solutions are not in sync at all – Pic by Shehan Gunasekara
---

The recent agriculture policies proposed by the Government of Sri Lanka can best be described as a bogie in a large and speeding 'ban wagon'. In a bid to control and command the agri-food sector, particularly as post-COVID response, a surfeit of bans have ruled the policy choices in Sri Lanka.

Notwithstanding the high import share of food in Sri Lankan plates, the ban wagon started with the imposition of a range of restrictions on food imports (using taxes, licenses, temporary suspensions, and restrictions under open terms) after the first wave of COVID-19. The items under import restrictions covered a long list comprising inter alia turmeric, green gram, black gram and cowpea. Talking of sneaky ways in political economy, when a consignment of imported unrefined coconut oil was detected with aflatoxins a few weeks ago, the Government imposed an import ban on palm oil. As the ban wagon rolled free, it recently reached the station 'the political economy central' viz. the ban on chemical fertilisers and pesticides.

Economists have long strived to impart knowledge on the costs of mercantilism, the political class has worn and continued to wear the COVID masks all the way on their eyes and over their ears. What really separates the economists from the rest is the realisation of the flaw in imports are bad and exports are good logic. The effects of import bans are simple to understand for everyone. Import bans reduce the overall availability and lead to higher domestic prices with demand for substitutes going up and of complements coming down.

Over time resources move away from efficient sectors to the comparatively inefficient domestic counterpart of the protected sector and away from the exportable sector. There is no free lunch and efficiency losses impose costs and welfare losses. These are all connected. The import restrictions imposed to have more foreign exchange ends up having less of it as exports fall out of favour. As Romer (1992) showed the real cost of protection is not in reduction in imports but in the disappearance of some commodities altogether. Unless the health and environmental benefits are large enough to outdo the real costs of trade restrictions, policies are not well assessed.

Coming specifically to the unexampled case of complete ban on imports of chemical fertilisers, there is a nucleus of factors that deserve attention in relation to the domestic fertiliser market and its horizontally and vertically related markets. Sri Lanka does not produce nitrogen and potassium fertilisers. It produces only a small fraction of phosphorous fertilisers. With the import ban, with full compliance, chemical fertiliser markets, particularly nitrogen and potassium, would disappear and a market for organic fertilisers (treated as substitutes however imperfect) should emerge.

Leaving aside the inherent lower yield potential of organic over inorganic fertilisers, the country should be ready for lower level of productivity and production for all crops inclusive of rice and tea. The situation will only be aggravated with comparatively low-quality imported organic fertilisers if proper standards are not maintained the effects of which would be compounded by farmers' lower production and smaller incomes. How much is the production discount with a move to organic fertilisers is a question that needed address in before heading to the 'political economy central' station. As organic fertilisers are only imperfect substitutes to chemical fertiliser, adverse effects on earnings, food security, vulnerability, poverty and malnutrition can be expected and needs rigorous assessment through research.

Why an import ban on inorganic fertilisers was proposed? The primary reason given is the association between CKDu incidences and heavy metals found in chemical fertilisers. At the first place, scientific evidence on the causal factors of CKDu is to be generated before a policy action is taken. If it is scientifically proven, imposition of regulations on appropriate minimum residue limits for fertilisers and proper implementation of the same would have been a more appropriate policy than a ban. It is also claimed that farmers do not take safety precautions when agro-chemicals are applied.

Rather than using a ban, steps could have been made to incentivise farmers to adopt safety practices including excess usage. The problem and solutions are not in sync at all. Another reason given is the over application of chemical fertilisers by the farmers. Building awareness, imposition on quotas, provision of recommendations based on soil testing are better ways to handle this issue. The unbearable subsidy payment on treasury should be the obvious reason which is a valid concern.

Elimination, if not at least lowering of the subsidy would have been the first step in dis-incentivising chemical fertiliser application. The cash grant scheme introduced allowing farmers to choose what they want is a much better alternative compared to a ban on imports. This is the standard prescription of the targeting principle in economics. Looking London while talking Tokyo or throwing baby with the bathwater are things that ban on chemical fertiliser imports imply.

Economies do face different problems that need policy interventions in face of market failure. Solution to market failure is not in obliterating markets, it is in getting the incentives right. Self-reliance is a dangerous game in COVID as our friendly neighbour in the current crisis epitomises. Let's get better trade, better production, not lesser trade and lesser production.
---
(Professor Jeevika Weerahewa is the Senior Professor of Agricultural Economics attached to the Department of Agricultural Economics and Business Management, Faculty of Agriculture, University of Peradeniya, Sri Lanka. She obtained her B.Sc. and M.Phil degrees from the University of Peradeniya and PhD from the University of Guleph, Canada. She is a Collaborator of the International Food Policy Research Institute, a Hewlett Fellow of the International Agricultural Trade Research Consortium, a Fellow of the Canadian Agricultural Trade Policy Research Network, and a recipient of an Endeavour Fellowship awarded by the Government of Australia.)

(Devesh Roy is attached to International Food Policy Research Institute (IFPRI), which is one of the CGIAR institutes. It is headquartered in Washington DC, USA and has a branch office in New Delhi, India. He holds a PhD in economics from the University of Maryland at College Park and a Masters degree from Delhi School of Economics.