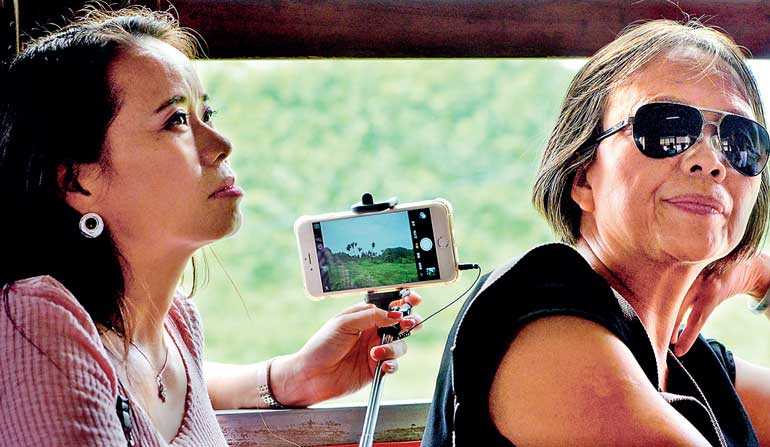 Sri Lanka continues to serve the traditional European markets which were overtaken by the Indians and Chinese with their rapid expanding outbound movements with higher travel spending – Pic by Shehan Gunasekara
---


A wide diversity of tourism attractions can also be a weakness in the parlance of marketing communication when the promotional efforts are weak and not consistent. For example, what Maldives can promote in terms of its impact on future tourists, cannot be achieved by Sri Lanka due to the need to highlight the variety of products and locations which may generate conflicting messages to the consumer.

The debate as to which product segment gets priority will never be ending until a comprehensive consumer research is carried out in regular and emerging markets but Sri Lanka does not have time for that.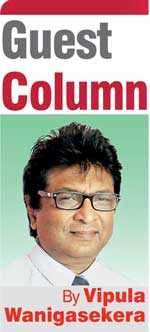 As a response to this situation prior to April this year, the tourism industry proposed a project to tap a few new markets in which Sri Lanka Tourism has not been active. Some work was done to the extent of identifying reputed tour operators in these countries for a familiarisation tour. The project was to be funded by the Tourism Promotion Bureau and implemented by a committee led by SLAITO together with SriLankan Airlines in consultation with outbound associations in the said countries.

In the aftermath of Easter attack, the committee decided to abort the program. It is now time to review this project again for several reasons while it is left to the organising parties to decide on the modalities and this article is to elaborate the principal and benefits of this proposal which the writer believes is timely to launch, eight months to one year from now.

There have been many travel marts mini and mega, held in Sri Lanka to boost tourism. Destination Sri Lanka, Sri Lanka, Gateway to South Asia, MICE Travel Mart, are to name three. Offering Sri Lanka as the venue for a few conferences of outbound Travel Agents Associations of source markets also helped increase traffic from India, France and Germany in the past. The proposed Travel Mart had three optional tours during their stay and one on one meetings prior to their departure. Markets to be tapped were Philippines, Indonesia, Vietnam, Thailand, Korea, Israel, Australia and New Zealand which have not been promoted except Australia. The current arrivals from these countries are as follows.

As one could notice, the visitor numbers to Sri Lanka are insignificant from these countries. Without a positive attempt to ignite interest, Sri Lanka will be out of the radar in these countries in the next few years too.

The market potential was ascertained from the opinion of a few industry experts although outbound forecasts may change depending on macro factors. A cost of this project can be equivalent to a participation fee of a major travel fair while this is more of a focused promotion at a time Sri Lanka needs to enter the said markets where spending power of the traveller is increasing

It would be ideal if the program can be coupled with the local event 'Sancharaka Udawa' as planned in the last occasion where the variety of the industry is showcased from Ayurveda, adventure to boutique properties. The visitors will have glimpse of all products and services which they miss out during the tour.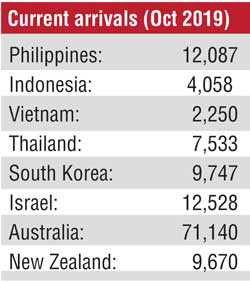 Usually, it is the practice of many destinations to offer a first-hand experience to outbound operators in source markets that is underpinned by 'seeing is believing'. Most first time travel agents who visited Sri Lanka in the past have said 'we never knew Sri Lanka had this much diversity and culture to offer' noting that the local industry always wanted to move 'beyond beaches' or 'beaches and beyond'. Here is an opportunity and if this project becomes successful it could be an annual brand expanding to all current, emerging and new markets. Sri Lanka continues to serve the traditional European markets which were overtaken by the Indians and Chinese with their rapid expanding outbound movements with higher travel spending. The destination campaign and other promotions planned for 2020 will continue to fulfil industry desires and entering new markets would boost numbers and value and secure a few niches that would fit into Sri Lanka's products and services.

The targeted tour operators in these markets are currently not promoting Sri Lanka among the holiday makers as they are continuously bombarded by promotions and special packages from competing destinations. This would be one effective plan thought about to divert their attention to a new destination.

Entering new markets is quite in line with Sri Lanka's strategic plan from 2017-2020. It envisages creating key niche interest groups, and visitors to particular regions and specific sites of their taste. This travel mart, apart from wooing the outbound agents to place Sri Lanka in their brochures, will also provide opportunity for Sri Lankan industry to understand what the new found tourists look for in terms of their travel motivations and the experiences sought after.

The initial program was to rope in at least 200 fully-hosted agents who would be selected on some strict criteria. A selection committee will scrutinise the applications and make the selections of the hosted buyers following an initial dialogue with the partners namely SriLankan airlines and heads of outbound associations.

The Sri Lanka Tourism Promotion Bureau is heavily burdened having to shoulder all the destination promotions and this proposal could pave the way for the private sector to join hands with authorities within the framework of the regulations. To do so collective decisions need to be made with necessary approvals and transparency so that the expertise and resources of the private sector can be effectively taken on board in the area of tourism promotions.

The said project will be a win-win exercise as the initial dialogue will not only create awareness on the destination but also give many tips for local industry to fine tune their approaches to the clients in these new markets. The results could be quite rewarding in the next three years with the discovery of a new destinations for the new source markets.

Sri Lanka can closely monitor the progress and unlike other regular markets, the true efforts of outbound operators in these countries can be identified and assisted further based on their performance.

(The writer is former diplomat, tourism official and currently an academic.)