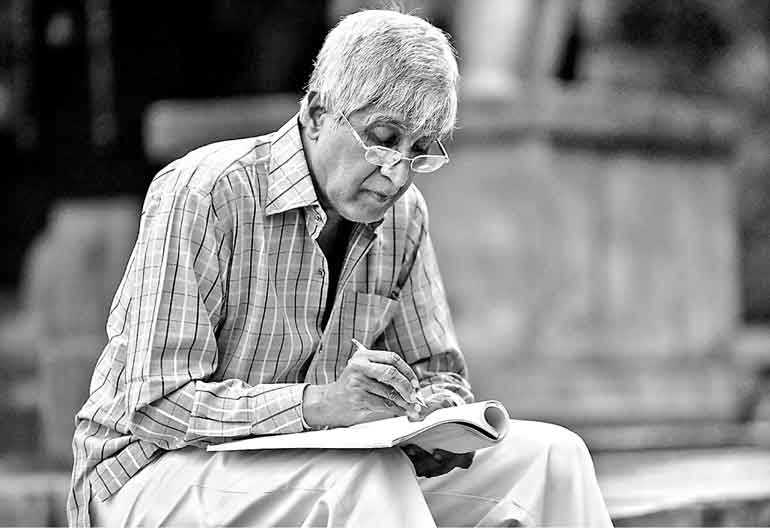 Prof. Sunil Ariyaratne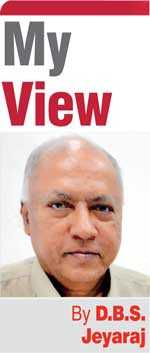 When Professor Sunil Ariyaratne was studying for the General Certificate of Education (GCE) Ordinary Level in 1963 at St. John's College, Nugegoda, one of his favourite textbooks was W.A. Silva's novel 'Vijayaba Kollaya'.

Fifty-six years later in 2019, the eminent academic-writer-lyricist-director has made a film out of the novel he relished reading as a student more than five decades ago. "I never thought that I would make a film from the text I learnt as a student in 1963," said an elated Ariyaratne in a media interview.

'Vijayaba Kollaya' directed by Prof. Sunil Ariyaratne was released on 1 August in 80 cinema halls in the island including those of the EAP circuit as well as the Savoy and Regal theatres in Colombo. It is the first three-dimensional stereoscopic film to be shot in Sinhala.

The 130-minute-long film was produced by H.D. Premasiri for 'Sarasavi Sine Ru'. Kumudini Dias Haputhanthri, Chandu Haputhanthri and Chandri Haputhanthri are the co-producers. The spectacular movie was produced at a cost of Rs. 75 million.

The screenplay for the film based on W.A. Silva's novel was written by the talented Tissa Abeysekara who completed the screenplay a few months before he passed away in 2009. 'Vijayaba Kollaya' is the third film with Tissa's screenplays to be released posthumously. The other two were 'Kusa Pabha' and 'Senasuru Maruwa,' both of which were released in 2012.

Challenges

"It was Buddhi Keerthisena who first obtained the rights for the novel to be made into a film. He even got Tissa Abeysekara to write a screenplay. This was the last screenplay written by the late Mr. Abeysekara. I am grateful to Buddhi Keerthisena for giving us the opportunity to make a film based on the novel," Professor Ariyaratne told 'TV Times' in an interview.

In fact the earlier plan was for Keerthisena to produce the film under his Buddhi Films banner with Ariyaratne directing it. Even a 'Muhurat' ceremony was held at a Bambalapitiya restaurant in January last year. Later plans changed and there was a change of producers. Keerthisena is the Executive Producer of the film. He is also in charge of visual effects.

'Vijayaba Kollama' is a novel falling under the genre of romantic historical fiction. It was first published in 1938. Thereafter 30 different editions have been printed. It has proved to be immensely popular over the years and is arguably the most successful of W.A. Silva's novels. Many of Silva's novels like 'Kele Handa,' 'Deiyange Rate,' 'Daiwayogaya,' 'Handapana,' 'Radala Piliruwe,' 'Siriyalatha' and 'Hingana Kolla' were made into films. Most of them tasted sweet success at the box office. Yet the most popular novel of

W.A. Silva, 'Vijayaba Kollaya,' had never been filmed until now.

Commenting on this Director Sunil Ariyaratne told 'TV Times': "It was a big challenge to do a film based on this particular novel. Firstly it would have required a massive budget. We spent over Rs. 70 million for this production. Secondly it would have been hard to recreate the 16th century Colombo Port environment to shoot the film. I think these were the main reasons why the novel was never made into a film. Anyway I am grateful to my producer H.D. Premasiri who took up this challenge."

W.A. Silva in writing this novel was greatly influenced by European writers of historical fiction. This was true of many contemporary writers of the Indian subcontinent too. Their approach was that of focusing on particular phases of history. The characters would be both real and imaginary. While some historical events with real life figures would be truthfully written, there would also be fictional characters inter-twined with the course of events. Sir Walter Scott, R L Stevenson, Charles Dickens, Alexander Dumas, Victor Hugo and Leo Tolstoy have all written novels of this type.

W.A. Silva in his novel focused on a watershed event of regicide/parricide that took place in 1521. This was the assassination or deposal of King Vijayabahu VI who reigned in Kotte by his three sons in 1521. The incident referred to as 'Vijayaba Kollaya' is the title of Silva's novel. The film has the same title with the English translation given as 'Sack of Vijayabahu'.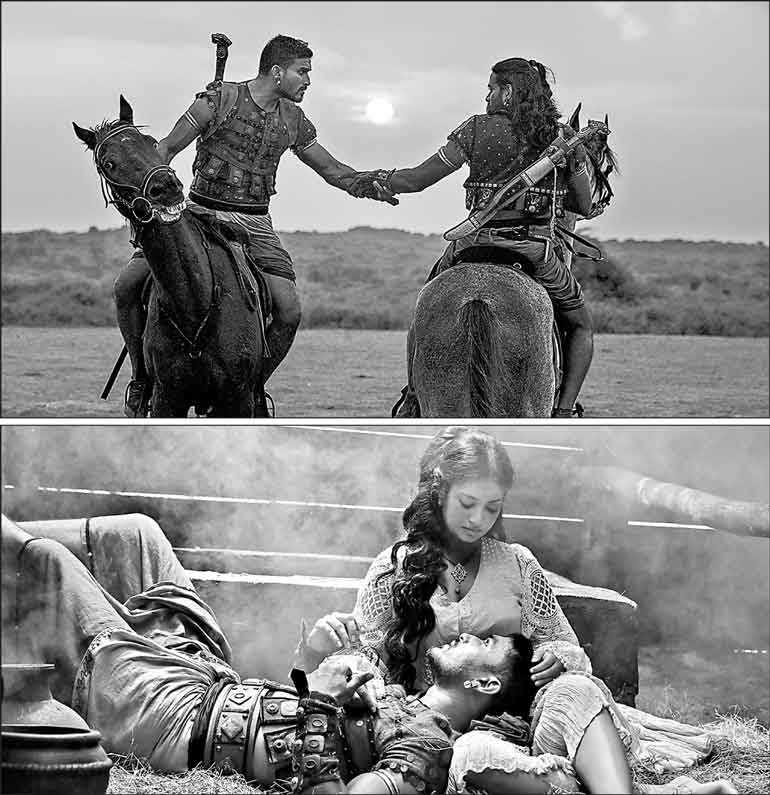 History

The 'Vijayaba Kollaya' of 1521 led to the trifurcation of the Kotte Kingdom and the rise of one of the most colourful Kings in Sri Lankan history – Mayadunne of Sitawake. According to historical texts what happened was this. After the demise of Dharma Parakramabahu IX, his son Vijayabahu VI ascended the Kotte throne in 1513. By this time the Portuguese had landed on our shores and the creeping colonisation of the island was underway.

Vijayabahu's first queen was Anula Kahatuda, known as Keeravalle Maha Biso Bandara. Vijayabahu had three sons by her, namely, Buvanekabahu, Mayadunne and Pararajasinha also known as Maha Raigam Bandara. After Anula's death Vijayabahu married another from the same Keeravalle family who was known as Keeravalle Biso Bandara. She had a son, Deva Rajasinha, fathered by another with her when she got married to Vijayabahu.

When Vijayabahu's half-brother Sahalakalavalla the "Yuvaraja" died in Udugampola, the reigning queen wanted her son Deva Rajasinha to designated as Vijayabahu's successor despite his three elder sons being the legitimate heirs of crowning age. The elderly Vijayabahu was willing to oblige his younger queen in this. For this to happen the three elder sons had to be eliminated. A conspiracy to kill the three princes was duly hatched with the connivance of two officials, Kandure Bandara and Ekanayake Mudaliyar. The princely trio got wind of the plot and fled to Negombo via Kelaniya and escaped.

Mayadunne, the most intrepid of the brothers, went to the central highlands and raised an army with the help of the Kandyan King Jayaveera Bandara who was married to Mayadunne's cousin. Mayadunne camped with his army at Kelaniya where his two brothers joined him. Vijayabahu was in an unenviable situation as his subjects were unwilling to fight on his behalf against the princely trio. The people felt Vijayabahu had done wrong by his three sons.

The Kotte King then sued for peace and invited his sons for talks. The sons in turn demanded that the conspirators Kandura Bandara and Ekanayake Mudaliyar be sent to them to be executed. Vijayabahu sent both and Kandure Bandara was killed but Ekanayake managed to escape.

However, Vijayabahu and his queen plotted to kill the three princes when they came for negotiations. Some soldiers were kept in hiding and the guards were instructed to bar the doors after the princes entered the inner fort. But fate decreed otherwise. Seven-year-old Deva Rajasinha for whose benefit the assassination was being planned innocently informed the princes of soldiers being in hiding. The enraged princes stormed out of the 'Etul Kotte,' or inner fort. Their army was unleashed and the palace was ransacked. The King sought refuge in an upper room.

However, legend has it that no Sinhalese soldier was prepared to kill the besieged king. Hence it is believed that the deed was done by either a "Selamba" of unknown ethnicity or "Salman" a Muslim trader or possibly both. The fate of the queen and her son is yet unknown. Vijayabahu's deposal and death is referred to as the 'Vijayaba Kollaya'. His end in 1521 led to the fragmentation of his kingdom into three. The eldest son reigned in Kotte as Buvanekabahu XII. Pararajasinha ruled in Raigama as Maha Raigam Bandara. Mayadunne got the princedom of Sitawake.

Love triangle

It is against this historical backdrop that W.A. Silva wrote his bestselling historical novel. Silva's novel revolves around among three fictional characters created by him and their love triangle. The trio were Neelamani the fair damsel and her two suitors Asanga and Nayananda.

If W.A. Silva had taken liberties with history to write his novel of romantic fiction, Tissa Abeysekara too seems to have used his creative license to weave together an enticing screenplay. Sunil Ariyaratne brings into screen an alluring film with the aid of his actors, artistes and technicians. One cannot expect true history to be recorded faithfully in an entertaining film like this. However few film goers are likely to complain.

The love triangle displayed in the film is sheer melodrama. One supposes these are inevitable in a film aiming to attract the public at large. Neelamani played by the ravishing Senali Fonseka (Malani Fonseka's niece) is the daughter of a courtier. She had been betrothed from her young days to Asanga played by Ashan Dias. Neelamani meets the courier/spy Nayanandana and it is a case of love at first sight. Hemal Ranasinghe acts as Nayanandana. Finally Asanga meets with death. He dies in Neelamani's arms after having bequeathed her to Nayanandana.

Apart from Hemal Ranasinghe (Nayanandana) Senali Fonseka (Neelamani) and Ashan Dias (Asanga), there is a cavalcade of actors playing different roles in the film. Outstanding among these are Hans Billimoria as the Portuguese captain and his mistress played by Chulakshi Ranatunga. Ryan van Rooyen and Gavin Ludowyk also act as Portuguese soldiers. Among others in the cast are Preethi Randeniya, Buddhika Jayaratne, Eardley Wedamuni, Prof. Ariyaratne Kaluarachchi, Gayana Sudarshani, Marion Wettesinghe, Sunil Costa, Anuradha Mallawarachchi, Sachithra Weerasinghe, Dhanushka Dias, Methin Jayasuriya and Ajith Shantha.

Channa Deshapriya remains true to form with his magnificent cinematography. Tissa Surenda whose craftsmanship is patently discernible is the editor. Bimal Dushmantha excels as the production designer and art director in this historical film where sets and décor are very, very important. Harsha Manjula is in charge of make up while Wenuka Wickremarachchi is the costume designer. Both make their mark in this period film where costumes and make up are of vital importance. The hair stylist is Haroon Shaideen.

The inimitable Rohana Weerasinghe is the music director. Umariya Sinhawansa and Sanuka Wickremesinghe lend their voices as playback singers. The toe-tapping number 'Singili Nona' has become popular overnight and is likely to secure a place along with songs like 'Puruthukeesa Karaya' in 'Sandesaya' and 'Rosa, Rosa' in 'Lasanda'. Vimal Deshapriya is the chief assistant director while the production manager is Nimal Wijesiri Senadheera. The production coordinator is A. D. Ranjith Kumara.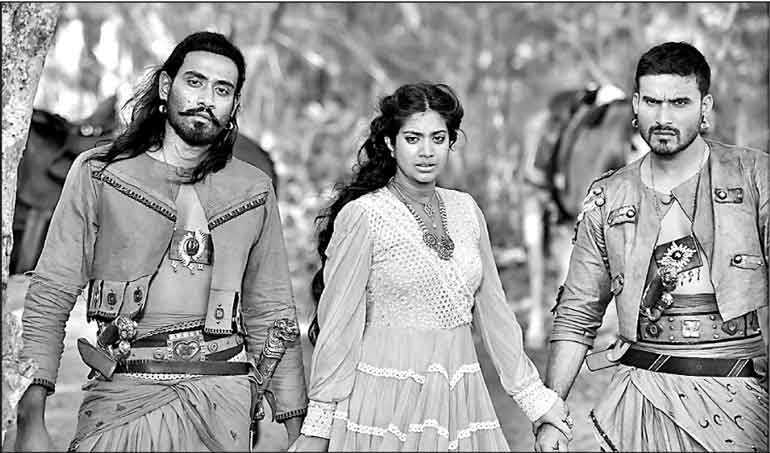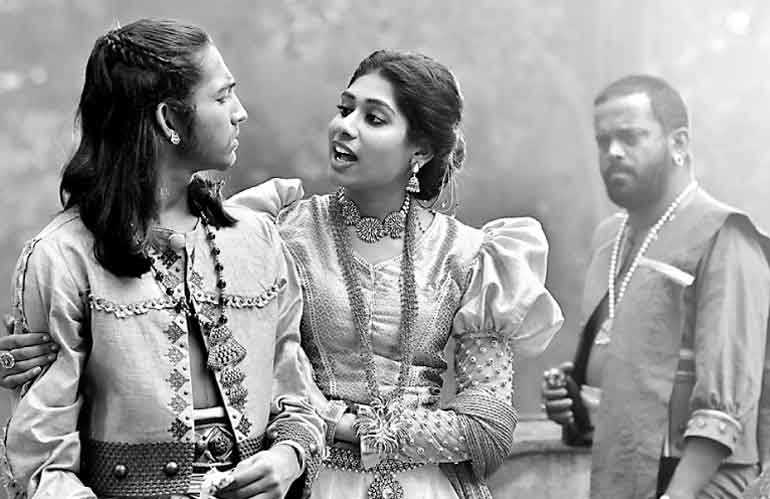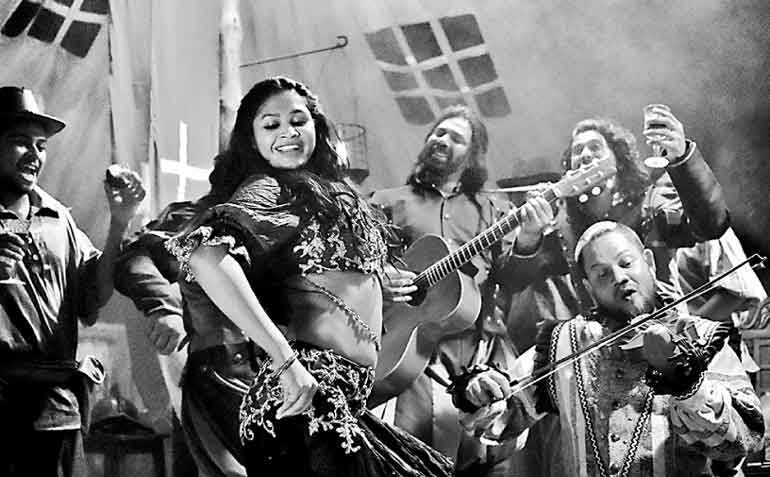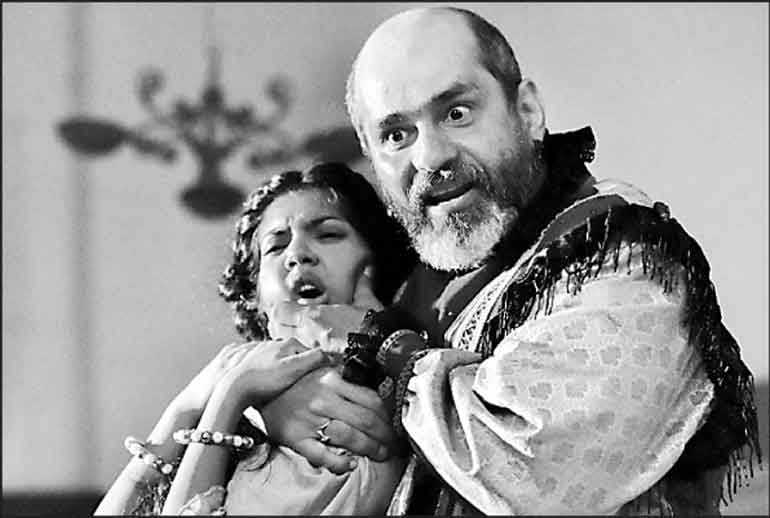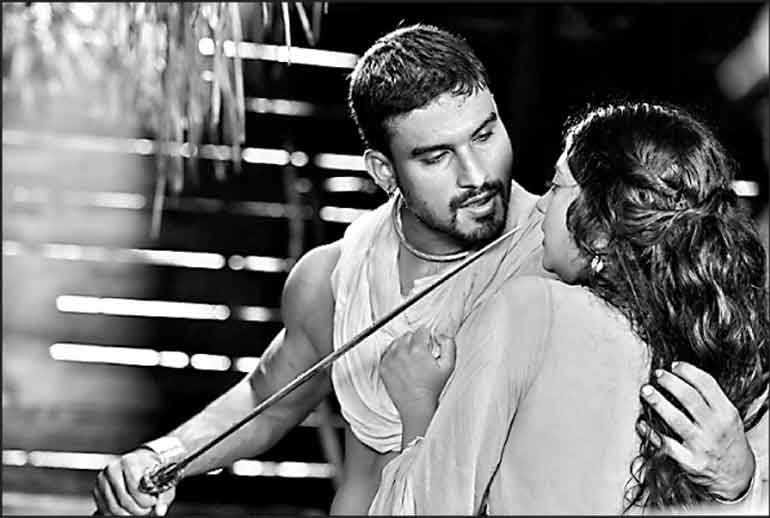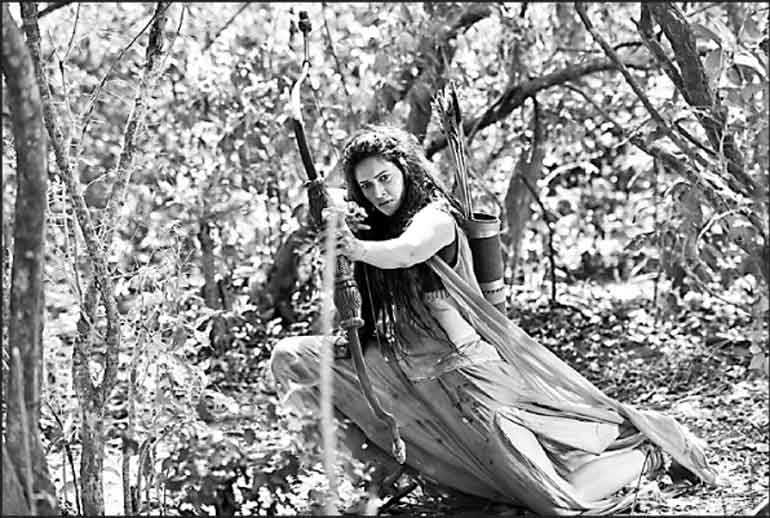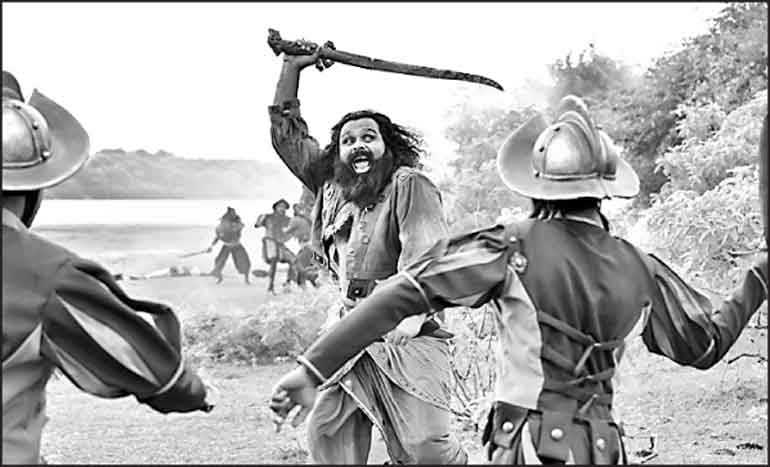 Versatile filmmaker

'Vijayaba Kollaya' is the 23rd directorial venture of Prof. Sunil Ariyaratne. The versatile filmmaker is a respected academic as well as lyricist and song writer. The septuagenarian Sunil Ariyaratne embarked on filmmaking in his undergraduate days.

His first feature film 'Anupama' was released in 1979. He became known as one of the finest film directors in Sinhala cinema with movies like 'Sarungale' and 'Siribo Aiya'. Among his milepost movies are 'Kristhu Charithaya,' 'Sudu Sevaneli,' 'Uppalawanna,' 'Kusa Pabha,' 'Paththini,' 'Bimba Devi nohoth Yashodara' and the children's film 'Ali Kathawa'.

The Sri Lankan film industry suffered a body blow during the 'Black July' anti-Tami pogrom of 1983. It is yet to recover fully from that beating. In recent times the Easter Sunday suicide bomb attacks have struck another blow. Attendance at cinema theatres has dropped drastically. Most films screened after April have been recording poor audiences. It is in such a situation that the heavy budget 'Vijayaba Kollaya' has hit the screens.

Prof. Sunil Ariyaratne told the media prior to the screening that they were taking a big risk in showing the film at this juncture. According to reports the film seems to have been well received. Theatres showing the film have been doing well so far. It is to be hoped that Sunil Ariyaratne's 'Vijayaba Kollaya' will provide Sinhala cinema with that shot in the arm it sorely needs now.
(D.B.S. Jeyaraj can be reached at [email protected])