---
"The chief task in life is simply this: to identify and separate matters so that I can say clearly to myself which are externals not under my control, and which have to do with the choices I actually control. Where then do I look for good and evil? Not to uncontrollable externals, but within myself to the choices that are my own" – Epictetus
The concept and ideals of statesmanship have been handed down to us from ancient to modern times, but it has a paradoxical relationship with the modern state. While terminology suggests that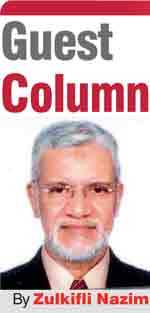 statesmanship presupposes the state, in fact it appears rather incongruent with modern (i.e., constitutional, democratic, and bureaucratic) statehood.

Our goal here is to improve our understanding of statesmanship as such. Let us go back in time to evaluate the concept of statesmanship – a statesman is not simply a politician, but an extraordinary politician who exercises wise leadership.

The late S.W.R.D. Bandaranaike, a statesman, who came to power in order to oust the cast hegemony of the UNP and won because the oppressed classes thought of voting out the UNP, as casteism was the rule of the day. Even today UNP stalwarts considered themselves superior mainly because of their notion of superiority hung on a thin thread called the caste system in Sri Lanka.

C. P. De Silva, a mathematician and the man most trusted by Mr. Bandaranaike appointed him as the Leader of the House and he acted as Prime Minister and he consented to lead the party and be the Prime Minister; but when the group met Sir Oliver Goonetilleke, the then Governor General, he quite casually asked them, "Do you want to appoint a 'Haliya' as the Prime Minister?"

Sir Oliver Goonetilleke insulted C.P. De Silva of the Salagama caste by addressing him as Haliya, reminding the people of his South Indian origin – The Salagamas trace their roots back to the Coromandel Coast and Malabar Coast of South India, and settled in the southern coastal areas of Sri Lanka, the then Ceylon. The "Haliya" or "tiller" system is an agricultural bonded labour practice in the Western hills of Nepal. Generally, "Haliya" bonded labourers are from low caste or minority ethnic groups mostly from the Dalit community.

As a result of such senseless and despicable attitude exhibited by Oliver Goonetilleke, one of the most eminent and most suitable men to lead the SLFP was unceremoniously kicked out. The others, who were less learned, less educated, less popular and more corrupt, felt that they were more superior to De Silva, only because they considered themselves of a higher caste and C.P. De Silva belonged to a low caste.

The new UNP Government under J. R. Jayewardene introduced a new constitution in 1978 and he, Mr. J.R. Jayewardene became the first Executive President of Sri Lanka, with wide executive powers. Mr. R. Premadasa was appointed Prime Minister, quite in contrast to the hegemony practiced by those of a higher caste.

He was nominated as the presidential candidate by JR and he was elected second Executive President of the country when late J. R. Jayewardene graciously stepped down.

Today the very same hegemony-caste rules the roost, and plots were being initiated to bring down a good, veteran and experienced politician like Sajith Premadasa, because the major stake holders in the UNP politbureau, considered themselves, caste-wise as more superior.

We saw even in their own ranks it is the corrupt, less educated and less popular who were screaming for the blood of Sajith Premadasa, doing everything in their power to stop and delay the nomination of the candidacy of Sajith Premadasa in the presidential election. And due to abnormal pressure from the back benchers the agreement of acceptance was given at the 11th hour. It was indeed too late for anybody to do a proper, appropriate and sound political campaign.

Another glaring controversial change we see, is those who were hell bent on raining insults against Ranil Wickremesinghe, have now changed their tune. They are clamouring, loud and persistently, for his appointment as the Leader of the Opposition. This certainly raises some eyebrows.

It is very conspicuous that Sajith Premadasa received over five and a half million votes at the presidential election, and this man should be rightly proposed as the leader of the opposition, why the sudden hue and cry to give Mr. Wickremesinghe the role. We can smell that something is very fishy and it does not augur well for the United National Party.

Let us take a look at Mr. Ranil Wickremesinghe's antecedents. His parents and immediate families sacrificed their personal wealth for the country, and he is a part and parcel of this family unit. He, Mr. Wickremesinghe was trained by the late J.R. Jayawardene and he is supposed to have ingested the qualities of a statesman.

If his mentor JR could have unhesitatingly appointed Mr. Ranasinghe Premadasa (Sajith's father) as his Prime Minister and subsequently stepped down for Mr. R. Premadasa to contest in the presidential elections as a candidate, against all hegemonic interferences, we cannot understand why in heaven's name that Mr. Ranil Wickremesinghe too cannot step down and hand over the reins to Sajith Premadasa, including the position of Leader of the Opposition. Remember, Mr. Wickremesinghe, you have been always a stalwart supporter of democracy and the youth.

I would like to conclude on a note, which would, hopefully, be a lesson to all politicians or laymen, as to who or what a statesman is like:

When Dudley Senanayake's Government came to power after a strenuous battle, and when it was clear that the coalition of the UNP led by Dudley Senanayake could form a government and before the Governor General called Dudley Senanayake to form a government, C.P. de Silva got a call from Mr. Dudley Senanayake, the then Head of the United National Party and a great statesman.

He said: "As there was an undertaking given by Mr. J. R. Jayawardene that in the event we form a government, you could become the Prime Minister of that Government, it is my duty to offer you the Premiership of the newly formed coalition and I and my party will give our unstinted support for your new government."

CP de Silva, another great man, and a true statesman, politely declined the offer made by Dudley Senanayake and said: "Sir, people have voted for you and their expectation is for you to become the Prime Minister of this country for the fourth time. It will be a great honour for me to work under you. What the SLFP denied me when I was the rightful heir, you have offered to me, where I have no right to accept it, except for the promise given by JR. We will work together and make this country a haven for everybody."

"Letting go gives us freedom, and freedom is the only condition for happiness. If, in our heart, we still cling to anything — anger, anxiety, or possessions — we cannot be free," – Zen Master Thich Nhat Hanh.