Sri Lankan wall art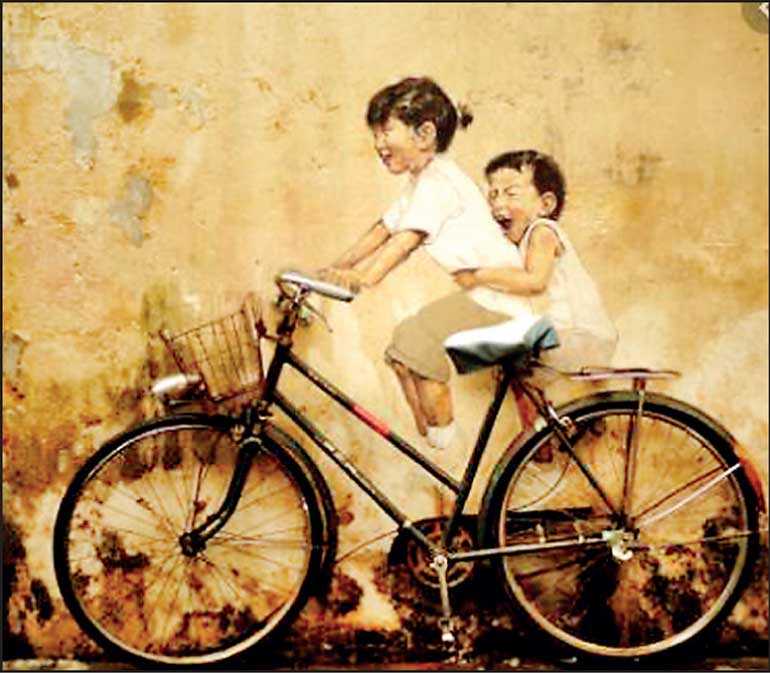 'Little Children on a Bicycle' is a mural on Armenian Street, George Town, Penang, Malaysia
---
At the moment, we can witness some unique developments happening in Sri Lanka. More importantly, we have many challenges to overcome as well. Refer to the statement by Winston S. Churchill, a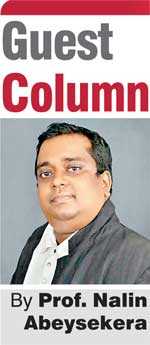 former British Prime Minister who is considered a hero to many and his speeches some of the most famous in history: "A love for tradition has never weakened a nation, indeed it has strengthened nations in their hour of peril."

The young people in the country can be seen on volunteering themselves for many activities at the moment. They remove posters, wall painting, cleaning beaches and trying to keep the city clean. We can see they are enjoying their work despite gender, ethnicity or any other. Their smiles will tell us many positives for our future.

In the meantime, a youth called Nalaka Senadeera has initiated a project of re-cultivating hundreds of acres of paddy fields in his village with a large number of young men and women supporting him. Dulanjana Vithanage, a third-year student at the Department of Marketing Management, University of Sri Jayewardenepura has started to promote jack fruit in Sri Lanka (the jack tree is sometimes called "bath gaha" or 'rice tree' by the Sinhalese). Recently, we came across a small trash bin is placed in a three-wheeler which we had not seen before. There was a message there as well: "Please don't throw garbage out. Keep them in the trash bin."

Above is one of the best indications that the common man in the country has changed drastically. In simple, people have overtaken politicians, which I believe is a good sign for the country!

As discussed earlier, we can see wall paintings done by youth in many parts of the country. In the article published in DailyFT on 15 May 2015 titled 'Sri Lankan Tourism and Wall Paintings' I have suggested the importance of wall paintings as one of the competitive advantages in tourism. Refer below for an extract of the same article. "…As suggested in the 'Resource-Based View (RMV)' in Strategic Management, there is a special consideration for valuable tangible or intangible resources to achieve a competitive advantage. Yet, the strategies used by different countries should also be identified. I think we have to see the potentials of the concept of 'Wall Paintings' in this context. Again we have a proud history of wall paintings in different places throughout the country. In this scenario, Sigiriya is one of the 'wonders' in wall paintings. The most renowned is the Sigiriya Rock Paintings or Frescoes of Sigiri damsels locally called 'Sigiri Apsara', painted on a western rock face cavity about 100 meters high from the rock base. This is a great tourist attraction in Sri Lanka. But at present, the concept of wall paintings has undergone changes and different countries use the concept in different ways to attract tourists. There is one case study we can discuss on wall paintings in Penang, Malaysia. There are many wall paintings you can see and the mural 'Little Children on a Bicycle' in Armenian Street, George Town, Penang, is a great tourist attraction among them. These old walls in the town have gained a new lease of life with creativity and imagination. Once you read more on this, the Lithuanian artist Ernest Zacharevic is leaving his mark with a beautiful wall painting of children across historical Georgetown. The artworks are funny, fascinating and open to everyone's interpretation. Ninety percent of tourists who arrive in Penang, Malaysia visit these places and take photos to record their great memories of the city of Penang. This is actually a marketing tool to position your country. The wall paintings can be considered as one of the Key Successive Factors (KSF) of the city. If someone compares tourist arrivals between Sri Lanka and Penang, (keep in mind Penang is only one city in Malaysia), Penang has more than double the number of visitors than Sri Lanka. The city is famous for food with many attractions, and the wall painting is one addition to that there should be proper strategies to market the country. Different segments should be identified and I think Sri Lanka can also benchmark the wall paintings of Penang as one strategy. Expectations of segments can be varied and clusters like Generation Y (people who were born after 1985) are really important as it is growing with social media and innovators. The policies need to be revised with innovative ideas while maintaining our culture, heritage, and dignity…"1 What we predicted in the past is happening at the moment. It is a duty for all Sri Lankans to keep this momentum going with proper direction. There should be proper motivation and integration with all other actors and factors for the betterment of the country.

"One of the great liabilities of history is that all too many people fail to remain awake through great periods of social change. Every society has its protectors of status quo and its fraternities of the indifferent who are notorious for sleeping through revolutions. Today, our very survival depends on our ability to stay awake, to adjust to new ideas, to remain vigilant and to face the challenge of change" — Rev. Dr. Martin Luther King, Jr.
(The writer is attached to the Faculty of Management Studies, Open University of Sri Lanka.)
Note:

http://www.ft.lk/article/420635/Sri-Lankan-tourism-and-wall-paintings