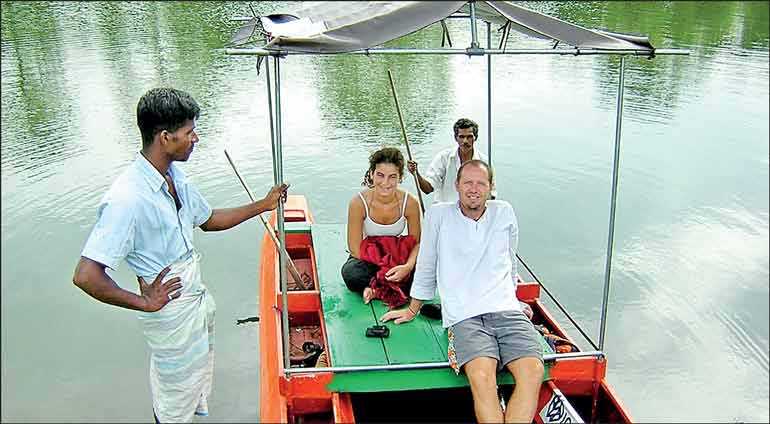 Tourism has vast direct economic benefits other than from generating employment, improving wages, and stimulating growth in many direct and indirect sectors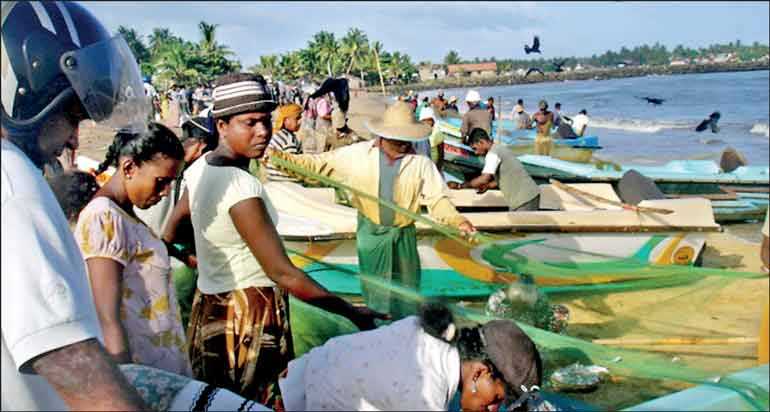 What is happening now is the loss of income fast creeping to the fishermen, farmers, local guides, three-wheel drivers, lace-makers and even the everyday king coconut seller alike, many of whom are breadwinners

Arugam Bay, one of the top ranked surfing destinations managed by the local communities, where 'Girls Make Waves', the first female surf club in Sri Lanka was formed, has not been lucky enough to escape the negative impacts
---
The tourism industry in Sri Lanka has taken many hard hits before: be it a long period of a civil war lasting 27 years, in which the country fought a singlehanded battle, or the devastating Asian tsunami where the entire world rallied around to help, tourism has always kept strong and grown. Some might conclude that during a civil conflict like what it was in the island, tourism is non-existent. The industry, which was mainly owned by local companies,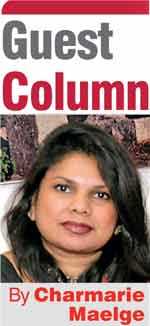 struggled but stayed resilient, not losing confidence with their sights fixed on a thriving tourism economy. The Government struggled to maintain the tourist arrivals with never-ending strings of incidents; when it was possibly the lowest point, more incidents continued driving the industry to a bottomless pit.

What happened to the tourism industry then? Well, tourists came, certainly not in the numbers that the country deserved, but they did continue to visit, mainly the repeat visitors despite many travel warnings. They even signed indemnity agreements to waive off any liabilities, and enjoyed most wonderful holidays in Sri Lanka. The industry was far from a failure, it took seventeen years to reach the same level of tourist arrivals as in 1983, and Sri Lanka Tourism was steadily building up. Some researchers and foreign journalist considered Sri Lanka Tourism as a success story, which in fact was true. In 2004, long before the war ended, hotels were fully booked, and being overbooked Colombo city hotels had 'stop sell' during the winter season. In the UK, it was listed as one of the top ten travel destinations. Most definitely the ceasefire agreement with the LTTE in February 2002 helped achieve this situation, which was however was short-lived due to the tsunami devastation, resulting in a few more years of recovery.

Looking at the most recent past since declaring peace in 2009, tourism industry invested heavily to develop the sector, an influx of FDI flowed with international hotel chains establishing a strong presence. Colombo's skyscape has taken a new shape, with towering luxury hotels and many more in the pipeline. Peace dividends were put to good use by the tourism industry. Developments flowed into many diverse economic sectors, directly and indirectly benefiting. A large number of youth entered the industry to bridge the skills gap. Seeing vast potential, education offered in the country rapidly included many vocational and academic learning courses in tourism and hospitality.
Tipped to be the No 1 industry
The political crisis in October last year was not what Sri Lanka Tourism needed, at a time the industry was taking off not towards incremental but exponential growth. Being ranked as the number one destination to visit was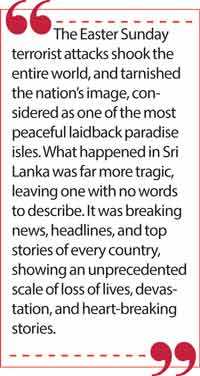 drawing global interest, and attracting large volumes of first-time visitors. The destination became popular for families with children and solo women travellers alike, who would come from as far as Canada, and use public transport to travel islandwide. They stayed for long periods extending into months, enjoying an array of experiences ranging from surfing to meditation.

Being one of the four pillars holding the economy in the country, tourism is an economic livewire to poor communities in the country, as the trickledown effect to the grassroots is phenomenal. This is a sector that was fast-becoming recognized to be the number one revenue generator, surpassing all the other sectors. $ 4.4 billion revenue was generated in 2018. The average daily expenditure of a tourist is at $ 174, accounting for approximately $ 2, 000 per stay. It was targeted to attract three million tourists and revenue of $ 5 billion this year.
Terrorism hurting tourism is not new
Coordinated terror bombings have been seen in other destinations and in Asia too. In 2016, seven Thai provinces, including the most popular resort Phuket, were attacked by terrorists, sending shockwaves worldwide. When this happened, the Thai tourism industry believed that tourism can recover fast. Tourist arrivals in 2017 was higher than 2016. Again, in July 2018 in Thailand, during a sudden storm two tourist boats capsized and sank near Phuket, killing 47 Chinese tourists. Nearly one-third of arrivals to Thailand are Chinese, so there were cancelations and a drop in occupancy. Six Chinese airlines cancelled a total of 19 flights. Here again, the Thai tourism authorities and the industry was confident that "they would come back." Thailand saw a record level of 38.27 million tourists in 2018, up 7.5% from previous year. India, Indonesia, and many other destinations such as France, UK, USA, and Australia, too, have been victims of terrorism. The Easter Sunday terrorist attacks shook the entire world, and tarnished the nation's image, considered as one of the most peaceful laidback paradise isles. What happened in Sri Lanka was far more tragic, leaving one with no words to describe. It was breaking news, headlines, and top stories of every country, showing an unprecedented scale of loss of lives, devastation, and heart-breaking stories. This has gone on for over two weeks, with media coverage turning to a new angle each day. It is expected to continue, with new headlines moving away from the incident itself to more personalized stories of affected Sri Lankans, as well as tourists. Who is really responsible? What is being done? More and more news would be on how the country is recovering.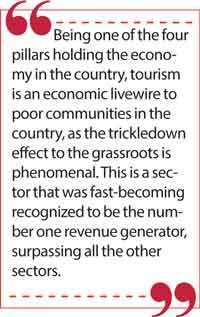 This tragedy certainly has led to a severe downturn in tourism. Starting with harming the destination's image as a peaceful country, leading to concerns of security and safety, travel advisories cautioning travel to Sri Lanka and its implications on insurance, ability to actively sell tour packages, cancelations of bookings already made, impact on future bookings, low occupancy, and many undesirable ripple effects dangerously spilling over to many other economic sectors too.
A lifeline to the rural economy
The contribution from tourism to poor communities in rural regions is considerably undervalued, and often overlooked. Tourism has vast direct economic benefits other than from generating employment, improving wages, and stimulating growth in many direct and indirect sectors. The multiplier effects of tourism are substantial, spreading economic benefits to other sectors outside tourism. Being recognized as the largest voluntary transfer from rich to poor, while tourism redistributes money from the developed world into developing countries, within the host country itself, it is trickled down to grassroots as income for most poor communities. The new global trend for deep experiential travel - "living like a local" - is popular especially among millennial travellers today. This trend certainly caught up in Sri Lanka: 60,000 rooms out of 90,000 represent the informal sector.

Even though the immediate direct impact is seen on airlines, hotels, restaurants, and retail, the hardest hit will be on the poor communities dependent on tourism income in the rural regions in the country. Behind this glamorous and glitzy industry façade, there is an army of people depending on it for their livelihood.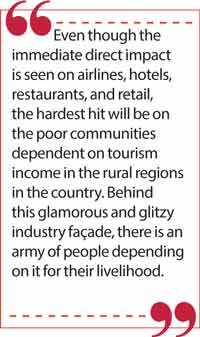 This will be quite evident if you study tourism regions such as Hikkaduwa, Habarana, Ella or any other: you will clearly see near-empty restaurants and local hotels. Tourism has a strong relationship with small and medium enterprises, providing entrepreneurial opportunities to those in the low income groups. It is also a lucrative channel for the self-employed. What is happening now is the loss of income fast creeping to the fishermen, farmers, local guides, three-wheel drivers, lace-makers and even the everyday king coconut seller alike, many of whom are breadwinners.

Arugam Bay, one of the top ranked surfing destinations managed by the local communities, where 'Girls Make Waves', the first female surf club in Sri Lanka was formed, has not been lucky enough to escape the negative impacts. The livelihoods are limited to the April to October surfing season. Even though bookings were cancelled, a limited number of surfers - a little over a hundred - are currently enjoying crowd-free surfing. Some cancelled bookings have been rebooked, and a few bookings are coming in for June. Locals are hopeful for this trend to catch on.

Farmers, too, have been affected; not only they were able to get a higher price for produce, but were able to introduce high value crops demanded by the tourism industry in their ever-fragmenting farmland. All of these people have great concerns hanging over their heads, about how they would support their families in the near-future. Poverty reduction impacts go beyond employment income and other direct revenue from tourism, spreading to incremental revenue and increased production to households from other sectors. In the recent past, tourism has been leading poverty reduction in the rural areas in Sri Lanka.Seeing the newfound potential to trap poverty with tourism, a number of aid agencies have implemented programs in rural poor regions. Good examples are the currently implemented Government of Australia's the Australian Department of Foreign Affairs and Trade (DFAT) funded programs. The Skills for Growth (S4G) program has been established to develop skills through sustainable job creation and inclusive business growth in the tourism value chain in the four poorest rural regions of Batticaloa, Polonnaruwa, Trincomalee, and Ampara.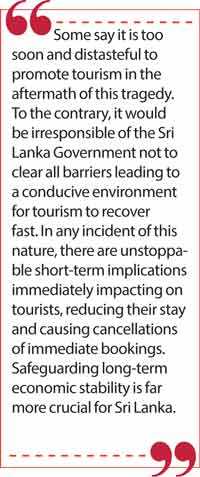 The other Australian government-funded project Market Development Facility (MDF) has identified tourism as the ideal platform, having the potential for pro-poor growth to drive socially inclusive growth, investment, and innovation across the country in a sustainable manner. These projects support one of the three primary Australian government objectives of expanding economic opportunities for the poor in Sri Lanka.

In a country where the informal sector overtakes the formal sector, dangerous implications of this incident cannot be underestimated. The Government too will have to undergo a cascading effect of loss of direct and direct tax revenue, which in return will result in risks of cutting down in Government spending in education, healthcare, and other social services, mostly used by the poor communities, creating an additional burden on them.
Safeguarding livelihoods preventing long term economic downfall
Some say it is too soon and distasteful to promote tourism in the aftermath of this tragedy. To the contrary, it would be irresponsible of the Sri Lanka Government not to clear all barriers leading to a conducive environment for tourism to recover fast. In any incident of this nature, there are unstoppable short-term implications immediately impacting on tourists, reducing their stay and causing cancellations of immediate bookings. Safeguarding long-term economic stability is far more crucial for Sri Lanka. If not, it will lead to an economic disaster that would do more harm to the poorest communities across all the rural regions, as they are the most helpless and vulnerable in the society. Negative travel advisories have a ripple effect from preventing tourists visiting , implications on insurance, increasing costs, risks of flights and cruises pulling out, further forcing the country to doom and gloom. Travel Advisories are issued by the governments as the duty of care for nationals to make an informed decisions about their travel and to help travellers prepare adequately for what they may encounter on their trip. Unfortunately for Sri Lanka this has led to a quite a number of negative implications.

Australian government has been the first to establish a long-standing partnership with the travel industry in Indonesia, and others such as Canada and UK following suit. This can be encouraged in Sri Lanka too. A ray of light is UK's Minister of State for Security Ben Wallace's recent visit to Sri Lanka, showing support and solidarity. "As part of my visit, I have discussed our current travel advice, and been clear that we hope to see the Sri Lankan tourism industry return to full strength. We will do all we can to help the Sri Lankan authorities with this." This comes as the biggest encouragement given to the industry so far.

Over the years, counterterrorism has become prominent in the global tourism agenda, due to its impact on economic growth experienced by many destinations affected. These destinations have learned to systematically to work on strengthening tourism business resilience against impacts of terrorist attacks. In Sri Lanka, the tourism industry has been beaten hard many a time before, and has the resilience to bounce back stronger than ever. At a meeting the business community had with the President, former PATA Chairman and Jetwing Chairman Hiran Cooray, with his long standing experience confidently told the President of Sri Lanka that tourism can be revived within a period of three to four months.

In concluding, preventing a long term economic downfall will depend on two fundamentals. First, how soon the government can declare Sri Lanka as a safe and secure destination; "Sri Lanka is now safe and secure for everyone". The other key barrier that needs to be addressed is the lifting of travel bans by the generating markets.