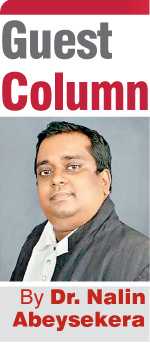 COVID-19 already started to experiment with people, businesses, and interactions. Anyway people, countries, and organisations exploring the world with creativity are always getting a competitive advantage. In this context, we need to understand the importance of research and development.
There is a need to invest money in research and development. Besides, Sri Lanka is spending only less than 0.15 % of the total GDP for research and development and there is an essential requirement to increase this amount as national policy.

Nevertheless, there is a role to play by corporates and institutes in Sri Lanka as well. Hence the role of professional organisations in Sri Lanka on this cannot be ignored. We need to strengthen and motivate research. It may be in different forms such as investing in research, organising national and international research conferences and symposiums, etc.


Key Performance

Indicators (KPI)

I think we need to have different indicators to measure the economic growth and development of the country. If the country possesses many Ph.D./DBA holders in the industry (both the public and private sector) it would be one of the Key Performance Indicators (KPI) for economic growth and development. I would suggest having this as important factor for sustainability for all entities in Sri Lanka. We can see many Ph.D. holders in universities and educational institutes. That is good. Yet, there is a need to have many experts in other industries to synthesise knowledge.

This conference organised by the Sri Lanka Institute of Marketing (SLIM) is the first-ever International Conference on Marketing Management (ICMM) organised by SLIM in view of the institute's golden jubilee celebrations. The conference themed 'Driving Innovations through Sustainability Marketing' can be seen with many thought-provoking tracks in marketing such as technology and digital marketing, marketing and society, sustainability marketing, sales management and retailing, international/global marketing, services marketing, business to business and network marketing, consumer behaviour, brand management and industrial marketing. So the experts and professionals can demonstrate and present their findings which is one of the key aspects of dissemination of knowledge within the industry.

This same thing was endorsed by guru in marketing Professor Philip Kotler as well. As my mentor Professor Kotler sent his best wishes to me to be commentated to SLIM that "I am happy to hear that the International Conference on Marketing Management will be launched on 17 December 2020. The aim of this conference is to update the marketing community of Sri Lanka and surrounding countries in the latest marketing tools, tactics, and strategies. Marketing has the potential, when used wisely, to boost any company's sales and profit."

The need for such conferences is important for any discipline to update tools, tactics, and strategies.


Collaborations

In this scenario, we need to discuss the importance of collaborations in research as well. It can be in terms of partnerships and alliances. The collaboration of SLIM for this conference with the world's leading publishing body 'Emerald Publishing' should be considered a great achievement. Boasting a portfolio of over 350 journals, content platform Emerald Insight is home to more than 255,000 current and backfile articles across the fields of business, management, economics, engineering, computing, technology and social science (https://www.emeraldgrouppublishing.com/products/journals).

Furthermore, it can be seen many partnerships with national and international universities for the International Conference on Marketing Management (ICMM). This is an essential requirement for any professional association.


Leadership

Whatever the entities there is a need to have transformational leadership with a great team for any achievements. SLIM President Roshan Fernando and all professionals including Nuwan Gamage (Vice President SLIM) , ICMM Co-Chair, and SLIM Treasurer Dr. Jayantha Dewasiri, SLIM CEO/Executive Director Sanath Senanayake, Manthika Ranasinghe (chair – project) and Council of Management, Board of Study, the Council of Education and all members contributed to the success of this conference.

We should also always remember all past presidents of SLIM and founding members such as Col. Kenneth L. Abeywickrama, T.S.L. Almeida, Russel Aluvihare and R.S.R. Candappa .Because associations always nurtured by many and all of us to remember them as gratitude.


Conclusion

We can see many positives amidst COVID-19. This is the time all Sri Lankans need to get together and see how we can come out of the crisis. A strategic window has opened for Sri Lanka and associations and businesses should grab the opportunity for the betterment of our nation. We should learn the best practices and proactively think about the future.

Changes call for innovation, and innovation leads to progress – Li Keqiang.
---
[This article was based on a speech made as Co-Chair at the first International Conference on Marketing Management organised by the Sri Lanka Institute of Marketing (SLIM) in view of the Institute's golden jubilee celebrations on 18 December 2020.]
---