At a time where the world expresses growing concerns about climate change, Sri Lanka is still oblivious to the impact of single-use plastic on the environment, marine biodiversity and humans. Ignorance may be bliss in some instances but, not when we self-destruct our only planet to live.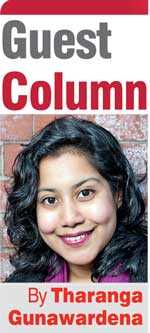 Regardless of the number of articles we read in newspapers, on social media and despite banning certain types of plastic from 2017 in the country, a majority of us still find it difficult to let go of the much convenient 'sili sili bag'. In 2017, the Marine Environment Protection Authority (MEPA) claimed that, every Sri Lankan is believed to throw away 5.1 kg of single-use plastics including plastic bottles. According to a UNEP report in 2018, plastic bags are often ingested by turtles and dolphins who mistake them for food. There is evidence that the toxic chemicals added during the manufacture of plastic transfer to animal tissue, eventually entering the human food chain.

The Ellen MacArthur Foundation (2016) predicts that by 2050, there will be more plastic in the oceans than fish by weight. In 2018, Erik Solheim, Head of UN Environment mentioned that plastic packaging accounts for nearly half of all plastic waste globally, and much of it is thrown away within just a few minutes of its first use.
What is single-use plastic?

Simply defined, single-use plastics or disposable plastics are used only once before they are thrown away or recycled. These items are things like plastic bags, straws, cigarette butts, soda and water bottles and most food packaging.
Regulations and lack of law enforcement

In 2017, according to Gazette 2034, the Government of Sri Lanka banned any polythene product under 20 microns in thickness for in-country use. It further prohibits manufacturing food wrappers such as lunch sheets from polythene (which includes high density polyethylene, low density polyethylene and polypropylene), food containers (which refers to lunch boxes), plates, cups and spoons from expanded polystyrene for in-country use.

Further, the ban prevents using bags manufactured from high density polyethylene (as a raw material), bags of any dimension with or without handles for the purpose of carrying products or goods including grocery bags generally referred to as 'sili-sili bags'. Exempts are made with garbage bags and textile bags with specific lengths. The gazette also prevents the above from being for sale, offer for sale, offer free of charge, exhibited or use within the country.

At the same time, the ban prevents incinerating plastic, citing that no one shall burn openly or cause to, allow or permit the open burning of refuse or other combustible matters inclusive of plastics. Despite the commendable regulations, the general public is still unaware of the types of plastic banned and the fact that incinerating plastic in the backyard is now unlawful. This lack of knowledge has led to the public still using plastic bags and the manufacturers not looking for alternatives. Moreover, the Government has failed to enforce the regulations, introduce fines or take actions against those who disobey the law.

Lack of research on how successful the regulations have been also contributes to not implementing and improving the set of laws properly in the country. It is disappointing that mandate authorities such as the Central Environment Authority have equally turned a blind eye in enforcing the above regulations or conducting research to understand to what extent the measures are successful.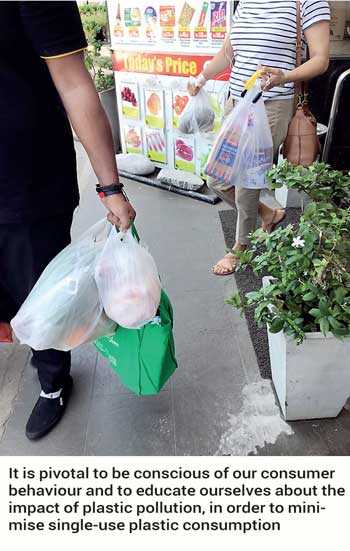 Countries which have successfully banned plastic so far

The first country to ban plastic bags nearly two decades ago was Bangladesh, which enacted the rule in 2002 (Business Insider, 2019). According to a report by the BBC in 2013, Bangladesh imposed the ban after officials discovered that the bags had blocked Bangladesh's drainage system during devastating floods. However, similar to Sri Lanka, its implementation has not been quite successful.

Other countries such as France, India, Mali, and the Republic of the Congo, Morocco, and Papua New Guinea have also put bans in place by now. One of the toughest bans introduced was by Kenya in 2017. Kenyans producing, selling or even using plastic bags will risk imprisonment of up to four years or fines of $ 40,000 (The Guardian, 2017). The European Parliament recently approved a law banning a wide range of single-use plastic items like straws, cotton balls, and cutlery, effective 2021 (BBC News, 2018).
Pledge to be responsible citizens

It is pivotal to be conscious of our consumer behaviour and to educate ourselves about the impact of plastic pollution, in order to minimise single-use plastic consumption. Avoiding habits requires awareness about its negative impact. It doesn't take much effort to always carry a reusable cloth bag to avoid purchasing a plastic bag that we will only use for a few minutes. This habit is what causes us to increase our weekly use of single-use plastic.

Whilst we've been conditioned to think that we need straws to drink in restaurants with regular usage over decades of usage, it is time to reconsider the practice. It is perfectly fine not to use one but if hygiene is still a priority, we can buy a metal straw and carry it with us.

Disposable lunch packets are another major contributor. Avoid them whenever and sparing time to pack our own lunch is healthier and cost-effective. Disposing home-waste properly is another fundamental practice to follow. Segregating food, plastic, paper and glass will help our municipal cleaners and the environment simultaneously. If there is a backyard, composting food waste will become useful for our gardens and it will minimise the waste one produces at the same time.

Finally, it is important to reuse the plastic bags we already have at home and recycle what can be. Whilst law enforcement is mandatory, a little change in us can make a bigger impact in reducing single-use plastic waste overall in the country.

(The writer is a Communications Manager and a MBA holder.)