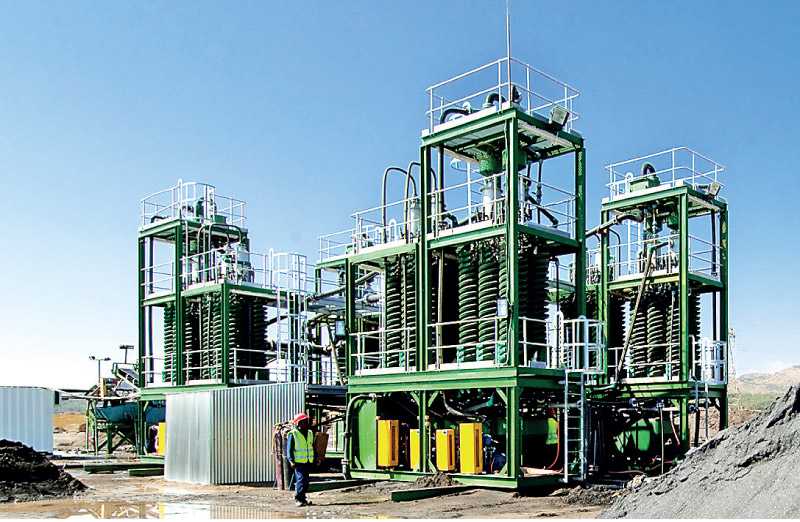 ---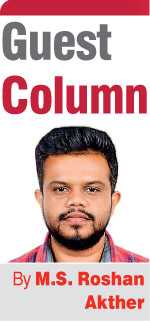 The heavy reliance on technology and gadgetry has increased the demand for metals and minerals that are required to manufacture these items. The global economy, governments, manufacturers, service sectors, support sectors and the end-consumers are heavily reliant on the latest development of technologies for increased efficiency, connectivity, stability and survival.

This ever-increasing demand has put a huge strain on our natural resources. Needless to say, the demand for metals and minerals to support this growth has increased tremendously resulting in an increased effort to extract and mine these metals and minerals all over the world.

'Mining' is defined as the extraction of valuable minerals from the earth and it is undertaken mainly by using two techniques, namely surface mining and underground mining. Surface mining is the most common type of mining (85% of all mining is surface mining), and is the only technique used for heavy mineral mining.

Deposits of heavy minerals (i.e., Ilmenite, Rutile) are typically found in present day coastal areas and slightly inland (occasionally buried) areas. Mining for heavy minerals usually involves the excavation of a pit area using equipment, such as front-end loaders, excavators or dredges. Although a large volume of sand is initially excavated, the valuable minerals only account for a small percentage of the total sand volume (about 5 to 20% depending on the concentration).

Most of the material (i.e., silica sand) has no value, so it is returned to the pit that is formed during mining. This means there is no open pit left after mining, unlike what usually happens with iron ore or construction sand mining. This is the clear distinction between sand mining and heavy mineral mining. Most of the modern mechanised mining methods involve backfilling and rehabilitation of mined out areas in a progressive manner. Such restoration programs demonstrate best practises to bring these coastal mines to its pre natural state and facilitate further development in the region (e.g. agriculture, tourism).

Another feature is that unlike hard rock mining for minerals such as gold or copper, the mining of heavy minerals does not require a chemical process to extract the minerals. Heavy minerals are separated from light mineral sands (i.e., silica sand and clay) using gravity (see Figure 1). Extraction of heavy minerals have various other characteristics, which enable mining and processing to be carried out by responsible operators in a manner that results in minimal environmental impact.

These include explosive free excavation, ease of restoring topographic profiles, amenability to revegetation etc. There are numerous examples in the well-established heavy mineral operations in Australia and South Africa where exceptional restoration and revegetation has been achieved both in agricultural and naturally vegetated terrains (see Figure 2).

Sri Lanka, despite being a small country, is well known for its non-metallic mineral resources. When evaluating the mineral resources of Sri Lanka, it is apparent that black sands or heavy minerals stand out as being the group that has the greatest potential to deliver globally significant production. As revealed from mineral investigations performed by the Geological Survey and Mines Bureau, Sri Lanka's mineral resource base consists primarily of industrial minerals. Of these industrial minerals, heavy minerals (mainly ilmenite, rutile, zircon, garnet, and monazite) are amongst the most abundant minerals with a high economic potential that are found in Sri Lanka.

These minerals are consumed by various industries for the manufacture and fabrication of common everyday items including mobile phones, ceramics, paint, plastics, paper, abrasives, electronics, medical products, sunscreen, food, and pharmaceuticals. It is likely that you have already used many items today that contain heavy minerals in some form. Mining for heavy minerals is essential to ensure you can enjoy the modern conveniences of daily life. Currently several government and private entities are engaged in the exploration and investigation of heavy mineral resources in Sri Lanka.

These primarily lie within the coastal areas of the Puttalam, Mannar, Trincomalee, Batticaloa, Ampara and Hambantota districts where potential exists to define further resources. Although economically viable heavy mineral occurrences are identified in several coastal areas of the country, mining activities are so far limited to Pulmoddai, where the Government-owned Lanka Mineral Sands Ltd. has operated a mining and processing plant since the mid-1950s. Its evident that most of these coastlines are progressively being converted into tourism facilitated hotspots or similar economic activities.

Ideally more effort should be focused on promoting sustainable mining methods and extraction of heavy mineral resources for their economic and financial benefits, before these areas attract other development projects (e.g. tourism), which may result in Sri Lanka losing the ability to reap the benefits of a resource that has the potential to generate enormous sums of foreign exchange for the country. Since, mined areas can be restored to their previous physical state within a short period of time, the other development projects could also kick-in once the heavy minerals are extracted from areas of interest.

Even though, it is accepted that considerable growth potential exists in the Sri Lankan mineral sector, the lack of investment, technology, clear policy and regulation and expert knowledge is hindering the utilisation and development of these mineral resources. Sri Lanka can achieve optimum utilisation and maximum benefits from mineral resources by adopting the best applicable scientific technology for mining, beneficiation, and rehabilitation.

Moreover, by encouraging the private sector to actively participate in the development of the heavy mineral mining industry and the export of heavy minerals (mainly ilmenite, rutile, garnet and zircon), a considerable amount of foreign exchange can be generated.

Mining is not generally understood and explored here in Sri Lanka as a large scale commercial Industry. Local investors are reluctant to invest in mining considering the large capital cost involved in the industry. Currently, there is a lukewarm interest shown by foreign investors in the mining industry mainly due to the lack of progressive and consistent policy and regulation here in Sri Lanka.

Sri Lanka has the potential to offer an extremely efficient and attractive foreign investment environment for the mining sector with the adaptation of right policy regulations from successful mining jurisdictions. Foreign investment also brings new skills and expertise from other countries which will result in the transfer of new skills and capabilities to Sri Lanka.

Furthermore, the Government should facilitate in-depth market research and market-oriented research and development projects on minerals and mineral-based industries. This information along with any commercialisation aspects of R & D work should be easily accessible to local and foreign investors to invest and develop Sri Lanka's minerals sector. Additionally, a well-coordinated and strengthened institutional framework is required to build a promising and efficient mineral sector in the country.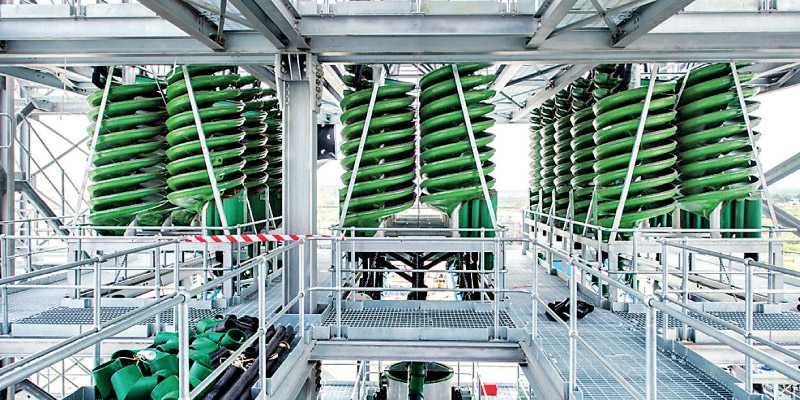 Heavy Mineral Separation Plant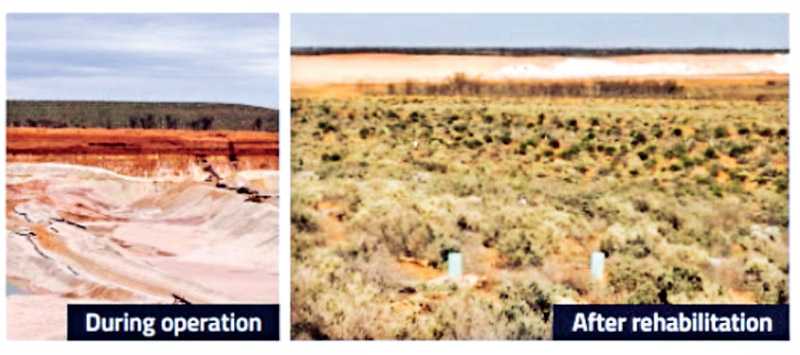 Figure 2 Coastal Restoration Program
---
(The writer is a visiting lecturer at the South Eastern University and is also a researcher on the mineral industry.)
---