---
The media recently was speculating on why the delay in Q2 GDP growth data not been released. Then on social media the story broke out that Sri Lanka's GDP has declined to -17%. I am not a believer of social media but the data can be true in this case. The logic being that Q1 data revealed that the
economy has contracted -1.6%, which factored only 10 days of lockdown.
SL Q2 -17%?
In my view the Q2 number can be -17%, given that exports registered a -26.4% contraction as at end June 2020, whilst the overall tourist arrivals registered -49.7% due to COVID. Tea exports declined by 14.5 as at end June whilst overall construction by -16%.

If I am to be specific the apparel industry lost $1.5 billion as at end June for the three month period which explains the challenge that we are faced with. The latest data on media spent – TV, radio and press as at end July state that there is a-23.4% decline to Rs. 55.3 billion from the 66.7 billion that was spent last year as per rate card. Hence the number of -17% GDP growth that Sri Lanka registered may be true in Q2. Let's not be shy about it as the world is at the same rate too. Let's be mature and accept it.
World is crashing; let's accept it
India announced that the economy has contracted -23.9% with unemployment hitting 24% in Rajasthan, 20% in Delhi which means around two hundred million can be out of jobs at a national level.

Having worked in India for almost six years, a point to note is that when an economy contracts at such high proportions, it dismantles the total supply chain of a country, which is why the World Health Organization (WHO) has announced that lockdowns only create poverty and this can have more severe ramifications to a country than COVID-19.

We see a similar situation emerging with the Australian economy contracting by -7% and Brazil at -9.7% GDP growth and early reports say that the British economy has spiralled to -20%, which is the reason why WHO advocates that lockdowns are not the best options to manage COVID-19 virus.

Hence the new ethos is to follow the new normal behaviour – wear a mask, wash your hands as frequently as possible for 20 seconds each time, practice social distancing and check your temperature at regular intervals. In other words, every economy must allow the economy to kick in whilst managing the health risk from COVID -19.
V-shape not possible
If we do a deep dive on India we see that it is very clear that a V-shaped recovery is almost impossible given that 60% of the consumption happens via the private sector. In my view we will see a spike initially but thereafter there will be flattening of the curve given that COVID patients have crossed 7.5 million and the fatalities daily touching over 1,000 with cumulative number at 115,000, which many are saying is understated. I guess time will tell.

Latest research reveals that almost one-fifth of the 1.2 billion Indian population has been exposed to COVID and India will overtake the US in terms of people infected. Chennai is worst hit according to early reports coming in, which means that Sri Lanka must be on high alert. India will see more of a U-shaped or W-shaped recovery is what economists speculate.
World Bank -6%
The World Bank recently released a report dated 30 September that Sri Lanka is heading towards a 6-7% contraction in the economy. A point to note is that this estimate was before the 'Minuwangoda cluster' that has resulted in almost quarter of the economy going into an unofficial lockdown. The logic for the downward trend was attributed to the impact on exports, private consumption, and investment.

The report also states that tax revenues fell short due to the fiscal stimulus package implemented in November 2019, which included a reduction of the Value Added Tax (VAT) rate and an increase of the registration threshold which can have an impact on the overall number. A point to note is that overall FMCG growth had declined by -37% as at end May as per Nielsen indicates the overall consumption declining at the household end.
'Minuwangoda cluster' killed the fight back
It is quite unfortunate but from a top ranked country for COVID-19 management to the grim reality that we are faced with today, it is very sad. The reason being that we in the business community were just raising our head and fighting the downturn. Be that it may -17% or say -10%, the fact remains that the economy will be contracting. It is not to do with the policymakers but a market reality due to the pandemic.

The fact remains that before the 'Minuwangoda cluster' came to being, Sri Lankan private sector was in trailblazing mode. UNICEF congratulated Sri Lanka that kids could attend school safely given that the world had shut down. We were proud to say that we are Sri Lankans, especially those of us who have relatives in countries like US, UK and Australia, which are falling apart with repeated COVID-19 shutdowns. But sadly this was short-lived.

As at now there are over 2,000 cases of COVID-19 patients out of the 'Brandix cluster'. In fact the cluster accounts for almost half of the country's number. As at now there COVID-19 patients sprouting from all parts of the country. The Western Province is badly affected, which is sadly affecting business and overall policy making with CMC shutoff, bank branches, just to name a few.

I guess the rhetoric 'money vs. bodies' analogy came to life and we see how the former was selected that has resulted in the lid blowing off. The only good news is that nobody is on the ventilator. But some say that once the virus hits senior citizens, the story will be different.
Next steps
Let's be practical. We will see many such outbreaks of COVID-19 until a vaccine is available. Even if it's available, the control is only 70, which means that we will have to learn to live with the virus. We will have to make the new normal behaviour a way of life. We will have to accept that some of are going to be part of the statistics on fatalities unless we practice the guideline.

1) Let's be better in bracing for the shocks: We will see many such Minuwangoda outbreaks. Let's be prepared next time around, especially on how we treated those affected, if not it can become a labour issue.

2) COVID-19 Control Certification: The SLSI in partnership with Rotary has launched a certification that institutionalises the 'new normal behaviour'. This will lead to the new behaviour to be part of the DNA. As at now almost 300 entities have got the certification starting from tea companies to the rubber sector. This must be adopted by the apparel sector.

3) Separate Government intervention: Companies must separate Government intervention vs the consumer demand patterns. For instance the current 288% growth seen in online retailing is not permanent. Companies must focus on the consumer and what behaviour is more permanent. This must be the change that companies must adjust to. If not companies can be faced with financial issues.

4) Balance between money vs. bodies: I guess this debate will never come to a close. It's a tough call to make but choosing the latter makes the organisation more sustainable in the long term. The best case we saw was on the Brandix case in point based on the information hitting the media.
Conclusion
We will see new business models emerging not only at a macro level but also the way we need to run our companies. What is important right now is to be information savvy and make sure the companies are financially viable. If the need to change the business model is required, do that. You don't have to stick to the knitting.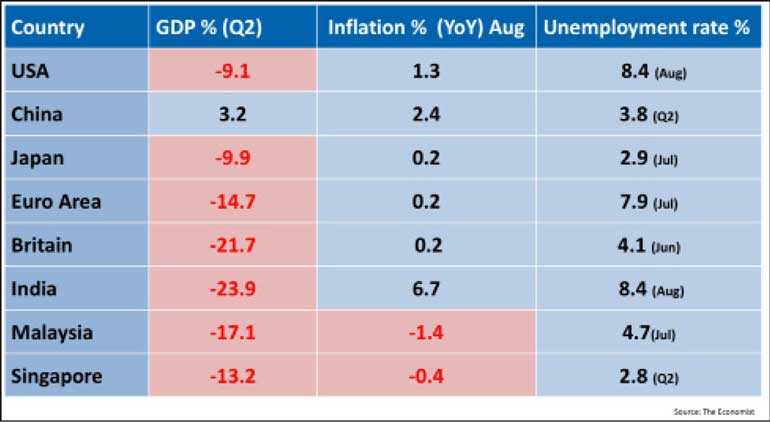 ---
(The thoughts are strictly the author's views and do not reflect the organisations he serves in Sri Lanka or in the South Asian region.)
---