If you are a cricketer playing for the nation you have to prove that on the ground as well as off the ground
---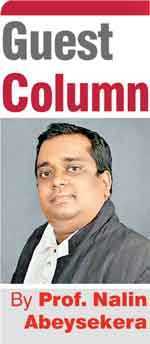 I have again watched the cricket match which Sri Lanka played against Australia in Sydney in the year 2006 (15 years back) in which Master Blaster Sanath Jayasuriya scored 114 runs off 96 balls with four sixes and ten fours. Tony Greig considered this as a 'Magnificent performance from a wonderful cricketer'. We had such an era in cricket in Sri Lanka those days. Now as Sri Lankans we do not have any 'live' cricket as we need to browse the web and recall the history.

This is the best time for all cricket-loving people to have reflections. In the 1950s 1960s, we mostly listened to a cricket match on the radio about the talents of players like Sathasivam (Sathasivam or Satha as he was known, was the Sri Lankan cricketer whom Garry Sobers called 'the greatest batsman ever on earth,' and Frank Worrell called him 'the best batsman he had ever seen'), Michael Tissera, etc., and in 1970s and 1980s, we were fortunate to see the quality of players like Roy Dias, Anura Tennekoon, Dulip Mendis, etc. With the great win of the world cup in 1996, we have witnessed the great performance and team spirit of Jayasuriya, Murali, Aravinda, Arjuna, Kaluwitharana, Mahanama, Mahela, Vass, Malinga, Marvan, Dilshan, Madugalle and Sangakkara. More importantly in the past players considered playing for the country as 'sacred'.

Now we can see some postmortems or a retrospective analysis (an analysis carried out shortly after the conclusion of an event, especially an unsuccessful one) on the defeat. It is good. But in management, we are talking about 'paralysis by analysis.' So, we have to be concerned about that as well. If you play for the country you should consider playing for the nation as sacred. Sri Lanka is an island where we had many success stories manifested by our belief in religion, history, and spirit of teamwork. There is a need to respect tradition and those who love and play cricket should start to 'read' about legends like Murali, Jayasooriya, and how our past cricketers play cricket with commitment and dedication.

Moreover, you should read the heritage of the country including Sigiriya, Anuradhapura and Polonnaruwa with our victories in the past. You should know Polonnaruwa, Sigiriya and how it has built up by our leaders, etc. If you are a cricketer playing for the nation you have to prove that on the ground as well as off the ground. Then only the people of the country will respect you. The sacrifice made by players and administrators for Sri Lankan cricket such as Anura Tennekoon, Mahesh Goonatilleke, Bandula Warnapura, Aravinda de Silva, Michael Tissera, Sidath Wettimuny, Arjuna Ranatunga, Gamini Dissanayake, Ana Punchihewa and many more cannot be ignored and should be well-respected.

Sri Lanka is really fortunate to have most of the players and professionals mentioned earlier with a great interest in Sri Lanka cricket. There is a need for an advisory panel that should consist of experts who love Sri Lanka cricket to have proper long-term, medium-term, and short-term plan. In this context, we need to mention professionals like Palitha Perera with immense experience, expertise in the game of cricket, and more importantly the know-how of practical implications of the 'art of cricket'.

I believe Sri Lanka cricket should be concerned about ADT factors (Attitude, Discipline and Talents). In the past, Sri Lankan school cricket, we have nurtured players with all ADT factors. But now we can see only 'Super Stars' emerging without any long-term expectations with an idea of playing cricket for the country as sacred. Hence the role of professionals like Palitha Perera is important to communicate to youth about the art of cricket and ADT factors.

As a community that loves cricket, we want to repeat the world cup winning of 1996 despite watching the same match on YouTube. I think if we have proper discipline and plan, we can do this!