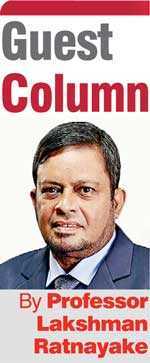 Celebrating the internet is important because it has become a feature of our lives that we could otherwise take for granted, not wholly comprehending what it can do to improve our lives. That is why the bold step taken by the Digital Services Chapter of FITIS in gathering up different stakeholders to create the 'Sri Lanka Internet Day 2021' is a fitting end to a year, according to the traditional Sri Lankan calendar which began around April 2020.

In a calamitous time for the entire world, the internet became a shining light, coming out the winner, while almost everything else failed. It was a lifeline to cling to, when isolation and lockdowns became a part of our lives; and it is indeed fitting for us to say a big thank you to this giant mechanism that has its roots and branches spread across the globe.
Power of the internet
The Sri Lanka Institute of Technology (SLIIT), as a higher education university, was highly dependent on the internet to deliver lectures to thousands of our students spread across the island during lockdown. Not only lectures but we used the internet to conduct online exams for close to 10,000 of our students from different faculties such as Computing, Engineering, Business, Humanities & Sciences, Graduate Studies & Research, School of Architecture, School of Law, School of Hospitality and Culinary.

The power of the internet is amazing. It is the same power that everybody held on to like a lifeline when the lockdowns happened, and work, study and even shopping had to happen from our homes. However, the vast populace of people are merely using the internet as a conduit for delivery rather than seeing what more it can do for us.
Long road ahead
For this year's theme of the Sri Lanka Internet Day, FITIS selected one of inclusion, but as the Digital Services Chapter President Jiffry Zulfer himself said, they fell somewhat short of actually achieving that goal because most of their sessions were conducted in English. There were some in Sinhala, but Tamil was almost non-existent; reason being the very limited resources in this area to develop sessions.

At a pre-event press conference he was addressing, Zulfer promised to do better next year, and I commend the spirit in which that assurance was given, because if any situation is to be corrected, we first need to admit that there was something lacking.
Overcoming obstacles
Everyone talks about the internet flattening the world, but the reality is, it can also create a great deal of disparity. Not only in terms of penetration and reach, but even with good telecom coverage, many may fail to take advantage of the internet to engage with the world, if they are constrained by language and culture.

This is one of the reasons why the Faculty of Computing of SLIIT, well over a year ago and long before the pandemic, began research and development on an editing package for use by Sinhala writers. The package which we launched at the Internet Day sessions on 7 April has been developed with an understanding of the needs of Sinhala writers.

In fact, we held initial discussions with a group of Sinhala media journalists who sensitised our developers on what was missing in terms of technology support for their work. Of course, soon after these discussions, the pandemic was upon us, and derailed the development process of the software. But we picked up in the last few months and I am happy to say we are now ready to present the first module which is a spellchecker for about 28,000 Sinhala words. The package is being further developed to support grammar and style.

We will test the beta version with some journalists who are willing to support the programme and once it is perfected, it will be made available to all. We believe this would have a tremendous impact in several areas such as education, commerce, journalism, administration, etc., and like all programmes it will be in a constant process of development.

More importantly, we plan to make the editing package a free and open source software so that any developer who wishes to work on the source code can do so, provided they keep the source code open for others.

For us at SLIIT, this editing package is part of our social responsibility, because it is a project for our communities. As a higher education institute, our contribution is in intellectual property, and we will make it freely available for everyone.

Someone recently asked me why we do this; and my answer to that is "because we can and want to." We are a not-for-profit organisation, and a company limited by guarantee, which means we don't have shareholders and there is no profit taking. Our profits are reinvested in the institute and our adjacent communities.
Internet Day
Our participation in the Sri Lanka Internet Day 2021, included a workshop for journalists interested in understanding the nitty-gritty of cyber security. This we believe will not only help in safeguarding their interests, but will also provide insights to cybercrime which they would be able to use in producing stories. It is also encouraging to know that the Internet Day event has a session on fake news, which has become a negative phenomenon of the internet.

At the launch press conference for the Internet Day, we were told there would be close to 40 sessions that would discuss various aspects dealing with commerce, law, taxation and enterprise, etc. I believe this is the first time any event has taken on such a Herculean task in reaching out to almost every aspect of our lives. The internet has brought us all together, and this event has helped us in terms of how we can improve our lives and impact society in a way that makes it better.
Everyone has a part to play
Our digital economy comes directly under the Ministry of Technology, which has as its head, the president of our country. While that underscores the importance of its place in our society, when it comes to the internet, it is not only the Government's part to provide for the country. We too have a part to play; businesses, non-profit organisations, NGOs and even the general public need to do their part in making the internet vibrant and productive.

It is heartening that the co-chair for this year's Internet Day was from Microsoft India. India is leaps and bounds ahead of us in the IT sphere, and we must tap into their knowledge and expertise. Inviting an Indian co-chair was a right step by FITIS and I hope in the coming years there would be more like this, who would support us in developing our digital economy. This is something that is entirely possible, given that the internet has no borders and barriers and information along with an exchange of ideas can flow easily from country to country, to make a positive impact on mankind.

The Sri Lanka Internet Day has to become an annual event and a series of events in between which I believe organisations like FITIS will give leadership to. We have to think about how human interaction can be enhanced and bettered with the support of artificial intelligence. We also have to know that it is humans who have to take the lead and not AI. That is why we have to be the masters of the internet; not the internet the master of us.

Even as our traditional new year coincided with the Internet Day, it was the right time to discuss digital inclusion. Making the internet a tool will open the doors for every Sri Lankan to take advantage of it, to better themselves and better our nation in the coming year.
---
[Prof. Lakshman Ratnayake is the Chairman of the Sri Lanka Institute of Information Technology (SLIIT). He served the University of Moratuwa for 40 years (1974 to 2014). He was the Head, Department of Civil Engineering from 1989 to 1994 and Dean Faculty of Engineering from 1995 to 2001 at University of Moratuwa. He was a Visiting Professor at University of Calgary, Canada from 1985 to 1986 and a Visiting Professor at Utah State University, USA from 1994 to 1995. He served as the Vice Chairman of UGC from 2001 to 2006 and he was seconded to the Ministry of Higher Education from 2006 to 2014 to lead higher education projects. In 2014 Prof. Ratnayake retired from University of Moratuwa and he was awarded the title Emeritus Professor.]