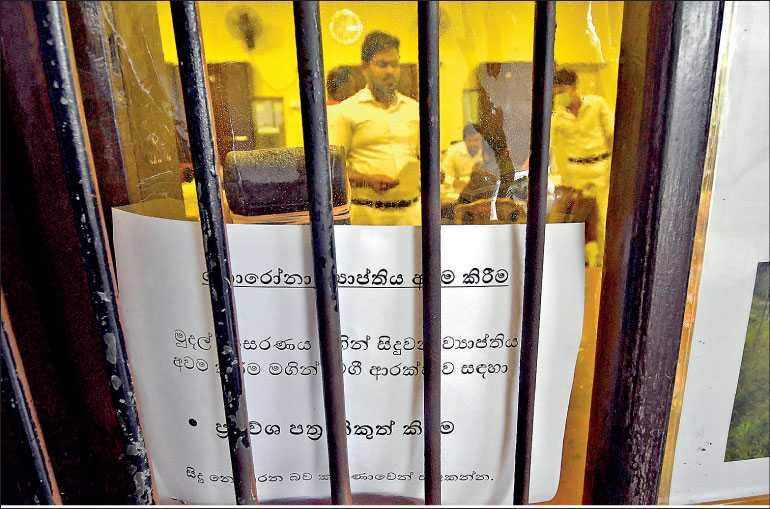 The challenge that COVID-19 has put in front of us also gives us a great opportunity to show our customers that we care – Pic by Shehan Gunasekara
---
The need

Although we never imagined of a situation where we would be forced to serve customers from within the confines of our own residences and that too for an indefinite period of time, the COVID-19 pandemic has now brought about that situation both locally and worldwide as well.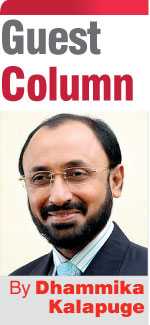 Nevertheless, the needs of the customers remain unchanged and in most instances they are likely to be become more complex due to the challenges we face in these difficult times. For instance, a customer who needs cash would like to know a convenient location where your bank's mobile ATM is expected to arrive. This can be done satisfactorily only through the effective use of mobile telecommunication.

Often customers tend to value and feel the importance of service most at a time when they have to experience sudden unexpected circumstances. Therefore, the challenge that COVID-19 has put in front of us also gives us a great opportunity to show our customers that we care. Thus, let us now concentrate on how we can capitalise on this opportunity and provide an effective customer service whilst 'working from home' during this crisis period.


Maintaining employee moral

Under the present circumstances where the conditions are changing with the fast moving pace of the epidemic, we all have to keep our heads cool. Creative and more productive ideas will automatically follow through if our minds are focused with confidence. Dedicated commitment to serve is vital regardless of the location from where you work.


Customer expectations

As mentioned previously, how you serve, to whom you serve and the type of service that you can perform within the bounds of your assignments are so varied and limited under the present crisis situation.

A major share of our economy is derived from the service sector of which tourism is a key contributor. Since the revival of tourism is a forgone conclusion as it depends on the return of normalcy to all countries, health wise, the service aspect of other sectors such as communications, food deliver, banking and bills settlements deserves our attention right now.

If you are into banking services, a customer is likely to need clarifications on matters such as whether salary transfers have taken place, payment due date for credit cards is postponed or not, the applicable date for the differed payment of loan instalments, new banking hours, availability of mobile ATM facility available in and around their area and when, etc.

If you are involved in on line modern trade operations, the customer may need information, for example, on the timing of supermarket operations, the availability of required items, the operation time duration of home delivery service, mode of payment, and information regarding next consignment and expected prices.

If you are managing a food preparation business, the customer is likely to be in need of details such as the latest menu readily available, the minimum value of the order, the home delivery service and the time duration.

The customer is not concerned about your inconveniences, but what matters most is to get what they need without hassle. Therefore, handling customers tactfully is a mix of art and science.


Challenge to employees

Getting used to long days of 'lockdown' and curfew hours is not a common phenomenon to most of us. In such circumstances, the sudden requirement to 'work from home' may be a stressful experience to the staff. Moreover, the lack of proper equipment and facilities at home such as IT support with the needed configurations, speedy Wi-Fi, availability of data, scanners, work space and necessary furniture etc. may hinder the expected output of the employee.

The staff should also be familiar with the geography of where the customer lives with the help of tools such as Google Maps so that service delivery personnel can effectively locate the customer's residence without hassling the customer with repeated phone calls.

The staff should ideally arrange a closed area at home free from children, pets and others who can often create disturbances. Furthermore, staff will have to work in short shifts in order to balance their other needs as well.

Therefore, it is the responsibility of the employer to assure that these basic facilities are in place for their employees to enhance the effectiveness of this initiative.


Employee skills

There are three skills that the customer service officer should practice when 'working from home' particularly when providing their services using e-platforms during a crisis situation.


(a) Patience when dealing with customers.

Perhaps the customer would have faced a difficulty in contacting you through the hotline as a result of the line being flooded with calls coming from many agitated persons. The frustrated customer may attempt to vent their anger and transfer their frustration to you. The only sensible manner in such a situation is to offer a polite apology by saying, "We are attending to so many requests made by our customers and please bear with us for few seconds until our hands are free to serve you too to the best of our ability."

Under any circumstances do not lose your cool and never ever try to argue with the customer. Remember that nobody has ever won an argument with a customer and he is not a good person to match your wits with.


(b) Ability to listen with empathy

Direct total focus towards the customer. Note down all the vital information he comes up with. Try to realise his concerns and the initial step is to agree with him in the first instance itself. Maintain your cool under pressure. Work with empathy by putting yourself in the customer's shoes and understanding your own reaction to the situation. This is not the time to deny, cover up, or shift the blame. Demonstrate transparency and honesty.

In a situation where you are not sure of the specifics about what the customer is concerned with, you may ask for more clarification. It is always better to say, "We don't know the answer to your requirement right now," "We are still evaluating the situation" or "Give us a little more time we will check and come back to you soon". Just keep the lines of communication open between you and your customers. It is not a rift between 'us' versus 'them', but we are all involved in this with a sense of togetherness, and that must be the common feeling that you are supposed to create at the end.


(c) Problem solving skills

The customer calls you under these circumstances because he needs prompt solutions. Therefore, it is important to understand his need quickly and provide the 'best fit' solution instantly. In a crisis situation there is a possibility that the nature of the offer is somewhat unusual.

We find these days supermarkets having 'standard package' offering the most essentials for daily use only. The vegetable supplier gives only a limited variety of items in their basket. The food delivery service may be preparing only a few items of popular demand from their usual standard menu. Furthermore, the suppliers may even, quite frequently, change what can be offered depending on the availability of their stocks.

Therefore, possessing an advanced knowledge about everything on 'offer' is vital in skilfully solving customer needs.

However, there can be ample reasons for not being able to fulfil all the requirements of the customers to their total satisfaction specially when 'working from home'. Service providers will be faced with certain limitations, restrictions and guide lines to follow set by both internal and external authorities. In such circumstances explain the inabilities in a 'positive way' to the customer.

Furthermore, create the impression to the customer under the given conditions that you are doing your best to satisfy him or her. We all have to bear in mind that some of the practices we adopt are purely on a trial and error basis needing continuous improvement with the changing environment as time goes on.


Responsibility on the part of the employer

(a) Provide the basic tools

The needed tools required to perform the assignment by the employee, who has consented to 'work from home' has to be provided by the employer. If the staff has their own equipment and resources, a mechanism to compensate for them has to be introduced. This is possible because 'working from home' during a crisis can still be cost effective to the entity.


(b) Access towards customer database

Staff should be provided with access to the data base of the customers. This will enable the staff to contact customers by giving courtesy calls to find out how they are doing. In some instances, even to educate the customer with regard to what should they be doing during 'stay home' period. For example, Toyota Lanka calling their customers and request them to start the engine of the car every day for a while and move a few metres front and back regularly.


(c) Empowerment

Use this opportunity to assess the expertise of the staff members and their competence when it comes to understanding the 'lifetime value' of the customer. Look at the track record of your staff members and accordingly empower them to take prompt decisions. In a crisis situation customers need quick response so that they have a choice either to accept your offer or decide on an alternative.


(d) Do not allow the staff to feel isolated

Just because they have started 'work from home' do not let them feel isolated. Encourage them to be in constant contact with the base and with other colleagues as and when time permits during the day. It will help develop and strengthen internal networking and also eventually help to serve the external customer better. Share information, and also engage in conversations in order to break the monotony of working in solitude.

Moreover, connecting people and having periodic check-ins is helpful not only to maintain human connection but also as a measure of relief to resolve any personal life issues that crops-up while 'working from home.'


(e) Recognise the good performers

Staff can be assigned with certain targets. Their achievements should be recognised in order to inspire them further. Moreover, when the staff is being recognised they will be inspired to perform better with these new initiatives. Such staff facing challenging experiences will also contribute to achieve a higher level of customer satisfaction.

At the year's end when the staff members are being appraised, a key factor the superiors should take into consideration, is to asses to what extent the employee has created an extra value proposition to the customers during this crucial time by 'working from home'.


Conclusion

People usually tend to feel the importance of the caring aspect more in a crisis situation than otherwise. Such acts will always create a lasting impression about the service providers in the minds of the people leading them towards building long lasting relationships.

There are several bold predictions about how COVID-19 will bring about a change in the world, one quote is: "It's a radical new way of thinking about how the workplace should operate. It shows that there is not an absolute need to have everyone congregated together in one place. With the advancements in technology, it's possible to have large numbers, if not all, employees working remotely."

COVID-19 has now created a testing ground to assess to what extent 'working from home' can provide an outstanding customer service experience in the period ahead.