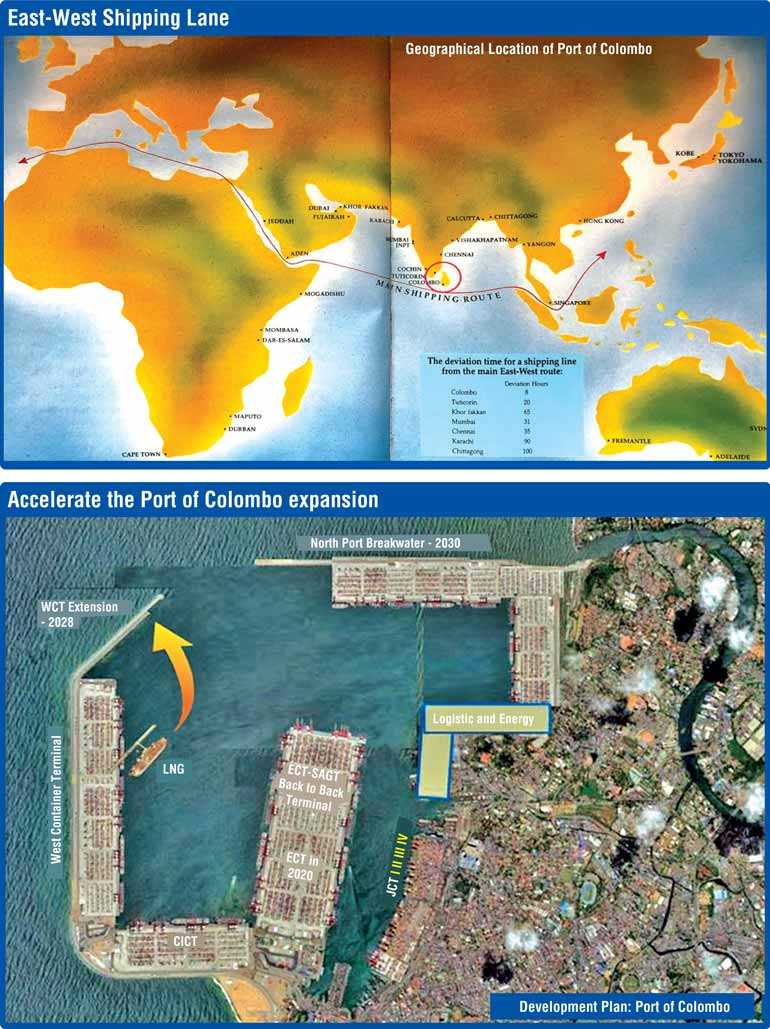 ---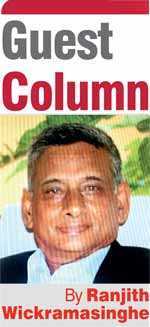 Sri Lanka's post COVID external reserves have fallen to its lowest level of $ 4 billion in March 2021 from a high of $ 8 billion in December 2019, the exchange rate of the US Dollar has moved up from Rs. 180 to Rs. 200, our debt service requirements for 2021 exceeds $ 6 billion, recent 60% rise of crude oil import prices and the pressure to ease import restrictions now hampering the economy, requires out of the box thinking and taking of immediate steps to enhance our Foreign Exchange Earnings (FEE).

Sri Lanka is an island with biodiversity and a large rural farming community for generations, with limited land and forest cover, and a quick burst of development needed can come from our sea around.
What are our strengths in the sea of Sri Lanka?
1. Sri Lanka (SL) possesses a territorial sea of 21,500 km2 and an Exclusive Economic Zone (EEZ) of up to 200 nautical miles (370 km) from the coastal line an extent of 517,000 km2. Our Sea of Sri Lanka (SOS) is eight times bigger than the land mass of 65,000 km2; Sri Lanka has rights to the resources in the water column, seabed and the subsurface in the EEZ.

2. SL, an island separated from the Indian subcontinent by the narrow Palk Strait possesses a coastal line of 1,340 km characterised by a series of picturesque sandy bays, and sand dunes, spits, rocky headlands, and sand beaches, lagoons, mangroves and estuaries, providing sanctuary to our biodiverse habitat. SL also has ring of fishery harbours and colonial forts around.

3. The world's trade is carried by 35,000 cargo ships, 5,000 tankers, and 45,000 aircrafts crisscross our EEZ annually using it as their main East-West Shipping Lane (EWSL), at their pleasure and convenience, without a levy for such passage.

4. The Port of Colombo (POC) situated in the centre of the of the world's busiest EWSL has now emerged as the Central Hub Port (CHP), either side of Suez and Singapore servicing largely the growth of India, Pakistan, Bangladesh, Maldives, Myanmar, Indonesia, Africa, Australia, etc.

5. Recently-reclaimed 270 hectares of land from SOS is the home to the new Colombo Port City, comprising a world class real estate development, a global financial and a service hub.

6. The recently-constructed Port of Hambantota (POH), at close proximity to natural sea depths over 30 metres in the south of SL stands 10 miles off the EWSL.

7. The Port of Trincomalee (POT) in the east of SL has the largest and deepest natural harbour in the world, which was used during the first oil crisis in early seventies to lay up half of the world's tankers. POT has a fuel tank farm comprising 100 tanks built by the UK.

8. The Sea of Sri Lanka has proven petroleum reserves in the Mannar, Cauvery and the Southern basins, estimated sufficient to supply SL for 60 years.

9. The Continental Shelf surrounding Sri Lanka extends from the present coastline to 150m bathymetry line. It is corresponding with palaeo dropped sea level during the Last Glacial Maximum. This submerged surface can be identified as 'first planted surface' (Katupotha, 2013). Within the Continental Shelf now being deliberated, Sri Lanka based on a statement of understanding agreed is entitled to an extensive area of its seabed in the southern part of the Bay of Bengal. With the deposits of silt from the Ganges over centuries, this area is believed to be rich in hydrocarbon and other resources. Great potential exists here for SL to benefit from extracting and processing rich minerals via joint ventures bringing in the technical knowhow.
New Foreign Exchange Earnings from the Sea of Sri Lanka
1. Port of Colombo handled seven million TEU (mTEU) in 2020 and potential exists to quickly increase the hub port capacity to 15 mTEU by 2023, 27 mTEU by 2025, 40 mTEU by 2029, from the POC by acceleration of development plans, and the commissioning of a New Port of Negombo (PON) 20 miles away from POC, and functioning in unison as the COLOMBO PORT SYSTEM (CPS) increasing the capacity to 60 mTEU in the long term, subject to a detailed technical and financial feasibility, preserving the biodiversity habitat therein.

2. At present ports of Shanghai and Singapore are first and second in the world ranking, handling +40 mTEU, and Colombo is ideally placed to service and support the massive Indian, Pakistan, Bangladesh, Indonesia (together having a population of two billion) new manufacturing drives and containerisation. As demonstrated now, POC can and will attract transhipment cargo from the vicinity offering continuous capacity growth and superior service at lowest cost. Maintenance of above competitive attributes of POC over Indian ports will enable the POC growth to trail increased capacity, rather than the other way around; this is our primary inherent strength.

3. Estimated earnings from POC in $ billions and throughput in mTEU are as seen in table 1. The breakwater of the South Harbour extension will cost $ 0.6 billion in 2022 and new North harbour breakwater and infrastructure, etc. is estimated to cost $ 0.9 billion in 2026, which could be financed from ADB, JICA, etc. – multi and bi-lateral soft loans to SLPA, which will be serviced from leased rent from terminals built by Public-Private Partnerships (PPP) with major ship owners/private investors on a build operate and transfer basis (BOT). Terminals managed by PPP comprising major ship owners will ensure filling of the capacity growth of the POC. New PPPs can be structured on the same basis of the South Asia Gateway Terminal (SAGT) model which has now run successfully for more than 20 years. The $ 1.5 billion investment on the breakwaters of South Harbour extension and the new North harbour has a potential 100% Return on Investment (ROI) on foreign exchange earnings.

4. It is estimated that Foreign Direct Investment (FDI) to Colombo Port City construction would be over $ 1 billion during 2021. It is further estimated that the inflow to SL from the Port City would exceed $ 2 billion by 2024 and $ 3 billion by 2025. Total investment $ 15 billion by 2040.

5. It is estimated that the Port of Hambantota and the adjacent massive hinterland proposed industrial, warehousing and service activity could bring in additional FEE of $ 1 billion by 2022, 1.5 billion by 2023, and 2 billion by 2024 from FDIs and their operations.

6. Port of Trincomalee has great potential to attract FDI/income exceeding $ 1 billion annually by 2022 from leasing of the fuel tanks and other maritime activity.

7. Commercial exploitation of petroleum from the Mannar basin and the Cauvery basin, etc. has the potential to supply SL with its crude oil supplies for which we spend $ 4 billion annually.

8. Expansion of the maritime security and service activity to the EEZ has the potential to earn exceeding $ 1 billion annually.

9. Set up joint ventures to exploit the resources of our EEZ, deep sea fishing, ocean wave energy, seabed minerals, etc. – potential benefit $ 1 billion per annum.

10. There is also great potential to add on the post-COVID tourism activities from our biodiverse coastline, which could further enhance FEE to Sri Lanka.
Exchange/write off the SL external debt of $ 60 billion
Foreign carriers consisting of 35,000 cargo ships, 5,000 tankers and 45,000 aircrafts USE/cross our EEZ annually, offloading their pollution on Sri Lanka. Sri Lankan flag carrier usage in the spaces of other countries is minuscule (0.1%) compared to how foreign carriers use our zone. Ships and tankers in the busy EWSL navigate passing Hambantota, eight miles away from SL, thereby saving sailing time to their advantage, whilst leaving the pollution the vessels create on the sea and shores of SL.

Foreign aircrafts crossing over do the same damage to SL. It is estimated that foreign countries profit to the tune of $ 10 billion per annum whilst releasing 10 million tons of CO2 emissions on Sri Lanka annually, continuously damaging our resources (values estimated are subject to further review), directly and indirectly from climate change. The damage to our economy from drought, floods, crop failure, landslides, human elephant conflicts, urban migration, and damage on SL biodiversity has been estimated at about 6 to 8% of the GDP annually.

The SL Government must canvas with foreign countries, WTO, World Bank, UN, and IMO to exchange/write off our $ 60 billion external debt against the damage caused to our resources.

Continental shelf: Resources from the continental shelf could bring SL further foreign income via suitable foreign collaborations in the long term.
We can bounce back – way forward
The post-COVID devastation , and coupled with the present predicament in SL largely caused by climate change with respect to the Human-Elephant Conflict, clean drinking water, protecting biodiversity, water for traditional farming, safeguarding forest cover, rain forests, etc. pressure is mounting against further commercialisation of limited land resource.

The way forward is to utilise the Sea of Sri Lanka.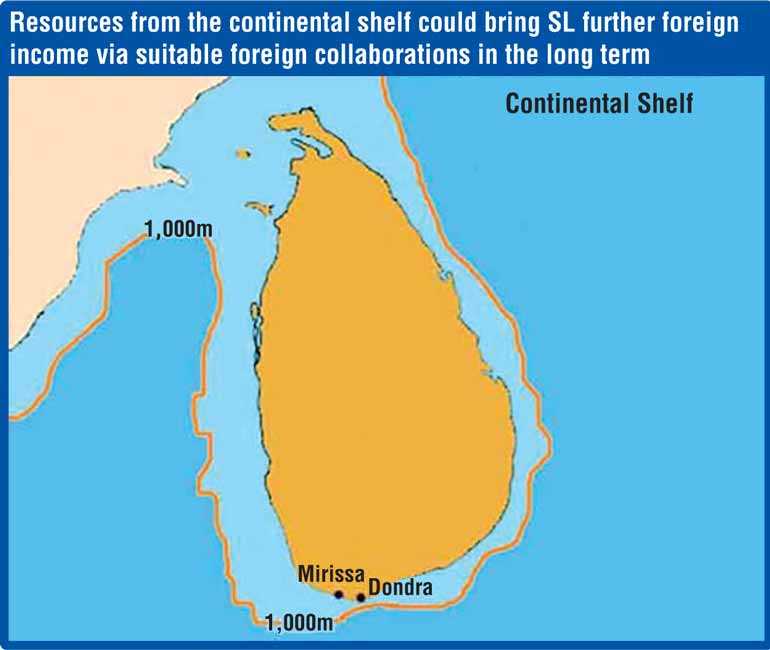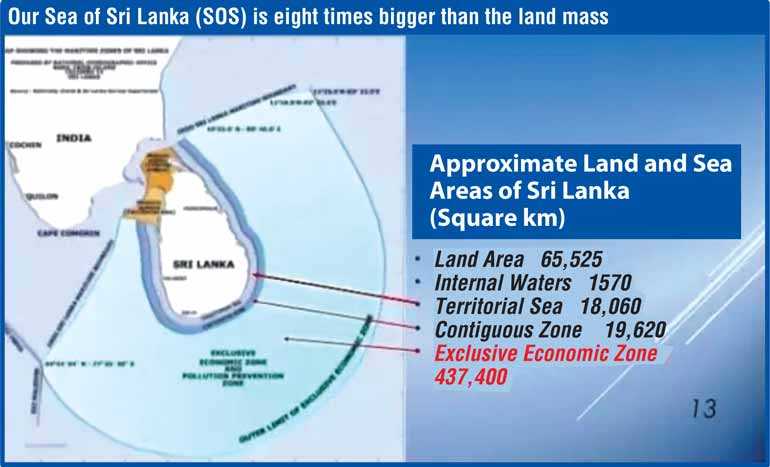 [The writer, FCMA (UK), FCCA, ACC.Dir.SL, CGMA, JP, is an Independent Financial Advisor and a Consultant and the former Chairman of the Sri Lanka Ports Authority and Ceylon Shipping Corporation, Head of Finance/Planning Zambia Consolidated Copper Mines – a NYSE Listed Company and George Steurts, and an Accredited Director of Sri Lanka, an Independent PLC Director. He enjoys playing badminton, golf, walking and cutting lawns at his green residence. He published 'A Rolling Budget & Five Year Plan to Turn Around the Post-COVID19 Economy of Sri Lanka' under ISBN 978-624-96562-0-8 on 31 July 2020 and is contactable on [email protected]]
---