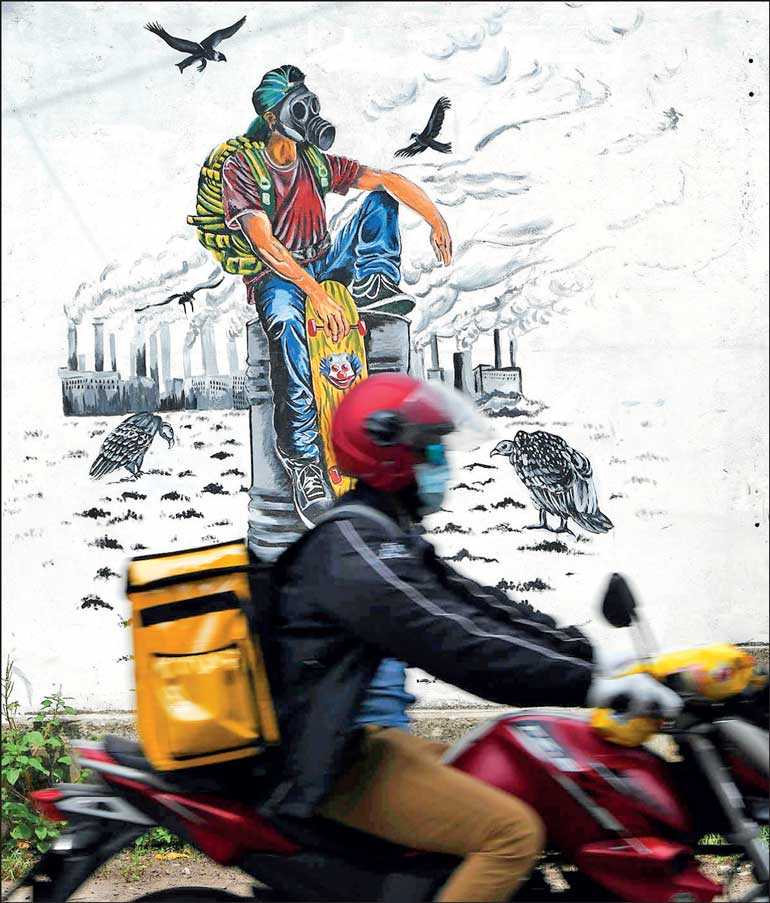 Obviously, the current economic downturn has challenged all businesses. But adapting and listening to customers can help small businesses weather the storm swiftly and continue to grow, even during challenging times – Pic by Shehan Gunasekara
---
COVID-19 is the largest public health crisis globally in our times, which has also generated a major economic crisis. In this context, it is common knowledge that the current economic downturn is

challenging Small and Medium Scale Enterprises (SMEs) as well. It has definitely been more impactful for small businesses which do not have the same resources as their larger counterparts.

On the other hand, the positive side is that the nature of some of these businesses are such that they are blessed with a few advantages to progress with their ventures during a crisis compared to large scale entities. Overall, the scale of operation being smaller itself is the biggest advantage that they have. Hence, the ability to quickly adapt by listening to customers can help such small businesses to grow and even new ones to emerge, during these challenging times.

What should existing SMEs do?
1. Cost benefit analysis
The entities have to be cautious about 'cost to income ratio' of every decision. It has to be kept at the bare minimum. Continue to be vigilant on this ratio and make appropriate business decision, invariably having weighed the 'pros' and 'cons' of your choices against one another.

Small businesses cannot easily keep running in the usual conservative way and expect to see continued success. They will have to be flexible in how they approach their products, operations, and processes. At the same time, make the right business decision that helps achieve your business goal whilst anticipating the best return for your time, money and effort.

Think of cost efficiencies and see how well the extra benefit can now be transferred to the customer. Always think of the sustainable differentiation that can be created through the 'service experience' and strengthen it further.
2. Constant touch with the customer
Communicate to the customer about your existence in the market place. Furthermore, show your concerns towards their wellbeing. Use the appropriate social media channels with simple and concise messages. With the pandemic, usage and affordability of technology has become so popular. As a result, the business can adapt and use this medium to reach existing and new customers effectively.

Sometimes the customer may not be in a position to make any purchases of your product during this period. Yet they will be interested in building relationships with smaller brands that are ready to serve their purpose. Maximise the opportunity, you have in hand, for personalised offerings and building strong relationships. Make your existence and brand, 'top of the mind recall', amongst the potential customers so that you will be the preferred choice for their present and future needs.
3. Continuous Improvement
SMEs are mostly either self-managed or operated with a very limited number of people. Therefore, each person should be responsible for their own respective action as there is no luxury to have many more supervisory staff to check each individuals' performance or activity at different levels.

During a pandemic cleanliness and hygiene become crucially important. To fulfil that aspect, pay enough attention to details by each and every individual. Customers too will value it to a greater extent in the given environment.

Changing and challenging circumstances demand innovative solutions. Keep your eyes and ears open to the fresh customer requirements in the current context. Find innovative solutions by thinking 'out of the box' and try to do something different and memorable that resonates with customers.

What should new SMEs do?
1. What do you want to accomplish?
Have a clear understanding on 'why is that I am getting into this business now'; Do I have a natural flair to do so? Is it to fulfil a livelihood? Am I merely going to capitalise on an opportunity that is emerging in the market place? Or is it owing to some pressure? A clear understanding on the above motives matter most.

However, remember the fact that any SME should venture into a business that the entrepreneurs are passionate in. This is important owing to the reason that such businesses are started with the initiative from one person or with the involvement of very few individuals. Remember that 'your burning desire will suit you in shining attire' which makes you obviously noticeable. Thus, your inspiration will serve in fulfilling others' aspirations.
2. What are the main concerns?
Those who are planning to get into business in the current context should be aware of the several concerns created as a result of the pandemic to the SMEs, on both the supply and demand sides. On the supply side, companies experience a reduction in the supply on 'factors of production'. Furthermore, supply chains interrupted with logistical issues may lead to shortages of certain parts and intermediate goods.

On the demand side, be cautious on the dramatic and sudden changes of the consumers. This may have an effect on the SMEs ability to function smoothly. Therefore, understand your target segment's requirement in terms of 'Who, What, Why, Where and When' before starting up the business. A proper analysis of those 'W's will help develop a new market for SMEs.

The best example is Kibulawela Junction near the Parliament complex, where a whole heap of new small-scale vendors have started selling products in the evening that fulfil current needs of a particular customer segment who are passing by.
3. What support do you need?
To initiate their venture the SMEs must focus on three main elements; (a) Market assurance: Will there be a market for you at least marginally to break even at the beginning of the business? (b) Helping hand: Known parties support to find contacts; (c) Product awareness: What kind of publicity can be generated for the business?
Case 1 – Know your product
During the lockdown, my wife wanted to prepare string-hoppers as the base meal for dinner. She decided to use an instant string-hopper pack purchased from the Good Market some time back. The string-hoppers were made in couple of minutes and it came out so very well.

When referring to the carton it appeared to me that this product was manufactured with the use of natural ingredients without any preservatives by a SME at Galewala. I spoke to him to clarify about the availability of stocks and outlets with regard to from where I could conveniently purchase them in Colombo.

His first clarification was: "Sir where do you live in Colombo?" He was so thorough with the outlets that were selling his products around my vicinity and their landmarks and addresses were given to me instantly.

Since he created a very good first impression, I got into a dialogue with him regarding his business and the manufacturing process. I was so impressed and convinced how he was managing his business with all local and organic ingredients to fulfil a current customer need with an innovative product. Since then I have been a regular customer for his products and recommended them to others as well. The quality of the product is consistent. Moreover, since then he does regular follow-ups with me to get my feedback on his products.
Learning outcome
SMEs must provide their direct access details to the customer and should be in a position to be contacted around the clock. In addition, they should be thorough with the places where their products are available.

If needed they must be in a position to demonstrate over the phone on the preparation techniques of the product. Moreover, in a crisis situation they must be extra vigilant on maintaining the 'quality' and 'availability' to create customer convenience.
Case 2 – Passion is key
Shya had a part time vocation at home, making all types of cakes. She was often getting cake orders from known upper middle and high net worth individuals. With the usage of rich ingredients, she always maintained high quality standards. It won the hearts of virtually all her customers to return repeatedly to place orders for cakes and also to introduce other items.

With the pandemic when all the other restaurants in town were initially closed, she remained opened for her clientele on telephone orders for which home delivery was arranged through PickMe. She decided to harness her capability to the fullest and extend her kitchen to an adjoining room with which she was in a position to offer many more fusion food items to her loyal clientele base.

Having rebranded their operation, she introduced varying daily menus of different traditional cuisines for each day of the week. Maintaining the real traditional taste was her biggest challenge. In the process she decided to use banana leaf by requesting a supplier to provide them regularly. This in turn helped that supplier also to earn some extra money during that time.

Food items were made fresh, sold at reasonable prices, in best quality sealed packing and promptly delivered to the customer 10 minutes prior to the agreed time. With the growing demand she passionately got involved with her industry. Kept herself away from all other social activities and focused fully on her work and decided to invest on the most important resources; storing, processing and packing equipment.

The market awareness was created entirely through WhatsApp messaging on a regular basis by informing her prospective client base on what is offered and when. She consistently makes it a point to give follow-up calls or send messages to her clients on the next day to get a feedback for continuous improvement. In a short period of time her operation had grown up to level where now they are getting continuous orders from her regular clientele to handle small scale exclusive parties as well.
Learning outcome
Be passionate in what you do. Identify your segment clearly and provide them what they value most. Consistently maintain quality in everything you do. Believe in continuous improvement by getting feedback regularly from the customers. Be focused towards your mission
Conclusion
Obviously, the current economic downturn has challenged all businesses. But adapting and listening to customers can help small businesses weather the storm swiftly and continue to grow, even during challenging times.