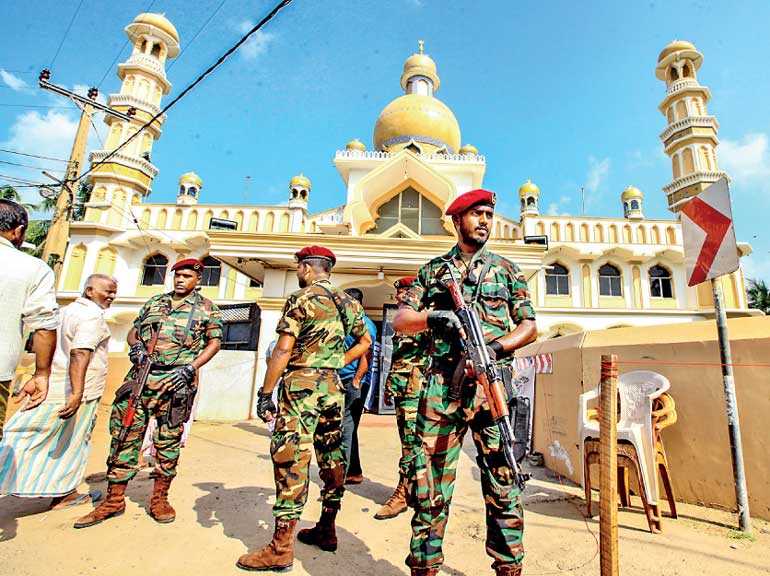 After a civil war that dragged on for nearly three decades, in May 2009 the Sri Lankan Government declared victory over the Tamil Tigers but covertly and subtly declared another war of hostility against the Muslim community by collaborating with partners in crime, Bodu Bala Sena and Sinhala Ravaya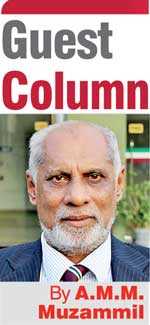 The Muslims of Sri Lanka, descendants of Arab merchants, who now constitute nearly 10% of the island's population, have been a peace-loving community since their advent in the seventh century.

Dr. Lorna Dewaraja, an erudite historian, points out in her illustrious book, 'The Muslims of Sri Lanka – One Thousand Years of Ethnic Harmony – 900 to 1915,' inter alia that, "In the history of Sri Lanka few are aware of the harmonious relationship which had developed between the Sinhalese, its indigenous inhabitants, and the Muslims who initially were foreigners and that both have lived together peacefully for over a thousand years."

The outstanding contributions made by past Muslim political leaders like Dr. T.B. Jayah, Sir Razik Fareed, and Dr. Badiudeen Mahmud who made selfless contributions in the community's interest and towards its socio-economic development, are indeed worthy of emulation.

They all are far-sighted visionaries who have tirelessly worked for the best interests of the community - a cause that was near and dear to them. Notably, they entered into politics not to enrich themselves or to achieve positions, but to serve the community and future generations with zest and zeal.

In order to ensure our political leaders were adequately represented in Parliament, multi-member electorates like Colombo Central, Beruwala and Akurana were created. Additionally, an equally important factor to note was that Muslim politicians like A.C.S. Hameed (Harispattuwa), M.L.M. Aboosally (Balangoda) and M.H. Mohamed (Borella) were elected from predominately Sinhalese electorates.

Communalism in party politics

The common threads binding the aforesaid Muslim political leaders were that they all eschewed communal politics and indeed, were exemplary role models of national unity and inclusiveness.

Hence, under their able guidance, the political landscape was peaceful and the Muslim community was able to live harmoniously without any form of racial hatred or jingoism directed towards them.

The political fabric of the Muslim community which was judiciously knitted by the predecessors (pre and post-independence Muslim leaders) was abruptly shattered into pieces in November 1986 on the advent of the Sri Lanka Muslim Congress which sowed the seeds of communalism in party politics.

Initially, SLMC, with late Ashraff as its Leader claiming to be the true voice of the Muslims, wanted to become a mainstream communal political party in order to garner votes from the gullible community, specifically from the Eastern Province.

To a certain extent, Ashraff was able to keep the dragon of communalism at bay. Like, for instance, the famous television debate between Ashraff and Ven Soma Thero, where Ashraff proved that the charges against Lankan Muslims and the attacks on himself were based on lies and distortions. The other was the controversial 'Deegavapiya' land issue where Ashraff vehemently denied allegations regarding the resettlement of Muslims within the land.

As his meteoric rise into the political arena was so sudden, so was the abrupt and tragic end of his life on 16 September 2000, on the Urakanda mountain range in the Aranayaka area. After Ashraff's untimely death, the Muslim community suffered ignominy after ignominy and have been at the receiving end ever since.

War of hostility against Muslim community

After a civil war that dragged on for nearly three decades, in May 2009 the Sri Lankan Government declared victory over the Tamil Tigers but covertly and subtly declared another war of hostility against the Muslim community by collaborating with partners in crime – Bodu Bala Sena and Sinhala Ravaya.

With the rise of Sinhala Buddhist Nationalism, sectarian divides have continued to grow — and the country has experienced new waves of violence. A rise in intolerance has been attributed in part to the post-war triumph of some Sinhalese majority politicians with the tacit support from the State.

Thereon the violence unleashed against Muslims intensified. The ultra-nationalists not only spew religious fanaticism but have also successfully whipped up racial hatred targeting the Muslim community. Over 300 such incidents targeted against the Muslim community have been reported since.

Innocents Muslims were mercilessly attacked, their properties destroyed, and mosques vandalised at Dambulla, Anuradhapura, Aluthgama, Mahiyangana, Gintota, Ampara and Digana-Teldeniya.

To add fuel to the fire, in current times some vested interests including two mainstreams Islamophobic TV channels are spreading a canard by alluding that Muslims have been the main cause of the spread of COVID-19 within the island. This is sheer racism and needless to say COVID-19 does not respect or recognise ethnicity, race, religious faith or social status.

Be that as it may, the Muslim community in Sri Lanka is heartbroken and traumatised by the enforced cremation of dead bodies by the authorities. Four of the nine who have died of COVID-19 in Sri Lanka were Muslims and all were forcibly cremated against their religious beliefs. As per WHO protocol, it has recommended the burial and over 180 countries including predominately Buddhist countries like Thailand has permitted the dignified burial of COVID-19 patients, be it Muslims or otherwise.

Silence of Muslim Parliamentarians

We have approximately 20 Muslims who were Parliamentarians in the now-dissolved Parliament who represent the community and are supposed to articulate their stance to safeguard the Muslim community's inalienable rights in times of crisis. What did they do collectively to the issue of forcible cremation against Muslims? Except for Mujibur Rahuman, a Member of Parliament for Colombo District, the rest of the so-called MPs become not only spineless but also deaf, dumb and blind. They basically function in the cabinet for 3Ps – Pelf, Perks and Portfolios.

While the self-styled Muslim leaders behave like Emperor Nero who fiddled while Rome burned, it was Tamil National Alliance Leader R. Sampanthan and JVP Leader Anura Kumara Dissanayake who always voiced their concern to safeguard the interests of the Muslim community in times of crisis. What a supreme irony! The supposed protectors of the rights of the Muslims have become silent spectators!

At this critical juncture numbers of non-Muslims have come forward willingly to assist and help the politically-orphaned Muslim community. A case in point, when our Muslim black-coat fraternities including the so-called President Counsels numbering nearly 10 are too timid and gutless to file a case to seek redress, Sumanthiran has bravely come to rescue and offered his services free of charge to appear on behalf of the Muslim community to gain our burial rights at the Supreme Court.

In addition, Mano Ganesan, former Minister of National Integration, Reconciliation and Official Languages, tweeted and condemned the discrimination the Muslim community is facing with regard to the burial issue. A video clip of Vadivel Suresh, former Deputy Minister of Health and Nutrition, which went viral too, made an impassionate appeal to grant the rights to burial in a dignified manner.

Samagi Jana Balawegaya Leader Sajith Premadasa equally pleaded for an end to the discriminatory and prejudicial manner in which the government conducted the last rites of Muslims who had died of COVID-19.JVP's former MP Bimal Ratnayake too tweeted that the Muslims should be guaranteed to have a dignified burial even if you are unable to guarantee a dignified and safe lives for the Muslims.

Injustice anywhere is a threat to justice everywhere

In Islamic jurisprudence, burial is mandatory. God has created the human body in the perfect shape and must be given dignity and respect. Decent burial is also necessary to allow their families and loved ones to visit their graves. Burying the dead in the ground is by way of honouring them due to the words of God Almighty when He enumerates His blessings upon man, "Did we not make the earth a home for the living and the dead?"(77:25-26).

On the other hand, cremation is alien to Islamic culture and totally forbidden in Islam. Deplorably, the All Ceylon Jamiyyathul Ulama (ACJU) which is supposed to be an apex body for theologians, under the leadership of Rizvi Mufthi has taken an erroneous stance to accept the ashes of the dead to be buried. ACJU has a past track record of doing more harm than good to the Muslim community. Virtually, it is a 'one man' show!

The Government's refusal to grant permission to bury the dead under flimsy medical reasons is tantamount to the travesty of natural justice. There has been no concrete evidence supporting their theory, and it is against globally-accepted medical stances which proclaim burial as a safe method to dispose of our dead.

Regrettably, UN Special Rapporteurs and human rights watchdogs like Amnesty International's requests to rescind the gazette notice too have been bulldozed by the Government.

Injustice anywhere is a threat to justice everywhere. So is the injustice meted out against the Muslim community by Director General of Health Services Dr. Anil Jasinghe regarding the burial issue, despite the World Health Organization's clear-cut directive, which categorically states, inter alia, that there was no evidence of persons having become infected from exposure to bodies of persons who died from COVID-19. The dignity of the dead, their cultural and religious traditions, and their families should be respected and protected throughout. It is further opined that a hasty disposal of a dead from COVID-19 should be avoided.

For all intents and purposes, it appears that Dr. Anil Jasinghe is not only brazenly flouting WHO guidelines and medical ethics, but also personifying the character of 'Mahadena Mutta' even to the World Health Organization, where he ironically holds the Vice Chair position of the aforesaid body.

Let 'Metta' (Loving-Kindness) and 'Karuna' (Compassion) reign over insanity and vengeance.
(The writer can be reached via email muzammilnas@yahoo.com)