We Sri Lankans, similar to those in other developing countries, prefer to leave a lot of things to the State. When something goes wrong we say "there ought to be a law" or "Government should take of these things". However, climate change is a phenomenon that we cannot leave only to the State because climate change is one of the greatest challenges we face during the 21st century.
The Paris Agreement on Climate Change

The Paris Agreement which was adopted in 2015 expects to keep global warming below 20C during this century and further explore the possibility of limiting the increase of global temperature below 1.50C. Various research reports indicate even in the best case scenario where we limit the global warming to the above mentioned levels, there will be significant impact of climate change that affect the ecosystems and communities, etc.

However, in case of present, business as usual scenario, the global mean temperature is likely to increase up to 40C creating severe repercussions (droughts, heat waves, floods, increase in the sea levels etc.) thus reducing any possibilities for climate change adoption.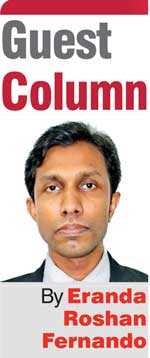 Climate change risk for Sri Lanka

According to the Climate Change Risk Index, which indicate the climate related losses, Sri Lanka is ranked in the 2nd place. Another 02 small islands namely Puerto Rico and Dominica is ranked in the 1st and the 3rd place respectively.

The index shows, Sri Lanka has suffered a loss of 1.13% as a percentage of GDP during year 2017 due to repercussions of climate change such as drought and floods etc. It is notable 02 South Asian neighbors, Nepal and Bangladesh are included in the 10 most affected countries in 2017, implying the vulnerability of South Asian region to the climate change.

In Sri Lanka, although the contribution from agriculture to GDP is as low as 7%, the agri-sector provides around 25% out of the total employment in Sri Lanka. Hence, climate change will affect livelihood of many people.
Role of private sector

Ideally businesses should be more concerned about the climate change, because it can reverse any of the significant economic achievement of the human civilization. Economic development without due consideration about the implications on environment will increase the climate change vulnerability.

Climate change will disrupt the supply chains, increase the rural poverty, pose threats to human health and affect the aggregate demand which in turn impede the economic growth.

Some of the actions that can be implemented by the business entities for climate change mitigation are enumerated as follows:
Every business entity, not only large establishment but also micro and small businesses should revisit their manufacturing/operation process to identify the activities that cause environmental pollution such as greenhouse gas emission and adopt mitigatory measures.
Reduce non-renewable energy consumption and increase focus on the use of renewable energy sources.
Develop environmental friendly new technologies.
Employee transportation – Transportation is the largest source of greenhouse gas emission in the world and hence businesses can consider facilitating work from home and providing staff transport thus discouraging use of private transport.
Increase awareness among employees and business partners about climate change mitigation and adoption.
Highlighting and sharing good practices related to climate change mitigation/adoption.
Support the projects initiated by non-profit organisations on climate change including research projects
Promote green bonds, blue bonds, etc.
Adopt environmental friendly infrastructure such as green buildings.
Select sustainable suppliers – include environmental performance factors to the supplier selection criteria.
(Eranda Roshan Fernando, an economic policy researcher, can be contacted via [email protected])