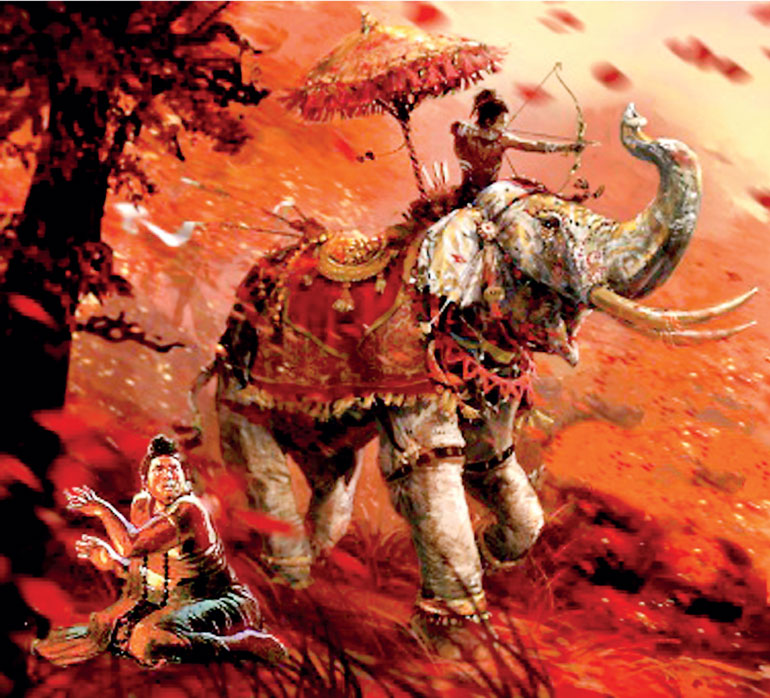 One of the Jathaka stories, the 'Bhimasena Jathaka,' enlightens modern-day organisations on talent management and about creating the right culture for organisational sustainability
With rapid digital adaptations in the modern era and the new millennials entering the organisation, there is a huge challenge on organisational leadership to create the right environment for attracting as well as retaining talented employees to achieve sustainable growth in any industry.



If any CEO of today's business is asked what their topmost priority is, many of them without hesitation would answer "customers" or "maximising profitability" or "optimising shareholder value" as their topmost priority. Ironically they forget that they are not responsible for "customers" or "profitability targets". But they are responsible for the people who are responsible for looking after customers; they are responsible for looking after the people who are responsible for creating shareholder value or maximising profitability.

It is observed that many top CEOs do not focus on "people" who are creating value, market share and sustainability of their business. They are busy with working on customers, introducing new products, market expansion or enhancing shareholder value. Organisations promote people to higher grades just because they are extremely good at their current job. Once they promote to the next level, they are expected to look after the people who are now performing their jobs, which they used to do some time back. Unfortunately many people continue their past and end up micromanaging rather than leading the people. Most executives fail in transition from their past job to new role as a leader.


This paradox of leadership role is evident in many organisations. This has led to not understanding the psyche of talented employees, as well as the inability to create the right climate or environment for attracting and ensuring the growth of the true talent for the organisation. Prime duty of organisational leadership is to create the right culture to nurture, attract and retain talented employees, which is an integral part for organisational success and future growth potential.

Talent management and sustainability

One of the Jathaka stories, the 'Bhimasena Jathaka,' enlightens modern-day organisations on talent management and about creating the right culture for organisational sustainability. The Jathaka has taught us timeless lessons such as the implication on a society or organisation where the climate is not created for attracting talent or ways in which not-so-talented employees are identified as being talented.

A long time ago, a Bodhisattva was born to Brahmin family, named Chula Danugga. 'Little Bowman' was born in Baranasi, he grew up and studied under a renowned teacher at Thakshila. He excelled in his studies and was known as 'Little Bowman' because he was somewhat of a dwarf. But he was the best bowman in his time, and confident of his great abilities in relation to warfare and knowledge in various disciplines.

He thought to himself that because of his crooked physical appearance, the King would refuse him to give a proper place in his Royal court. Then he thought, "Why should I not use a tall and broad fellow as my stalking-horse and earn my living in the shadow of his more impressive personality?" On his quest, he found a suitable person in the weavers' quarters named Bhimasena. Then the Bodhisattva 'Little Bowman' said: "What makes a fine big man like you work at so sorry a trade?" Bhimasena replied: "Because I can't earn a living any other way."

Then the Bodhisattva exclaimed: "Weaver no more, friend. The whole continent can show no such archer as I am. But kings would scorn me because I am a dwarf. So you friend must be the man to vaunt your prowess with bow and the King will take you into his pay. In the meantime, I shall be behind you to perform the duties that are laid upon you and so shall earn my living in your shadow. In this manner we shall both of us thrive and prosper. Only do as I tell you."

Accordingly, the Bodhisattva took the weaver with him to see the King. Upon being summoned, the pair entered together and stood before the King. "I am a mighty archer," said Bhimasena, "there is no archer like me in the whole continent."

Then the King asked: "What pay would you want to enter my service?"

"A thousand pieces a fortnight, sir," said Bhimasena.

"What is this crooked man of yours?" asked the King.

"He is my little page sir," said Bhimasena.

"Very well, enter my service," said the King.

So Bhimasena entered the King's service, but it was the Bodhisattva who did all his work for him.

By the King's order, Bhimasena had killed a furious tiger, as well as a dangerous wild bull, which would attack villagers and travellers, with the help and strategies of the Bodhisattva. With all those achievements, Bhimasena became a great lord with wealth and fame. Intoxicated by his new position, he treated the Bodhisattva with contempt and was scornful of following his advice.

Time passed on and a hostile King marched upon the Kingdom of Baranasi, sending a message to the King summoning him to either surrender or do battle. The King of Baranasi ordered Bhimasena to fight and defeat the hostile King.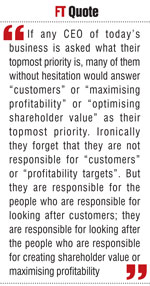 Bhimasena was dressed up like a warrior with all armour and mounted on a war elephant. When the first note of martial drums sounded, Bhimasena was filled with fear of death and about to fall from the elephant.

The Bodhisattva made Bhimasena get off the elephant and let him safely go home: "And now to win renown this day," said the Bodhisattva, raising his battle cry as he dashed into the fight. Breaking through the enemy King's camp, he dragged the enemy King out and took him alive. In great joy at his prowess, his Royal master loaded Bodhisattva with honours. From that day his fame spread across the continent and he was remembered as "The Sage Little Bowman". There are many lessons to be learnt from the Bhimasena Jathaka.

Lesson 1: Create the right organisational climate

It is evident that the King of Baranasi had not created the right climate to attract talented employees to his royal court. The 'Little Bowman' knew that even though he had excelled in his art and craft, the system would not accept him as a champion. If not for Bodhisattva's sheer willpower and tactical move to impress the King by using a superficial personality, the King of Baranasi would have lost the best warrior to a neighbouring king forever.

Organisational leadership ought to be in forefront to create the right culture which attracts, nurtures and retains true talent. Even today many organisations face a lacuna in dynamic organisational climate due to the inability of the leadership or unwillingness to create such a conducive climate.

A recent survey conducted by an HR expert, Barnard Marr (2017 Feb.), validates these facts and reveals most of the reasons for talented employees to leave an organisation are directly linked to organisational leadership and not creating a correct culture to attract and retain talented employees and ensure they flourish. As per research findings, the six main reasons identified are as follows:

No vision: Talented employees like to relate to a great cause or vision. When the organisation leadership lacks such a vision, the top talent leaves the organisation.

No equality: When organisations do not treat employees with equality and give them opportunities, many talented employees leave the organisation. It is observed that many organisations identify superficial talent, as in the case of Bhimasena, which leads to true talented people leaving the organisation.

No respect: If an organisation does not listen to the voice of talented employees or no importance is given to their ideas and opinions, talented people leave the organisation.

No future – If employees' future or succession is not clear or a system to recognise such talent is lacking, talented employees leave the organisation.

No morals: If organisations do not have a deep embraced value system, talented employees leave the organisation, because they always relate their values with the organisational value system.

No autonomy: If talented employees are not given freedom to practice their thinking, many of them leave the organisation.

Lesson 2: Create a robust system for talent identification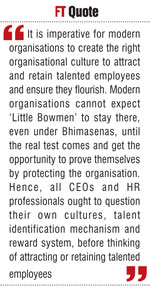 It is evident that the King of Baranasi did not have a proper and robust system of talent identification. Bhimasena, who was a superficially-talented personality, had been accepted to the Royal court just based on his outer appearance, "so-called personality," and might be based on his ability to improvise. But he did not have the necessary ability or depth of knowledge on warfare.

These superficial traits still prevail in many modern organisations and confuse talented employees. At many times it leads to highlighting of people with superficial talents such as those who are good at 'talking big' but have no depth of knowledge. They lack the necessary skills as well as knowledge in the trade, but their superficial personal traits such as physical appearance, social clout, family relationships and school connections have been considered as criterion for talent and these 'superficially talented' employees are given leadership of organisations.

Lesson 3: Create a reward system to motivate correct people and behaviour

Bhimasena was lavishly rewarded for his performance without any attention being paid to how he delivered the results. The King of Baranasi did not have any mechanism to identify how performance was being achieved and who was behind the scenes contributing to the success.

As Bhimasena hid behind the excellence of the 'Little Bowman,' modern-day Bhimasenas also safeguard their positions and ensure they flourish while sacrificing many talented employees, many of whom do not get the opportunity to share the perks with these modern-day Bhimasenas. In such a context, talented employees will be frustrated and leave the organisation forever.

Lesson 4: Caring for talent employees leads to organisational sustainability

It is observed that when the King of Baranasi faced the real crunch, endangering the very existence of the kingdom, superficial talents such as Bhimasena's were no match. But the Bodhisattva, a true talent, was there to wage war and protect the King and the kingdom. If the 'Little Bowman' had not been there to lead the army, the King of Baranasi would have lost not only his kingdom but also his life and it would have brought much suffering on the entire nation.

This universal truth remains the same for modern organisations too. If the organisation leadership does not recognise and nurture correct talent and gives place to modern-day superficial talents, Bhimasenas get to the forefront. When the real challenges appears, destruction is inevitable. This will lead to many strong organisations weakening their positions, if not totally collapsing, by risking the job security of thousands and could even lead to industry crises.

It is imperative for modern organisations to create the right organisational culture to attract and retain talented employees and ensure they flourish. Modern organisations cannot expect 'Little Bowmen' to stay there, even under Bhimasenas, until the real test comes and get the opportunity to prove themselves by protecting the organisation. Hence, all CEOs and HR professionals ought to question their own cultures, talent identification mechanism and reward system, before thinking of attracting or retaining talented employees.

As long as CEOs do not think that their primary focus is people, rather than customers, market share or innovation, many talented employees would be lost forever and this could endanger the very future of the organisation.



[The writer is a senior banker in a leading private commercial bank with over 28 years of experience in Sri Lanka and overseas, in branch banking, retail, SME and commercial lending, business strategy and adopting the Balanced Scorecard as a performance management tool. He is an Associate of the Institute of Bankers of Sri Lanka; a Chartered Marketer of the Chartered Institute of Marketing (CIM), UK, and a Certified Management Accountant of the Certified Management Accountants (CMA), Australia. He holds a Master's Degree in Business Administration from the Postgraduate Institute of Management, University of Sri Jayewardenepura and obtained his first special degree in Business Administration from the University of Sri Jayewardenepura. He holds a Higher Professional Level Module Certificate in Strategic Management from the University of Cambridge, and Diplomas in Bank Management and Credit Management.]