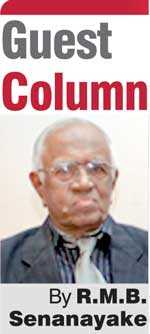 I refer to the news report on 18 September and welcome the news since the stock market can provide greater returns to the Employees Provident Fund contributors and also promote economic growth. The new issues of ordinary or equity shares to raise capital for private sector enterprises facilitates economic growth instead of the mere hoarding of such private savings or there being hidden away in safe deposits in banks or financial institutions.

The EPF contributors will also obtain higher returns from their contributions. Of course there are risks but there are also first class shares of listed companies where the risk is minimal and can provide much greater returns than government securities. Risk and Return are of course related and higher the risk greater the return necessary to induce investors to invest in such shares. But such investments in ordinary shares or equity promote the growth of the economy since the savings of the people are being utilised for economic growth instead of being invested in government securities which are borrowings of the Government and which are often misused or wastefully invested.

Economic growth requires private savings to be invested in growth producing equity, rather than in government securities which are essentially for government borrowings and the proceeds of which are often wastefully spent by profligate governments on consumption or prestige projects with little or no returns.

A strong secondary market in equity securities promotes a primary market in equities. This facilitates the raising of new capital in the equity market for new enterprises, which promotes economic growth. Equity capital is required for investment in economic growth and a secondary market promotes investment in equity capital. So a strong secondary market in stocks and shares is a strong promoter of economic growth through private enterprise. What is required is for the Government to give some incentives for listing and raising capital through the stock market – its primary and secondary components.

We need financial institutions to under-write stock issues by new companies, so that raising money through primary public issues becomes popular. The re-entry of the EPF should stimulate secondary market trading in the stock market and thereby promote the primary market as well. Of course there are risks but the only way to learn how to minimise and deal with such risks is by entering the market and following its movements regularly. Practice makes perfect but the decision to select stocks must be left to specialists and not undertaken by political henchmen appointed to man the Boards of Corporation. Perhaps a certain maximum percentage of funds should be earmarked for stock market investments and not all the funds of the EPF.