Several Western analysts have carried out a relentless media campaign in keeping with their own geopolitical agenda, to suggest that China was luring Sri Lanka into a carefully engineered debt trap. The Sri Lankan Prime Minister Ranil Wickremesinghe, too, has regularly claimed that Sri Lanka was in a serious debt trap due to loans obtained from China, and that the Hambantota Port was actually a 'large swimming pool'. In fact, when in Opposition, the Prime Minister and a few of his colleagues stated that Chinese projects were reeking of corruption, and that many such projects will be stopped when a Government under Wickremesinghe's leadership assumes office. His current Deputy Minister of National Policies and Economic Affairs, and then key Spokesman for Economic Affairs, Dr Harsha Silva even went to the extent of referring to China as an "Economic Hit-man". (http://www.ft.lk/article/68817/China-is-an-economic-hit-man:-Harsha)

Nevertheless, the debt incurred by Sri Lanka for the construction of the Hambantota Port was about Rs. 158 billion ($ 1,322 million): which was only 2.1% of the total debt of Rs. 7,391 billion that Sri Lanka owed as at the end of 2014. Further, the total loans from China as at the end of 2014 amounted to approximately Rs. 585 billion ($ 4.5 billion), or 8% of the total. At the same time, Sri Lanka's debt related data as at the end of 2014, was as follows:
Debt to GDP ratio: 71% (down from 91% in 2005)
Total Debt - Rs. 7,391 billion; of which, External Debt - Rs. 3,113 billion: Domestic Debt – Rs. 4,278 billion
External Debt to GDP: 30.0% (down from 39.0% in 2005)
Domestic Debt to GDP: 41.3% (down from 51.6% in 2005)
Average time to Maturity of Domestic Debt: 5 years and 8 months (up from 2 years and 5 months, in 2005)
Total Chinese Debt, mainly Project-related: $ 4.5 billion
Percentage of Chinese Debt out of Total Debt: 8%
Total International Sovereign Bonds outstanding: $ 5.5 billion
Percentage of ISBs, (mainly held by US and Western Investors) out of Total Debt: 10%
Interest cost was Rs. 443 billion or 4.2% of GDP.
Hence, by no stretch of imagination could it be claimed that Sri Lanka was in a 'debt trap' in 2014, or for that matter, in a debt trap due to the Hambantota Port loan or any 'Chinese loans'.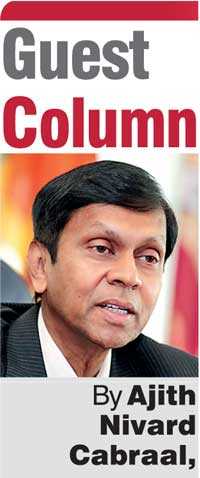 Even through the factual position was as above, the present Government, when it came in to power, repeatedly announced that it could not afford what they termed the 'expensive debt servicing' on the debt raised from China for the development of infrastructure in the past, which was probably to substantiate the claims made while they were in Opposition. Based on that claim, the Government proceeded to hastily alienate the Hambantota Port (which many consider as one of Sri Lanka's most strategic assets in the Indian Ocean). The Government also declared that the sales proceeds from the sale of the Port to a Chinese company would be used to retire the loan raised for the construction of the Port. However, it did not apply the funds so received for the liquidation of the loan, but instead utilised those funds to finance the budget expenditure, and left the loan outstanding. Hence, Sri Lanka still has the same or more debt due to China, in spite of the divestment of the Hambantota Port. In fact, rather than reducing the debt to China, Sri Lanka's current portfolio of Chinese loans is now estimated to have reached nearly $8 billion, with further commitments in the pipeline for the on-going Expressway Development Projects. Meanwhile, the Government's total external debt has also increased by a massive 33%: from $23.7 billion at end 2014 to at least $35.4billionby July 2018, of which international sovereign bonds mainly held by US and Western investors, now account for about$ 11.6 billion, or about $ 3.6 billion more than the Chinese debt.

In tandem with Western media reports, there has also been a growing concern within the US and Western circles that it is the 'Chinese debt' that is crippling the Sri Lankan economy and pushing Sri Lanka to sell its strategic assets. In fact, according to a letter dated 3rd August 2018, addressed jointly to the US Secretary-Treasury and Secretary of State, 16 US Senators seem to have concluded that Sri Lanka's debt to China is "unsustainable", and that the Sri Lankan Government had been "unable to repay over $ 1 billion of Chinese debt for construction of the Hambantota Port". The Senators have thereafter proceeded to further conclude that, as a result, Sri Lanka has "granted a Chinese state company a 99-year lease on the facility".

It is clear the Senators' conclusion that Sri Lanka's "debt to China" is "unsustainable "is not tenable, because if it is to be claimed that Sri Lanka is not able to pay its debt to China for any reason, it follows that Sri Lanka would also not be able to repay its debts to others as well. That would, of course, include the outstanding International Sovereign Bonds, which, at a value of about $ 11.6 billion, is substantially higher than the Chinese debt. However, the other assertion in the Senators' letter will have to be acknowledged as being partially accurate, in that the present Sri Lankan Government did indeed enthusiastically alienate the Hambantota Port, after justifying the sale of the Port and the vast adjoining lands at a distressed value, by mischievously spreading the debt trap canard to subdue the Opposition protests.

In the meantime, over the past 3 ½ years, due to the current Government's unsound economic management, reckless borrowing, and severe discouragement of investors by the imposition of unbearable taxes, the financial risks in Sri Lank have reached unprecedented levels. The staff reports of the IMF too have highlighted the fast-growing vulnerabilities. At the same time, the Sri Lankan people and businesses have experienced the bitter economic ill-effects in their day-to-day commercial activities, with high interest rates, rapidly depreciating currency, sluggish growth, and enhanced levels of non-performing loans.

As a result of this ultra-quick deterioration, Sri Lanka's external finances have tumbled and the debt situation has now become seriously risky. In fact, by end July 2018, Sri Lanka's Public Debt had zoomed to around Rs. 11,971 billion: a staggering increase of Rs. 4,580 billion or 59%, from the 2014 level. In addition, the estimated interest cost for 2018 has jumped to Rs. 820 billion, or nearly double that of the 2014 interest cost of Rs. 443 billion. The Debt to GDP ratio as at 31 July has also shot up to an alarming level of 87%, from 71% in 2014.

In that context, any suggestion that Sri Lanka is presently engulfed in a debt trap and is in an economically distressed condition would, sadly, be true, as the Sri Lankan Government's debt situation is now fast approaching the perfect storm. In that background, it truly ironical that the Prime Minister has recently decided to proclaim that "Sri Lanka is not in a Debt Trap", when the country's Debt to GDP ratio is at a perilous 87%, although he consistently claimed that "Sri Lanka is in a Debt Trap" when the Debt to GDP ratio was at a more benign 71%. That very assertion by the Prime Minister reflects the web of deceit woven around a hapless people by the team of manipulative and corrupt economic managers, and it is no surprise therefore that local and foreign economic stakeholders have lost confidence in the Government's ability to steer the economy, which is the foundation upon which successful economies are built.

The writer is a former Governor of

the Central Bank.