Ragging is also used by IUFS for gaining recruits for demonstrations, picketing, etc. – Pic by Shehan Gunasekara
---
Recently there were several articles on ragging in local universities. The article numbers dramatically increased when an undergraduate in Ruhuna University described his experiences over the social-media resulted action by the Vice Chancellor leading to complete stoppage of ragging in Ruhuna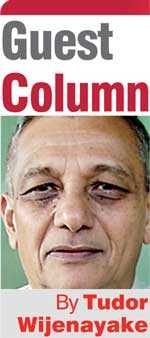 University. In addition, whenever action was taken by university authorities against raggers articles appeared again. These articles detailed the ragging actions by senior students on freshers and I do not wish to repeat same.
Ragging in universities
Ragging made news first in 1974, when trainee mathematics teachers at Vidyalankara University (now University of Kelaniya) prompted Sirimavo Bandaranaike Government to appoint a Commission to probe the incident. Resulting, 12 undergraduates were expelled and four officials were penalised for their failure to take appropriate action.
Over the years, the ragging reached inhuman proportions of harassment, abuse, filth, physical and mental torture. In the year 2018, after getting registered and paying fees 1,989 students abandoned the university education.
Meanwhile, the university hostel wardens, marshals, lecturers, professors, deans, and vice-chancellors kept a blind-eye over the happenings. Ragging happens in practically every university in the country with varying levels.
Some incidents reported in media are given below.
Victims of ragging
In 1975, Rupa Rathnaseeli, 22 year student of Peradeniya Faculty of Agriculture, jumped from the second floor of 'Ramanathan Hall' to escape ragging, became paralysed. She committed suicide in 2002.
In 1993, Chaminda Punchihewa, died as a result of ragging at the Ruhunu University.
In 1997, 21-year-old S. Varapragash, an Engineering student of University of Peradeniya, died of kidney failure following severe ragging by seniors.
Also in 1997, Kelum Thushara Wijetunge, a first-year student at Hardy Technical Institute, Ampara, died of kidney failure after forced tough exercises and to drink excessive quantities of liquor.
In 2002, Samantha Vithanage, a third year Management student at the University of Sri Jayewardenepura, who pioneered an anti-ragging campaign was killed at a meeting, while in a discussion on ragging.
In 2006, Prof. Chandima Wijebandara, the Vice Chancellor of University of Sri Jayewardenepura resigned from his post as a result of students failing to comply with his orders to eliminate ragging from the University.
On 5 March 2019, a first-year student from the Faculty of Management of the Sri Jayewardenepura University was admitted to the Intensive Care Unit (ICU) at the National Hospital after a ragging incident by a group of senior students.
On 31 March 2019, Shanilka Wijesinghe, in his early twenties who just gained admission to Diyagama Campus of Moratuwa University committed suicide leaving a three-page suicide note.
It was reported in media of torture chambers of the University of Visual Arts existing in front of the hostel close to the National Zoological Gardens, Dehiwala. Although informed, university administration failed to take action.
Four students of the Eastern University who were subjected to ragging were hospitalised due to injuries in June 2019.
Jayewardenepura University
When universities closed on 15 March, Pasindu Hirushan, a fresher at the Faculty of Management in the University of Sri Jayewardenepura, was in intensive care. He was hit by a heavy tyre rolled down the stairs during an event organised by the student union. The grievously injured Pasindu Hirushan, was suspected to be permanently incapacitated, but with care from hospital staff was able to leave the hospital.
Few days ago he rejoined the University and was welcomed by the VC, who never took any action against the raggers prior to the incident. When Pasindu was interviewed by the media, he refused to make any adverse remarks against the raggers who almost killed him. The event shows the brain-washing carried out, also the fact that if he were to continue his studies, he needs to toe the line. Eventually the persons who attacked him might go free.
Action by universities
Peradeniya University
In 2018, 15 senior students of the Peradeniya University were caught red-handed while torturing a group of first year students. The raid was organised by the staff of the Agriculture Faculty, with help from the Police. The student guarding the place had been sleeping, being drunk. The house 8 km from the

University had been rented for Rs. 10,000 per month for six months.
However, the Vice-Chancellor was soft over the culprits, who were only suspended for few months.
Ruhuna University
Two years ago, a new entrant monk was ragged overnight in the Bhikku Hostel, subjecting to sexual torture. By morning, he was wandering about in his underwear ('andana-kada') with suicidal intentions. A passer-by took him to the Gandara Police station where he made a statement and 15 monks from the senior batch were arrested.
Colombo University
In January 2020, second-year students of Colombo University had inhumanely ragged the first-year students at a student's hostel in Borella. An argument between anti-ragging group and raggers in the university canteen injured two anti-raggers and were admitted to Colombo National Hospital. The police arrested 12 students who were remanded by the Magistrate.
Kelaniya University
In early January 2020, 10 Kelaniya undergraduates were arrested for removing CCTV cameras that were installed to protect students from ragging.
Ending ragging at Ruhuna University
A student of Ruhuna University, Darsha Udayanage who was inhumanly tortured during ragging, went to University Grants Commission (UGC) with his mother requesting a transfer to another university. Afterwards, the courageous boy published the nightmare he had to undergo in social media and had held a media conference explaining the grisly experience.
Vice Chancellor of the University Prof. Sujeewa Amarasena having heard called Udayanage and obtained details. The VC got assistance from Additional Solicitor General to instruct the Police and 19 senior students were arrested. VC says he found rooms shut off with iron doors, in an area close to a canteen of the university. The VC had broken down the iron doors, which for nearly 15 years had been prohibited grounds for academic and non-academic staffers in the university, where students were subjected to grave physical and sexual assault.
Supported by video and audio evidence, Police arrested 19 students who were imprisoned for over six months. The VC took immediate action with staff and ragging has been completely eliminated from the Ruhuna University.
The VC levelled grave accusations against the Frontline Socialist Party, stating, students unions affiliated with FSP are ragging undergraduates for one year, where they systematically break them into submitting into their orders.
The Act prohibiting ragging
Sri Lankan Parliament passed the Prohibition of Ragging and Other Forms of Violence in Educational Institutions Act in 1998. The Act includes punishments of two to ten years rigorous imprisonment and compensation to the victim, yet to-date none had been charged under the Act.
UGC Reporting process
When the University Grants Commission realised the extent of ragging meted out to new students, it established the Centre for Gender Equity and Equality, operating a 24 hour help-line to assist students. In addition, an online complaint mechanism www.ugc.ac.lk/rag/ – coupled with the hot-line 0112123700 and email [email protected]. Complaints improved especially after ragging stoppage at Ruhuna University, but most anonymously.
Basic cause
Until 1970s all students passing out from universities found employment opportunities. With the introduction of Arts faculties in Colombo, also Vidyalankara and Vidyodaya universities the government was unable to absorb all students. The students had to fight, conduct protests and force the government for employment, first led by JVP, thereafter the Peratugami Party.
Ragging brought students under the control of FSP who would conduct fighting for jobs. Gotabaya Rajapaksa contesting for presidency promised jobs for 46,000 graduates, now held up with Election Commissioner's ruling. Unless the employment issue of undergrads are addressed, the protests and the ragging would continue.
The role of Frontline Socialist Party (FSP)
The 2014 NEC report names the JVP as the party responsible for ragging. Student unions of all universities are collectivised under the Inter University Federation of Students (IUFS) also known as 'Anthare'. IUFS is controlled by Frontline Socialist Party (FSP) also referred as Peratugami Party, a breakaway section of the JVP.
When the university entry results are announced, IUFS obtains detailed lists with student addresses. Their field staff visits poor students' homes in far-away locations and conduct familiarisation programs. They promise financial and other support to poor students and they become spies for IUFS.
On university admission, first year students are provided with hostel facilities. The spies look out for well-to-do-students, owning laptops, speak English and hardworking. These students are selected for most rigorous ragging breaking them for equalising with others. The objective is to make new entrants to think, behave at the wishes of IUFS.
Ragging is also used by IUFS for gaining recruits for demonstrations, picketing, etc. The party also uses university students to raise funds for their politics. The students are sent out to raise funds, supposed to assist poor undergraduates, but are used by the party.
Preventing ragging
Permanently stopping ragging in universities would require two basic steps.
1. Stopping ragging by authorities of all universities, with similar action taken by Ruhuna University.
2. Taking action against basic causes resulting ragging, i.e. inability of university graduates to find employment, which can be achieved by
a. Offering employment opportunities to graduates already passed out.
b. Assuring and guiding of students already in universities, towards employment opportunities.
c. Introducing new courses in universities enabling new employment opportunities.
d. Remove Buddhist monks from universities meant for lay students.
e. Changing education system to direct students towards employment.
Employment to graduates
The President offered jobs to 46,000 past graduates, but the employment was suspended by the Election Commissioner. Even if they are paid Rs. 25,000 a month it would require a staggering Rs. 1,125 million a month, an extremely difficult commitment to a near bankrupt country, while the government is already heavily overstaffed.
If they are employed as teachers they could only teach Sinhala, Pali, Sanskrit and history, producing similar students. Meanwhile, there are a large number of vacancies for English, mathematics, science and IT teachers. If these new appointees are given six months paid leave to learn any preferred subject to teach in English medium for students beyond Grade 5, it would improve standards of rural schools. When the government policy is made public, coaching organisations would appear overnight. The

graduates who performed well to enter universities, could easily learn the selected subject. They could improve their knowledge and move forward along with their salaries.
Undergraduates in universities
The undergraduates in years 2 and 3 especially in the Arts faculty, could be groomed as teachers to teach above subjects in schools and they too would be assured of employment.
Redundant course material
In most universities course materials remained static for decades. Lecturers deliver the same notes year after year, possibly what they received during their student days. A student who got admitted to Colombo University, Science Faculty, whose father too followed the same course, comparing notes saved by her father, found the notes were same word to word. If this is the situation in science, how would it be in Arts subjects?
These lecturers are the supporters of ragging, while continuing their lethargic lecturing without updating course contents, disregarding the advancing world. Senior students ragging freshers are unable to attend lectures, but a set of notes from a past student serves the purpose. There is no mechanism to evaluate the lecturers, their course content, whether their teaching addresses requirements of industry and the modern-day world. In some private educational institutes, the students evaluate the lecturers resulting in an incentive for the lecturers to improve.
Making graduates employable
Producing employable graduates requires drastic improvements to university curricula and new courses of study demanded by employers. New courses can be identified by the deans and professors.
Identifying new courses is not difficult. If the deans and professors search the internet for universities abroad, they provide information on courses offered and some even give detailed course contents. But whether our teaching staff have the capability or are willing to learn is another matter. For interested lecturers, subject matter is also available online. The lecturers could reform themselves or make way for a willing person.
Buddhist priests in universities
TV news regularly show the protests led by Frontline Socialist Party on student problems, even opposite the American Embassy. In the forefront are Buddhist monks, highly vocal and demanding attacks from Police. Protesters know Police dare not attack a monk.
Worshipers offer the priests with food, clothing, residences, priority in public transport, funds for minor expenses, and are highly respected.
There are two universities especially meant for Buddhist monks in Kelaniya and in Anuradhapura. Thus all Buddhist monks in universities need be relocated in universities especially meant for them. In addition, all Buddhist monks employed in various government positions including government schools should be transferred to teach in Pirivenas.
Changes to education system
Currently every year nearly 300,000 students enter the schools and around 30,000 enter the universities. The school curricula is prepared to groom every student to enter the university. But how about the balance 270,000 students? Thus our entire school curricula need to be revised to accommodate future needs of balance students.
The basic requirement would be reintroduction of English as the medium of instruction, switched over in the 1950s. With the advancement of knowledge and IT, English knowledge is a basic necessity. Thus, education from Grade 8 need be in English medium and subjects such as science and mathematics could be in English medium from Grade 6. Current teachers could convert themselves to English as happened in late 1950s. In addition school curricula need to be adjusted to suit the country's needs.
Advancing technology
The world is changing and the technology is improving. In late 1990s an agriculturist from Philippines and a local cultivator created the popular TJC mango, now exported to a number of countries. But villagers cultivate same without the needed know-how and the fruits are sold as Alponso at less than half price.
It was reported that two local businessmen attended a course on rearing of crabs again in Philippines. Having returned home they started vertical growing of crabs in horizontal trays, using cleaned lagoon water. Currently they export 5,000 kg of crabs a month and expect to increase the exports to 10,000 kg a month soon.
In 1970s and 80s Rice Research Institute presented the country with a number of rice varieties. Now we hardly hear of any research from government research institutions. Onion cultivators complain of poor quality seed material in the market. The country's research institutions are fed with the cream of university products. Is the poor research output a reflection of university products? Thus improving quality of university graduates in Arts also other faculties is a basic requirement for the country's progress.
Discussion
Current graduates, especially from arts faculties are unable to find employment as they lack knowledge and skills needed for employment. President Gotabaya Rajapaksa wishes to educate freshers with English and Information Technology. Even today some universities teach these to freshers, but seniors obstruct learning. This would become practical when seniors are made to realise that they too need English for employment after graduation.
Meanwhile, new courses of study need be introduced and students in Sinhala, Pali, Sanskrit and history need be restricted to 25 each. In addition, the students need to study English and another language such as Chinese, French and German, so they could be employed as tour guides if needed.
When university students are convinced they would be gainfully employed upon graduation, there would be no animosity on competition. Prof. Sujeewa Amarasena, Vice Chancellor of Ruhuna University demonstrated how ragging could be ended in universities. With both actions Student Councils controlled by Frontline Socialist Party would find it difficult to push seniors to continue ragging. It would be a combination of availing employment opportunities to graduates and efforts by Vice Chancellors and staff that would be able to stop ragging in universities.