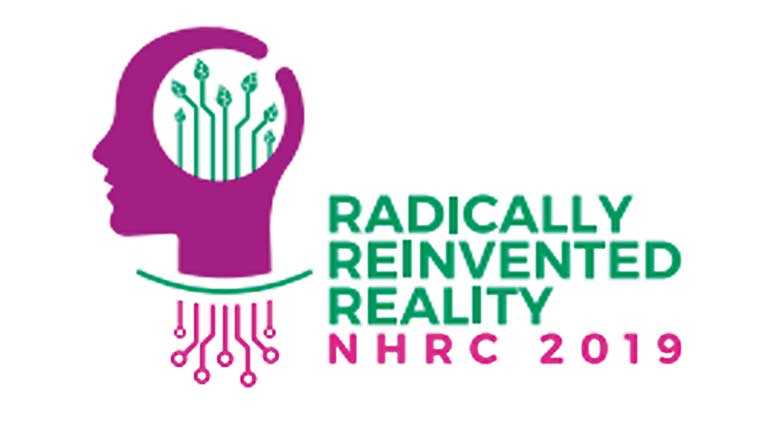 I am delighted to be involved in the National HR Conference 2019, the largest HR event in South Asia. This time it is on the theme 'Radically Reinvented Reality'. We need to take another look at the way we act institutionally and nationally, in understanding the reality that requires change. Today's column is an attempt to reflect on the significance of such an endeavour in the context of the country's reality.
Overview

We Sri Lankans belong to a region that houses one fifth of the world population and having the premier people management event of that region is indeed a pride for Sri Lanka. The mega winds of change have blown across the globe, bringing about new dimensions of people management. It has not only been evolving but changing its approach to gain better results. 'Radically reinvented reality' highlights the need for HR to be the designer and driver of change towards better people engagement and producing sustainable results. It is in this setting that the NHRC 2019 deliberates on the fresh challenges it must face and what new strategies should be developed for the future.

The event will be energised by the line-up of eminent speakers, including global, regional and local experts. The three interrelated aspects of digitalisation, environment and spirituality will be deliberated with a view to enhancing the thinking towards a holistic approach of managing people. Several keynote speeches, master classes and concurrent sessions will add much vibrancy to the proceedings, revealing the realms of 'radically reinvented reality'. CIPM President Dhammika Fernando, Conference Chair Ajith Bopitiya, Technical Committee Chair Chris Obeysekara and CIPM CEO P. G. Tennekoon have strived together with a dedicated team to present a prestigious event. I am looking forward to deliver the end keynote summing up the overall deliberations.

HR mega trends for a new era

World Federation of People Management Associations Secretary General Bob Morton will be a keynote speaker sharing his thoughts on the above. As a senior international HR professional with extensive experience in Human Resources, Leadership and Organisational Development, he will highlight the global and regional trends of HR towards a new era of people management with new insights. Having lived in the UK, USA, Switzerland and Germany, and worked on HR and organisational change projects across the world, he will share his valued experience in line with the emerging trends.
Empowering employees digitally

Suresh Surenthiran of the Academy of Art and Design, University of Applied Science and Arts, Northwestern Switzerland will speak on digital empowerment. As a digital strategy architect and engineering advisor to many Switzerland media companies, he will share his insights on how technology enhances people development. "HR must transform 360 degrees and hand over the admin work to Artificial Intelligence (AI)," says Suresh. HR must focus on a digitally-driven ecosystem, retrain, empower, and drive employees to transform digitally. This will drive the well-being of human work life. HR should merge the talent experience advocates, emotional intelligence, health, lifestyle, and experts. This can accelerate the organisation exponentially into a performance powerhouse.

"For HR and business leaders, this digital transformation poses two fundamental challenges. First, HR can help business leaders and employees shift to a digital mind-set, a digital way of managing, organising and leading change. Second, HR has the opportunity to revolutionise the entire employee experience by transforming HR processes, systems and organisation via new digital platforms, apps, and ways of delivering HR services. There are more disruptors than predictors that are driving this transformation of business models, workforce models and almost every job role. The future of work is going to be all about people – the way they work, where they work, even who is at work and the way technology is driving this change. Forward-looking organisations are rewiring themselves to adopt an 'agile organisation design' shifting from corporate hierarchy into a world of 'company as a network / corporate hierarchy'."

Mercer Senior Consultant Shanthi Naresh will offer practical advice through a master class on HR response to digitalisation. Being a Partner and Mercer's Business Leader for the career line of business covering India, Sri Lanka and Bangladesh, with over 30 years of experience in Human Resources in consulting and industry across India, Singapore and the USA, Naresh will share her rich experience blended with practicality. "The future of work is fluid. Never before has there been such a change in the way people take on the challenges of their jobs and the responsibilities involved. And the changes are happening at near lightning speed as HR races to keep up," she observes.
Digitalisation has taken HR by storm

hSenid Group of Companies Founder and Chairman Dinesh Saparamadu will share his thoughts on the above, with a blend of local and global experiences. A new world for HR technology has been on the horizon for some time. The era of true digital disruption has finally hit HR and taken it by storm. The all-digital world is changing how we live, how we work, and how business is organised and conducted.

'Designing Agile Organisations - HR's Role in Powering the Future of Work' is the topic covered by IFC's Women in Work Program Employment Lead Aarthy Arunasalem. She spearheads several women and children's wellbeing initiatives.
Spirituality and the workplace

The second dimension of 'radically reinvented reality' has been identified as spirituality. It simply means connectivity. We connect with our inner selves, others and the universe. Rajesh Kumar Jain, an experienced teacher of yoga, will share his experiential insights during the NHRC 2019.

"There is a fitting word for spirituality in Sanskrit, Hindi and many other languages – 'Adhyatma' comprising two words, Adhya and Atma. Adhya is derived from the word Adhyayan which means studying, observing. Atma means self. Adhyatma means studying oneself, observing oneself, knowing oneself. Without knowing oneself there can be no success, whether at workplace or in a relationship. "Now let's discuss and understand success in brief. A friend once invited me to a workshop, he said, a lot of successful people from various fields will be giving speeches. I must attend it. I asked my friend - how do you know they are successful? They are famous for sure, perhaps good speakers also but how do you know they are successful? It is quite possible that I am the world's most successful person but nobody knows about it. You may find this contradictory because we have always been told fame is success. Strive for success, not fame and there is no guarantee success will bring fame."

As Rajesh further reflects, "I commenced my education at the age of five from a Sufi fakir. My education in the various aspects of yoga saw me learning under many yoga and masters. While all of them had differences of opinion, I saw myself at a crossroads, and on 8 June 1996 stopped practicing, tore all my certificates but continued teaching because I had no other skills."

Deepal Sooriyaarachchi, the "mindful executive", will talk on the "power of mindfulness at work". Today we have come to realise life is far more than just work-family balance but a much more holistic reality that needs to be appreciated and celebrated for a business to sustain itself. It is a way of life, through constant practice in gaining deeper insights about oneself and learning to operate using a more efficient and effective "Mind Operating System".
Environment challenges and HR solutions

Uchita de Zoysa, an author and a frontline leader shaping global sustainability transformation discourse, will address the above in a meaningful manner. Having over 30 years of experience working in the public, private, media, and civil society sectors, especially on sustainable development, public policy, stakeholder engagement, social enterprise and integrated communications, he will share his valued insights.

'The Role of HR in embedding sustainability' is another related topic that will be covered by InterBalance Sustainability Strategist and Co-founder Charith Jayasundera. The purpose of going green is to use products and methods that will not negatively impact the environment through pollution or depleting natural resources. He will shed more light on this topic.
Way forward

The Chartered Institute of Personnel Management (CIPM) brought you 'In Search of HR Excellence' in 2013 with overwhelming success. We hosted the largest-ever HR event of CIPM in 2014 on the theme 'Redefining HR for Boosting Performance'. It further expanded on the subject 'HR for National Prosperity' in 2015. Then, we focused on the aspect of competing as a nation on a global scale in 2016 with the theme 'HR Ecosystem for Competitiveness'. In 2017, the focus was on 'Emerging HR Leaders: High Tech and High Touch'. We have moved further in 2018 with the novel theme 'Transformation of HR in the Digital World'. In 2019, it takes a dynamic turn with a distinctly different topic 'Radically Reinvented Reality'.

Now, the South Asia's largest HR event is coming to Sri Lanka, ever more enhanced and enriched. It will be a key milestone in the lead-up to the World HR Congress, the world's premier HR event that will be held in Sri Lanka in July 2020. This engaging and energising experience will offer participants immense insights, initiatives and implications with an invitation towards transformation, highlighting the radically reinvented reality that Sri Lanka requires.

Prof. Ajantha Dharmasiri can be reached through direc[email protected], [email protected] or www.ajanthadharmasiri.info)