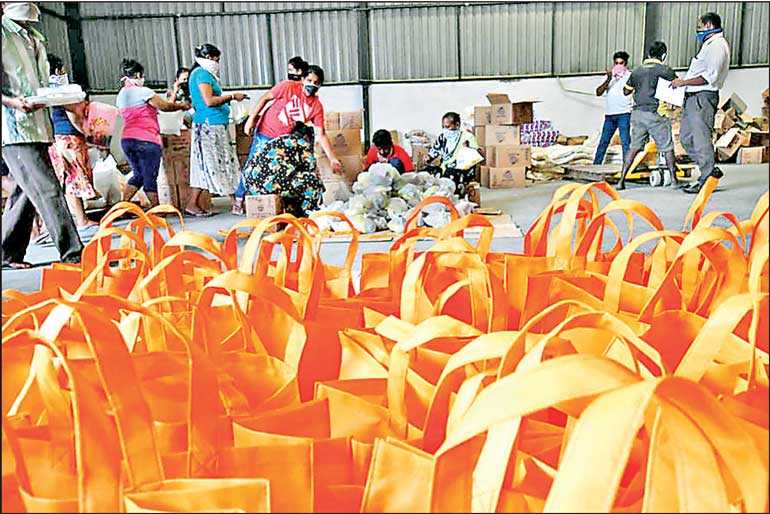 With the import restriction some innovative products are in the making locally. When it comes to delivery, more tech based newer user-friendly channels are introduced offering greater customer convenience. In addition, home delivery services are widely getting accepted – Pic by Shehan Gunasekara
---
Any drastic disaster can bring about a significant level of unrest to the world. The global pandemic is one such disaster that has made the entire world so vulnerable. When will life return to normal? Even
when restrictions are eased more noticeably, returning back to the lifestyle we took for granted may be a while away. It will take quite some time for us to get a real understanding of the impact of this pandemic.

Nevertheless, human beings are far superior to what we think we are. Hence, many believe that people will gradually get used to live alongside COVID-19 until a working vaccine is found. If you look at the past, particularly Sri Lankans have been very resilient to crisis situations, both man-made and otherwise.

This is further evident in today's post-lockdown environment; excluding tourism, all the other industries are making some favourable headway. This article will give emphasis on how we can 'REGAIN' (Realisation, Encouragement, Gratitude, Action, Insight, Novelty) our position through 'service' while moving forward with the pandemic which is at present controlled to a great extent in our land.
Realisation
Realise the sensitivity and importance of creating a good customer service experience. In the process firstly setting up, strengthening or sustaining a customer service culture matters most. To make it possible your organisation should have an 'employee first' culture as well.

The fact remains that 'Happy employees will create happy customers'! Therefore, show that your greatest asset now is your own staff. Realise the fact that customer retention is a two-sided long game that requires a strategic balance between delivering convenience and delight. Your challenge today is to maintain both employee and customer delight.

I was obtaining services from Aluk Aluminum Fabricators recently. The technician who was doing the job worked till late at night with a lot of enthusiasm to complete the task. I was curious to know what has made him to perform the job with a noticeable 'sense of belonging'. The reply was that the owner of the business Piyal Karunaratne looks after the workers so very well to keep them happy all the time.

Even during the COVID-19 lockdown they were paid their basic salary although 'work from home' is not possible for the obvious nature of their work. Actions like this had made the employees at Alum Aluminum Fabricators realise the value of the job and in return to do their best for the entity and its customers.
Encouragement
Keep the decision-making power closer to the customer. In a crisis situation, the customer who needs a solution to his/her requirement wants a decision to be made as quickly as possible. To achieve this the 'right person with the needed skills' has to be placed at the 'right position'.

Every encouragement must be given to the respective staff members to promptly take decisions, or conceptualise and propose the 'ideal solution' to its senior management, that will look after the best interest of the customer. Furthermore, staff should be encouraged and supported to work with more of a 'solution-based approach' rather than merely 'working by the rules'.

Having purchased an apartment from Prime Lands recently, I was very much amazed to note the enthusiasm with which the maintenance unit of the property developer was putting their best to fulfil the nitty-gritties. Most of the time they were doing things on their own initiative without obtaining approvals from the superiors.

When I asked the staff about what inspires them to do so, they explained: "We want to make your living comfortable and it is our responsibility by all at every level to do so. We are collectively responsible and individually accountable for all our actions in exceeding customer expectations."
Gratitude
We have the most to gain by having a grateful perspective during a crisis to both external customers and internal customers – 'the staff'. According to Sydney-based psychiatrist and Australian Financial Review (AFR) columnist Tanveer Ahmed; "Gratitude can bring hope, and make us feel less overwhelmed by circumstances."

He explains that in positive psychology research, gratitude is consistently associated with greater happiness. Being grateful and focusing on the positive can even improve health, according to a study by Harvard Medical School.

Even during normal circumstances, gratitude is an important attitude to cultivate. Researchers at the University of Pennsylvania found that fundraisers who were told their efforts were appreciated made 50% more calls the following week than those who were not spoken to. Be thankful to the customers who have been with you in tough times and keep in mind what more value creation can be done for them in the future.

Similarly, work towards looking after your own staff who have put their heart and soul for the job during the crisis. Shera Hassen, the Head of the Privileged Banking Unit of NDB, once said: "At the year's end when the performance of my staff is due for appraisal, there is one important factor that I will take into consideration. That is to see to what extent they created an extra value proposition through either 'face to face', 'online' or 'work from home' interactions with our customers during this crucial time."
Action
The saying goes as; 'The ability without applicability is a liability'. The World's Health Organization' accredited Sri Lanka as one of the few countries who best managed the COVID-19 pandemic. To receive this recognition, the prompt action taken by the authorities to serve all categories of people played a vital role. Furthermore, it helped the public realise the importance of the existence of many Government institutions and the crucial role played by them in serving the nation.

Last week's prompt actions by the Sri Lankan authorities in bringing under control the massive oil tanker on fire off the eastern coast and subsequently being towed out to sea in order to prevent a major environmental disaster is yet another landmark event.

All entities should understand the importance of taking 'immediate actions', as and when situation arises, to ease off the customers. In a crisis situation, customers contact the service provider for yesterday's requirement today in anticipation of a solution tomorrow. This warrants a sense of urgency for 'immediate actions'. This has to be complemented with needed empowerment for the staff to follow suit.
Insight
Companies seeking to emerge from the crisis should try to get an insight on the current changing behaviour of the customers. This will help the entities to understand the precise current service requirements of the customers.

A Harvard Business Review article on 'Adapt Your Business to the New Reality' written by Michael G Jacobides and Martin Reeves, published in September/October 2020, explains: 'For many firms, that will require a new process for detecting and assessing shifts before they become obvious to all. The first step is to map the potential ramifications of behavioural trends to identify specific products or business opportunities that will most likely grow or contract as a result. Consider how the pandemic has caused people to stay at home more. Implications include an increase in home office refurbishment, driving greater demand for products ranging from paint to printers. Unless we sensitise ourselves to new habits and their cascading indirect effects, we will fail to spot weak signals and miss opportunities to shape markets.'

This gives us an indication about the importance of obtaining structured data on the current behavioural trends of Sri Lankan customers from market research institutes. Since a pandemic like this has never happened before and we have nothing to compare it with, depending on secondary data may not give us the true picture. You may need primary data to get the real insight of customer behaviours that will in turn support you in taking the needed actions to create real value to customers through 'service'.
Novelty
Biologically and psychologically, crises are bound to generate a lot of energy. If this is harnessed 'positively' and 'constructively' it can create greater innovations. The COVID-19 pandemic has influenced new product development, delivery improvements and achieving service excellence. Some of the local entities have done package improvement for food items with sealed stickers to maintain high quality hygienic and protective standards.

Moreover, with the import restriction some innovative products are in the making locally. Some of the reputed branded motor vehicle agents to fulfil their current demand have offered to buy back vehicles from their existing customer base. When it comes to delivery, more tech based newer user-friendly channels are introduced offering greater customer convenience. In addition, home delivery services are widely getting accepted.

Microsoft CEO Satya Nadella observed at the end of April this year: "We have seen two years' worth of digital transformation in two months." This trend will continue to some extent in our country as well giving more opportunities for the telco and technology companies to further enhance offerings to the customers.

However, winning the 'heart share' of the customers to establish that long term emotional connection, though 'service excellence' as it is needing more emphasis. The novel ways of building these emotional connections are yet to be explored to its fullest potential.
Conclusion
The next two years are going to be challenging for many businesses. How entities will fulfil customer requirements and inspire their staff will have long-term implications on their relationships with you in the future. Every activity you carry out should have a clear purpose, proper focus and correct balance for the 'survival' of your business at present and 'growth' towards the future.

Consider ways and means of using the 'REGAIN' factors discussed above and explore the possibilities of empowering your employees and creating a better customer experience. Be cautious with the myth that everything has to be 'automated'. The 'human touch' that you establish both with customers and employees through 'service' during a crisis will still continue to pay dividends in the long run.


(The writer is a sought after 'service excellence' specialist in Sri Lanka. Over the last 25 years he has conducted nearly 3,000 inspirational and educational programs for over 750 organisations in 11 countries. His work can be seen at www.dhammikakalapuge.com)