President Sirisena's foreign policy, just as that of any other leader anywhere in the world, must be seen in relation to several factors. These are the success or otherwise of the policy he inherited, the character of his own foreign policy as it evolved, and most importantly, the 'fit' or otherwise of his foreign will policy with the national interests of the country in the external environment it finds itself in.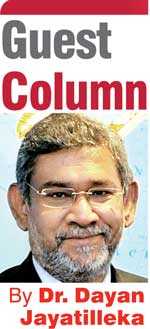 When President Sirisena came to office, he inherited a foreign policy from his predecessor President Rajapaksa that had been through two distinct stages, corresponding roughly to the two terms of that Presidency. In the first stage, that of the war, the foreign policy success was conspicuous in that the external environment was conceptualised, secured and managed in such a way as to obtain the necessary external support for the defeat of the most powerful terrorist militia anywhere in the world at that time; a militia which had a global network.
President Rajapaksa was also able to neutralise and pre-empt and indeed win over those external actors who had earlier intervened to prevent a military victory on the part of the Sri Lankan state over separatist terrorism. The best empirical evidence of Sri Lanka's diplomatic standing at the end of the war was the near two thirds vote obtained at the United Nations Human Rights Council (UNHRC) in Geneva for a resolution supportive of Sri Lanka, which pre-empted a resolution critical of Sri Lanka for alleged war crimes and crimes against humanity, and which sought an international probe. In its second term, a deviation from that successful foreign policy failed to implement the crucial 'devolution for accountability' trade-off within the Sri Lankan Constitution that was made during wartime and gradually eroded the broad support base that Sri Lanka enjoyed in the international arena, starting with its neighbour and radiating out to the global South. The crisis in post-war Sri Lankan foreign policy was best evidenced in the dramatic reversals suffered by Sri Lanka in Geneva three years after its 29-12 victory. Sri Lanka lost three successive votes in 2012, 2013 and 2014.

When he was elected President Sirisena declared a policy of friendship with all countries and enmity with none. However it would be analytically dishonest not to understand the complexity of the situation he faced. He presided over a coalition government of an unprecedented character, with a changing approach to foreign policy, as seen in the relationship with China as well as the UNHRC, to give but two examples. Therefore when one assesses the foreign policy of President Sirisena, one has to carefully trace it through his own statements and actions, which have been remarkably consistent. President Sirisena's foreign policy has been one that is particularly suited to a Presidency and Constitution modelled on that of General Charles de Gaulle. General de Gaulle is famous for his foreign policy of "tous azimuths", which meant in "all directions of the compass", but was intended to maximise the autonomy of his nation in world affairs. This Gaullist policy was later developed by the famous Foreign Minister and Prime Minister of post-Soviet Russia, Evgeny Primakov (whom I was privileged to converse with when as a top Soviet Academician he visited Colombo for the NAM summit in '76), who coined the phrase a "multi-vector" foreign policy.
President Maithripala Sirisena
President Sirisena permitted his administration to reach out to and improve relations with those players who had either been alienated or had distanced themselves, but at all times, he drew the red lines of foreign policy as well as "intermestic" policy, which is the Kissingerian phrase denoting those external matters which have internal implications and vice versa. Most importantly, President Sirisena took an early and public stand, in interviews in 2015 given to the New York Times while in New York for the UNGA sessions and to the BBC Sinhala Service in a long interview while in London. In these he made absolutely clear that the matter of wartime accountability would be entirely and exclusively a matter for the Sri Lankan Judiciary which had been rendered independent on his watch, and would not entail any kind of "hybridity", international participation or involvement. This he has stood by and enforced throughout the four years of his Presidency.

The President has defined his foreign policy as "Non Aligned and Asia-centric". This he has practiced. He has had successful state visits to China, Russia, Japan and Iran. His meeting with President Putin of the Russian Federation was the first state visit by a Sri Lankan head of State for many years. His visit to Iran was especially striking because it not only entailed the expected interaction with his counterpart Iran's President Rouhani, but also a rare conversation with Ayatollah Khamenei, the Spiritual leader of Iran who wields enormous influence throughout the region, and is the successor of the iconic Ayatollah Khomeini, the late leader of the Iranian Revolution which took place 40 years ago.

In conclusion I would say that President Sirisena's foreign policy thinking and practice shows a marked pivot towards Greater Eurasia, as the main axis of his Asia-centric Nonalignment. This is in keeping with Sri Lanka's interests in a profoundly changing world. President Sirisena's foreign policy instincts show a preference for the newly emergent global and regional powers, and a multi-polar world order. This is consistent with Sri Lanka's interests in a world in which the hegemonic , hierarchic old order is dying and the new is multipolar world is being born, despite ferocious attempts to maintain the old hegemonies and hierarchies and drag Sri Lanka into alignment with them.

Pope Francis, the leader of over a billion Catholics, and from a different civilisation, Ayatollah Khamenei, the spiritual leader of hundreds of millions of Shia Muslims, both discerned a quality that is rare and special, in a leader from a small island, and responded positively to what they saw. It is History that will identify what that quality is.