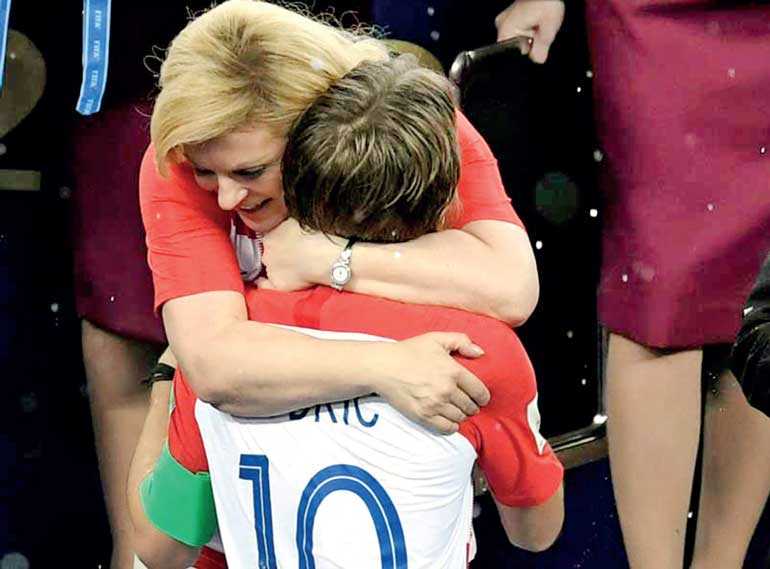 The Croatian President has led the nation from the front in sports and economy
Even though France won one of the most popular sporting events globally, the FIFA World Cup 2018, the media highlight was Croatian President Kolinda Kitarovic and how the country was led to its first-ever World Cup final by a refugee, Luka Modric.

3.2 billion watched FIFA



The latest estimate on the audience reached from the FIFA World Cup TV coverage is at 3.2 billion or 45.6% of the world population.

Whilst the rain took the shine off the awards ceremony and the handlers were running to hold umbrellas over the heads of President Putin and President Macron, President Kolinda Kitorovic dressed in a red and white Croatian team jersey was standing in the rain shaking the hands of every player. She embraced captain Modric when he received the Golden Ball on the Most Valuable Player Award which sent a shock wave to the world, showing her humility and passionate commitment towards the Croatian people. The photo was on every news media headlines the next minute.

Kolinda: No- nonsense woman

I tracked back on the 'bright spot' of the World Cup, as referred to in the media of the Croatian President Kolinda Grabar-Kitarovic. Often called the sexy president of Croatia, she has a sense of steel beneath her beauty. An ex-Army commander and ace marksman, Kolinda is Fulbright scholar and student from the George Washington University. She went on to study in top education entities like Harvard and John Hopkins University which indicates the training received on the academic rigour. Currently Kolinda is reading for Doctoral degree in International Relations.

An experienced career diplomat, in 2007 Kolinda served as an Ambassador of Croatia to the US till 2011. Thereafter went on to work for NATO as an Assistant Secretary General. On three occasions she was assigned to visit Afghanistan to increase the morale of the NATO soldiers which indicates her vibrant personality and inborn skill to influence behaviour.

A no-nonsense woman, she loves to lead from the front and is highly disciplined in nature. When Kolinda took over the Croatian economy in May 2015, it was at the low ebb given the recession at play in Europe. Little did she knew that the world was going to see how the career experience and top academic track record was going to be tested in reality in the next two years.

Kolinda speaks fluent Russian and French whilst she also knows French, Spanish, Croatian, Danish and English. Apparently at the FIFA World Cup Finals President Kolinda had spoken fluently in Russian with Putin and in French with French President Emanuel Marcron. Records also state that she had taken an Economy class ticket to Russia to witness the finals which gives us an indication of the comrade and 'being with the people' being more important values than status. Kolinda is a Roman Catholic and known for her strong values she advocates.

Croatian reality 2015 – Low ebb

When Kolinda Grabar-Kitarovic was appointed at President of Croatia, the country was at a low ebb with the $ 49 billion economy sagging at -14% and the export revenue registering a -2%. Tourism revenue was experiencing -10% decline which gives us an indication of the state of the economy. The attractiveness of the brand was also at -10% to $36 billion as per Brand Finance.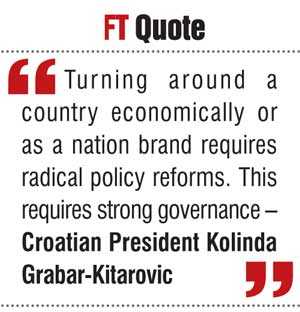 Kolinda on nation brand building

Given Kolinda's strong education background, the first lesson she practiced when she was appointed as President was the Harvard lesson on nation brand building.

What theory states is that the best practices used by countries that have got out of a brutal war like Croatia is that there is nothing called "nation branding". The logic being that the term nation brand building infers that a promise can be built using marketing messages. There is absolutely no evidence that this is possible; no country has ever succeeded in doing it. A better word to use in practice is "nation brand," which is simply an observation about the importance of national image in the modern world.

Literature says that if a country doesn't like its image – and most countries don't – then the only way to change, update, enhance or otherwise influence that image is through the things the country does, not by the things it says. President Kolinda at one meeting had communicated that influencing a country's reputation is primarily a matter of policy, strategy, innovation and investment over a very long period – it has nothing to do with logos, slogans, advertising or PR campaigns. She had emphasised that what is more important is building a reputation with actions which she put into ruthless practice on tourism, exports and overall economic strategy implementation.

The theory of nation brand building state that 'reputation' helps exports and investment. It is being proven that countries with a powerful reputations and positive image can export more products, more culture, more people, more services and attract more tourists, more investors, more immigrants and the attention and respect of other governments. Countries with weak or damaged images find it much harder and more expensive to achieve all of these goals has been the past experience.

Croatia turnaround – 2017

If one does a deep dive on the strategies used by President Kolinda, it hinges on the pillars of the hexagon that Simon Anholt advocates on 'nation brand building'. The results achieved after two years in office was are very positive.

Overall GDP has picked up by 16% to $58 billion by end 2017. Export revenue has reached $ 14 billion registering a growth of 3.7% which means internal value chains have been developed. Tourism revenue has touched $ 9.8 billion at a growth of 2.1% that has happened with focused global campaigns like "Croatia for a full life". Finally the sum total has resulted in the nation brand value crossing $ 82 billion at a commanding 5.7%.

The World Cup final performance and President Kolinda's bear hug on the Croatian Soccer captain captured the hearts of the world and sure contributed to the 300% increase in online travel searches on tourism. The Croatian Tourist Board was quick on the uptake and launched a new campaign called 'Croatia – full of excellent players' to ride the wave which comes from strong leadership grounded to fundamentals.

Lesson to Sri Lanka – 2018

Whilst President Kolinda Kitarovic's challenges are far greater in 2018, with poverty levels going up from 4.7% to 5.1% and the overall debt touching $ 768 million but the pick up to Sri Lanka is that, unless radical policy changes are made, Sri Lanka cannot emulate such turned around performance like what Croatia has achieved as a nation.

If we dig deeper, even though the Croatian GDP is only $ 58 billion as against Sri Lanka's $ 83 billion, the nation brand value is at a high of $ 82 billion as against Sri Lankan value of $ 78 billion which tells us how we gave failed as a nation post the war that came to a close in 2009.

The importance of brand value is that as per the guru Simon Anholt, stronger brand value means Croatia can attract better investment than Sri Lanka, better quality tourist and stronger export markets.

If I am to single out one action that Croatia is a best case in point is that Croatia took cutting-edge policy decisions which was radical in nature on export policy, tourism promotions and FDI strategies whilst the leaders maintained strong governance. In this light the recent launch of the National Export Strategy 2018 must be appreciated. However as mentioned by ITC Executive Director Archana Gonzales, "unless the key interventions are implemented it will not give life to Sri Lanka exports".
[The writer is a former Chairman Sri Lanka Export Development Board and Sri Lanka Tourism and has a 20-year career in multinationals Unilever, Reckitt Benckiser and the United Nations (UN). The thoughts expressed are strictly his personal views and not the views of any organisation he serves in Sri Lanka or internationally.]