Pracademics must perform with efficiency, efficacy, and effectiveness in ensuing progress
---

It appears for sure that COVID-19 is going to stay with us for a considerable long time. The second wave that we experience in Sri Lanka indicates the increasing gravity of the grim situation with volatility and uncertainty. In such a backdrop, the much-needed role of 'pracademics' in battling a planetary pandemic is worth investigating. Today's column is a pondering of their continuing contribution, desired versus actual.
Overview
The term 'pracademics' is not much in common in our parlours. In a very basic form, the melding of the words 'practical' and 'academic' results in a pracademic. It is a timely invitation to build bridges between theory and practice. Such a synergy is a much sought-after, but sometimes elusive, touchstone for the development aspects. As Prof. Paul Postner of George Mason University, who has been a pioneer in popularising the term pracademic, observes, "A healthy relationship is vital to the success of both practitioners and academics alike".
"Pracademics can play many bridging roles. At times, they may serve as network brokers, creating new channels to enhance cooperation and communication across the academic‐practitioner divide. However, they may also add value through their teaching, research, and managerial leadership alone. Pracademics with deep exposure to both theory and practice are ideally positioned to make singular contributions to both enterprises". Development of a COVID-19 vaccine is one key opportunity for pracademics to perform.
As Prof. Derek H.T. Walker of RMIT University, Australia, observes, a pracademic is someone who "spans the ethereal world of academia as a scholar and the pragmatic world of practice". He presents six key aspects related to pracademics that are of value.
1. Pracademics can be a highly valuable resource for pragmatic and practical problem solving and management of projects (and programs) – they have wide solution repertoires they can draw upon and extraordinarily wide access to published theory through their academic links
2. Organisations that make best use of pracademics need to be open and culturally attuned to diversity of opinions and perspectives on the context and potential solutions to problems being addressed
3. Context is important. Recognising similarities and difference is crucial to truly understanding how an existing (theory) problem solution can be effectively adapted and what the likely consequences might be
4 Most people taking the journey from a competent performer, moving beyond that takes extra effort in developing one's expertise. What is needed is both academic (theoretical) knowledge and further expertise in reflection, re-framing knowledge and building a wide repertoire of expertise that is downloaded into one's "being"
5. One very viable and available way of moving ahead is through a combination of access to existing theory (via academic institutions) and through expert practitioners (human interaction, mentoring and coaching)
6. Many practitioners are intrinsically motivated to explore, study and develop their expertise but often there is no formal structure or 'roadmap' that they can follow with discipline to achieve their potential
Building further, Trista Hollweck and Armand Doucet, both Canadian researchers on education wrote recently on the growing role required of pracademics. "Now is the time to reflect on what has been learned from the biggest global experiment in educational reform and distance learning in history and consider what might be possible in the future. We believe there will not be – nor should there be – a return to 'normal' any time soon. Instead, now is the time to disrupt the status quo and build the public education system back better."
As they further opine, "teachers, system leaders, school staff, unions, professional associations, policymakers, as well as students, parents and the wider school community, will all need to work together to find short-, medium- and long-term strategies and evaluate which pandemic approaches are worth continuing, which need further developing and which we should leave behind. We believe pracademics who engage in both scholarship and practice are well positioned to support and champion this process."
Conceptualising the contribution
How pracademics should perform in progressing with the desired results can be simply captured as shown in Figure 1.
As figure 1 illustrates, efficiency is resource related. It is how you optimally use your available resources. Efficacy on the other hand refers to the performance. In psychological terms, self-efficacy is the one's belief about his/her ability. It closely associates with self-confidence. In that sense, the efficacy here refers more to the confidence of pracademics on their capabilities. Effectiveness, as we often observe, refers to results. It is essentially the reaching of expected results.
When pracademics demonstrate efficiency and efficacy, the combining result is the proficiency. It is all about demonstrating expertise in carrying out tasks with the required use of resources. They demonstrate productivity in becoming both efficient and effective. Management veteran, Peter Drucker says efficiency is 'doing things rights' and effectiveness is 'doing right things'. In that sense, productivity is 'doing right things right'. I would suggest professionalism as the overlap between efficacy and effectiveness. It is the way of conducting oneself in showing qualities characterising a profession. That fits a pracademic well.
When one demonstrates, efficiency, efficacy, and effectiveness together, the overall overlap or the sweet spot occurs. It is simply the much-required progress. In essence, a pracademic should demonstrate all three e's with overlapping p's with promising progress. This is the vital need with the much anticipated COVID-19 vaccine.
Pracademics and COVID-19 vaccine
According to WHO sources, vaccines save millions of lives each year by training and preparing the body's immune system, to recognise and fight off the viruses and bacteria they target. If the body is exposed to those disease-causing germs later, the body is immediately ready to destroy them, preventing illness. Immunisation currently prevents 2-3 million deaths every year from diseases like diphtheria, tetanus, pertussis, influenza, and measles. There are now vaccines to prevent more than 20 life-threatening diseases, and work is ongoing at unprecedented speed to also make COVID-19 a vaccine-preventable disease.
As WHO further states, there are currently more than 100 COVID-19 vaccine candidates under development, with a number of these in the human trial phase. A vaccine can be administered through different routes, for example injection in the muscle or under the skin or via the oral route. Vaccines sometimes require more than one dose to build complete immunity, give a 'booster' dose when immunity wears off and also to immunise people against viruses causing disease that may be different from season to season (e.g. the yearly flu vaccine).
As BBC reported recently, there are now 11 vaccines in the final stage of testing, However, this is also the crucial point where some experimental vaccines fail. Some of the studies have recruited all of their volunteers and we are just waiting for the results. The leading contenders have been identified as the University of Oxford and AstraZeneca vaccine in the UK, Pfizer and BioNTech in Germany, Moderna in the US, CanSino with the Beijing Institute of Biotechnology in China, Gamaleya Research Institute in Russia, Janssen Beijing Institute of Biological Products and Sinopharm in China, Sinovac and Instituto Butantan in Brazil, Wuhan Institute of Biological Products and Sinopharm in China and Novavax in the US. Who will succeed in completing all steps and making the vaccine available to the world is yet to be seen.
It reminds me of the famous virologist Jonas Salk, who did not patent his remarkable discovery of Polio vaccine. "I pictured myself as a virus or a cancer cell and tried to sense what it would be like", so said Jonas Salk. Contrary to the era's prevailing scientific opinion, Salk believed his vaccine, composed of "killed" polio virus, could immunise without risk of infecting the patient. Salk administered the vaccine to volunteers who had not had polio, including himself, his lab scientist, his wife, and their children. All developed anti-polio antibodies and experienced no negative reactions to the vaccine. When news of the discovery was made public on 12 April 1955, Salk was hailed as a miracle worker. He had no desire to profit personally from the discovery, but merely wished to see the vaccine disseminated as widely as possible. Such a rare gesture is very unlikely among contemporary pracademics who are more divided in a competitive world.
WHO Chief Dr. Tedros Ghebreyesus has always been clamouring for collaborative research towards a COVID-19 vaccine being available to the world. Now it appears to be far from reality. Further, as BBC tells us, the trials need to show the vaccine is safe – it would not be useful if it caused more problems than the disease. Also, clinical trials will also need to show vaccines either stop people getting sick or at least reduce the number who die. A way of producing the vaccine on a huge scale must be developed for the billions of potential doses. Further, regulators must approve the vaccine before it can be given. Finally, there will be the huge logistical challenge of reaching the need in actually immunising most of the world's population.
Way forward
"The reward for work well done is the opportunity to do more", so said Jonas Salk who developed Polio vaccine. Pracademics must perform with efficiency, efficacy, and effectiveness in ensuing progress. It is indeed commendable the research efforts being made in many local universities in understanding the complex nature of COVID-19. Their collaborations with overseas counterparts are also encouraging. The commitment demonstrated by the healthcare officials and military personnel at all levels is a sure sign of a secured nation in time to come. What WHO chief Dr. Tedros Ghebreyesus says should echo in all our minds. "My focus is on saving lives."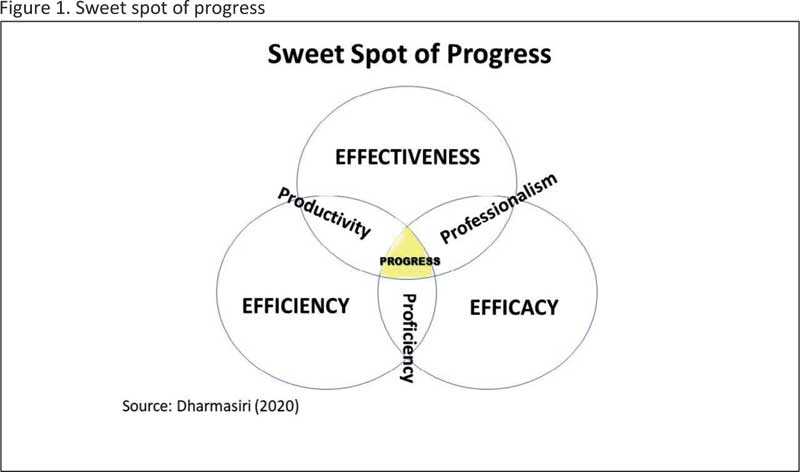 ---
(Prof. Ajantha S. Dharmasiri can be reached through [email protected], [email protected] or www.ajanthadharmasiri.info.)
---