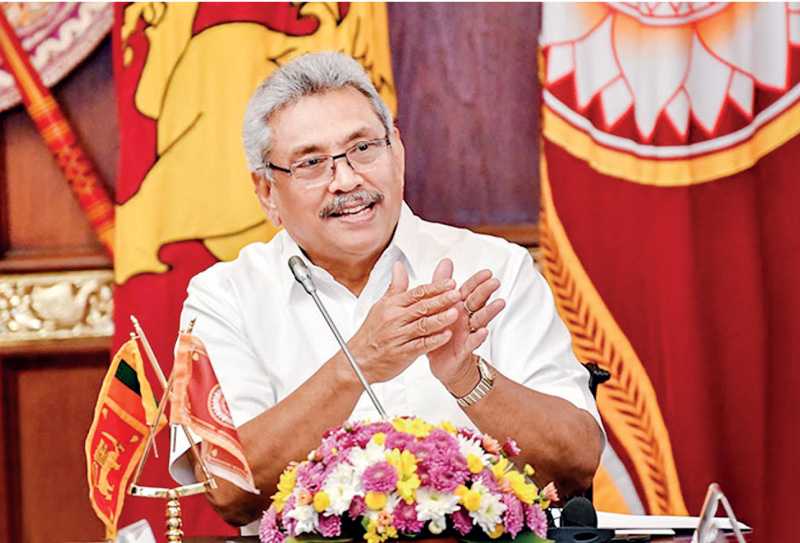 President Gotabaya Rajapaksa obviously doesn't share the broadly held view the world over, that the devolution of power to ethnic minority areas, making for a measure of autonomy, is the best vaccine against separatism. Instead, he holds the opposite view that devolution of power is on a continuum with, and actually makes for, separatism
---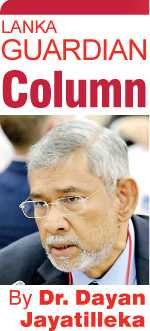 'Lanka wants to learn from Chinese CP's governance experience – President tells Jinping,' The Island, 31 March
While it is heartening that President Xi telephoned President GR the other day, post-Geneva defeat, and discussed the BRI, President GR expressed a disturbing aspiration. The statement of the Chinese Embassy in Colombo tells us that:

"Gotabaya Rajapaksa said that Sri Lanka warmly congratulates the Communist Party of China (CPC) on the 100th anniversary of its founding and highly appreciates the historic achievements made by the CPC…Sri Lanka thanks China for its valuable support, and is willing to collaborate closely with China to firmly support each other's positions on issues concerning respective core interests and safeguard our common interests. Sri Lanka hopes to learn from the CPC's governance experience…" (Lanka wants to learn from Chinese CP's governance experience – President tells Jinping – The Island, https://island.lk/lanka-wants-to-learn-from-chinese-cps-governance-experience-president-tells-jinping/)

The 100th anniversary of the CPC is an event of great and mostly positive importance in history, but President GR obviously fails to separate state-to state or government-to-government relations from party-to-party relations. It is not President Xi but President GR who mentioned the 100th anniversary of the CPC. It is not the place of the Head of State and Government of Sri Lanka to comment on the anniversary or achievement of a ruling party; only of a state, i.e., a country.

I am unsurprised that it was President GR and not President Xi who mentioned Sri Lanka learning from the CPC's "governance experience". I always suspected it was more (domestic) demand-driven than (external) supply-driven.

If this statement came from an elected communist leader of Nepal, I'd think it very proper. But when an ultranationalist Sinhala Buddhist and ex-military officer without a communist cell—big C or small C—in his body (to riff on President Biden), says his country "hopes to learn" from the Communist Party of China's, and not, mind, the People's Republic of China's, "governance experience", I have Myanmar on my mind.


Small island, big picture

The history of Sri Lanka has always been determined by its dynamics with the world outside. From the Ravana legend, the Vijaya story and the Mihindu event through to Dutugemunu, the interaction with India has been one determinant or axis of determination. The other has been the impact of the West since 1505, itself a function of successive waves of competitive expansion and displacement of world leadership.

As Robert D. Kaplan, author of Monsoon, wrote in an earlier work, Warrior Politics: "Whether in antiquity or in the post-Cold War world, the central question of foreign affairs remains: Who can do what to whom?"

The Gotabaya regime should study the evolution of the broader picture of which Sri Lanka is a small but significantly situated part. It must understand how the US under the Biden administration reads the global contestation, and the grand-strategic prism through which Sri Lanka will be perceived.

There is no better way of understanding US thinking than to study what President Biden said in his first media conference. The key takeaways are:
(i.) "China has an overall goal…to become the leading country in the world, the wealthiest country in the world, and the most powerful country in the world. That's not going to happen on my watch, because United States is going to continue to grow and expand."

(ii.) "I spent hours upon hours with him [President Xi] alone with an interpreter…He is very, very straightforward. Doesn't have a democratic — with a small 'D' — bone in his body, but he's a smart, smart guy. He's one of the guys…who thinks that autocracy is the wave of the future and democracy can't function in an ever-complex world".

(iii.) "Americans value the notion of freedom. America values human rights. We don't always live up to our expectations, but it's a values system. We are founded on that principle. And as long as you and your country continue to so blatantly violate human rights, we're going to continue, in an unrelenting way, to call [it] to the attention of the world and make it clear what's happening."

(iv.) "…We have to have democracies working together. Before too long, I'm going to invite an alliance of democracies to come here to discuss the future."

(v.) "…It is clear, absolutely clear … this is a battle between the utility of democracies in the 21st century and autocracies…It's about an autocracy. Demand decisions made by a leader of a country—that's what's at stake here. We've got to prove democracy works…I predict to you; your children or grandchildren are going to be doing their doctoral thesis on the issue of who succeeded: autocracy or democracy? Because that is what is at stake, not just with China."

The counterview of Eastern autocracies and their fellow-travellers, that democracies have flunked the Covid-19 test while autocracies have succeeded, is starkly demolished by the conspicuous success of liberal, social democratic, New Zealand led by Jacinda Ardern.

Dubbing it 'An Alliance of Autocracies,' the New York Times reports that China is constructing an anti-US alliance to counter Biden's 'Alliance of Democracies'. Sri Lanka is Afro-Asia's oldest democracy, and that is both a distinctive soft-power asset as well as an organic part of the national ethos. Sri Lanka's national interest would be best served by enhancing that profile; entrenching itself in that role. By contrast, in the global grand-strategic contest, President GR seems intent upon moving to move into the personal ideological comfort zone of an 'Alliance of Autocracies'.

Geneva 20102-2014 and 2021 show that this does not even have the utility of enabling Sri Lanka to secure the support of the majority of the global South and balance off the West.


Foreign policy folly

The USA and China fought it out over the UNHRC resolution on Sri Lanka. The USA won. Sri Lanka bet on China. Gotabaya Rajapaksa's policy platform speech at the Shangri-La Hotel, 2018, prefigured this tilt. To avoid the train-wreck in Geneva this March, the Sri Lankan leadership should have understood three imperative factors:

Firstly, the Biden administration meant a whole new ballgame had begun and Sri Lanka should adjust accordingly, moving in a democratic-reformist direction to the middle-ground in domestic affairs, and balancing much more even-handedly in great power relations.

Secondly, Sri Lanka could not rely wholly and entirely on China as a balancer, but, as in Sri Lanka's sole UNHRC voting success in May 2009, on both China and India.

Thirdly, there was no way to get the Indian diplomatic umbrella to unfurl over Sri Lanka alongside the Chinese umbrella, other than by a credible, time-bound commitment at the Presidential level, to the implementation of the 13th Amendment.

Instead of figuring out these almost axiomatic facts of the changed external environment, the Gotabaya administration continued to keep all its eggs in the China basket (with the smaller, older, Netanyahu basket kept covered within it).

Post-Geneva, the Gotabaya administration should have figured out the limits of China's global influence.


The Ethnic/External Interface

Closer home, President Gotabaya has finally articulated a stand on devolution of power that places him on a collision course with his giant neighbour. He may think he's imitating India on Article 370, but India has a secular Constitution and federal system of linguistic states. Given the glaring asymmetries of size, space and strength, President GR's stand may turn out much more like the fatal abolition by the parliament of former Yugoslavia, of the autonomous status of the province of Kosovo.

The morning after Geneva, no more Mr. Nice Guy. The devolution of power, framed for 'separatism', is on a death-list for disappearance and elimination. Here's the (triangulated) evidence.

"He stressed the sovereignty of Sri Lanka will not be betrayed by allowing these countries to achieve their geopolitical needs by introducing separatism under the guise of power devolution. The President made these observations addressing the 'Gama Samaga Pilisandara' programme held at Pitabeddara earlier today (27 March)." (Will not betray sovereignty of the country, President assures (adaderana.lk), http://www.adaderana.lk/news/72623/will-not-betray-sovereignty-of-the-country-president-assures

"…He noted that the sovereignty of Sri Lanka would not be betrayed by allowing other countries to achieve their geopolitical needs by introducing separatism under the guise of power devolution." (Sovereignty of Sri Lanka would not be betrayed – President | Daily News, http://www.dailynews.lk/2021/03/29/local/245230/sovereignty-sri-lanka-would-not-be-betrayed-president)

The President's Media Division's release reads: "…We are not ready to bring back separatism in the name of devolution of power and betray our sovereignty to fulfil their political needs. The people of this country gave power to us to bring these basic things back on track." (dbsjeyaraj.com)

The Sri Lankan polity and the international community must be most grateful to the President. These being his first public remarks on the Geneva vote, he ended any confusion as to whether he would respond realistically, by moderating his discourse and centring his course—or by doubling down. He doubled down, interpreting his mandate as including the rollback of devolution ("The people of this country gave power to us to bring these basic things back on track"). He's going to the bitter end with his hardcore base, just like Trump.

The President's remarks left little doubt as to whose 'geopolitical needs' he thought were to be served under the guise of devolution. He accused them of seeking to 'bring back separatism'.

He overlooked the salient fact that separatism was not 'brought' in under the name or through the 'guise' of the devolution of power, but displaced federalism as a slogan in the 1970s, when devolution/autonomy had been thwarted for decades, since the coerced tearing-up of the Bandaranaike-Chelvanayakam Pact of 1957.

He left no doubt at all that he was hostile to the idea of devolution, which has bulked large in the UNHRC resolution as well as the official statements of India, made in Delhi, Colombo and Geneva.

President Gotabaya Rajapaksa obviously doesn't share the broadly held view the world over, that the devolution of power to ethnic minority areas, making for a measure of autonomy, is the best vaccine against separatism. Instead, he holds the opposite view that devolution of power is on a continuum with, and actually makes for, separatism. A reform which for Realists is the alternative to secessionism and thus the solution (or part of one), is for President GR, the stepping stone to secessionism and thus the problem (or part of it).

President GR perceives devolution and sovereignty as antinomian choices in a zero-sum game. He certainly didn't inherit this opinion from his elder brother Mahinda, or his father, the right-hand man of S.W.R.D. Bandaranaike. The first attempt at the devolution of power was the Bandaranaike-Chelvanayakam Pact of 1957, and D.A. Rajapaksa was very much with Prime Minister S.W.R.D. Bandaranaike when the defeated UNP as well as the Buddhist clergy linked to 'Sinhala Only', took to the streets against it.

Paradoxically, President Gotabaya and his fellow ex-military brass seem to have got their views on devolution and the 13th Amendment from Lalith Athulathmudali, the Oxford-educated, hawkish, pro-Israeli, Minister of National Security of the UNP Government of President J.R. Jayewardene, at the time they served in the military.

The implications of the President's hardened stand on devolution are three-fold:
1. So long as President Gotabaya Rajapaksa is in office there will be no implementation of the 13th Amendment and the devolution of power envisaged in the Indo-Sri Lanka Accord. The Provincial Councils will be reduced to a mere facade: Viyath Maga's Ven. Dr. Medagoda Abeytissa urged their abolition while Sinhala ultranationalist SLPP MP Gevindu Cumaratunga exhorted in Parliament that the system of PCs remain only as a developmental agency devoid of legislative power.

2. So long as the Tamils of northern and eastern Sri Lanka are denied devolved power, the Tamils of Southern India will be disaffected, potentially generating domestic geopolitical dissonance in India; extremism and restiveness in its Southern cone when it is facing a buildup by an axis of its rivals on its Northern tier.

3. So long as devolution is unimplemented while Sri Lanka permits projects on its northernmost islands bordering India, which can be perceived as violation of the annexures of the Indo-Sri Lanka Accord, and creates potentially dual-use (electronic intelligence) artificial islands thrusting into the Indian Ocean/Indo-Pacific, Delhi's strategic 'buffering' gains of the Indo-Lanka Accord will be disintegrated.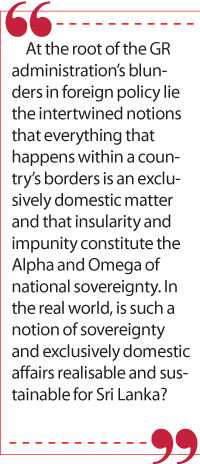 Secrets of small state sovereignty

At the root of the GR administration's blunders in foreign policy lie the intertwined notions that everything that happens within a country's borders is an exclusively domestic matter and that insularity and impunity constitute the Alpha and Omega of national sovereignty.

In the real world, is such a notion of sovereignty and exclusively domestic affairs realisable and sustainable for Sri Lanka?

President Gotabaya Rajapaksa's administration initially identified itself as "neutral", not "nonaligned". This was introduced during his candidacy at the second Viyath Maga convention (Shangri-La Hotel 2018) by Prof. Rohan Gunaratna, whose expertise is counter-terrorism. The President's foreign policy advisor and later the Secretary to the Foreign Ministry Admiral Colombage took pains to draw the distinction which he disclosed that the President intended, between 'Nonaligned' and 'neutral'. The Nonaligned Movement's members certainly took the point and many abstained while several voted for the UNHRC resolution.

One lesson of the Geneva debacle is that Sri Lanka must practice a foreign policy which is "tous azimuths" as De Gaulle put it—covering all points of the compass—or "multi-vector" as Russia's iconic Foreign Minister and Prime Minister Evgeni Primakov had it, while being solidly anchored in its 'base community' with its various 'trade unions'—SAARC, the NAM/G-77 and the SCO.

Another tropical island protects and asserts its sovereignty admirably.

Cuba maintains its global identity as a nation of the South and a member of the Nonaligned Movement.

The Cuban armed forces have behaved impeccably in warfare whether on its native soil or in places as far away as Angola, where 300,000 Cuban troops served over a period of 12 years. No US Secretary of State has referred to its "lack of accountability for past atrocities" as Antony Blinken did on Sri Lanka at the UNHRC this year.

The Cubans kept their armed forces transparently clean. When a famous frontline commander of its overseas missions, Gen. Arnaldo Ochoa was credibly suspected of breaking the law in certain peacetime smuggling operations which he permitted (and may have thought were helping Cuba gain foreign exchange by breaking the US embargo) a nationally televised trial was held in which the Cuban Defence Minister Raul Castro called for the death penalty because General Ochoa had besmirched the spotless ethical and moral reputation of the Cuban armed forces.

This is why Cuba has no resolutions brought against it by the West at the UNHRC, no allegations remotely like those made about Sri Lanka by successive UN Human Rights High Commissioners, and wins by record super-majorities, the resolution it has moved against the US at the UNGA every year for the last quarter-century.

A critical imperative in effectively and durably protecting small state sovereignty, is the permanent occupation of the moral high-ground through verifiably ethical military conduct.