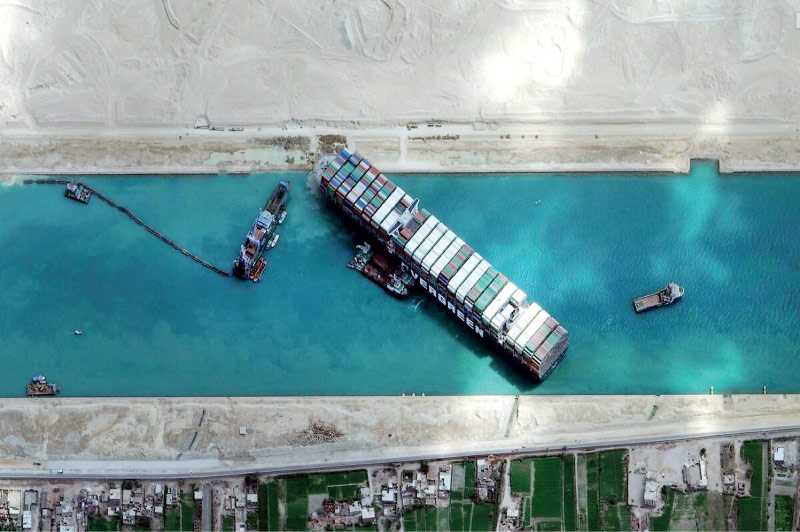 During the Suez Canal block by the Ever Given, one figure was quite illuminating: The usual daily value of a single day's cargo flow is $ 9.6 b. Rings a bell!? This is quite close to our annual export income. After 71 years of all policies and practices, what our economy realises through annual export operations is almost equal to one day's flow through the Suez!
---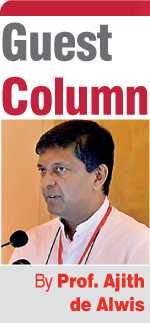 The problem with us as human beings is that we easily get rattled and agitated over questions that are too firmly directed in search of an answer and especially when we feel that the question is more pointed towards the individual in a hostile manner rather than in search of a response.

We have to get out of the habit of thinking that all questions are audit questions – our system of audits interestingly is not development driven but happens still from a colonial mindset and over the years we are quite conditioned to think like that – directed to find fault, the guys are out to get me...

The behaviour of the individual who is facing such a situation can be telling. Remember people invented polygraph machines based on this human physiological response to questions? Wonder how many have gone to gallows because the machine interpreted a human response badly.

The response is an interpretation and not exactly the display of truth. Well the polygraph test has now all but been discarded or relegated to non-judicial settings but the human frailties in situations still live on.


The Sri Lanka Rupee

I do have this question. There is no harm in seeing old data and posing questions in retrospect. One such situation is when you see that in 1977 the SL Rupee to US Dollar ratio has been 7 to 1 and we were getting almost two Indian Rupees to one of ours! With seven rupees you could get one dollar. Do not faint.

Today we see that 200 rupees are needed to get one dollar and we are not quite sure – that is not exactly market volatility – how many more would be needed in time to come. Of course there are quite a few local people who see the bright side of this situation including some of our industrialists. If you can get one dollar then you get two hundred rupees and that means you can do so much with such a ratio so the story goes.

Well looking at the data rationally you have to ask the question, if our policies and practices have been so beautifully crafted and driven, how has this situation developed? We are now asking those having dollars at home to open up accounts as well. The picture of a dollar appears to be so pleasing if that is in your hand. Otherwise the situation is dire.

The ratio reflects how we have performed and getting rattled and angry over such a question is not the answer and certainly not the way forward either.


Manufacturing plus innovation

My view is that we have over relied on weak mechanisms and sectors in trying to bolster the economy and the number of issues that we had to wade through have never enabled the country to grow with such cash flow scenarios in attendance to do tricks with the economy.

I remember the words of Dr. Mahathir Mohamed – "While Malaysia is abundant with natural resources, it is the manufacturing sector that has played a key role in turning Malaysia into a major player in the global value chain apart from rapidly turning the country into an industrialised nation."

Maybe this is flogging my favourite but dead horse, but I for one only see manufacturing plus innovation as the way forward. My sadness is many do not and they make the decisions. Loaning the country to another to better manage and give us a chunk of money from a position of weakness should never be an option anyway. One has to answer the question.

Manufacturing did deliver for those who came out to dominate after the first industrial revolution. It again did for the recent Asian tigers. Same prescription holding validity unfortunately cannot be guaranteed and one has to go down the route and identify. The probability of success of this approach we have to agree is high as almost all those who have succeeded have done it this way.

Taiwan with half the land size of Sri Lanka but with a similar population size is an example. That our policies followed up to now have not delivered nor added any resilience to us has to be accepted.

Another certainty is the focus required in this direction. You have to be focused over a decade or so on a time scale where you start slowly but have faith that exponential is a possibility when into the journey.


Sustaining solutions

Manufacturing unfortunately has the image of blue overalls and dirty hands. The C-suite in the country is sure to shy away from such a course of action. Millennials and subsequent Gen definitions appear to abhor this type of engagements.

Akio Morita did not differentiate with white and blue within his rank and file but they did manufacture. However that story too is from a different era.

In Germany you see youngsters who are entering into a university also getting them equipped with an additional course in vocational and technical training. Germany has this unique strength in manufacturing and you see how such situations are sustained.


National Industry Policy

A decision to develop a National Industry Policy is now on. That was excellent news when the path was opened up and an invitation arrived. Today the study – carried out by the Industrial Services Bureau on behalf of the Ministry of Industries – has completed its first phase, which had been the industry diagnostic report.

As we read this column many may be writing down their views on the diagnostic report that had been submitted to the Ministry of Industry. The ToR clearly spelt out the vision to embrace Industry 4.0.

The State policy, which is Vistas of Splendour and Prosperity, too clearly indicates the circular economy for the industry sector. The vision and objectives are clear and those cannot be any better. As I see it, the diagnostic report clearly indicates the existing gaps having looked at the current situation through the lenses of SWOT, PESTAL, Porter's Model, etc. The gaps are much more than the gap that was bridged by Ever Given in the Suez Canal! Yet knowing gives a good start. There is no benefit of rhetoric without knowing and understanding the reality.


Investment strategy

One requirement would be to drive investments to the manufacturing sector. There is a need to drive our ICT workforce to the same sector as well. ICT is important in enabling the industry the Industry 4.0 transformation.

The present targets of $ 5 b through ICT exports by 2025 is still a service-oriented mindset. There is the acknowledgement that the ICT workforce in the country is really in ICT services and not in ICT manufacturing.

These investments do need to be incurred but how are they to be generated? We have driven infrastructure developments with debt financing and this is perhaps the root cause of some of the evils that we are facing.

One goal should be to have a target with national investments for manufacturing. Rwanda, an emerging country in Africa, in its industrial policy clearly has indicated a National Investment Strategy with a clear target.


SL annual export income

That the current situation is at a very low level is obvious when viewing the data flowing in from the Suez blockade caused by Ever Given. The ship's unfortunate running aground diagonally due to high winds and dust storms meant that it ended up completely blocking the passage.

As the hours turned into days and with no flow in sight, the world went into a spin with the views of ships piling up behind. Oil prices started rising and many other negative scenarios started emerging. One figure to come out of that was quite illuminating. The announcement read that the usual daily value of a single day's cargo flow is $ 9.6 b. Rings a bell!? This is quite close to our annual export income – almost!

After 71 years of all policies and practices, what our economy realises through annual export operations is almost equal to one day's flow through the Suez! Now to grow and climb and be someone as an 'economy' in the global scene – we indeed have ambitions – it is obvious we have to do lots more and quite differently.

Although the title speaks of extinction, we are not exactly fallen to such levels of despair, though a rescue mission would not be easy from such depths of despair if allowed to materialise. Hence the call to take notice and swing into action. The country should engage with the National Industrial Policy. The Industrial Policy should be the apex national policy as it tenets would be competitiveness, innovation and technology.

It is on those premises that the National Industry Policy is emerging and I see the final chance to emphasise manufacturing for Sri Lanka.