---
Sad to say, the Sri Lanka Police is a 'pus vedilla' or a bottle of soda as a common term used in this country for making a noise and forgetting about the noise in a few days or a hue and cry. All the blame should not be on Police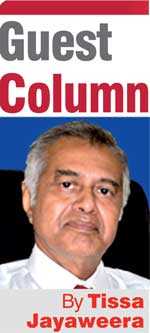 as the Sri Lanka Police is understaffed, overworked, underpaid, most of them untrained in special skills or latest operational skills, and have to face political pressure compared to other uniformed services. They do show capability in solving crime when pressurised.

A few examples are headlights on motorcycles on the move, lane discipline, and the current biggest noise about horns of buses. A Sub Inspector of Police was viral stopping buses, checking sounds of horns, to discover that some had six sets of horns.

Sound from vehicle horns is yet to be controlled. There were a lot of reports in the media that the sound of horns of vehicles would be controlled by the Sri Lanka Police, Ministry of Transport, Commissioner of Motor Traffic, etc. Expensive sound measuring equipment was imported at great cost to the public. We are yet to see the sound measuring equipment being used by any authority. Maybe it is rotting in some store and the importer made a big profit as the equipment was ordered in a rush.

Sri Lanka Traffic Police have gone deaf once again. Buses are back with loud horns. Our legislators came up with an idiotic limit of sound level of horn to be 105 decibels, not knowing what a decibel is. If they had the intelligence, they should have passed legislation for it to be 100 and not 105 decibels. Is there potable equipment to check sound? Even without equipment, a common citizen on the street will educate the clueless Sri Lanka Police, MoT and CMT on decent sound and loud sound.

All drivers of buses have fun in using horns at random times, which is unnecessary 90% of the time. They use the horn to inform the people at bus stops to say a big metal monster is approaching, run for your life or be informed that the big metal monster is coming to take you to your next destination, home or eternity.

Even drivers of State buses are adopting this attitude now. Similar to drivers of vehicles of politicians to inform other drivers on road a vehicle supplied by your tax money and a politician with his security squadron paid by you is approaching. A driver of a bus feels the same, all vehicles on road have to move over for a bus and a politician. Law is law. Implementation of a common law rests with an efficient police.

The easiest and quickest solution to control bus horns is to position Police offers in mufti at a few bus stops. Use a mobile walkie-talkie to inform a Traffic Police Team in uniform a few meters away from location to stop bus and check horns. Prosecute drivers with a spot fine and the registered owner, including Depot Superintendent of SLTB, should be charged in court.

Over to you, Ministers of Transport, Environment, IGP, SDIG, DIG, SSP, SP, ASP, CI, IPs, SIs, and Sergeants of Sri Lanka Traffic Police.