One year has gone. It is with a profound sense of sadness that we experienced the demise of our veteran teacher, respected author, legal luminary, an accomplished ambassador, an eminent public servant and an amazing human being, Dr. Wickrema Weerasooria.
He was a patriarch for the Postgraduate Institute of Management (PIM), passionately involving in multiple fronts for the progress of it during the past two decades, as a long-standing Member of the Board of Management, Board of Study and the Faculty. This column attempts to capture his invaluable contribution, both intellectually and interactively to the country in general and to the PIM in specific.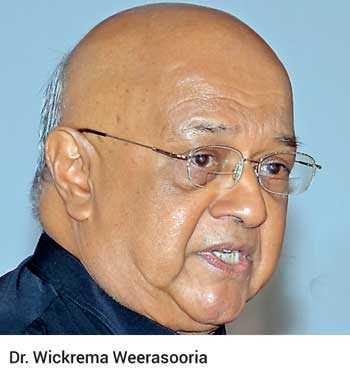 Overview

"Silently, one by one, in the infinite meadows of heaven,

Blossomed the lovely stars, the forget-me-nots of the angels."

–Henry Wadsworth Longfellow, Evangeline: A Tale of Acadie

As the above stated quote from Longfellow highlights, great men and women on earth fade to this world and 'blossom in heaven'. We witness the untimely demise of late Prof. Uditha Liyanage, the legendary marketing guru of Sri Lanka. Then, Dr. Saman Kelegama, the sought-after Economics scholar of Sri Lanka. Now, PIM misses another great giant of it, in fact, one of its patriarchs.

The word 'patriarch' is typically associated with a caring fatherly figure. Dr. Wickrema Weerasooria was exactly such for us. He was the mentor for late Prof. Uditha Liyanage, who indeed was my mentor. Let me sincerely share some glimpses of the prolific performance of Dr. Wickrema Weerasooria, in adding vital value to PIM. I prefer to use five Ps, namely 'provider', 'producer', 'proposer', 'protector' and 'preventer'.
He was a 'provider' for us

Dr. Wickrema Weerasooria provided his rare knowledge in the realms of business law. Having authored over 20 books including the seminal legal publication in Australia, we were so privileged to be partners of his wonderful knowledge sharing process. There were always bouquets and never a brickbat with regards to his teaching contribution.



I have seen his vibrancy as a speaker standing tall behind the podium with stature and stamina in capturing a student audience for hours. I have also seen him coming with a stick and feebly confining to a chair, still with the amazing capability of captivating the crowd with solid learning filled with personal experiences and prolific humour. He was such a passionate learning provider for all of us at PIM.
He was a 'producer' for us

I recall with gratitude his immense contribution in producing the amended PIM ordinance. The first ordinance that came into effect in 1986 paved way for the creation of the one and only premier postgraduate entity dedicated to management in Sri Lanka. As time passed by, we observed some aspects of our ordinance that needed to be revised based on changing times. One key such area was the composition of the board of management that comprised of 20 members.

When the University Grants Commission (UGC) initiated the task of amending the existing ordinances of the postgraduate institutes in Sri Lanka, the co-chairmen of the project were Prof. P.S.M. Gunarathne, Vice-Chairman of the UGC and Dr. Wickrema Weerasooria, a Commission member of the UGC. With his ardent efforts with collective consensus, the PIM ordinance was the first to be successfully amended, paving way towards exemplary governance.
He was a 'proposer' for us

Dr. Wickrema Weerasooria was a man of ideas. He proposed a variety of suggestions and participated to ensure the implementation of them. One glorious tribute to him is the creation of this sought-after magazine as the associate editor. 'Professional Manager' stands tall as the only Sri Lankan publication by a higher education institute of such kind.

I still recall how he proposed to have a dedicated issue of Professional Manager in honour of late Prof. Uditha Liyanage. He not only suggested the idea, but guided us and contributed through a comprehensive article as well. He was the first to propose a similar act, in the event of the sad demise of Dr. Saman Kelegama. Again, he assisted us in obtaining a rare collection of articles from the Institute of Policy Studies (IPS) and also arranged a solemn event to hand over the first copy to late Dr. Kelegama's family.
Dr. Wickrema Weerasooria will remain in our memories though his wonderful collection of books and the recollection of all his inspiring ideas. We need many more icons of his stature for the generations to come. Among many shallow figures who bloat and boast of their few achievements, we saw a man with stature who showed his principles in practice
He was a 'protector' for us
The term patriarch involves a fatherly protection as well. He being an eminent public servant and an influential personality had always been for our progress. He openly praised the PIM for being the only self-financial state higher education institute for the past 20 years. He spoke on behalf of us in many crucial occasions where misunderstandings could have marred our progress.

Closure of the PIM Centre in the Knowledge Village, The United Arab Emirates is one such example. Now we can be truly happy that the role he played has paved way for us to have vibrant MBA learning groups through a revamped lean approach, not only in the UAE, but Qatar, Oman, Kuwait and Bangladesh as well. He also defended us, as a member of the Audit and Management Committee of the PIM's Board of Management, in the face of unreasonable audit queries generated through uninformed assumptions.
He was a 'preventer' for us

Dr. Wickrema Weerasooria was a passionate member of both the Board of Study and Board of Management of the PIM. In numerous occasions where delicate decision making was required, he prevented us from moving away from our strategic direction. For him, the institution had always been above the individuals.

He appeared on behalf of PIM in several key legal battles, and ensured that the fare justice prevailed. He was a meaningful mediator during a particular time where misunderstandings paved way for personality clashes between two key personalities involving the PIM and our parent university. He prevented the perishing of PIM due to short-cited actions of some influential individuals.
Professional manager to the forefront

The PIM compiled a comprehensive collection of memoirs of a mighty personality through its flagship publication, Professional Manager. It is a fitting tribute as Dr. Wickrema Weerasooria, was the co-initiator and the Associate Editor of Professional Manager. Much has been said about the lacuna created by the leaving of a legal legendary. As a patriarch for the PIM, he passionately contributed in multiple fronts including the proliferation of contemporary management thoughts through the Professional Manager magazine. The 16th issue of Professional Manager was aptly devoted to its Associate Editor with much admiration.

It was indeed satisfying to see how like-minded professionals came forward to share their experiences in interacting with this remarkable human being. The myriad collection of articles contained in that issue is an ample testimony for how much he has touch the hearts and minds of many an individual. The viewpoints expressed therein contain a varied range of experiences inclusive of relations, friends, colleagues and students. The way they have shared their sincere thoughts itself is a serene insight as to how Dr. Wickrema Weerasooria has inspired them.

Moving beyond the volume of valued thoughts, a key factor needs to be emphasised. Dr. Wickrema Weerasooria had a deep sense of appreciation of PIM. He passionately showed it through his words and deeds in citing PIM as an exemplary learning institution to the nation. He firmly believed in the PIM's potential of progressing as the only self-financed higher education entity of the state sector.

When we unveiled the vision of PIM to be a 'centre of management excellence in South Asia' and the mission of 'igniting human imagination by way of producing leaders with global presence and local pulse', his blessings were very much with us.

I remember with gratitude the committed role played by him in enhancing the two commemorative issues of Professional Manager magazine dedicated for Late Prof. Uditha Liyanage and Late Dr. Saman Kelegama. He not only wrote the lead article in each of them, but also ensured the appropriate inclusion of rare photographs obtained from the respective families through his influence. His invaluable guidance to enhance the editorials was inspiring to me as a life-long learner. In fact, I was so privileged to be guided by such an eminent author of over 20 textbooks including the seminal 'Weerasooria's Banking Law of Australia'.
Path ahead

"To live in hearts we leave behind is not to die", so said Thomas Campbell. Same is very true of the sage who left us. Dr. Wickrema Weerasooria will remain in our memories though his wonderful collection of books and the recollection of all his inspiring ideas. We need many more icons of his stature for the generations to come. Among many shallow figures who bloat and boast of their few achievements, we saw a man with stature who showed his principles in practice.

We at PIM are indeed committed to perform as he envisioned, in truly being the nation's management mentor. May Dr. Wickrema Weearsooria attain the supreme bliss of Nibbana.
(The writer can be reached through [email protected], [email protected] or www.ajanthadharmasiri.info.)