Today 5 August is a Day of Decision for Sri Lanka as it faces yet another election to elect a new Parliament for the country. It is being conducted in a very difficult environment due to the COVID-19 pandemic threat. Under prevailing conditions, it is unlikely to be a "perfect" one. In spite of the imperfections, Sri Lankans must continue to keep their democratic tradition alive and strive for greater perfection in the days to come. For this, as many voters as possible should exercise their franchise. They must vote early and go out to booths in large numbers while adhering to health rules like face covering and maintaining a metre distance from each other – Pic by Shehan Gunasekara
---
Sri Lanka or Ceylon as it was known earlier has faced many challenges and problems since Independence from Britain in 1948. We have had military coup attempts, communal riots, pogroms, armed revolts, external military intervention, assassinations of heads of State, terrorist violence and above all a long secessionist war that threatened to tear apart the country.



What Sri Lanka can be proud of as Asia's oldest democracy is the fact that despite many formidable challenges and crises the country continues to be basically democratic. Elections are a crucially essential feature of democracy. Despite many problems, Sri Lanka has continued to have elections. We've had many flaws in conducting elections in the past. Despite these flaws Sri Lanka can be proud of keeping the light of democracy alive.

Today 5 August is a Day of Decision for Sri Lanka as it faces yet another election to elect a new Parliament for the country. It is being conducted in a very difficult environment due to the COVID-19 pandemic threat. Under prevailing conditions, it is unlikely to be a "perfect" one.

In spite of the imperfections, Sri Lankans must continue to keep their democratic tradition alive and strive for greater perfection in the days to come. For this, as many voters as possible should exercise their franchise. They must vote early and go out to booths in large numbers while adhering to health rules like face covering and maintaining a metre distance from each other.

As a Tamil and a Christian I would very much like the minority ethnicities of Sri Lanka to be conscious of the important role they have to play in this poll. The recent past has been one where the minorities were regarded as being of no consequence in determining the outcome of a Presidential Election. However this election provides an opportunity to demonstrate that every citizen of Sri Lanka regardless of race, religion, caste or creed can exercise their franchise to elect the Parliament of their country. The minorities must vote courageously in large numbers and prove that they are an integral component of the country, no matter what their detractors may say.

As is well known, Sri Lanka's election laws place restrictions on what could be stated by journalists on Election Day and days preceding it. Hence this column is unable to write more specifically on the elections apart from the general observations expressed above. However I would crave the indulgence of readers to share a few poems and verses that are close to my heart in this week's 'Political Pulse'. I feel that they are appropriate to read and reflect on an important day like this for the Sri Lankan nation and people. It is my fervent hope that Sri Lankan voters would make informed, courageous choices on this D-day.


ONCE TO EVERY MAN AND NATION

The first is from James Russell Lowell, a 19th century American poet. Lowell who was a Professor at Harvard University had also been the first Editor of 'Atlantic Monthly'. He wrote this poem for the 'Boston Courier' of 11 December 1845. It was titled 'The Present Crisis' and written in protest against America's war with Mexico.

The title inspired the National Association for the Advancement of Coloured People (NAACP) to name its official magazine 'The CRISIS'. The NAACP has been for long the premier Afro-American organisation fighting for the rights and emancipation of the coloured people in the USA.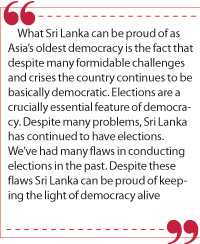 The poem is rather long with many parts that may not be relevant to Sri Lanka at this point of time. There were however some verses that were modified into a Christian hymn. This hymn relates to the responsibilities of people as they make decisions shaping the destiny of their country.

It is a hymn often sung in churches at times of national importance like an election. I do feel that it would appeal not only to Christians but to all people of goodwill who believe in the almighty or in a conscience.

Incidentally this poem-hymn was quoted by Rev. Martin Luther King at the conclusion of his speech, 'Vietnam: A Time to Break Silence' on 4 April 1967 at a meeting of clergy and laity concerned at Riverside Church in New York City.

Here are the four stanzas comprising this poem-hymn titled 'Once To Every Man And Nation'. (Women please forgive Lowell. He was from another male-dominated era where women could not vote.)
Once to every man and nation, comes the moment to decide,

In the strife of truth with falsehood, for the good or evil side;

Some great cause, some great decision, offering each the bloom or blight,

And the choice goes by forever, 'twixt that darkness and that light.
Then to side with truth is noble, when we share her wretched crust,

Ere her cause bring fame and profit, and 'tis prosperous to be just;

Then it is the brave man chooses while the coward stands aside,

Till the multitude make virtue of the faith they had denied.
By the light of burning martyrs, Christ, Thy bleeding feet we track,

Toiling up new Calv'ries ever with the cross that turns not back;

New occasions teach new duties, time makes ancient good uncouth,

They must upward still and onward, who would keep abreast of truth.
Though the cause of evil prosper, yet the truth alone is strong;

Though her portion be the scaffold, and upon the throne be wrong;

Yet that scaffold sways the future, and behind the dim unknown,

Standeth God within the shadow, keeping watch above His own.
THE ROAD NOT TAKEN

The second poem I would like to share is also from an American poet the famous Robert Frost. He has been one of America's frequently-quoted poets. Robert Lee Frost who won four Pulitzer prizes for poetry was born in California but lived in Massachusetts. Many of his poems were based on rural life in New England. They were used often to deal with complex philosophical themes.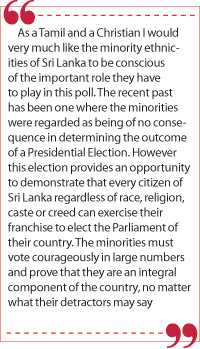 'The Road Not Taken' by Frost is a poem published in 1916 in the anthology 'Mountain Interval'. It's the first in the volume. Apparently Frost used to take long walks with his friend and fellow poet Edward Thomas in the countryside. Thomas at the end of a walk would often complain that they should have taken another path.

This amused Frost and the poem was a gentle swipe at his friend's pet peeve. However the poem was perceived to be of greater depth and regarded as inspirational.

Many regard it as a paean to individual freedom, independence of action and choice.

According to some it illustrates "that once one takes a certain road, there is no turning back. Although one might change paths later on, the past cannot be changed. It can be seen as showing that choice is very important, and is a thing to be considered".

I do think the question of choice in deciding which path to pursue is of paramount importance to the Sri Lankan people as they go to the polling booths today to make their choice and decide upon the future course of the Country.

Here then are the verses from 'The Road Not Taken' by Robert Frost:
Two roads diverged in a yellow wood,

And sorry I could not travel both

And be one traveler, long I stood

And looked down one as far as I could

To where it bent in the undergrowth;
Then took the other, as just as fair

And having perhaps the better claim,

Because it was grassy and wanted wear;

Though as for that, the passing there

Had worn them really about the same,
And both that morning equally lay

In leaves no step had trodden black.

Oh, I kept the first for another day!

Yet knowing how way leads on to way,

I doubted if I should ever come back.
I shall be telling this with a sigh

Somewhere ages and ages hence:

two roads diverged in a wood, and I

I took the one less travelled by,

And that has made all the difference


WHERE THE MIND IS WITHOUT FEAR

The third poem I want to share is from someone very well known in Sri Lanka. It's from Rabindranath Tagore and I know a whole lot of people in Lanka are familiar with this particular poem.

Tagore as is known was a Bengali and wrote poetry in the flowery Bengali language. An anthology of 103 of his poems were published as the 'Gitanjali' and was translated into English by the poet himself. 'Gitanjali' earned Tagore the Nobel Prize for Literature in 1913. Interestingly enough Tagore's poems are sung as national anthems by two countries. 'Jana Gana Mana' in India and 'Amar Shonar Bangla' in Bangladesh.

The poem I present here is 'Chitto Jetha Bhayashunyo' (where the mind is without fear). It was written before Indian Independence from Britain and articulates the vision of Tagore for Free India.

This poem is one of the most well-known of Tagore's creations and one of my favourites. I do think it's appropriate for Sri Lanka at this juncture.
Where the mind is without fear and the head is held high;

Where knowledge is free;

Where the world has not been broken up into fragments by narrow domestic walls;

Where words come out from the depth of truth;

Where tireless striving stretches its arms towards perfection;

Where the clear stream of reason has not lost its way into the dreary desert sand of dead habit;

Where the mind is led forward by thee into ever-widening thought and action….

Into that heaven of freedom, my father, let my country awake.
CALL TO LANKA

The fourth to be shared are three verses from the lengthy poem 'Call to Lanka' by Rev. W. S. Senior. Walter Stanley Senior was a scholar, pastor, teacher and poet who served in Sri Lanka for many years as Vice Principal of Trinity College, Kandy and Vicar at Christ Church, Galle Face.

Inspired by the landscape and people of the island then called Ceylon, W.S. Senior poetically envisaged a future Sri Lanka of unity and tranquillity where the races had blended and marched to a single drum. However I must say that I interpret his dream of "blended" as a mosaic of integration and not as a melting pot of assimilation.

This poem is one that I frequently read. It is a beautiful one about Sri Lanka. However I am only excerpting three verses here. Sadly the vision and call of people like the British missionary Rev. W.S. Senior sounds as an unrealistic voice in the wilderness in the present context. Against the current nightmare of vocal warriors from sparring ethnicities in the pearl of the Indian Ocean, the Bard of Lanka's yearning for a time when the voice of strife is dumb does seem a distant dream

Here are the three verses from W.S. Senior's 'Call to Lanka'.
"But most shall he sing of Lanka

In the bright new days that come.

When the races all have blended

And the voice of strife is dumb

When we leap to a single bugle,

March to a single drum.
March to a mighty purpose,

One man from shore to shore;

The stranger, becomes a brother,

The task of the tutor o'er,

When the ruined city rises

And the palace gleams once more.
Hark! Bard of the fateful future,

Hark! Bard of the bright to be;

A voice on the verdant mountains,

A voice by the golden sea.

Rise, child of Lanka, and answer

Thy mother hath called to thee.
The Hymn of Ceylon

The fifth and final poem is also by Rev. W.S. Senior titled 'Hymn of Ceylon'. This was always sung at the annual prize giving event of St. Thomas' Preparatory School in Kollupitiya where I studied from 1959 to '64. It is a Christian hymn and was set to the melody of 'Danno Budunge' by Devar Surya Sena as requested by Senior himself.

When we sang the lines 'Give peace within her borders, Twixt man and man goodwill,' in those days of innocent childhood, little did we realise that this blessed Island was going to be torn apart by a cruel war lasting for decades. The war has ended now. What is sad and troubling are the efforts by extremists on either side of the ethnic divide to whip up communal passions. One hopes and prays that saner counsel prevails and the merchandising of hatred ceases. Here is Rev. Senior's 'The Hymn of Ceylon' for the island and all her people.
Jehovah, Thou hast promised

The isles shall wait for Thee,

The joyous isles of ocean,

The jewels of the sea.

Lo! we, this island's watchmen

Would give and take no rest;

For thus hast Thou commanded

Till our dear land is blessed.
Then bless her mighty Father,

With blessings needed most,

In every verdant village,

By every palmy coast.

On every soaring mountain,

O'er every spreading plain,

May all her sons and daughters

Thy righteousness attain.
Give peace within her borders

Twixt man and man goodwill,

The love all unsuspicious,

The love that works no ill.

In loyal lowly service,

Let each from other learn,

The guardian and the guarded,

Till Christ Himself return.
To Him our land shall listen,

To Him our peoples kneel;

All rule be on His shoulder,

All wrong beneath His heel;

O consummation glorious

Which now by faith we sing;

Come, cast we up the highway

That brings us back our Kin
---
(D.B.S. Jeyaraj can be reached at [email protected])
---