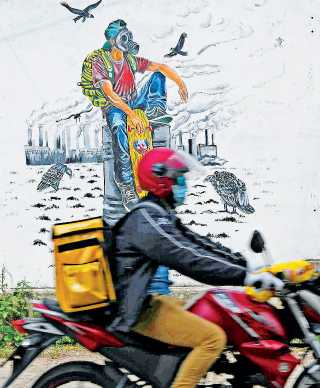 The digitalisation of Sri Lankan living really took off during the COVID-19 lockdown. For some services the virus opened up a whole new opportunity space – Pic by Shehan Gunasekara
---
At times some of us may be feeling quite nostalgic about the curfew times! You wake up late with the assurance that the next meeting or the lecture, which may be just five minutes away yet you are quite confident that you can make it. Even if that means sitting on atop the toilet seat!

Seamless working and multitasking had been really facilitated by technology and the technology was available when the humans had to be locked inside this time. That was the power of working from home that had to be accepted thanks to the virus.

I know that it was not for everyone as some seriously suffered and we must understand this difference. The transition too was most certainly painful for some as all ages are not equally at home with the new technology options and most certainly not agile enough to grasp essentials fast.

We all must have experienced going online and live, many a lighter moment, which were too frequent at times for comfort. The lesson however was in being pushed into a system that was emerging slowly in all places prior to this forced introduction, which most of us were oblivious to.

The archaic rules and regulations never understood the unfolding future and never took notice of the potency of changes. The organisational leadership for the most parts was analogue driven and who for the most part were guardian angles for procedures than for meaningful outputs. Many of them had to change fast and embrace the emerging way of doing business. Glad to say however, many did.


Surviving via connectivity

I remembered when I paid to top up the tank to travel after the easing of restrictions and start of work that I last filled up on 12 March when a lecture trip was scheduled to Trincomalee. Like most of the majority who were grounded other than those in the frontline and there was no need of the precious fuel.

However the necessity to buy data, top up, reload, subscribe in the cyber domain was of paramount importance with payments too through card. The essentials were only to be had from e-commerce mechanisms and when the alternative is hunger, you learn all available options fast. Survival was based on connectivity as life's little luxuries that one has got used to did not arrive at the front of the house unless strong digital connectivity was exercised plus the cajoling with the mobile connection.

WhatsApping for medicine was a fact. The digitalisation of Sri Lankan living really took off. I just cannot fathom facing life under curfew without the internet and connectivity. I am sure that thought was with many of us. Payments for those services shot up but I am quite conscious at this stage of the data costs overall were less than the cost on fuel spared. Using data as the fuel I did more work, read more, wrote more and was much more connected too. Interestingly I was able to serve on the COVID-19 front too from behind.

Certainly for some services the virus opened up a whole new opportunity space. Definitely post-COVID, and we are not there yet, some of these habits are unlikely to disappear as we have first-hand experience of significant conveniences and understood the fallacy of hyperactivity to achieve much less.

The lecture in Trincomalee was delivered via Zoom, the saving of time and carbon dioxide definitely is considerable. Yes the sea breeze on the face at Trinco perhaps was the only missing element. May be augmented and virtual realities would be more easily available along with the tactile internet in place before the next pandemic and that would take care of that too.

With data and AI the next potential pandemic is more likely to be nipped in the bud quite early. However as a nation as old habits die hard and we must ensure that we do not slip back into the old normal, losing some of the positive results from facing up to COVID-19.


Public sector

The public sector had to operate digitally wherever possible. In most areas I am sure the initial experience would not have been pleasant. I remember having served in one place where we decided on day one of operations that we should have all our staff connected and supported for connectivity too. As things cannot be procured that easily even though the ideals were present, we executed by sourcing help from a private sector communication service provider who obliged with the capital goods.

When transition took place to a different set of administrators, there was a directive why one should have dongles for all the staff plus routers for a more mobile office. No one is expected to work after 4:30 p.m. for that set of administrators and as such there is no need to support the use of dongles. So the Government coffers were spared some cash but the message certainly was not one can take pride in this era of connect and contribute.

For such thinkers the virus would have been a watershed event, yet when the newspapers reported that transport allowances had been paid for working at home, a few eyebrows must have gone up!

Prof. G.T.F. de Silva also interestingly discusses this administrative attitude of viewing paying for something that may be used at home in his memoirs as Vice Chancellor of University of Moratuwa. If that happened in that hallowed precincts over a communication device, what can one say about ordinary departments!?

Of course this particular scenario was in the early stages of the World Wide Web in Sri Lanka. What I want to indicate is for many that kind of thinking has prevailed up to 2020 until the disruptive force of virus.

Now Zoom is all the rage for meetings. Of course there are other products. We connect on the go and do so with ease today. Productivity has gone up a notch in many situations but must consider the health consequences of always being in action. Of course the stress of rushing in from a faraway place is absent so there are different compensations. The advantage of this type of meeting is the recording and the archival opportunity and not having to correct and depend on second-hand poorly collated notes and meeting minutes.


The new oil

Data is the new oil and actually this was a pre-COVID sentiment. Clive Humby, the British mathematician, said this in 2006. COVID-19 just generalised the relevance and no one perhaps from now on would argue over that.

The newfound connectivity is generating petabytes of data every day. While one may not travel and contributing less climate warming gases energy hungry data centres are springing up, which of course are getting addressed. The data travel is being made significantly to have a light footprint. We are seeing greening of the internet too.

Over any data transaction we all leave a significant digital footprint and we are making ourselves quite accessible in many ways. New subjects have sprung up too along with new occupations. Big data, data scientists and Artificial Intelligence are heard often and are dominating discussions.

New security threats too are emerging. Threats on cyberspace are another new normal. It has come to such a situation that even researchers on COVID-19 vaccines are concerned over their research data security. In the midst of the pandemic we also heard of a cyber-currency crime after hacking the Twitter accounts of some well-known personalities from Barack Obama, Joe Biden and Elon Musk to Bill Gates. One of the hackers was found to be a 17-year-old from United Kingdom.

With AI analysing all these data and generating profiles of yourself the much-prided human decision-making is snatched away from you under your very nose. In these networks thus roam data stealers and they know the value of capturing profiles and information of millions of people in an instant. All those data are feed for AI systems as AI is lost or useless without data.


Education

Another concept discussed and understood became quite visible during COVID-19 times. Education had to resort to a distance mode of education but the infrastructure and the ability to procure data services matter. It was quite distressing in many ways when the news was indicated the UGC Chairman that 75,000 students from a community of 125,000 students come from families below the poverty line.

Now under such circumstances there is no joy of Netflix and connectivity and we certainly experienced this disparity. When you compare what we were able to offer, as teaching to someone connected to an overseas university with a scholarship, the digital divide is a chasm. We are almost reduced to providing a basic service and inconsistent too in delivery.

The other negative is when the service quality is poor, there is no joy in that form of education. It is easy to experience that after meeting the students again after the curfew. However, in pursuit of results the students follow all the methods other than what they really should follow. Bridging these deficiencies is a must and must be taken seriously.


Power of data and data services

I know purists may argue that oil and data cannot be compared due to differences but that is not what was intended here – oil is finite and data are not, for one big difference. You must understand the power of data and data services in the emerging economy.

We know companies such as Exxon and Mobil which traded oil no longer enjoy the positions they once had at the top of the ladder. Today those positions are firmly taken over by Facebook, Google and Amazon, etc.

The COVID-19 curfew also gave us some quality time to think and having come out of the closed confines we must think this is one fuel that we have and should have no fear of running out of either but the trick, as Clive Humby indicated, is that tools of turning data into value must be quickly embraced, developed and internalised. It is not most certainly stopping work at 4:30 p.m.