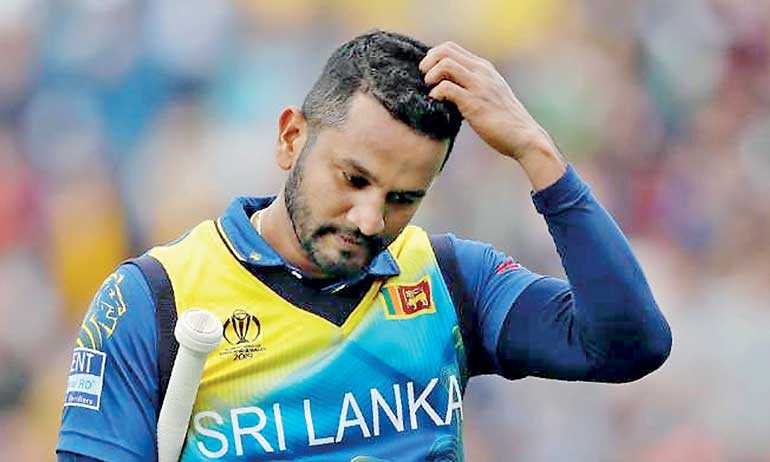 Dimuth Karunaratne

Sri Lanka did have the Perahera Effect many years ago. However, we soon cured the spectacle and we did not take time to storm to victory snatching the World Cup
---
"It is necessary, therefore, for the Government to pay serious attention to the doings of Sri Lanka Cricket [board] and take immediate action to lift their game for the progress of our glorious game."


Question for Sri Lanka Cricket (board)

Sri Lanka is an amazing country. Cricket is the national sport and the whole country stands united only on the occasion of its cricketers on the field. The game is, therefore, crucial to our national psyche. Government and the Cricket Board must understand how much the game of cricket means to Sri Lankans and do everything in their power to deliver a good outcome.

The talent is there and so is the experience and built-up cricketer confidence. Yet, over the last decade we get extremely frustrated to see our players going down so miserably – match after match. We expatriates living in Australia ask just one question from Sri Lankan Cricket (SLC): Why don't you gentlemen quit honourably and hand the management of cricket to young sportspersons?


Return of the Perahera Effect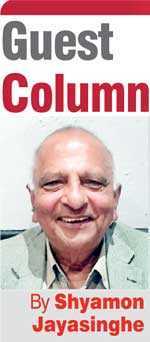 On 15 June, we had Sri Lanka playing Australia in the World Cup. How heart-warmingly we saw young players in the top order – Karunaratne and Mendis – play their shots against the spirited and professional pace attack of the Aussies?

Karunaratne just missed a glorious century. Wasn't it 150 for one at one point? Then, we had a middle order total collapse and no tail to give a last ditched fight. Lankan schoolboys refer to this as the 'Perahera Effect.'

Sri Lanka did have the Perahera Effect many years ago. However, we soon cured the spectacle and we did not take time to storm to victory snatching the World Cup. Now, the Perahera Effect has returned and the whole game of cricket is down to the ground.


Talent training and selection methods

Who do we blame? Not players, as we have adequate reserves of talent in our country lined up to play. We need to have a system in force to spot talent and train potentially good players. Australia has a Cricket Academy, which does that. Since cricket brings good income to players and the latter can devote full time for training even in Sri Lanka, why not we do that? The whole effort is self-sustaining. What has our Board done here?

We have grave doubts about selection methods and procedures when teams are selected. Perhaps right players are left out and wrong fellows are put in place. What can the Board say about its picking procedures? Why don't they come to the media and tells us?


Political influence?
I have heard Board Members complain of political pressure. If politicians intervene, that again, is the responsibility of the Board to bring under control. SLC Board cannot shake away from taking charge of an obstruction like that.

Stories are a galore that some Board Members have been cooperating with politicians in order to please the latter. During our civil service career me and most of my vintage have worked with ministers and politicians and have been subject to intense pressure but we have been able to withstand undue influence on choice in a tactful manner; thereby holding our ground in the public interest.

That is managerial skill and if the Board Members lack that, then they must, in the name of God, quit instead of caving in like immobilised strangled animals.

I believe even the Minister in charge of sports is incompetent-despite all the hope he had generated when he was appointed. Has the Minister acquiesced in the current poor show of the Board? Harin Fernando must be scared of the Board. Or is he liking to share some of the perks that the administrators of cricket can afford to share with him? Honestly, I do not know the answer. The fact is Harin's silence is strange.


Facebook posting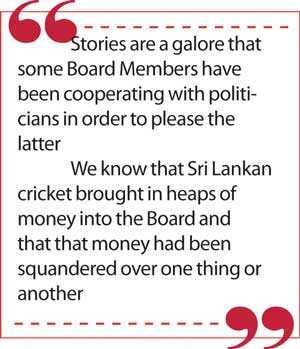 I posted the following in my Facebook, meant to be universally applicable to all organisations: "Be it a political party, a religious organisation, an alumni club, or a simple cricket board; a controlling few or an 'elite' ends to form over time. If the money is there, such elites will develop into a close corrupt group blocking newcomers who alone can refreshen the organisation."

I had an immediate response from a very high up in the SLC Board, whose name I shall not mention as I have known him for many years and do not want him to face serious embarrassment. This is his response: "Don't talk bullshit, without knowing facts about the Cricket Board Shyamon I have told you many times. Come for a debate when I am next in Melbourne I will take you on."

My posting was about a universal principle of organisational behaviour. I reminded the official that this principle is valid for his Board too. As a responsible official of the Board he should have made serious note of what I said, accepted my posting as feedback, and thought it time to address media in order to try and construct a better image before the public.

The public perception of the Board is very poor. Opposition Member of Parliament Sumathipala had been chairman for long ensuring his re-election every time. Being a MP that was conflict of interest. To date we don't have a clue of what he did to improve cricket.


Mahela Jayawardene

Sri Lanka's star world-class player Mahela Jayawardene who was invited to an advisory position in the Board flatly repudiated the offer saying he was sure they would not listen to his advice.

In this way, the Board seems to be struggling at odds against those who matter for cricket and determined to be bureaucratically ensconced in an isolated tower.

Income

We know that Sri Lankan cricket brought in heaps of money into the Board and that that money had been squandered over one thing or another. Actually sport is a significant GDP booster in countries like Australia. Sportsmen are paid well, administrators get enough money and the economy derives large benefits. This happened in our country when our cricket did well. However, it is a different story now. At this rate, I wouldn't be surprised if competing cricketing countries place tournaments with our cricket team for 'low seasons'.

It is necessary, therefore, for the Government to pay serious attention to the doings of SLC Board and take immediate action to lift their game for the progress of our game.
(The writer can be reached at sjturaus@optusnet.com.au.)