By Jayasri Priyalal
---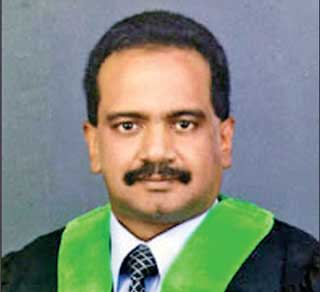 Senior Professor Buddhi Marambe touched on critical points and forewarned on dangers of short-sighted agriculture policy directives
---
Nurturing nature is the right thing to do when Mother Nature is grappling to adjust to the manufactured damages taking a toll and challenging the mutual cohabitation of all living beings on the earth.
Feeding seven billion people with depleted natural resources and a degraded environment is a mammoth task for humanity. During the past 10 millennia, homo sapiens have evolved to adjust and move ahead with their advanced cognitive abilities. However, at the beginning of the 21st century, there are ample evidence and warnings to determine that human beings have crossed the boundaries in harming nature.

Maintaining balanced biodiversity is expected from the experts to mitigate the climate-change triggered natural disasters paving the way for an ecological civilisation.

As a staunch believer in protecting nature for shared prosperity, I have been exploring ways to realise this sustainability. Research in 2020 by the World Economic Forum found that $44 trillion of economic value generation – more than half of the world's total GDP – is moderately or highly dependent on nature and its services and is therefore exposed to nature loss, including tropical forests.

I am penning this article having listened to an excellent scientific presentation delivered by Senior Professor Buddhi Marambe, Dept. of the Crop Science, University of Peradeniya on 24 July. My special thanks to the Peradeniya Engineering Faculty Alumni Association (PEFAA) for organising the timely event, which enlightened me in many ways, particularly certain myths about synthetic fertiliser usage in Sri Lanka.

The learned Professor presented his arguments with facts and figures from authentic sources and clarified many mythical beliefs of synthetic fertiliser and pesticides usage in Sri Lanka. All Sri Lankans are truly indebted to all these professionals who had been dedicating their intellect with a vision to improve the productivity of our crops respecting science, causing minimum impact to our biodiversity. Sri Lanka's ranking in synthetic fertiliser usage, pesticides, and emerging above our competitors in the region on maintaining the food security concerns was an alarming highlight of the lecture. The discussion heightens the public awareness of the proposed move to restrict the import of synthetic fertiliser and switching to organic fertiliser of the Government of President Gotabaya Rajapaksa. Professor Marambe touched on critical points and forewarned on the dangers of these shortsighted policy directives that appear to have emerged without sufficient consultations with the experts dealing with agriculture instead of relying on ill-advised opinion makers to believe in assumptions instead of scientific facts.

The recent developments in the country, mainly coming up with various draft bills such as attempting to militarise higher education matters and trying to dispose of the island's iconic properties to attract investments, indicate the quality of advisors surrounding President Gotabaya Rajapaksa. Those who teamed up with him as 'ViyathMaga' experts appear to have distanced President Rajapaksa.

At the webinar, Prof. Marambe revealed that he and the other agricultural experts were appealing to give them an audience with the President to explain the dangers of this policy directive, which will create a long-term peril to an agricultural economy. President Rajapaksa has come out with strong convictions on the benefits of using organic fertiliser and sadly lacks scientific evidence to back the perceived benefits and advantages of the proposed policy directive.

My purpose in writing this opinion piece is to make a humble appeal to President Gotabaya Rajapaksa and his team of advisors to seek expertise from the experts and decide on the policy directives instead of counting on assumptions.

Fareed Zakaria devotes a chapter, 'People should listen to the experts – and experts should listen to the people,' in his book 'Ten Lessons for a Post-Pandemic World'. He quotes President Donald Trump when questioned about experts he consults during the 2016 Republican nomination campaign: "I am speaking with myself, number one because I have an excellent brain; my primary consultant is myself." His idea to inject Lysol, a cleaning solution to treat COVID-19 patients, could have surfaced through this process.

Trump ridiculed the experts in 2016: "Look at the mess we're in with all these experts that we have." The rest is history, the mess he created during his tenure as the President of the USA. These are suitable lessons for many other political leaders; if not, history will name them too as people who did the right things in wrong ways.