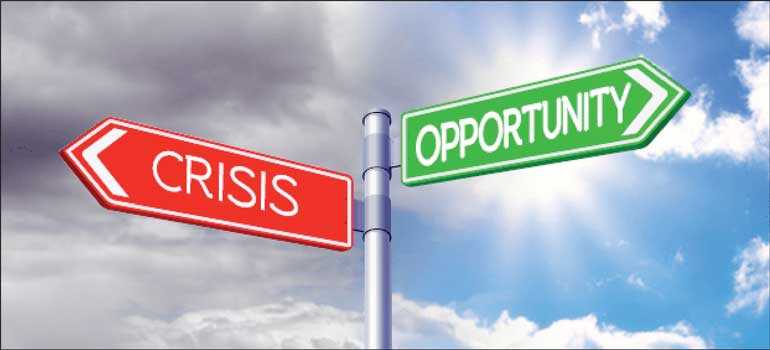 ---
You don't drown by falling in the water; you drown by 

staying there 

– Edwin Louise Cole


The opportunity that lies in every crisis… The word crisis comes from the Greek 'to separate, to sift'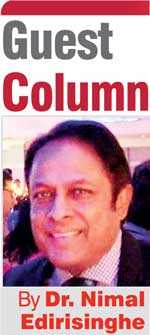 which means to pass judgement, to keep only what is worthwhile. There is an opportunity in every crisis and the deeper the crisis, the better the opportunity can be. But some people are not capable of seeing it. 

The writer realised valuable opportunities that could be used to address many disparities in our society as soon as understanding the massive aftermaths that will be created by the virus. However, purposely delayed publishing this article until the readers are somewhat free from other distractions emanating from viral environment. 

The coronavirus or COVID-19, as the World Health Organisation has named it, is changing the expected, the unexpected, the planned and the unplanned, the seen and the unforeseen. Like in the rest of the world, it has, for good or bad, changed Sri Lanka forever. 

The coronavirus crisis is creating problems, but it's also creating tremendous opportunities. This crisis of massive proportions should help us at least to see better, to see more clearly; to have a fresh look away from our individual or national problems; to have a global look; to realise that our local crises cannot be fully understood if we do not place them in a global viewpoint. 

Since this crisis affects us all and it is not good neither for rich nor for the poor, the crisis is giving us an intensive enlightening course. Let us be positive. Let us dream that this crisis will enable us to open our eyes a little to make these comparisons. Let us believe that it will have opened many eyes to the need for more ethics and accountability in the behaviour of world economy. 
New normal
New normal has been and will recur forever though the new normal at this stage is the post-COVID-19 era and we will have to change our approaches to how we do things once the current environment is fully understood. The virus has opened human minds to foresee what needs to be done to safeguard their lives as well as who they are responsible to protect. Development of biological weapons is an open secret as many countries have already embarked on this endeavour to be powerful and thereby protect their selfish interests. So, this is the new normal many have now realised as a result of the virus now. To avoid repetition of the same disappointments we have experienced during last few months the country needs to implement explicit strategies rather than experiencing the repetition of the same challenges again in the future. 
Contemporary challenges
Main challenges currently faced by the Sri Lankan government are: containing the COVID-19 virus; moderating the economic downturn; and ensuring the survival of constitutional politics. The government deserves all the credit that has been extended to containing the virus and hopefully it will keep up the good work with accommodating the professional advice until we are capable of returning to 'new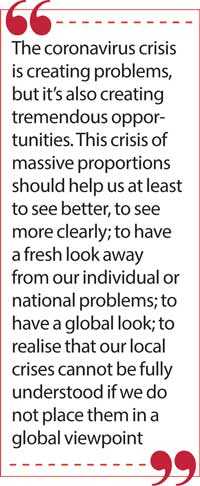 normal'. We will have to wait for some time until we achieve desired outcomes on the economic revival front. Even without the virus the government was in a deep crisis and the virus has made it extremely worse. 

Recent unanimous verdict of the Supreme Court on dissolution of parliament and the parliamentary elections have paved the way for the possibility of addressing our constitutional political challenges in the immediate future though much will depend on the election outcome and commitment of the elected representatives to address gaps in the country's basic law, the Constitution. 

COVID continues to batter the economy and causes vast unemployment. In the economic sphere, which is more important at this stage, the writer can see two main areas that need to give high priority to address both pre-existed shortcomings as well as challenges created by the virus. 

More focus should be given to agriculture and food security as our economy is highly reliant on farming. 80% of the Sri Lankan population live in rural areas and majority of their household income is depended on the agriculture. Estimated agricultural households in Sri Lanka was 2.1 million in 2017; that is a massive 40% of the households of the country. Estimated agricultural population in the same period was 8.1 million. 

However, the inefficiencies and imbalances that were created by haphazardly making decisions on what need to be produced without common approaches have resulted in supply and demand inequalities resulting in production losses, wastages and generating economic hardships for rural households. Mechanisms to keep growers informed on available market opportunities in different seasons, what to produce as well as their quantities and when to produce should be the major elements of these advices. 

Further, availability of water, predictive weather patterns, storage facilities and insurance schemes to protect their harvests would also be helpful in this endeavour. It is disappointing to witness accessibility to produce such as tamarind imported from Thailand in the local market by wasting valuable foreign exchange resources and denying opportunities for local producers to become players in such markets. 

Pitiful scenes are a common feature in the media where farmers are forced to destroy their crops due to lack of buyers. There is clear evidence to suggest that some of these imbalances are created by the middlemen acting in the different market segments. Mammoth effort from the government agencies is urgently required to provide strategically developed channels to sell farming produce to the consumers free from many layers of middlemen, who are distorting the free market mechanisms. Number of formidable middle agents in the country shouldn't be more than 200,000 but unfortunately, they contribute to the misery of eight million farming population by denying them the opportunity to realise a justifiable market for their produce.  

Investigating and tying with export markets for fresh or canned vegetables and fruits need to be established. To this extent administrative mechanisms such as Export Development Board was functioning in the country for the last 40 years and therefore only a limited effort required to modify their approaches to meet current market requirements.  

Establishment of import substitution enterprises will address binary urgent needs of the country, namely saving foreign exchange and contributing to create employment opportunities which has become a massive problem as a result of the spread of COVID-19. Import substitution is not a new concept to Sri Lanka since the country has gone through this endeavour in the past, especially in 1970s, by forcing numerous hardships onto its citizens. However, narrow minded policies such as fully opening up the economy not only jeopardise the sensibly established import substitution industries but also created massive drains in the country's foreign exchange reserves. 

Sri Lanka is now also required to address the burdening issue of providing employment for overseas workers coming back home due to the virus as they returning to their previous livelihood will be a distant reality. This has further worsened the already existed local unemployment thus creating much bigger challenges to the government. Import substitution industries should be able to play a vital role in this effort. Even in this critical moment endeavouring to minimise imports will no doubt yield desired outcomes for the country. 
Addressing balance of payment issues
Tourism contributes to a significant share of the country's foreign exchange earnings and we have been doing a pitiful job in attracting middle to high-end tourists who can make a positive contribution to the country's economic development. Tourists who can make a good contribution to our economy comes from stable and wealthy societies. They give higher weightage to qualities such as eco friendliness when they pick their holidays. The emerging class of middle to high-end tourists come from the Millennials and their children. Eco friendliness, animal welfare, organic food and clean air are their priority in determining their overseas holiday destinations. 

We all witnessed how animals in our national parks roamed freely, which they should be enjoying, during the last few months with human-free environments. These creatures also deserve similar breaks at least once a year without human interventions in their habitat. The writer noted that the draft of Animal Welfare Bill is now ready, and this is a good opportunity to insert some clauses for the welfare of animals in a human-free environment thereby forcing national parks to adhere to such guidelines. Such strategies are positive actions to encourage the kind of tourists mentioned above and once they returned to their homelands their word of mouth will lure more such tourists to holiday in our country.

There is a fallacy that the country is gaining full value of foreign exchange from accommodation booking by tourists. Up to about 30% of these booking income flows back to other countries where the booking sites are located. Therefore, strategies such as having booking sites maintained by government agencies could be a win-win situation for the government, in retaining earned foreign exchange, as well as hoteliers and tourists. Only a small margin needs to be recovered from the industry to fund these facilities. However, we need to tread this area carefully with strategically designed tactics since we try to compete with formidable booking agencies. 

Sri Lanka is blessed with the cheapest energy resource such as solar and wind power. New initiatives in these industries will argue well for saving foreign exchange in an environmentally-friendly manner rather than importing fuel and coal. Such initiatives will contribute to a healthy living environment for the citizenry and finding new and valuable avenues for job creation in the country. Solar and wind power has been neglected in the past by successive governments and proper strategies to quickly develop these natural power sources are mandatory if we are serious in developing our economy and addressing environmental issues created in this process.

In addition to all these strategies, initiatives and approaches one fundamental factor of leadership will determine if we can create such opportunities and achieve desired outcomes in the current crisis ridden environment.
(Dr. Nimal Edirisinghe is a graduate from the University of Sri Jayewardenepura, as well as Sri Lanka Law College and completed his postgraduate studies in Canada and Australia. He is a visiting lecturer of the MBA program at the Sydney Business School and currently working for the Australian Federal Government. Email: [email protected].)