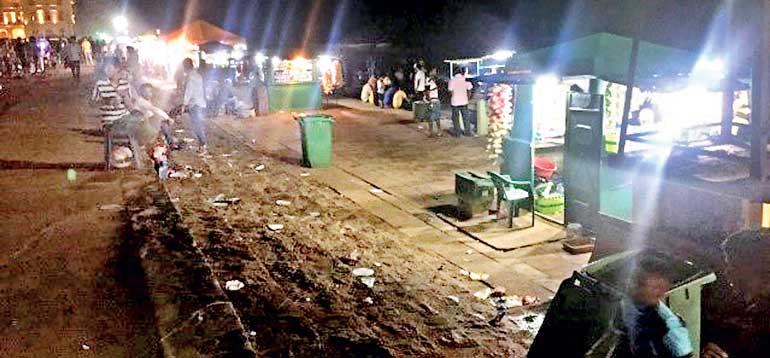 I do not think that there's anyone that will disagree with me if I say that Galle Face Green is one of the key landmarks of the City of Colombo.

If you talk to any foreigner about Colombo, only a few would fail to mention this long stretch of green bordering the Indian Ocean. After travelling to so many cities in the world, I can say that it's only a few places that leave unforgettable, marks in our minds, and those are mainly the cities that have unique characters.

Any city with a whole lot of high rise buildings does not make an impression on the seasoned traveller anymore, since all these cities look the same. A city without a character of its own is not remembered! The Galle Face Green is undoubtedly one landmark that is a fundamental part of the character of the City of Colombo!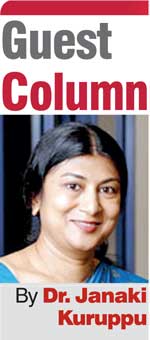 Two of my friends and I decided to visit Galle Face on 3 September, just for fun since we haven't visited the place for a while. All of us have come here about two years ago. To my horror, as we were approaching the green, we saw that one section has been cordoned off with 'takaran sheets' for a carnival, and the carnival was loud and dirty and with ugly structures put up all over the place. What an eyesore this was!

The Galle Face I remember from my childhood was a patch of green, most of the time with brown patches since we were never able to succeed in growing grass to cover it completely, with the vast blue sea in the distance. It was a calming scene that brings about sereneness to the minds of those who drive by. It was a reminder that this is Colombo.

If you are from Colombo, then most probably you will have so many memories of this place, where you came with your parents or your children to send kites on a Sunday afternoon, or came to have a koththu with friends, or even if you are not a Colombian, this would probably be the place that you would remember with pride and nostalgia, where thousands of school children saw the sea for the first time, or the place that you sat with your boyfriend under an umbrella and whispered sweet nothings!

Or maybe, you just come here for a walk or just to gaze at the sea and enjoy the beauty of nature. But let me tell you, if you have any good memories of this place, your heart will sink when you look at the state of this place today.

If the damage caused to the sereneness by the loud and ugly carnival is not bad enough, just take a walk along the sea where all the food shops are. The place is a garbage dump! There is garbage everywhere! Leftover food, empty bottles, papers, empty food packs, polythene, sili sili bags, lunch sheets strewn all over the place. It is an unbelievable mess. Everyone there seems to be enjoying, throwing the trash everywhere, trampling it, walking all over it, without feeling anything wrong.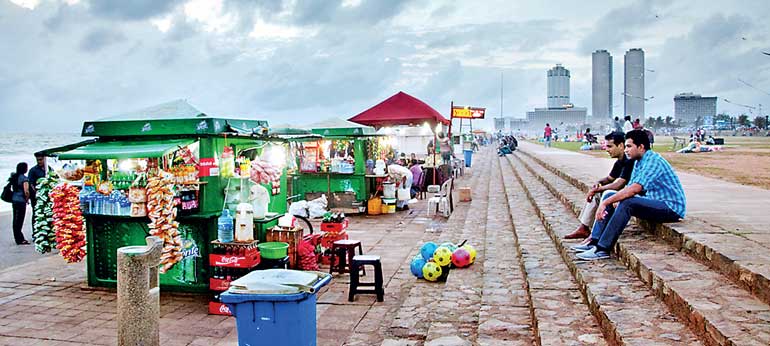 We stopped at a kiosk to have some isso wade. Of course my two friends thought it is out of the question to eat these and watched in horror when I told the guy to put some sauce also on it. I said this is part of the experience of Galle Face, I must have the isso wade, and may be some annasi, otherwise my trip here is not complete.

But I could not enjoy my wade, since once again, I noticed the amount of trash around the kiosk. I remember, the last time when I was here, the kiosk vendor told me, "madam, please don't throw that plate and tissue out here put it in the trash can over there, since I will be fined if there's any trash around my kiosk." I was so thrilled to hear this, even though I was a little annoyed to think how dare this guy think that I would litter this place!

But look at the place today. Nobody cares. There are garbage cans in four colours, to put plastic, paper, organic waste, glass, etc., fixed almost every 500 yards or even less. But when I checked, they were not even quarter full and all the garbage was everywhere. We expect the people to sort the degradable and non-degradable garbage and put it when more than 90% are just putting it on the ground?

By now, we have walked all the way to the top of the road in front of the Presidential Secretariat and we could get the urine smell so bad. Then I told my friends, this is now like Mumbai, where you get different bad smells in every part of the town. Along this three km or so walk, we were subject to the smell of urine, the smell of stagnant water clogged in the drainage, the smell of rotten food and so many other smells which my nose was not smart enough to figure out. Mind you there is a drainage a few feet long that is filled with stagnant clogged water, and we talk about dengue eradication!

I remember, during the previous regime also a similar situation of trashing happened, and we from Mother Sri Lanka suggested a clean-up effort by citizens, but they got the Army to clean it up every morning. We strongly believe that that's not a solution. Our people have to learn to clean up their own messes or not to make a mess in the first place! If they can come and enjoy this place so much, don't they have any responsibility to keep it clean? Why are we training our citizens to expect someone else to clean up every mess they create?

We started walking towards Galle Face Hotel to go back home. We passed an area that looked like a three-wheeler park. My friend said, "I won't be surprised if they make this whole place a parking lot one of these days! They have just ruined this place, whoever is looking after Galle Face Green definitely has no passion or nostalgia for the place."

Then on top of the road I saw two tourists reading a plaque that has been put up there. I also went to see what it says. The plaque says: "The newly renovated Galle Face was opened in 2001 by President CBK on the invitation of Mangala Samaraweera" and the names of Ratnasiri Wikramanayake and Jeyaraj Fernandopulle were also mentioned. Oh my God, I thought, isn't it the same people who are in power now? Wasn't it Mangala Samaraweera who planted palm trees here? Why is it that they don't see the value of this place anymore? Is it because the Port City is coming up and hence Galle Face is not valued anymore?

But surely, we know that it will be another concrete jungle, and further it will not be finished till 2030, and even then, it will be not our Galle Face, it will be a project of the Chinese! This place has history and heritage.

An appeal to my fellow citizens, please don't do this to this beautiful landmark. Please do your bit to keep the Galle Face Green free of trash and convert whoever you can to do so also.

An appeal to the current leaders of my country; please don't let this happen to Galle Face Green! If you would let us, we have a proposal to solve this problem, give us a chance to come and present it to you.
(The writer is the Founder, Chairperson of Mother Sri Lanka Trust, a charitable foundation focusing primarily on developing responsible citizenship. She is also a former Chairperson – Sri Lanka Tea board, Chairperson – Regional Development Bank, Director – Cargills Group and first MD – Nielsen Lanka.)