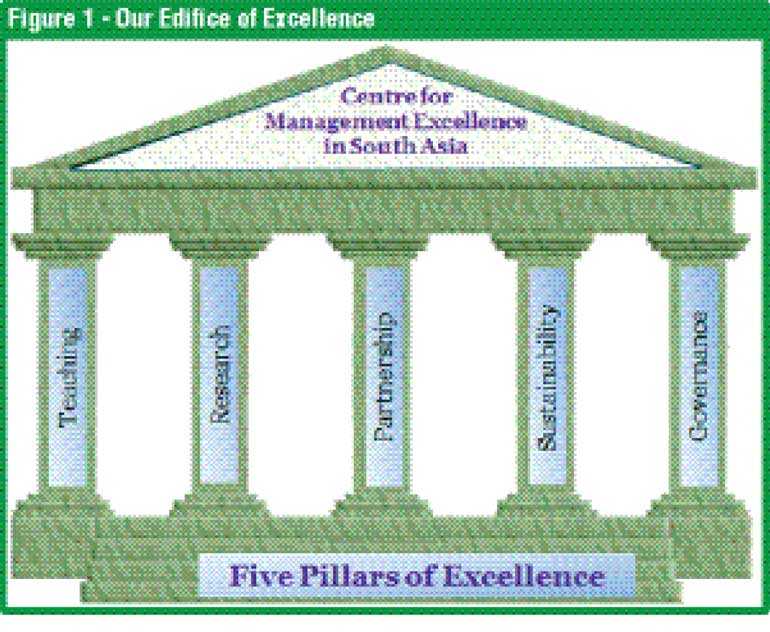 I was delighted to be reappointed by the University Grants Commission (UGC) as the Director of the Postgraduate Institute of Management (PIM) for the second term of three years. I

earnestly hope that it echoes with what Jonas Salk, an American Medical Researcher said: "The reward for work well done is the opportunity to do more". Today's column is the reflection of the need to breed more managerial leaders to the nation and how we have been collectively contributing as the "Nations' management mentor" in producing leaders with global presence and local pulse.


Overview

I remember with gratitude what late Prof. Uditha Liyanage, my beloved mentor wrote in his message for PIM website sometime ago: "Nothing worthwhile is achieved easily. Success is achieved when the right things are done right at the right time. This is particularly true in business. One word for 'getting it right' is mastery." Prof. Gunapala Nanayakkara, Dr. Kanthi Kamalgoda, Dr. Basil Perera, Prof. Uditha Liyanage and Prof. Mangala Fonseka were the former directors who steered PIM from strength to strength. "If I have seen further than others, it is by standing upon the shoulders of giants", so said Sir Isaac Newton. I was so fortunate to be groomed by such giants.

30, 300, 3000 and 30000 are significant numbers for PIM. In more than 30 years of its existence, PIM has produced more than 300 Chief Executive Officers (CEOs), more than 3000 senior managers and more than 30000 learning recipients one way or the other. It being a self-finance body for the past 20 years has not taken a single cent from the treasury neither for capital expenditure nor for the recurrent expenditure. It is often cited by the UGC as a model for postgraduate institutes in the country. It's also the only higher education entity in the government sector that is ISO 9000:2008 certified. It is the first Sri Lankan member of the Association of the Advanced Collegiate Schools of Business (AACSB), the premier global accreditation body.


Premier Postgraduate Enterprise

The PIM is also semi-autonomous body affiliated to the University of Sri Jayewardenepura. As its anthem verses tell, PIM is the "blossomed Lotus" in the "Pond of Sri Jayewardenepura". It aims to promote advanced education and professionalism in management in Sri Lanka through the provision of postgraduate instruction, training, research, and development in the various branches of management and administrative studies. Today, it serves the national interests of professional management education and training, providing challenging opportunities for learning and skills development to thousands of senior-level managers and administrators, in becoming the "nation's management mentor".

We diligently associate the word "mentor" related to an institution. It usually relates to an individual and typical dictionary definition goes as an experienced and trusted advisor. We at PIM earnestly believe that we play that role in producing business and public leaders.

The vision of the PIM is to become a centre for management excellence in South Asia. Its mission goes as follows: "We ignite human imagination by developing leaders with global presence and local pulse. In this endeavour, we pursue innovative teaching, cutting-edge research, enriching partnerships, inspiring sustainability and exemplary governance."

The PIM practices three key values, viz. Passion (Enthusiasm and eagerness towards results in showing professionalism), Integrity (Acting in an ethical manner with the best interest of the institution in mind) and Mindfulness (Paying attention to purpose and actions in doing things with self-awareness). As depicted in Figure 1, our edifice of excellence is a visual depiction of the five strategic pillars viz., teaching, research, partnerships, sustainability and governance.

It will be worthwhile to discuss what we have collectively achieved during the past few years, in relation to each of the pillars of the edifice of excellence, for the pure purpose of sharing.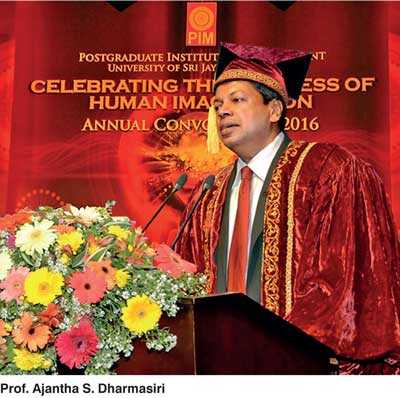 Teaching excellence

This has been the forte of PIM. Among the resent improvements, only a third of a three-hour session is typically devoted to the straight lecture component, i.e., to tell. The remainder of the session is devoted to show (e.g. showing a video), to ask (e.g. engage students in discussion/debate), and to do (e.g. do an exercise or case study). The Faculty is aware of the need to use all four modes of delivery for making a high impact on the student-managers and for achieving the desired learning outcomes. Among the many things what we have done are:

Initiated AACSB accreditation process for PIM in order to obtain the world most prestigious business school accreditation (Work in progress) Re-launched the PIM MBA overseas program with a lean model and successfully established study groups in Dubai (UAE), Doha (Qatar), Muscat (Oman) and Kuwait City (Kuwait).

Introduced specialised programs such as MBA in Taxation (MBA-T), MBA in Customs and International Trade (MBA – CIT) and MPA in E – Government (MPA – E).

Introduced a week-end batch of MBA in addition to week-day batch offering greater flexibility. Expanded the core faculty team and engaged diverse experts as visiting faculty.


Research excellence

PIM is the leading higher education institution in the country that conducts research in the discipline of management. We have a dedicated research centre. While many MBA programs elsewhere have conveniently abandoned the most precious learning activity of research, we proudly continue to improve upon the quality of our research activity in the MBA program. Among the many things what we have done are:

Introduced Annual Student Research Day and Annual Doctoral Symposium, showcasing PIM student research.

Ensured that the Sri Lankan Journal of Management (SLJM), PIM's flagship publication becoming the first Sri Lankan journal to be hosted by EBSCO, one of the top three research databases in the world.

Initiated collaboration with University of New South Wales (UNSW) for doctoral scholarships for PIM graduates.

Introduced the Advanced Research Methodology Course as a run up for a comprehensive doctoral degree program.

Initiated a monthly research dialogue with an emerging researcher.


Partnership excellence

We have been vibrant in building bridges local and overseas. Among the many things what we have done are:

Introduced the International Management Program of PIM catering for public sector administrators in forging links with University of Sydney, Australia, Frankfurt School of Finance & Management, Germany, University of Hong Kong, Universitas Gadjah Mada, Indonesia, The International University of Japan, Maastricht School of Management, Netherlands and Kasetsart University, Thailand.

Initiated a partnership with Mobitel to develop the M-Learning platform in order to reach out to North and East in Sri Lanka (for MPA) and to overseas students (MBA).

Meaningfully engaged PIM Alumni (PIMA) in raising their profile and activating PIMA UAE Chapter and PIMA Qatar Chapter.

Renewed the links with the Association of Management Development Institutes South Asia (AMDISA) in hosting a conference and two board meetings.

Partnered with key public and private institutes through the offering of short-term revamped Executive Development Programmes (EDPs).


Sustainability excellence

We have been active in strengthening our infrastructure with eco-friendliness in mind. Among the many things what we have done are:

Introduced online assignment submission scheme through anti-plagiarism software (Turn-it-in) in eliminating printed and spiral bound assignments. Introduced Five S scheme for better housekeeping paving the way for PIM to win the Taiki Akimoto Five S Merit Award in 2017.

Revamped PIM welfare initiatives in initiating first ever overseas study tour to Thailand for the entire PIM staff (January 2018).

Enhanced the physical infra-structure with the inclusion of an air-conditioned cafeteria, CCTV system and thumb-scan system.

Initiated green actions such as Prajna Learning Portal, energy-efficient lighting, herbal terrace (Osu Piyasa) and better waste management.


Governance excellence

We strive for "exemplary governance" with clear accountabilities. Among the many things what we have done are:

Achieved highest year-on-year revenue growth in the history of PIM.

Initiated Operational Management Committee (OPCO) to collectively take operational decisions.

Initiated "Knowledge Voyage" – a monthly knowledge sharing forum for faculty, Quarterly Breakfast Meeting for Faculty with revamping of the annual faculty retreat

Introduced a transparent reward scheme for faculty publications and faculty research presentations.

Ensured the consistent functioning of the Board of Management and Boards of Study.


Excellence as Essence

My association with PIM goes back to more than two decades as a student, visiting faculty, consultant, lecturer, researcher, trainer, professor and the leader. I would ensure that PIM continue to be in the forefront in breeding thought leaders with character and competence. They are equipped with cutting-edge knowledge and complementary skills needed to perform in both private and public sectors alike. In producing them with clarity and commitment, PIM will continue to be a centre of excellence in management education with its winds spreading beyond Sri Lanka.

Excellence is all about being exceptionally good. When applied to enterprises, it involves exceptional achievements in a consistent manner. That's what PIM is proud of being a premier pioneer and productive performer, in showcasing "excellence as essence". I am humbly happy to lead a community of committed and competent leaders in empowering and engaging them to the fullest. It is a way of teaming together for flying higher. We continuously strive to serve the deserving nation.

(The writer can be reached through director@pim.sjp.ac.lk, president@ipmlk.org, ajantha@ou.edu or www.ajanthadharmasiri.info.)