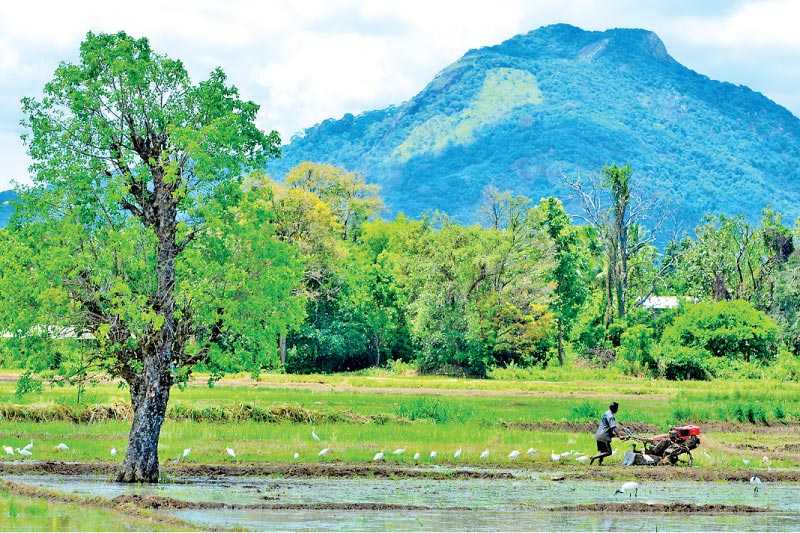 Agriculture replicates the prosperity and self-sufficiency of a nation and is highly validated from Sri Lankan cultural values not only in history but also today – Pic by Shehan Gunasekara
---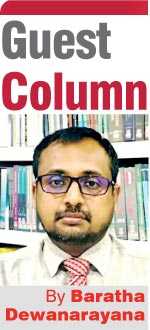 Industrialisation being the success factor of many developed economies all over the world initiated from the first Industrial Revolution up to date until the fourth Industrial Revolution today. Though industrialisation made revolutions none of the economies relinquish inherent agricultural practices but timely developed simultaneously with enduring technological advancements.

Sri Lanka was remarkable for rice, spices and commercial crops such as coffee and tea respectively from ancient history to the modern export basket. It is noticeable that agriculture contribution to the Gross Domestic Product uninterruptedly declined to one digit specially after Trade Liberalisation in 1977 while enlarging the Service Sector contribution to around 57% with Industrial Sector contribution of 27% approximately. (Annual Report – CBSL, 2019).

Agriculture in economics contains a wide scope as agriculture, forestry and fishing in national accounting practices. More specifically growing of rice, cereals, vegetables, fruits, sugarcane, tobacco, oleaginous fruits such as coconut, king coconut and oil palm, tea, coffee, cocoa, spices, aromatic, drug and pharmaceutical crops, rubber, animal production, plant propagation, forestry and logging, and fishing enrich the wide scope of agriculture.

Subsistence agriculture was transformed to commercial version at the various stages of human civilisation in the world. Agriculture replicates the prosperity and self-sufficiency of a nation and is highly validated from Sri Lankan cultural values not only in history but also today. Sri Lanka as the centre for agriculture in the region, had to fulfil consumption necessities of powerful nations in the world specially during colonisation. Commercialised agriculture diversified from rice and coconut towards spices during Dutch rule and positioned Sri Lankan taste of spices in the world market uninterruptedly. The Sri Lankan agriculture market further extended its diversification with the introduction of coffee and tea during the British colonisation with simultaneous massive infrastructure such as railway and tea factories as results of First and Second Industrial Revolutions.


Optimum solutions

The purpose of an economy is to discover optimum solutions for their basic economic problems. Economies witnessed that agriculture pays numerous contributions to treasure solutions for basic economic problems. Massive agricultural harvest and related industrial output, dairy industry, animal production and fishing industries earn more foreign income for them being the main supplier developing economies. Employment generation, regional development and being the basis for interrelated manufacturing industries multiply overall economic incentives.

Sri Lankan ancestors gifted nature-friendly agricultural know-how for us to proceed with necessary technological updates without being dependents for food as a nation. However certain practices such as home gardening for at least chili and ginger were replaced, forgotten and adopted to wait for ships at the shore. Turmeric shortage during the first wave of COVID reminded the public to pay their attention on the import basket of the nation. (Refer Chapter – External Sector Developments, Annual Report – CBSL, 2019). More technically the import dependency has been unconsciously promoted, probably due to lack of awareness about the market information even though it's freely available to refer.

Fourth industrial revolutionary innovations play a significant role in the modern commercial agricultural sector all over the world with the beauty of utilising newest automated technology in terms of Artificial Intelligence (AI), Robotics, Internet of things, Big Data Analytics and Cloud Computing, etc. The enhancement of productivity, diminishing wastages, precise updates on climate, pesticides and soil would produce more economies of scale and seize market leadership as well as new markets.

Sri Lankan agriculture should be equipped with more fertiliser in terms of management and industrialisation in order to contribute its prosperity to produce optimum solutions for basic economic problems.

Price management is critical in agriculture since it has been affecting natural price mechanism as well as artificial surpluses and shortages over a period. Therefore, the Keynesian Economics would be more favourable than Natural Price Mechanism techniques. This has been evidenced by the budget speech 2020 with reference to Government sponsorships suggested to uplift agriculture harvest and wellbeing of farmers, not confining to paddy farmers only.

However, allocating selected areas for crops instead of cultivating everywhere may be more successful with proper guidance to farmers by technically and practically qualified authorities. Validity of maintaining massive databases about farmers as well as farming would be supportive for market decisions at large. The databases can be used for several activities such as fertiliser decisions, introduce new insurance scheme, communication between farmers and related authorities, etc. Majority of farmers have access to a mobile phones and purchase and distribution information can be conveyed in a transparent manner while avoiding the involvement of intermediaries in the line.


Productivity improvements

Productivity improvements are essential as most of local crops die due to strong competition as cost pushed inflation increases their market price. Continuous research and developments as the basis for new knowledge to be promoted and initiating a way to bridge farmer with newest updates on agriculture create a room for them to rethink their existing practices. The issues and grievances relating to agriculture must be addressed as early as possible. Water, land ownership and expertise knowledge are key among them. A feasible and transparent network to communicate can answer most of the issues.

Existing gaps signpost opportunities for agriculture industries. Small and Medium scale industries can grab the market at the initial phase. Spices based industries, fisheries industries especially inland and sea fish, dry fish, diary industries, local pharmaceutical industries featured with domestic value addition are significant at this stage. The respect for farming and farmers along with desire to consume local products are necessary at the initial stage as local demand determines the survival of such infant industries.

Organic farming has so many potentials in both local and global aspects and can make an impact on national income. Manufacturing compost and other organic fertiliser locally saves foreign exchange and specially the food waste; locals can be turned for this with the expertise views. Developed logistics infrastructure can seek for new markets in the globe specially for Sri Lankan fruits and vegetables. Diary and other related products should also be paid required attention as there is a huge demand existing locally. Local demand for milk is still a challenge to serve. The dairy industry at large brings so many positive externalities while creating multiple economic and social effects as explained in the Macroeconomics theory.


Effective and efficient extension services

Agriculture is reinforced by effective and efficient extension services. The necessary developments in the extension services and farmers should be connected to make miracles.

Nevertheless, Sri Lankan agriculture should be updated in parallel with the progress of the Fourth Industrial Revolution. Drone cameras for harvest monitoring, sensors to monitor soil, climate and control wild animal attacks and drone fertilising are frequent among developed nations. Devices such as fully-equipped tractors specially designed for farming in align with the Fourth Industrial Revolution.

Change management plays a major role here for Sri Lanka. The traditional know-how can be facilitated with the ongoing updates so that the historical agricultural base of Sri Lanka will not be damaged but enhanced productivity would expand the market specially for locals. A system for farmers to directly communicate to respective authorities can be designed with transparency to check its progress. Time taken by farmers to walk into related institutions would be an extra cost in terms of finances and given up cultivation. Insurance scheme for all farming is needed for its promotion.

Farmers should be developed as managers and there should be ones dreaming to be farmers. Though everyone consumes agriculture harvest they should be polite enough to pay the deserved respect and gratitude as the basis of developing the sector. A farmer as a father and husband at least should be able to stay with the family in the night without being at the cultivating lands by using the locally developed devices equipped as a result of the Fourth Industrial Revolution.

National policy for agriculture development is essential with the focus on all the crops. According to the belief, bottom to top data collection works more for the policy design than the top to bottom as more conflicts today clears the gap between the top and the bottom. The developed agricultural base along with expected heights of industrial and service output will lead Sri Lanka to the developed status as all Sri Lankans wish.
---
(The writer is Senior Consultant/Lecturer, School of Business, National Institute of Business Management.)
---