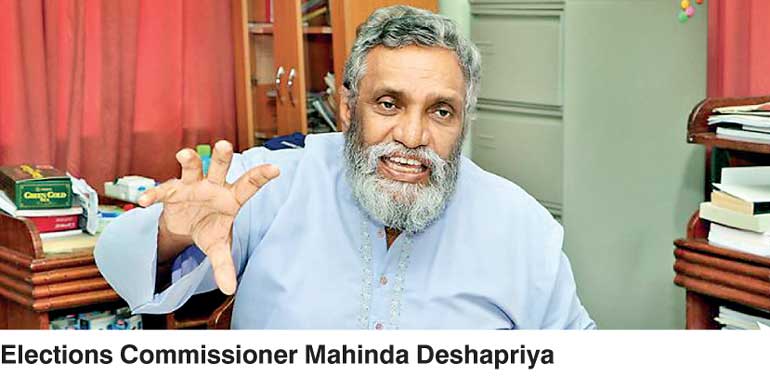 "Bureaucracy, the rule of no one, has become the modern form of despotism" – Mary McCarthy
The orange embers still burning. The once-busy extraordinarily-long orange drapes washed and put on sagging lines as far as eyes can see. Scattered stones and boulders cleared and removed by the municipalities.

Just as when the minority Muslims thought it was a brief yet well-earned respite, comes further lethal fuel from the unlikeliest of people. Elections Commissioner Mahinda Deshapriya tells the world "most Sinhalese are happy about recent riots," categorically dismissing the popular view on the predominant attitude of the majority of Sinhalese towards the recent attacks on Muslim-owned properties and mosques.

Personally the jab was more pernicious and damaging than the entirety of the costs Muslims had endured and suffered. The fact that he still has his job sends convulsions in my anatomy. Humanity always stood firm to exonerate the ignorant and foolish. It's because they are ignorant and foolish. Every society has its share.

Dan Prasad, Amith Weerasinghe and the lot, or should I say rot, are naïve and malleable. The notorious pawns in a much bigger picture. What Muslims have to say them is "go and sin no more". Obviously the same cannot be said about the Elections Commissioner.

My mind goes back 30 years in history. An unfortunate and despicable act that took place that many years ago. An act of cowardice coincidentally in the Ampara District. The Aranthalawa massacre of 33 Buddhist monks by the Liberation Tigers of Tamil Eelam. The incident took place on 2 June 1987 close to the village of Aranthalawa, in the Eastern Province of Sri Lanka.

Imagine a Muslim bureaucrat, without condemning the incident outright, paying a glowing tribute to this macabre incident? What the affable Mahinda Deshapriya had done is exactly this, wallowing in sadism with gross impunity. Trying to recant and issuing puerile alibies is useless after causing the damage.

Bureaucracy or Civil Service constitutes the permanent and professional part of the executive organ of Government. Usually it has the best talent and continuously seeks to retain the best talent. Deshapriya undoubtedly is a talented man with grit. Described as a non-political or politically neutral, permanent, and professionally trained civil servant. It's unfortunate that this high-ranking civil servant had to behave this way.

Bureaucratic neutrality from politics is a much-cherished value. Maybe, just maybe, this will not apply to Sri Lanka as we witness early signs of decay and degeneration in the length and breadth of the socio-economic and political fabric of this great and beautiful country. Usually Government policies clearly delineates that bureaucracy should be neutral from politics. A well shrouded anti-minority policy is brewing hard with an ominous sound.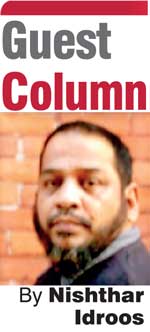 In the West there is a strong ban on bureaucrats engaging in politics, the main reason being bureaucracy may be used as political means to get political objectives fulfilled.

We strongly urge the Elections Commissioner to tenaciously observe the above. Play with a straight bat, Mr. Elections Commissioner, if you so wish to play the game regardless.

The "para suddah" by the way has very clear ways to deal with such aberrations. As a Canadian of Sri Lankan descent, I see huge if not gaping differences in comparable context.

For example, take US Carl Higbie, who was appointed by President Trump to serve in the federal agency that runs AmeriCorps and other volunteer service programs. "He was forced to resign his high-level post and apologised after a report emerged quoting racist and anti-Muslim remarks he made in 2013. It ranged from callous to provocative and often tipping into bigotry, Higbie's comments were unearthed by CNN's KFile unit, which published audio clips taken from the internet talk radio."

The US Director of the Homeland Security Department's Office of Faith-Based Partnerships had to resign following a CNN report on racially inflammatory remarks he made before joining the Federal Government. "Rev. Jamie Johnson was appointed in April to lead DHS' Centre for Faith-Based and Neighbourhood Partnerships, which works with churches and community organisations on disaster response. In one clip posted by CNN, Johnson said, 'America's black community ... has turned America's major cities into slums because of laziness, drug use and sexual promiscuity.'"

If one notices, in both of the above cases, it was a case of retroactive justice. To reiterate once again, there is much to learn from the "para suddah".

In Canada, Kent Hehr resigned from Trudeau's Cabinet. The Minister for Sports and People with Disabilities had to quit Cabinet pending an investigation into accusations he made sexually inappropriate comments to women. Justin Trudeau announced: "Harassment of any kind is unacceptable. As a Government we take any allegations of misconduct extremely seriously, and we believe that it is important to support women who come forward with allegations and that is exactly what our Government will do."

If Sri Lanka wants to have a strong and all-inclusive democracy, she must follow the "para-suddah" to the letter. After all, there is nothing wrong with his way.