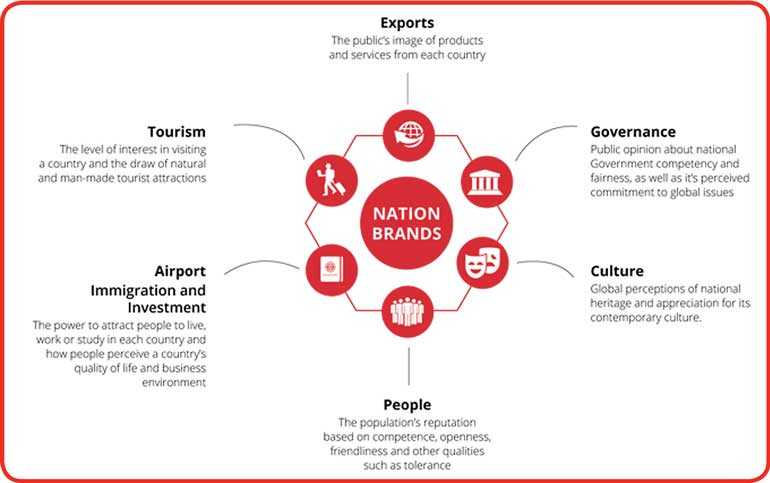 This series is based on business leader Dhammika Perera's recently revealed 'Economic Growth Strategy and Action Plan to increase GDP Per Capita from $ 4,000 to $ 12,000'. The document outlines goals and action plans for 23 ministries and today's column focuses on the Ministry of Tourism
GOALS
10 million visitors
$ 18 billion earnings from tourism
ACTION PLAN

1. Introduce a Nation Branding Strategy for Sri Lanka focusing on

1. Tourism

2. Exports

3. Governance

4. Culture

5. People

6. Airport, immigration and investment

2. Airport development and flight connectivity

1. Expand Bandaranaike International Airport (BIA) with increased apron space and 16 additional aero-bridges.

2. Enhance terminal space at BIA to meet increased passenger movement (check-in counters, immigration counters, lounge facilities, improved dining and retail experiences, leisure activity and transit hotel at the airport, etc.).

3. Convert the VVIP lounge and its boarding gates at BIA to budget airline operations.

4. Develop Ratmalana, Jaffna and Mattala Airports to an international budget airline hub.

5. Lengthen the runway at the Ratmalana Airport from the current 1773m to 2400m to the east side. This will enable landing of type-D aircraft i.e. aircraft with 120 seat capacities.

International airports with runway lengths similar to Ratmalana Airport are,

i.London City International Airport, UK ­— runway length 1,500m

ii. Antwerp International Airport, Belgium — runway length 1,500m

iii. Bocas Del Toro Isla Colon International Airport – runway length 1,500m

6. Demolish the current building at the Ratmalana Airport and build a new prefabricated steel airport terminal building within 12 months.

7. Establish a private jet operation facility in Ratmalana. International private jets to land at Ratmalana with full concierge services.

8.Resume operations at Mattala International Airport.

9. Develop airports at Koggala, Batticaloa and Trincomalee for domestic flight operations and construct a new airport for domestic flights in Digana, Kandy.

10. Convert a section of Lotus Tower retail area into an express international flight check-in zone, with luggage drop-in services.

11. Match the prices of fuel, landing, parking, airport taxes, aerobridge and luggage handling charges to that of Malaysia.

12. Reduce the current aircraft turnaround time at BIA of 60 minutes to 25 minutes for budget carriers, to increase the runway movement from the current 11 to 17 departures per hour, during peak hours.

13. Increase the number of self-check-in kiosks from 8 to 20 at BIA.

14. Classify all airport charges as peak and off peak and maintain a lower fee during off-peak hours.

15. Introduce minimum 50-seater aircraft for travellers to move within Sri Lanka.

16. Attract more budget airlines (low cost carriers) to operate to Sri Lanka, to accommodate low cost carrier passengers as there are 55,335 budget rooms available in the country.

17. Introduce automated immigration gates (eGates) to aid and increase the speed of clearance and enhance efficiencies.

18. Increase the number of direct flights to the top 20 European destinations that bring large volumes of tourists to Sri Lanka, such as:

a. United Kingdom

b. Germany

c. France

d. Netherlands

e. Italy

f. Switzerland

g. Scandinavian countries

19. Synchronise domestic flights at airports and their schedules with the respective international connective flights.

20. Approve visa within 24-hours for pre-approved nationalities.

21. Establish a regulated and well-organised taxi service at Bandaranaike International Airport by providing the following;

a. Maintain two types of taxis i.e. cars and vans.

b. Issue duty-free vehicle permits for 900 taxi owners with special vehicle registration plates.

c. Regulate the taxi services to ensure compliance and safety.

3. Infrastructure enablers

1. Construct a national multi-purpose stadium with a capacity of 80,000-100,000 for local and international performances.

2. Establish Tourist Information Centres in each main city or district.

3. Build resting centres with restaurants and clean toilet facilities along all main roads leading to attractions.

4. Ensure proper public seating, washrooms and cafeterias at all train stations.

5. Ensure proper toilet facilities, proper garbage disposal, proper car and bus parking and Wi-Fi zones at major attractions.

6. Grow trees along walking paths to provide shade during hot conditions.

7. Encourage fishing boat owners at Weligama and Mirissa harbours, to operate speedboats of lower noise exclusively for whale watching tours – as an additional business opportunity to their current fishing activities.
"The main benefits of tourism are income creation and generation of jobs. The ability of the national economy to benefit from tourism depends on the availability of investments to develop the necessary infrastructure and on its ability to supply the needs of tourists"
8. Introduce a mobile application with information on street food vendors including the location and directions via Google Maps, to attract and inform local and foreign visitors.
9. Create a standard guideline for maintaining rental spaces and apartments and to encourage people to list properties via online rental platforms such as Airbnb.

10. Conserve heritage sites such as Sigiriya, Anuradhapura, Polonnaruwa, Sri Pada and Kandy, and improve the visitor experience by:

a. Restore and maintain the landscape, improving and maintaining public toilets and providing clean drinking water facilities.

b. Improve visitor centres with integrated open cafes and dedicated retail spaces.

11. Restore and develop of heritage and religious sites

a. Sacred city of Kandy.

b. Ancient city of Sigiriya.

c. Sacred city of Anuradhapura.

d. Old town of Galle and its fortifications.

e. Jaffna Nallur Kovil.

f. Embekke Devalaya, and others as necessary.

12. Initiate flood prevention and mitigation measures to ensure a smooth continuation of the tourism industry. Engineers of the Sri Lanka Navy to take the responsibility for river mouth/estuary and river management including seasonal dredging and filling.

13. Map the potential heritage cycle routes and introduce cycle tracks.

14. Build new aquariums and bird parks near Colombo.

15. Develop the Dehiwala Zoo with private sector participation.

a. Private sector to provide new animal cages that can be branded under the sponsoring private company for 15 years.

b. Carry out a total design revamp and infrastructure upgrade.

c. Rebrand as 'Sri Lanka Zoo'.

d. Operate a tourist bus service from popular city hotels, dedicated to zoo visits.

e. Introduce educational programmes for school children, university students and international students.

f. Introduce a variety of dining and souvenir stores.

16. Develop 26 wildlife parks extending up to 573,376 Ha, to increase revenues.

17. Build three new zoos at Dikkapitiya in Badulla, and in Vavuniya and Piliyandala.

18. Build two new elephant orphanages at Lahugala in Ampara District and one at Minneriya.

19. Develop botanical, herb and spice gardens around the country.

20. Create tropical rainforest experiences by opening up forest reserves to travellers.

21. Improve whale watching in Mirissa, Kalpitiya, Trincomalee and Galle by;

a. Fishery harbour improvement including proper maintenance of pavements, street lights, drinking water, public toilets, waiting areas and car or coach parking.

b. Using improvised boats that can seat 200 passengers with a full snack bar and four restrooms.

c. Operate speedboats that reach speeds of 20 knots, to lessen travel-time to locations of sightings. Currently, a location that takes five to seven hours to reach, could be reached in one to two hours using the suggested boats.

22. Revive coral reefs around the country through coral propagation projects.

23. Improve beach activities, such as para motoring, sky diving, kite surfing and underwater scooter tours.

24. Improve sea turtle hatcheries around the country.

25. Provide training and increase the number of certified surf instructors.

26. Provide training and increase number of licenced lifeguards.

27. Improve the livelihood standards of beach boys by providing suitable soft skills and language training.

28. Encourage and assist the major hospitals in Sri Lanka to obtain the Medical Tourism Certificate.

29. Build new city parks with attractions for kids and families within Colombo.

30. Invest in entertainment parks similar to 'Disneyland'.

31. Popularise 'homestay' tourism concept by introducing 100 beach clubs as additional leisure activities in coastal areas.

32. Upgrade trains on Hill Country and Down South tracks to luxury levels.

33. Develop Kanniya, Madunagala and Maha Oya hot water springs.

34. Provide Government support and workshops to improve hotel rooms and restaurants.

35. Identify and develop villages that produce traditional crafts, to enhance the quality of products and generate an income for the craftsmen.

36. Provide online training videos for tourist police officers in managing tourist complaints and issues.

37. Introduce training videos on language, communication skills and proper emergency situation management.
4. Experiences

1. Introduce a calendar of events.

2. Develop 10 districts as main tourist destinations based on arts and crafts, history and heritage, architecture, culture, recreation and leisure, nature and wildlife, adventure, culinary experience and wellness.

3. To attract tourists during traditional festivals.

a. Cater itineraries based on traditional festivities such as Sinhala and Tamil New Year, Vesak, Esala and Deepavali.

b. Brand the Paada Yathra pilgrimage tour from Jaffna to Kataragama (52 days covering June 8 to July 24).

c. Brand the Kataragama pilgrimage.

d. Brand the Anuradhapura city pilgrimage.

4. MICE Tourism (Meetings, Incentives, Conferences and Exhibitions).

a. Construct two exhibition centres at Ja-Ela and Sri Jayewardenepura Kotte with an area of 30,000 sqm and all modern facilities to host conferences and exhibitions.

b. Convert 85,000 sqft of retail space to a convention centre at the Lotus Tower.

c. Build a convention centre with an area of 10,000 sqm at Port City in Colombo.

d. Produce interactive promotional videos to attract business travellers to the country, including '10 reasons to meet in Sri Lanka' showcasing all the facilities available.

e. Market Hambantota convention centre for conferences and exhibitions.

f. Simplify business visas for MICE travellers.

i. Offer fast-track visa processing services for MICE attendees at immigration counters at airports by having dedicated lanes.

ii. Waive visa fee requirements for all MICE attendees, from recognised destinations. This will encourage MICE travellers to choose Sri Lanka as a location for their event.

iii. Simplify business event licences for MICE events by introducing a fast-track licensing process for MICE attendees.

g. Provide MICE organiser assistance through experienced professionals such as event planners, audio-visual equipment suppliers, freight forwarders, gifts and souvenirs, printers, translators and interpreters, etc.