---
This series is based on business leader Dhammika Perera's recently revealed 'Economic Growth Strategy and Action Plan to increase GDP Per Capita from $ 4,000 to $ 12,000'.

The document outlines goals and action plans for 23 ministries and today's column focuses on
the Ministry of Religious Affairs and Interfaith Harmony
Goals
Empower and create an enabling environment to strengthen the multi-racial, multi-ethnic, multi-cultural, multi-lingual and multi-religious character of our nation.
Action plan
1. While embracing Buddhism as the main religion of Sri Lanka, consciously define ourselves as a multicultural country that not only tolerates but welcomes various minority cultures.

2. Recognise multiculturalism as a defining aspect of our national identity and develop a true understanding for each other's religious foundations, history of their race, cultural events, social needs, languages and traditions, and affirm the diversity of our society and articulate a commitment to not allow religious extremism to disturb the multicultural nature of the country.

3. Engage and build trust between communities on issues such as education, charity, personal and dietary laws before engaging with them on security issues.

4. Establish a Religious and Multiculturalism Act which will cover the following:

a. Raise awareness among Sri Lankans about the beauty of religious and multicultural diversity of the country.

b. Celebrate both religious and ethnic diversity.

c. Enforce zero-tolerance on hate crimes and acts of extremism.

4.1 Pass a Religious Harmony Act which will cover the following:

a. A mechanism to monitor potential and actual incidents related to promotion of animosity or hatred among religious groups.

b. Promptly address these identified issues before they culminate into long-term discord between religious and ethnic minorities.

c. Ban religious groups or organisations belonging to any faith or ideology which incites the public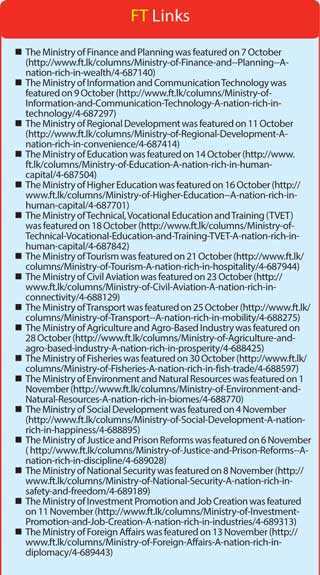 towards violence and manifestly disturbs the peace through hate speech.

d. Address incidents of religious extremism. Should an act of religious extremism occur, decision makers will need to clearly articulate and communicate the difference between individual responsibility and blanket criminalisation of an entire community.

e. Immediately ban any organisations that engage in, support, or are associated with terrorist activities, or are found to have links with foreign terror groups.

f. Ensure that the media does not sensationalise news that may create unwarranted prejudices against minorities in the country. There has to be a delicate balance between freedom of expression and "responsible expression", which needs to be practised by all media outlets for news publications, both online and offline.

g. Create a cross-cultural roundtable on religious and multicultural security. It will be imperative that leaders of all religious and ethnic minority groups are represented. This would essentially be a forum where any issues that come to light are effectively discussed and the method by which they could be resolved is decided.

4.2 Issue restraining orders against individuals (monk, priest, pastor, imam, elder, office-bearer) or any other person who is in a position of authority in any religious group or institution or any member thereof who has committed or is attempting to commit any of the following acts:

a. Causing feelings of enmity, hatred, animosity, or hostility between different religious groups;

b. Carrying out activities to promote a political cause, or a cause of any political party while, or under the guise of, propagating or practising any religious belief;

c. Carrying out subversive activities under the guise of propagating or practising any religious belief; or

d. Exciting disaffection against the President or the Government while, or under the guise of, propagating or practising any religious belief. Inciting, instigating, or encouraging any religious group or religious institution or any person to commit any of the aforementioned terror acts.

5. Organise a "Peace Committee" comprised of all religious leaders and ensure weekly meetings of relevant communities to avoid conflict and ensure harmony.

6. Establish and publicise A Code of Conduct in consultation with leaders of different communities for the observance of various festivals, to ensure that festivals are observed in an amicable atmosphere without causing annoyance to the society.

7. Use video/audio coverage and cameras to record the proceedings of religious processions and gatherings, to be considered in case of communal disturbances for identification and prosecution of the offenders and, in the process, could also act as a deterrent.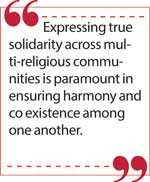 8. Take effective and meaningful actions to curb and check rumours. Establish channels of communications with leaders of all communities and take strict action against anyone inflaming passions and stoking communal tension by intemperate and inflammatory speeches/utterances. Utilise media and other channels to clear out any false rumours and keep the public informed.

9. Distribute inspiring literature among Government and private sector students and encourage competitions and discussions on the subject of communal harmony. Include religious and ethnic diversity and multiculturalism as part of school curriculum.

10. Monitor and brief the media to avoid exaggerated perceptions about incidents that may provoke sentiments and passions, especially in a communal situation.

Appoint a Chief Minister and four State Ministers for Buddhism, Hinduism, Islam and Christianity. Double the current allocated budget and distribute the budget at the ratio of the respective population in each religion.

11. Establish a "Home Police" program.

The proposed "Home Police Program" provides door-to-door services to resolve any minor disputes within the community. Recruit 4,960 female police officers, (10 officers per station totalling to 496 police stations across the island) and provide 5 motor bikes per station.

1,700 police officers retire every year and these officers could be recruited and trained online and onsite for their tasks including policing domestic issues to reduce the current daily complaints from 3,000 to 2,000.

"Home Police Program" to be monitored centrally and completed within a period of 3 years.