This series is based on business leader Dhammika Perera's recently revealed 'Economic Growth Strategy and Action Plan to increase GDP Per Capita from $ 4,000 to $ 12,000'. The document outlines goals and action plans for 23 ministries and today's column focuses on the Ministry of Fisheries
Goals
Double fishermen's income.
Double the current fish yield of 0.9 tonne/sq. km per annum to 1.8 tonne/sq. km per annum (fish yield of India from the exclusive economic zone of 2.02 m sq. km is 2 tonne/sq. km per annum).
Develop quality of fishery products and aquaculture production.
Manage fishery resources to ensure sustainability and diversity.

Action plan

1. Develop social and physical infrastructure such as education, toilets, water and electricity of the 1,337 fishing villages under the precision poverty reduction program.

2. Establish Sri Lanka National Centre for Ocean Information for potential fishing zone identification with geospatial technology for real-time data. Advise on potential fishing zones (PFZ) where many fish are found, by studying satellite images of sea temperature, chlorophyll patterns, wave speed and direction. Provide high wave and wind alerts for potential disaster zones/impacted areas through this centre.

3. Establish a real-time weather forecast system.

4. Modernise and increase the capacity of all fishing harbours/jetties/fish landing centres along the coast with ongoing/new schemes.

5. Introduce fish wholesale markets for all 14 districts which have fishing villages.

6. Provide stackable seafood mobile chests for inland transportation purposes to preserve the freshness of fish. Exclude duty and CESS on stackable seafood mobile chests until the local industry is sustainable. Typically such chests should be capable of keeping fish frozen up to 165 hours.

7. Introduce mobile cold storage containers to freeze fish in vessels.

8. Provide an application inclusive of real-time information of fish price and stock availability in each fishing village.

9. Exclude import duty on fish equipment.

10. Provide an insurance scheme for fishermen and fishing boats.

11. Establish an initiative to increase welfare facilities to fishermen. Provide financial assistance to the families of deceased fishermen and missing fishermen through this initiative.

12. Provide free rural financial counselling services.

13. Establish and improve additional rural markets with fish products section through a nationwide program for developing market infrastructure, facilities and farm-to-market roads through public-private partnerships.

14. Define roles of the support institutions – NGOs and working with dedicated professionals within these organisations to facilitate the required changes.

15. Introduce an application to trace fish quantities and traceability for fishermen.

16. Expand oyster cultivation as a community income generation project.

17. Increase open ocean aquaculture in Sri Lanka, an example of which is the currently caged Modha farming in Trincomalee.

18. Provide waterlogged areas/dead rivers' on long-term lease agreements with incentives to farmers/entrepreneurs for aquaculture.

19. Develop additional fish farms and intensify existing fish farms which are built on fresh and brackish water. Establish technical assistance and credit programs to new fish farmers.

20. Introduce technical, vocational and entrepreneurship training courses on aquaculture in existing vocational colleges. In addition:

Introduce vocational training courses in following areas to those involved in the fishing sector:

a. Fish farmer training – freshwater aquaculture.

b. Small engines principles training – technical services.

c. Financial literacy (money management) for community based sprat farmers and women vendors.

d. Training on post-harvest fisheries including on research.

e. Training on deep-water "fish aggregation device".

f. Seaweed farmer training.

21. Implement basic training courses for fishermen by the Government. Training videos to be uploaded and e-learning platform to be made.
Sustainable, productive fisheries and aquaculture improve food and nutrition security, increase income, improve livelihoods and promote economic growth
Inland fishing

22. Introduce a mobile application, where fish farm owners can identify diseases and find causes and remedies for the diseases of the fish by uploading and passing on such images to the relevant authorities.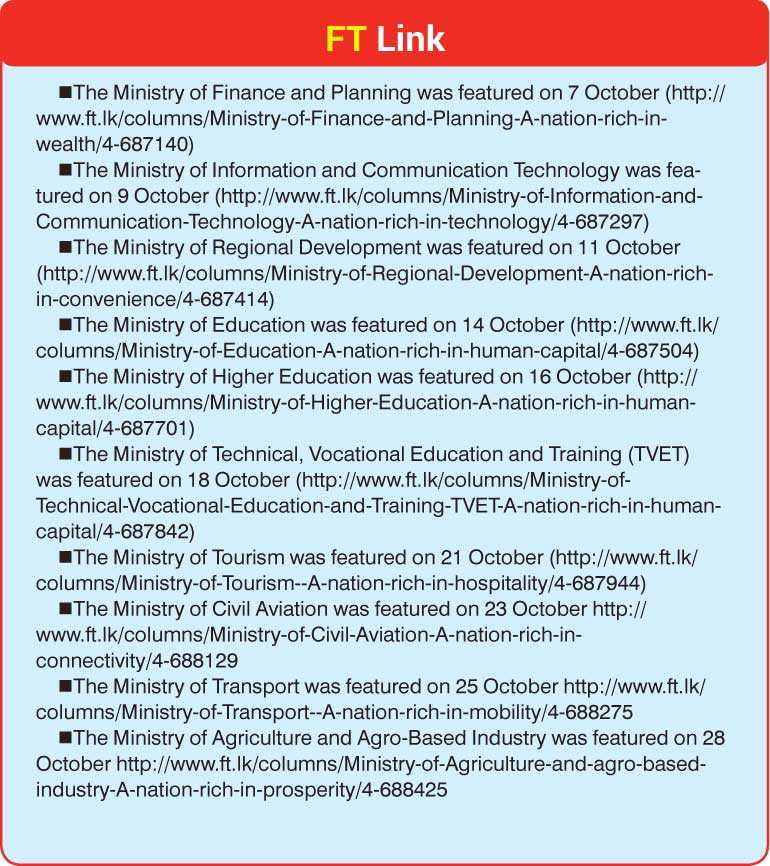 23. Establish new freshwater hatcheries in all districts and upgrade all existing freshwater aquaculture hatcheries. Ongoing projects are:

a. Establishment of Aquaculture Development Centre, Sevanapitiya, Polonnaruwa.

b. Establishment of Aquaculture Development Centre, Muruthawela.

c. Establishment of Crab City Phase I, Galmulla, Hambantota.

d. Establishment of Crab City Phase II, Rakawa, Hambantota.

e. Establishment of Crab City Phase III, Mankerni, Batticaloa.

f. Establishment of Ornamental Fish Breeding Centre, Sevanapitiya.

g. Establishment of Marine Ornamental Fish Breeding Centre, Bangadeniya.

h. Establishment of Genetic Improvement Centre, Dambulla.

i. Establishment of Aquaculture Development Centre, Muruthawela.

j. Establishment of Freshwater Prawn Hatchery, Trincomalee.

k. Establishment of Aquaculture Development Centre, Udawalawe.

l. Establishment of Sea Cucumber Hatchery, Mannar.

m. Renovation and expansion of facilities in existing centres

(Inginiyagala, Dambulla, Kalawewa and Udawalawe –Tilapia).

24. Initiate a farmer-friendly policy under the broad name "social fishery" where farmers will grow species of small fish along with "other" traditional carps without having to incur substantial investments for their economic as well as nutritional benefits

25. Popularised freshwater ornamental fish breeding and rearing in backyard hatcheries as a cottage industry for the rural community.

26. Expand ornamental fish breeding and training centres. Introduce training videos, fish breeding videos and management videos similar to that currently at Rambadagalla.