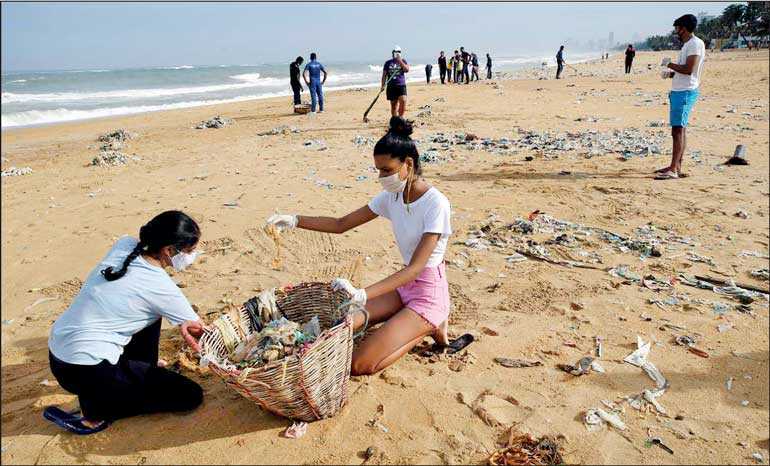 Millennials can make a big change and big impact on the environmental crisis in Sri Lanka in policymaking, law-making, funding, educating, designing worthy causes, etc., in order to protect the environment and ensure environmental sustainability in many ways – Pic by Shehan Gunasekara
---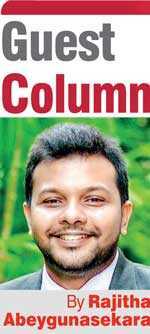 A year filled with doom and grief had already gone. Thanks to 2020, we learned many lessons and new terms like 'social distancing' and 'lockdown'. Another new year welcome all around the world with some glamour but not as in previous years. 2021 is the new dawn of a new normal world.

Thanks, scientists, people can keep hope since the vaccine is there. Finally, Sri Lankans also can retain a little hope, because the Government already held diplomatic level talks with India, China, and Russia in order to get the COVID-19 vaccine to the country, in addition to the COVAX facility provided by WHO. It is an appreciable attempt taken by the health minister rather than going behind 'Dhammika Peniya'.

While the world is struggling with the COVID-19 pandemic and related issues, most people have already forgotten the real issues that we had before the pandemic was hit. Rarely, people are talking about the environmental crisis, global warming, climate change, water, and air pollution and deforestation, etc. Even the corporate world is also much focusing on their PNL accounts and risk management strategies than corporate social and environmental sustainability responsibilities.
A 'make' year for world
According to the BBC environment correspondent Justin Rowlett, '2021 would be a 'make or break' year for the climate change and environment crisis', said UN Secretary-General Antonio Guterres. Of course, it is a 'make or break' year when it comes to the environmental crisis, global warming, and climate change. By this November, world leaders will be gathering in Glasgow, Scotland in UK for UN Climate Change Conference which was scheduled to happen in 2020, following the historic Paris Conference in 2015.

Under the framework of the Paris agreement, governments agreed to reduce harmful greenhouse gases and to produce and increase renewable energy consumption while keeping the global temperature level well below 2C (3.6F) and try to limit it to 1.5C. Further, they agreed to spend $ 100 billion a year in order to help poor countries with climate finance commitments and at the same evaluating the progress of agreement every five years.

It is too early to predict the success of the convention but with the spirit of the New Year's optimism, I believe world leaders would be able to come to an agreement to see breakthrough actions on climate change with new developments of the COVID-19 pandemic outbreak.

Even though pandemics hit the world, most countries are still committed to carbon neutralisation programs. China already announced that they aim to carbon neutrality by 2060 and Joe Biden the President-elect of America also ensured that their commitments towards the Global Climate Actions and rejoining the carbon-cutting chorus while UK, Japan, and South Korea strengthening their carbon neutralisation programs.

Since the most powerful countries still committed themselves to this worthy cause, we can keep a better hope about 2021 and expect a 'make' year for the global climate change actions and world environment.
2020 – A 'break' year for Sri Lanka
The current Government has expressed its policy on environmental sustainability under the 'Vistas of Prosperity and Splendour' policy statement which was presented by President Gotabaya Rajapaksa. According to the policy the Government has committed to increasing Sri Lanka's national forest cover by 30% while aiming net carbon '0' country.

In addition to that, the Government emphasised finding solutions to improve sustainable agriculture, animal husbandry, sustainable plantation agriculture, sustainable production and consumption, and sustainable water resource management while introducing a blue-green economy. Further, the Government has ensured when establishing new developments, potential areas will be selected with the minimum environmental impact and no large-scale developments will be allowed in identified high environmentally sensitive areas.

According to Dr. Ravindra Kariyawasam, the Director of the Centre for Environment and Nature Studies, it is estimated that Sri Lanka has lost more than 10 acres of forests on a daily basis from 1 January to 31 December 2020. So, whatever mentioned in the policy papers of the Government, they have followed the opposite way of it, because most of their actions were the main causes of these huge devastations. The Government revoked circular No. 5/2001 which protected the country's other state forests (OSF) and transferred jurisdiction for those protected areas to the authorities at the divisional and district levels from the forest department.

It seems the Government has given powers to the divisional and district development committees which are headed by politicians. If in that situation, the future of 500,000 hectares of protected OSF lands is in the hands of politicos. Further revoking of circulars 5/1998 and 2/2006 are directed to development projects without environmental pre-assessments and alienation of fresh lands for political purposes of political henchmen such as Aloe Vera cultivation projects and maize cultivation projects. There were so many incidents that happened soon after revoking above mentioned circulars, people were taking over some lands illegally hoping for getting official land deeds which caused considerable damage to the forest patches.

Not only those, construction of Neluwa-Lankagama-Deniyaya road, deforestation of Anawilundawa Ramsar wetland to establish a prawn farm, deforestation of Pollebedda-Rambakan Oya reservoir, Galoya, Nilgala, and Uggalukanda forests and illegal clearing of Sri Pada, Knuckles mountain range and Hortain plains occurred massive eco devastation in the history, which leads to climate change and global warming impacts. Even though President Rajapaksa mentioned the value of environmental sustainability several times in his speeches, top to bottom political authorities, bureaucratic authorities and SLPP henchmen still not devoted to his words and keep continuing environmental destructions while openly violating the 'One Country – One Law' concept. So, it seems 2020 was a 'break' year for Sri Lankan environment.
Why millennials?
It is clearly understood that Sri Lankan policy and law makers 'make' the papers for environment sustainability and Sri Lankan politicos 'break' it. So as responsible citizens, can we simply sit and watch? Or is criticising enough? The answer is 'No'. Then who has the responsibility to come forward? I believe it's the responsibility of every citizen but it's a great responsibility of millennials in Sri Lanka. Why did I mention millennials especially? Because I am also a millennial.

Millennials have more energy and more time than others, they are mature enough to understand contemporary issues globally and locally. Millennials are the first generation who have grown up with dialogues of climate change, global warming, and environmental crisis and faced realities of extreme weather patterns, sea level rises, deforestations, and plenty of natural disasters. The studies showed that 87% of millennials believe that the corporate sector should address urgently for social and environmental issues. And also, they encouraged less harmful products to nature and more transparent, ethical, sustainable brands, services, and greener products and actions.

In Sri Lanka, we have an ocean of millennials from Parliament to local governments, law-making to policymaking, business leaders to employees, private sector to government sector and entrepreneurs to social media influencers, and many more. So, it clearly indicates that millennials can make a big change and big impact on the environmental crisis in Sri Lanka in policymaking, law-making, funding, educating, designing worthy causes, etc., in order to protect the environment and ensure environmental sustainability in many ways.

Even today there are some millennials working towards environmental protection and sustainability as 'activists' while most millennials prefer to work for this worthy cause as 'Slacktivists'. We must appreciate millennials who have committed themselves to environmental justice, policy-making, and law-making like Sajeewa Chamikara and Dr. Ravindra Kariyawasam irrespectively their political motives. There are so many millennials who introduced innovative systems in order to protect the environment and ensure sustainability, classic example is the 'Thuru' phone app which was launched by Heminda Jayaweera and his colleagues. By using the 'Thuru' phone application people can trace their tree plantings and newly introduced drone technology to spread seeds where humans cannot reach in order to accelerate reforestation through technology. Moreover, in Sri Lanka Youth Climate Action Network, various environment, and tree planting organisations, Lions Clubs, Leo Clubs, National Youth Council Clubs, Rotary, Rotaract, and Interact Clubs are conducting various projects and programs under the leadership and with the involvement of millennials.
Can millennials 'make' it in 2021?
But what I observed is that there is no link or connection between these individuals and organisations. At least there is no such proper link or connection between Government authorities and these organisations. Most of them are working without any scientific analysis of environmental systems in the country. And also, there is no such post-evaluation process in most organisations, due to this lot of projects has caused no effect. So, what I suggest is that in order to ensure the proper environmental sustainability and protection there should be a collective effort and a combination of government authorities, non-government organisations, the corporate sector, and individuals. For that millennials have to provide leadership to wage a strong battle for combating the environmental crisis.

As I mentioned earlier, millennial parliamentarians and political leaders should come forward irrespectively with their political motives and start a dialogue that can connect government, non-government, corporate, and individuals together. I suggest, if the Parliament can appoint a 'Monitoring Committee for Environment Sustainability' which ensures the participation of all stakeholders and the public in the legislation process of law and policy-making for the environment and contemporary issues related to it. Unfortunately, this Government has abolished the parliament monitoring committee process which ensured public participation in the legislation process. But I take this moment to request the Government to reactivate those committees at least for the betterment of our environment.

Practically millennial politicians like Minister Namal Rajapaksa, UNP Deputy Leader Ruwan Wijewardane, State Minister D.V. Chanaka, State Minister Jeevan Thondaman, Dr. Kavinda Jayawardane, Harshana Rajakaruna, Imran Maharoof, Nipuna Ranawaka, Akila Ellawala, Hesha Withanage, and all millennial parliamentarians and politicians should come forward and establish an action plan which can co-op with all other stakeholders. And establish a scientific way to guide the general public about environmental sustainability based on our own environmental system. I believe the ministry of youth affairs should take the lead for that since it is headed by the millennial.

At the same time, I urge millennial corporate leaders to focus on the triple bottom line; People, Planet, and Profit and rethink and reassess their sustainable work ethics, work environments, and cultures. Especially they have to come up with innovative and sustainable CSR projects which can get more effective outcomes. Recently LMD magazine announced top millennial corporate leaders in Sri Lanka. I sincerely request them to take the necessary steps to protect our mother Sri Lanka's environmental sustainability.

And the millennials in the Government sector can be protect environmental systems using their official powers and maintaining business ethics and compliance like young woman forest Officer Dewani Jayathilake. Further, all other environment-related or non-government organisations and individuals have to join hands with each other and every one irrespective of their political, religious, economic, and social mismatches to work towards the betterment of the environment.

All of us can stand against environmental destructions and commit ourselves to the betterment of environmental sustainability. Individuals can use their social media power to educate and create awareness among the general public about environmental destructions and values of environmental sustainability. It is much needed that millennial Youtubers, Facebook, Instagram and specially Tik Tok influencers, and bloggers focus on this subject most importantly for educating others in many interesting ways.

Whether we like it not as millennials we have certainly to face the realities of environmental crisis and climate change in our future lives. So, we must take quick actions to protect this planet and especially our mother Sri Lanka for future generations. It is our great and ultimate responsibility. So, let's not work to 'break' it and work to 'make' it in 2021.