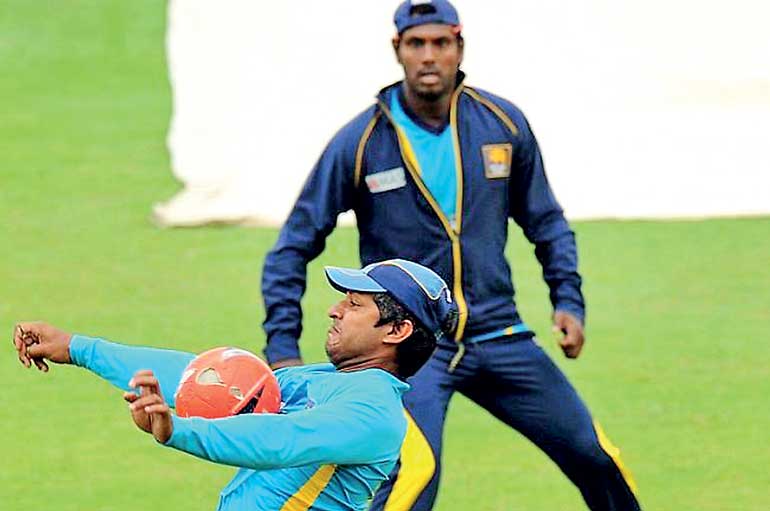 The current Sri Lankan cricket team struggles to keep pace withpast players' high track records and performances. In fact, the current team consisting of millennials (aged between 20-35 years old) is at the brink of a disastrous collapse. Even the introduction of several remedial measures such as changing captains, coaches, etc., hasn't helped to improve their performance levels.

As a result, everyone from the Cricket Board to the common manwants a post-mortem to understand the underlying reasons for the plunge. Several fingers are being pointed at corruption, mismanagement and failing systemsas the causes of downfall. However, one needs to understand whether the players' underperformance is due to their own shortfalls or other factors.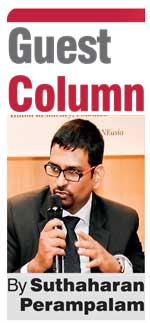 Millennials are tomorrow's leaders and their performance today, displays their ability to shape the country's future. Simply said, a tree is known by the fruit it bears. So, it's vital to evaluate and understand the reasons behind the shortfall, as it will help improve not only cricket, but businesses as well.


World Cup champions to poor performers

Back in the 1990s,cricket practice sessions were happening everywhere, from public streets to the parks/grounds, where young boys invested numerous hours to hone their skills. "We played cricket even after dusk, in fact we breathed cricket," says an international school cricket coach. The level of dedication and intensity of practice sessions helped the ambitious previous generation's (Gen X) players to reach heights by winning the 1996 Cricket World Cup, thus, settinga high benchmark for the current millennial players.

He further adds: "Unlike in the past, students nowadays practice sports like attending a tuition class. Cricket practices happen only for two hours a week, where students pack up to head home, before they even begin to sweat. There is a lack of passion and dedication towards sports. Today, cricket is merely treated as a hobby."

The dynamics between the two generations of players is reflected on the winning rates, batting and bowling performance, as illustrated on the table below. The analysis is based on the information published on ESPN Cricinfo (Statsguru). Results clearly showmillennials have poorly performed in both batting and bowling rates when compared to past players.

Average batting performance of millennial cricketers were 8% lower than their previous generation. 50 over cricket have become high scoring games, after the introduction of T-20. This clearly explains that the current Sri Lankan player's performance in today's high scoring era, is much worse than 8% negative gap in batting. Asignificant gap in the bowling performance has also contributed to the loss.

Current players' performance levels have dropped, compared to past players at global level as well. Yet not to the extent of Sri Lanka, as they have developed a better environment with a suitable leadership style for the millennial players. However, Sri Lanka is suffering from outdated rules, designed and being implemented by the old generation, thus stifling advancement and growth not only in cricket, but in businesses as well.



Millennials in Business

Anecdotal evidence shows, millennials employed in Sri Lankan corporates face several issues due to dominance of senior management (Gen X). Senior management clings on and protects their positions, status quo and image, while perceiving millennials as threats. This is mainly due to the limited career scope and interest for older generation to explore in a less vibrant country like Sri Lanka. So, young talent is being robbed of the opportunity to be nurtured as future leaders. Millennial generation is obviously struggling to compete with their hardworking and loyal seniors with exceptional perseverance and focus towards achieving their goals.

Sri Lankan cricket's current state could also be because of dependingon senior players for a long period, rather than passing the leadership to younger generation at an early stage itself. For example, in 2005, Graeme Smith, a South African player, was 22 years when he became the Team captain, while M.S.Dhoni led the Indian team in 2007 at 26 years, whereas in Sri Lanka, Angelo Mathews became a captain in 2012 when he was 25 years after an era of dominance by senior players.

Millennials grew up during a period of technological disruption, globalisation and economic changes, in an era of unlimited choices and distraction.Millennials in today's fast-paced world are risk-averse, expect instant rewards, progress and new experiences. They aren't willing to hang around for too long waiting for a potential recognition or an opportunity. There is an increasingly emerging trend of millennials quitting corporate jobs to pursue the passion and explore their true purpose, thu sexplaining the increase in the number of freelancers, millennials taking career breaks, etc. A lack of clear purpose/vision, work-life balance, proper mentorship from their superiors are important aspects that millennials consider when looking for a job. In addition to that, they infamously dis-respect traditional structures of authority.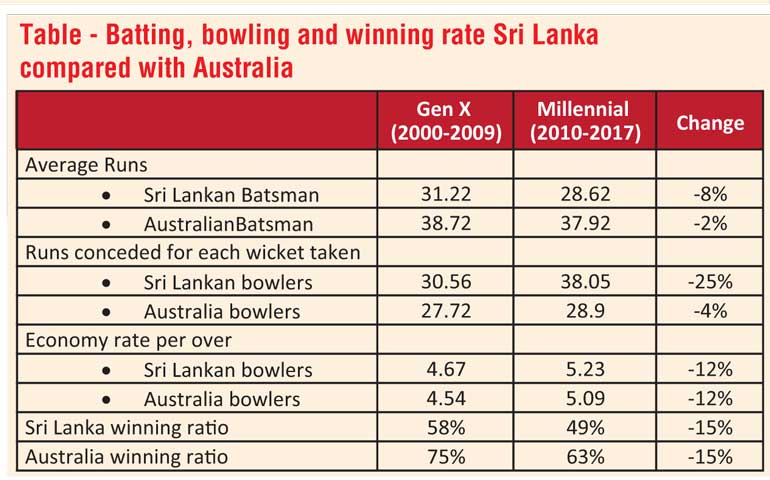 Way forward

The younger generation is precious in an ageing country like Sri Lanka, and they need to be carefully nurtured to benefit everyone.Businesses need to invest in understanding the millennial generation and start planning successive leadership well ahead. Several businesses fail to adequately train and empower middle management.

The fate of Sri Lankan cricket could be repeated, if the businesses fail to nurture leaders in advance. Organisations can adapt millennial friendly cultures, provide the required opportunities and flexibilities for growth. A cohesive working environmentcan be developed with the correct blend of old and young for businesses to excel.
(Suthaharan is a market research expert leading Sparkwinn, a research firm specialised in generating actionable insights to drive business growth. He can be contacted via [email protected].)