The Government has to give utmost priority to maintain food security and food safety – Pic by Shehan Gunasekara
---
New Govt. policy of 'people centric economy' and future potential in agricultural development
Globalisation has created an environment for moving with new technology, market access and factor mobility particularly labour, capital and technology. At the same time, in developing countries,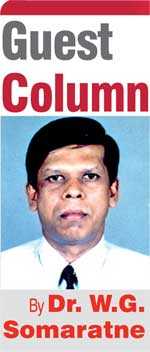 agricultural development faced many global and domestic challenges and it opened new opportunities through market integration.
The new government has developed an agricultural policy framework of 'People Centric Economy' with 'Vistas of Prosperity and Splendor – 2020' with a goal to modernise Sri Lankan agriculture in line with strategies and opportunities of the 4th Industrial Revolution (4IR) including Automation, Artificial Intelligence (AI), Precision agriculture, Nano-technology, Internet of Things (IOT), Big data, Robotics, 5G technology, etc.
The objective of this paper is to identify the future potential in agricultural development in Sri Lanka in-line with the new government policy framework of 'Vistas of Prosperity and Splendor – 2020' and develop strategic operational options for agricultural modernisation.
People centric economy – 'Vistas of Prosperity and Splendor – 2020' policy framework and agricultural
development
The new government policy framework of the 'people centric economy' includes the agricultural development in the country as one of the key goals specified. It is explained as 'Agriculture to be Developed Through Advanced Technology'. Further, the agricultural policy would be to promote an agricultural sector in which small producers using small extents of land producing high quality outputs using modern technological methods, which cater to fulfil the food security in the country and demand for the regional and global markets.
The key areas included in the new policy framework for agricultural development are: A domestic agriculture – a revolution in the use of fertiliser; Seed and planting material production, Marketing and value chain promotion, Lucrative income from export crops; Building up a healthy and productive nation by guaranteeing the peoples' right for safe food; Strengthening the fisheries sector by designing a strategic development plan; Promoting milk production in the country as well as the promotion of poultry and eggs for the export market.
Structural changes in the agriculture sector in the economy
The contribution of the agriculture sector has been gradually reduced from 11.9% in 2010 to 7% in 2019 and the overall agriculture sector contribution to the total employment in the country is about 25.3% of the total workforce (CBSL, 2020). The total value of agricultural exports in Sri Lanka was $ 2489.2 m (Average) per year (Range – $ 2041-2793.4 m per year) during the period from 2010 to 2019, which mainly comprised of tea, spices and vegetables. The contribution of agricultural exports to the total value of exports was 23.5% per year (average) during the same period.
The structure of imports of agricultural products in the country is comprised of mainly consumer goods (e.g. food and beverages, rice, sugar and confectionaries, dairy products, lentils and other agri-products); Intermediate goods (e.g. Wheat and maize, fertiliser, etc.) and investment goods (e.g. Machinery and equipment). The value of imports of consumer goods per year was ranged between $ 2870 m and $ 4979.7 m (i.e. $ 3902.5 m – Average per year) during the period from 2010 to 2019. Further, the value of total consumer goods imports in 2019 was 19.8% as a percentage of total value of imports in the country.
The relative reduction of contribution of the agriculture sector to GDP shows the path for restructuring the sector by diversifying the export base and encouraging to import more intermediate and investment goods, rather than consumer goods. Accordingly, it needs to take new initiatives with strategic directions for agricultural development in the country.
The identified future global and domestic challenges in the Sri Lankan agriculture are namely: maintaining food security and safety; attracting foreign direct investment (FDI) into agriculture sector, adopting modern technologies, integration into the global and regional niche markets and modernising the agriculture sector. The strategic policy and operational options are needed to modernise the agriculture to improve productivity and sustainability of natural resources for catering to the future domestic and global needs by promoting tradeables.
Making Sri Lanka work: Future potential in agricultural development
'Making Sri Lanka Work', the future potential in the Sri Lankan agriculture was analysed based on the main components and opportunities in modern agricultural development, namely: Agri-business development (Farmers Vs Agro-Entrepreneurs – covering production, processing, storing, value chain development and distribution); Intensive farming (The green house farming, vertical farming, and intensive livestock farming to improve productivity per square metre of land); Organic farming (Using organic fertiliser and promoting organic culture and cycle of production); Precision agriculture (farming management concept based on observing, measuring and responding to inter and intra-field variability in crops to increase productivity at low unit cost); SMART farming or Internet of Things (IOT) (IOT based real-time data captured by IoT sensors, farmers can predict the weather, check radiation and soil levels and water conditions, prevent diseases and manage crop conditions); and Sustainable agriculture ('meeting society's present food and textile needs, without compromising the ability of future generations to meet their needs, which means to sustain soil health as well as crop productivity by harmmaning all resources in such a way that does not degrade natural resources. Accordingly, the future potential in agricultural development relies mainly on the above components of modern agriculture.
There are three pre-requisites, which are needed to be implemented prior to embarking the policy changes on modernising the Sri Lankan agriculture. The proposed pre-requisites are namely: (a). Development of National Agricultural Development (NAP) plan including modernisation of the Sri Lankan agriculture; (b) Designing a new institutional development framework for operationalisation of new policies; (c) Development and adoption of farmer cooperatives or farmer company model as a mode for modernisation of agriculture.
The concluding remarks on 'Making Sri Lanka Work: New government policy of people centric economy and future potential in agricultural development' includes the absolute necessity of the digital transformation, which is extremely pertinent and necessary for Sri Lanka's modernisation of future agricultural development, given its key role in the economy as a contributor to GDP, generation of employment opportunities, maintaining food security and safety and people's income and foreign exchange earner. Yet, the sector faces a growing number of challenges and constraints that include low productivity, lower potential for exports, poor product quality and standards, climate change, technology adoption, market integration, etc. It is very clear that Sri Lanka is lagging behind with adaptation of 4IR technologies in modernising the Sri Lankan agricultural sector in relation to ongoing technology based agricultural development. In this context, operationalising six 4IR based modern agriculture systems specified earlier is the path for really achieving the development policy goals of utilising advanced technology in agricultural development as envisaged in the new policy of 'Vistas of Prosperity and Splendor – 2020' of the government. Further, the recent COVID-19 pandemic has also reiterated the importance of maintaining food security and safety in the country as well, which needs agricultural modernisation to meet the challenges.
The way forward: Modernising the Sri Lankan agriculture within the framework of 'people centric agricultural economy'
It is obvious that Sri Lankan agriculture needs to be overhauled and modernised to face the present and future global and domestic challenges and convert it into modernised agriculture, catering to the domestic and global market demand including for maintaining food security and safety and assist to open up livelihood options for majority of the population in the country and contribute more to the national GDP. As a way forward, the following key six strategic operational options are proposed to establish and maintain to modernise the Sri Lankan agriculture including livestock (poultry meat and eggs), milk production and offshore and inland fishing sub-sectors in Sri Lanka. Under the pragmatic and dynamic policy environment proposed, modernisation of agriculture would be one of the Key Performance Indicators (KPIs) for the relevant Secretary, Ministry of Agriculture, Livestock and Fisheries in Sri Lanka, as it is being implemented in Singapore, and United Arab Emirates (UAE).
a. Mapping and zoning of agro-economic zones in Sri Lanka
The Government should encourage private sector investment into the agriculture sector for modernisation, technology transfer, production, marketing and value chain promotion to produce exportable agricultural products mainly. Attracting private sector capital through FDI, modern technology mentioned above, country should identify the agro-economic zones for encouraging private sector investment, which is the dire need in the Sri Lankan agriculture.
The agricultural land areas in the country are needed to be mapped and zoned into the following four categories based on the land availability and suitability for specific crops, environmental feasibility aspects, market access, and availability of access for marketing infrastructure. The categories are, namely: (a) Highly suitable; (b) Moderately suitable; (c) Least suitable; and (d) Unsuitable.
The agro-economic zones of highly suitable and moderately suitable zones would attract FDI with modern technology for modernisation of agriculture, technological advancements (intensive farming, SMART farming, Precision agriculture, IOT) and export promotions for high value exportable products, which eventually generates livelihood development options through employment, promoting agro-entrepreneurs and foreign exchange through exports and value added products, as it is being implemented in Thailand, Vietnam and South Korea.
b. Design a National Organic Agriculture Development Plan (2020-2025):
The development of a National Organic Agriculture Development plan (2020-2025) envisions Sri Lanka to be one of the organic agriculture leaders in the South Asian region in terms of production, consumption, trade and services in organic agriculture and product marketing at the regional and international level. For the purpose of designing a plan for the promotion of development of organic agriculture, there are eight strategic options proposed to be incorporated into the plan through the modernisation of agricultural sector, in line with the new agricultural development policy framework.
I. Establish a system for promoting organic Agri-Business and organic Agri-Business entrepreneurs in the country to cater to the global needs of organic agricultural products (e.g. rice, tea, vegetables, fruits, spices, etc.);
II. Amend the age old organic fertiliser act to promote organic culture in the country and stimulate organic fertiliser production, imports, distribution and usage in the country;
III.Promote R&D, knowledge dissemination and innovation in organic agriculture development;
IV. Develop an institution under the Ministry of Agriculture for promoting new organic culture and agricultural production, marketing, value chain and other services and extension;
V. Develop a certification system for organic agricultural products through Sri Lanka Standards Institute (SLSI),
VI. Design a generic promotional campaign for promoting production, marketing and consumption of organic products through electronic (i.e. Web, Facebook, TV, etc.) and print media (i.e. newspapers, magazines, popular journals, leaflets, handbills, etc.);
VII. Develop an Innovation Fund in collaboration with the private sector, foreign universities and donors to promote organic agriculture; and
VIII.Promote organic agricultural development extensively with establishing a separate unit for organic product extension services within the Department of Agriculture.
c. Develop a Digital Agriculture Strategy (2020-2025)
I.Developing a Digital Agriculture Strategy (2020-2025) is an absolute necessity for the Sri Lankan agriculture sector, covering all the aspects of production (type of crops, area, volume of production, etc.), marketing, processing, storage, distribution, exports, imports, and other relevant trade data (Department of Customs and Banks) and information through establishing a single digitised network to monitor and make policy decisions rationally, timely and precisely. Accordingly, the following five strategic options are proposed to digitise the Sri Lankan agriculture.
The Ministry of Agriculture needs to develop a roadmap for the long-term steps to digitalise Sri Lankan agriculture starting from preparing an Agriculture Management Information System (AMIS), covering domestic food crops, export agricultural crops and other export crops for export markets, products for niche markets, livestock, fisheries and milk production; for being digital agriculture, even to linkup with stock management through private and government sector producers, importers, processors, and wholesalers;
II.Design a new act for daily updating of stock positions of key food crops at the point of millers, processors, wholesalers, and importers of food chain to monitor and take rational decisions about food security, distribution and imports in the country;
III. Introduce a Quick Response (QR) coding system to trace the origin of the product, and brand, which helps to protect food safety;
IV. Develop a strategic plan comprising of three options which are (a) to develop an AMIS for proactive management, (b) to apply appropriate digital technology (i.e. Cloud facilities, mobile apps, island wide computer networks, etc.) with context to agriculture sector, and (c) to support sustainable agriculture.
V. The proposed five-year (2020-2025) strategic plan should include the following key aspects as well:
a.To impart knowledge and skills for farmers to digitalise agriculture through a system with mobile phone apps and other internet platforms;
b. To use GPS/GIS technology for mapping of areas under each crop or product for spatial distribution of Sri Lankan agriculture. This should be completed at the planting and harvesting of the product cycles;
c. To adopt digital technology with proposed AMIS for supply-chain management, imports, exports, wholesaling, retailing, processing, storing, etc.;
d. To integrate data and information for farmers' well-being and sustainable agriculture,
e. To add values into agriculture products for increasing accessibility to markets through linking and promoting e-marketing platforms.
d. Designing a food security and safety strategy framework, (2020-2025)
The Government has to give utmost priority to maintain food security and food safety (2020-2025) through designing a systematic approach by analysing the availability of volume of food by linking with proposed AMIS. The five-year plan envisions that population in Sri Lanka to have enough volume and sustainable quality food for maintaining food security and food safety with promoting public-private partnerships. For this purpose, the proposed AMIS will play an integral role to monitor the status of the food security in the country.
The plan for achieving the goal of building up a healthy and productive nation by guaranteeing the people's right for safe food includes the following four strategic options.
a) Producing food to maintain domestic consumption sustainably by increasing food production capability, investing in compulsory infrastructure, supporting with private investment in agriculture sector particularly for maintaining buffer-stocks, etc.
b) Supporting people at all levels, for promoting access to food at all times by increasing food production in community level by facilitating through logistics management (e.g. transport, storage, maintaining buffer stocks, etc.)
c) Encouraging high-quality production, reduce post-harvest losses, and suitable usage by enforcing food safety regulations along with the supply chain, branding, educating food literacy among people, reducing food losses (post-harvest losses) and wastage using modern technology;
d) Supporting to maintain food security, food safety and nutrition security by basing on R&D and modern technology to increase food safety and nutritious agricultural products.
e. Mega farming policy through farmer companies/cooperatives to promote agro-enterprises
In the Sri Lankan smallholder agriculture, it needs to introduce novel concepts in the small farming sector with community based mega farming through land consolidation, by maintaining the individual private land ownerships without any change. For promoting community based mega farming, the following five strategic options are proposed:
I. The fields of each small farmer in the neighbourhood are consolidated to make a large farm (mega-farm) under the supervision of a Farm Manager, who would be appointed by the Department of Agriculture, while the ownership of land remains unchanged to promote agro-enterprises with agro-entrepreneurs.
II. The objective of the area-based extension system is to make it achieve economies of scale in order to increase the bargaining power of farmers.
III. It is also very convenient for government officials to transfer site specific packages of modern technology to minimise cost and improve the productivity with intensive farming/ precision agriculture/and SMART farming with agro-entrepreneurs.
IV. The Farm Manager will be assigned the task of production planning, technology transfer, marketing, value chain promotion in the respective area, by promoting public-private partnerships for technology transfer, marketing, value chain promotion, building bank linkages for agriculture financing, etc.
V. All the land owners will be grouped as a Cooperative Organisation or a Farmer/Producer Company to promote agro-entrepreneurs in the mega farming programme in each location selected within proposed agro-economic zones.
f. Building a PPP model for exporting fish, poultry meat, eggs and promoting domestic milk production
It is required to develop Private-Private Partnerships (PPPs) or joint ventures for producing and exporting fish, poultry meat, and eggs and promote domestic milk production as per the new government policy on 'people centric economy' through opening up of investment opportunities for the private sector.
Sri Lankan offshore fish varieties such as Spanish mackerel, Trevally, Skipjack tuna, Yellowfin tuna, other tuna-like species, shark and skate, rockfish, shore seine species, prawns, and lobsters and ornamental fish varieties [Guppies, Plates, Gold Fish, Barbs, Danios (e.g. Zebra danio),Tetras (e.g. Serpae, Neon), Gouramis, Cat fishes, Cichlids,] are very popular and in high demand at international markets. To grab this opportunity, Modern technology, Geographic Information Systems (GIS) and GPS, IOT, Digitised equipment (sensors, robotics, automation, drones, etc.) could be utilised for fish and livestock production at mega scale for exports.
In addition, investment in modern technology packages for off-shore fishing like trawlers, GPS and GIS technology, communication technology and equipment, sensors for detection of fish stocks, fish processing centres, fish canning factories, etc. could be developed through private sector investment with new incentive packages (tax relief, tax holidays, duty free imports, etc.) by the Board of Investment (BOI) for promoting new technology, particularly for promoting the exports of off-shore fish varieties and ornamental fish. The plan for improving the inland fisheries production is also needed to be designed (2020-2025) to safeguard the nutrition security of the rural people in the country.
Further, the exports of poultry meat and eggs need to be promoted as BOI ventures with incentives to generate employment and foreign income. For this purpose, fully automated poultry production units, IOT, modern digitised processing, packing and refrigeration units are needed to be established through the private sector investment under PPP models. International forward sales contracts are necessary to be promoted to make place for an assured market for poultry meat, eggs and fish exports from Sri Lanka.
The domestic milk production can be promoted through forming Public-Private Partnerships (PPP) models to increase milk production, by designing a five-year plan (2020-2025) for promoting production and marketing (including milk value chains) by applying modern technology through establishing as BOI enterprises with obtaining FDI and applying strategies in the 4IR. In addition, it is necessary to promote to form milk farmer producer groups and consumption of liquid fresh milk among consumers.
Once the above strategic options are operationalised, it will be a paradigm shift in the modernisation of Sri Lankan agriculture to 'Making Sri Lanka Work' with a right direction of establishing a people centric economy in Sri Lanka in line with the Vistas of Prosperity and Splendor – 2020 policy framework of the new government. Finally, agriculture sector will be able contribute more to GDP and manage to earn foreign exchange and generate more employment opportunities through developing agro-entrepreneurships in Sri Lanka.
(The writer is a freelance consultant (agricultural policy, marketing and agro-value chains) and former Project Director, Smallholder Tea and Rubber Revitalisation (STARR) Project, Ministry of Plantation Industries and Export Agriculture. Email: [email protected])