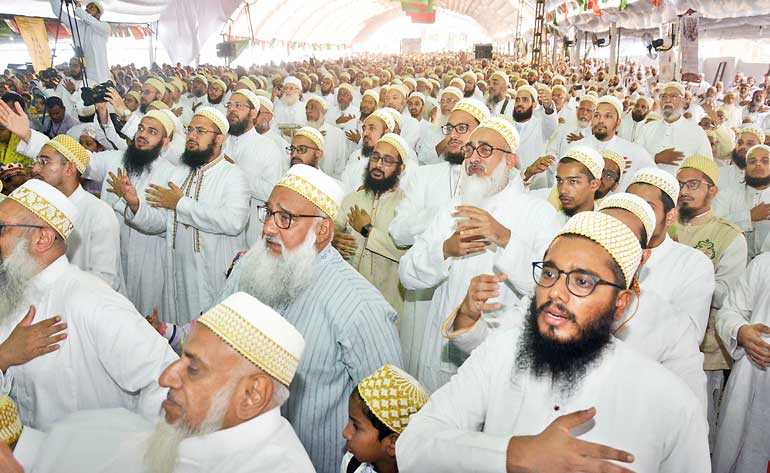 The tourism authorities are profusely thanking the Bohra community for bringing their global conference to Sri Lanka which filled all hotels in and around Colombo while the Government managed to prevent some protests planned during this time – Pic by Upul Abayasekara
It is agreed that all LTTEers were Tamils and not the other way. The same can be applied to the then JVP in 1971 and 1988 because not all Sinhalese were JVPers. Extreme ideologies and Muslim faith in general need to be understood before pointing fingers at Muslims in toto.

Currently the tourism authorities are profusely thanking the Bohra community for bringing their global conference to Sri Lanka which filled all hotels in and around Colombo while the Government managed to prevent some protests planned during this time.

At the same time FB is full of posts expressing inconvenience caused by traffic jam as well as concerns about delegates visiting Buddhist temples with their hats on. The traffic should have been planned by authorities well in advance while their visits to Buddhist temples are misinterpreted, raising the question whether Buddhism is a religion with rituals or a philosophy that offers loving kindness.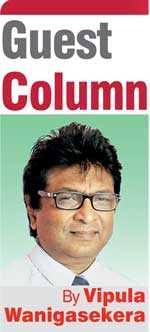 Prior to this, the National Conference on Peace, Harmony and Coexistence was held, at which Dr. Abdul Karim Alissa, Secretary General of the Muslim World League, attended as a special guest.

As a Sri Lankan, I felt a bit uneasy when a leading member of the clergy read out extracts of the Quran which I believe was highly uncalled for in front of a visitor who arrived to support the conference theme revolved around values of peace, harmony and co-existence.

So much so, Dr. Alissa himself mentioned in his speech that people must respect the law of the country and that is the million-dollar question that Sri Lankans need to ask themselves as to what extent the laws are respected and implemented in Sri Lanka leaving the Muslim factor out. These include from mishandling of traffic during the Bohra conference to alleged corruption in COPE reports currently being viewed on TV.

If people remember how hatred was brewing among Sinhalese for some years with the insurgency in the north and east culminating in July riots and what happened thereafter, it was a bitter history at a heavy price.

Except for the ideology of Wahhabism and its minority followers, be they scattered or together, no one in their sense can justify extremism that was evident in the modus operandi of the Easter bombing. Four months have passed since then and apart from having to bring perpetrators before justice, the Muslim community that came forward to report movements of extreme factions is now exposed without protection.

It is the ideology that needs to be countered and laws of the country that have to be implemented rather than what happens in some quarters like boycotting Muslim businesses. Not all Muslim businesses are multinationals. Muslims also run small businesses as small as kiosks and live in poverty-stricken areas.

History records Muslims flourishing after having taken control of trade around the Indian Ocean. Many of them settled in Sri Lanka which also resulted in spreading of Islam. Then came the most traumatic period for Muslim when their businesses were destroyed by the Portuguese who arrived in the 16th century. As per history it was the Sinhalese King in Kandy who had given refuge to some Muslims in the central highlands.

The Malays during the 18th and 19th centuries – Javanese and Malaysians who were brought in by the Dutch and British rulers – contributed to increasing the Muslim population in Sri Lanka while embracing Islamic traditions and cultural Islamic practices. Many of them served in armed forces and laid their lives in the battlefront in the war with the LTTE. They are also Muslims.

There were other arrivals of Muslims from India during the 19th and 20th centuries and they too contributed to the growth of Islam in Sri Lanka, although Pakistani and South Indian Muslims introduced Shafi'i school of thought.

The isolation of the Muslim community will have many ramifications. Some businesses that are generated by them enable circulation of money which cascades down to all stakeholders up to the grass roots.

Today with technological advancement in the medical sphere, there could be many ways of finding evidence if Dr. Shafi had actually committed an offence. But this should not preclude me from saying that I went through an endoscopic test in the mid-nineties through a Muslim surgeon and 15 years later my daughter underwent a gall bladder surgery by the same doctor.

Their level of efficiency in business pushes them right into the front, be it a small shop or multinational in today's level playing grounds. That said, most of the allegations against any Muslim can be investigated and pursued through the rule of law and regulations across the board and Kattankudy as well as Batticaloa Campus and if this is not done due to political or other reasons, why blame all the Muslims?

Let the law prevail for any offenders. With that, extending compassion by the ones who preach can resolve any issue with mutual understanding. I do not wish to write examples which would provoke some groups to react and sometimes in bad language.

In the end, Sri Lanka remains a developing country after 70 years of independence with a very high percentage of population living on Samurdhi. Some of the so-called patriots depend on foreign currency remitted by innocent wives and mothers going through immense suffering in the very countries against which they are up in arms.