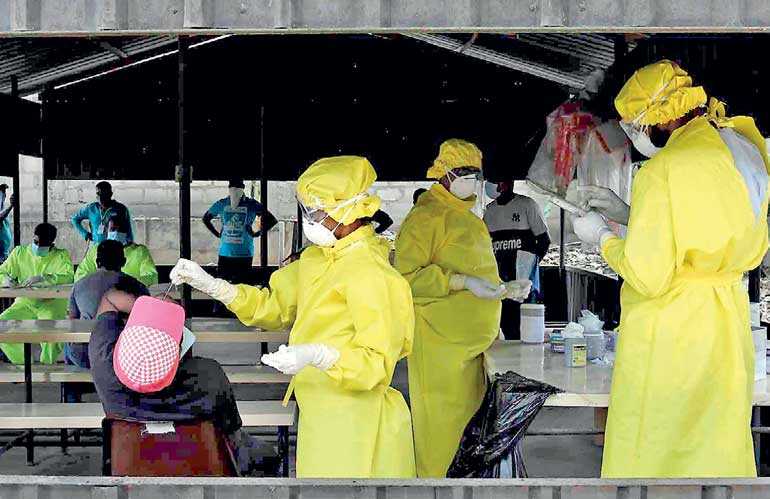 If we act calmly and responsibly and abide by the instructions given by the Health Authority, we can bring COVID-19 under control. We need to do so urgently, before it spreads among the vulnerable in our population or exhausts our hospitalisation capacity – Pic by Shehan Gunasekara
---
COVID-19 has caused a calamitous global crisis. While tens of millions have tested positive for this virus, over a million people have suffered and died from it.
The first COVID-19 case was detected in Wuhan City, China, in December 2019. By 31 October 2020, two sources of global statistics recorded about 46 million cases and nearly 1.2 million deaths in over 215 countries or territories (World Health Organisation (WHO), Worldometer).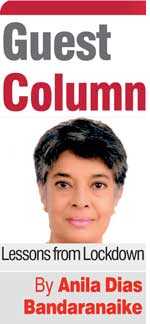 Today, medical research is being funded to find a vaccine to protect us humans against it. At the same time, countries are desperately trying to find ways to balance the fight against the spread of COVID-19 with keeping economic activities alive, so that people can have incomes, food, medicines and other basic needs to survive.

Lockdowns in many parts of the world and instructions to avoid crowds, ensure social distancing, wear masks and wash hands, have helped reduce further spread. However, many people, especially poor daily wage earners, have lost access to incomes, nutrition and medicines. Hence, the authorities have to balance these lockdowns, which minimise human interactions, with their economic consequences.


Blame game

Meanwhile, the print and electronic media have gone more viral than the virus itself. COVID-19 takes priority over most news globally and locally.

In Sri Lanka, posts early in this second wave reflected our penchant for playing the blame game. Unsourced video clips, WhatsApp forwards, articles and interviews, blamed, in turn and according to inherent prejudices, different players. These included the company which discovered the first case testing positive, all garment workers and manufacturers, the president, the Government, Indians, etc.

Rational, factual explanations on the subject were to no avail, such as procedures followed for quarantine of returnees from India and the difficulty in identifying positive but asymptomatic cases. Perception and prejudice the Sri Lankan way conquered reality.

A President, who was hailed a few months ago as being decisive and having everything "under control" the military way, is now blamed for being lax and allowing the virus to spread. Bogey-men of the past, Tamil "terrorists, Muslim "extremists" and Christian "convertors", each irrationally equated with travel to India, gathering in mosques and churches, were blamed for the first wave. They have been completely overshadowed by "virus-spreading" garment workers of today. These workers have been ostracised in their neighbourhoods, their significant contribution to the economy forgotten, just because the first case identified in the second wave was a garment factory employee.


A matter of perspective



In the midst of this avalanche of information and misinformation, we need to get our own situation in perspective. In light of the rising number of positive cases in Sri Lanka since 5 October, what exactly about COVID-19 is relevant for our future health and safety?

First, let us examine available statistics. We will need to rely on these statistics, despite some concerns about their accuracy.

By 31 October, Worldometer reported that in 34 million closed cases, 97% had recovered and 3% had died. Available medical evidence highlighted serious respiratory problems among severe or critical COVID-19 cases. Deaths related to those respiratory problems were usually complicated by other underlying health problems, often age-related. This implied that the elderly and those with certain health problems were more vulnerable.

We already experienced in Sri Lanka a few months ago, the outcome of the young, fit and healthy Navy cohort, who had tested positive for COVID-19. They showed few symptoms, were minimally ill and recovered within a few weeks.

By 4 October, Sri Lanka's Health Authority had reported a total of 3,400 cases, with 3,260 recoveries and 13 deaths, leaving about 130 active cases. These statistics indicated over 99.6% recoveries and less than 0.4% deaths in 3,273 closed cases. Hence, Sri Lanka's fatality rate was much lower than the current 3% global rate.

On 31 October, with 9,800 total cases, recoveries at 4,200 and deaths at 19, active cases were nearly 5,700 and still rising. The fatality rate was still relatively very low, at 0.5%.


What we need to know

Against this background, we need to know:

1) How likely are Sri Lanka's COVID-19 cases to become serious?

2) How likely is death from COVID-19 in Sri Lanka?

3) Can our health services handle the number of serious cases?

4) Who in our population are vulnerable to becoming serious COVID-19 cases and need protection?

We also need to remember that our entire knowledge of this virus is from global experiences of less than one year. Theories abound, on its long-term health impact, on possible tests, on preventive means and possible medication. It is too early for any ongoing research to be conclusive. Humanity is still groping in semi-darkness.

According to one reputed source in the literature, there have been around 170 different molecular tests, 37 antibody tests and two antigen tests made available. The available scientific literature does not provide certainty about the accuracy (false positives and false negatives) of these tests.

As more tests are being performed under varying conditions across the globe, the level of accuracy could also be compromised. Hence, while the reported number of positive cases has been rising fast, we really do not know the true extent of the spread anywhere. So, let us try to find answers to our questions with the available evidence.


Answers to our questions

1) How likely are Sri Lanka's COVID-19 cases to become serious? Regional comparison of available global statistics shows that fatality rates have, thus far, been much lower in Africa and Asia, than in the West. The Americas and Europe, holding 23% of world population, accounted for 76% of COVID-19 deaths. Asia and Africa, with 77% of world population, accounted for 24% of deaths. (Source: Worldometer). Current global research is testing theories that in "developing" countries of Africa and Asia 1. Greater previous exposure to viruses or 2. Compulsory childhood inoculations against viruses, such as the BCG vaccine, had provided a higher resistance to COVID-19. Others theorise higher resistance in those regions due to diet or climate or a milder strain of the virus. Whatever the conclusions, evidence points to a relatively lower severity of the disease in Sri Lanka, thus far.

2) How likely is death from COVID-19 in Sri Lanka? Hard evidence from the first eight months indicated that the fatality rate was very low, at less than 0.5% of closed cases. At end-October, Sri Lanka's death rate from COVID-19, at 0.9/million in the population, was very low, ranking 185 among 215 countries.

3) Can our health services handle the number of serious cases? The Health Authority previously conveyed that hospitals had adequate capacity to handle 2,000 cases. Early in the second wave, it was conveyed that this would be increased. On 31 October, Sri Lanka had nearly 5,700 active cases, significantly higher than hospitalisation capacity. Thus far, mild cases have not needed hospitalisation. However, we do not know how many cases were serious and needed hospitalisation. From eight months experience, we can expect the number of serious cases to be low. To date, the Health Authority has revised its strategies over time to meet changing needs in the country. It has not yet indicated inability to handle the changing hospitalisation load.

4) Who in our population are vulnerable to becoming serious COVID-19 cases and need protection? Global experience over the past 10 months has shown that the elderly and those with certain health-related pre-conditions (cancer, diabetes, heart disease, etc.) are at higher risk of severe respiratory complications from COVID-19. We need to ensure that those who are vulnerable in our homes and communities are protected from exposure to COVID-19. We can do so by following the precautionary instructions given by the Health Authority – wearing masks, washing hands, minimising exposure from and to others, avoiding crowds, social distancing, etc.

While positive cases rise, Sri Lanka's experience of the past eight months points to most cases recovering from a mild bout of the virus, unless they belong to an identified vulnerable group. Hence, it is not the spread of the virus per se, but to whom it is spreading, where and how, that should be our focus to bring it under control. We need to stop wasting time playing the blame game. We should refrain from all unauthenticated, unhelpful or sensationalised "forwards" or "news" in social or mainstream media. This only adds to panic and irrationality. If we act calmly and responsibly and abide by the instructions given by the Health Authority, we can bring COVID-19 under control. We need to do so urgently, before it spreads among the vulnerable in our population or exhausts our hospitalisation capacity.
---
The author is a former Assistant Governor and Director of Statistics of the Central Bank of Sri Lanka
---