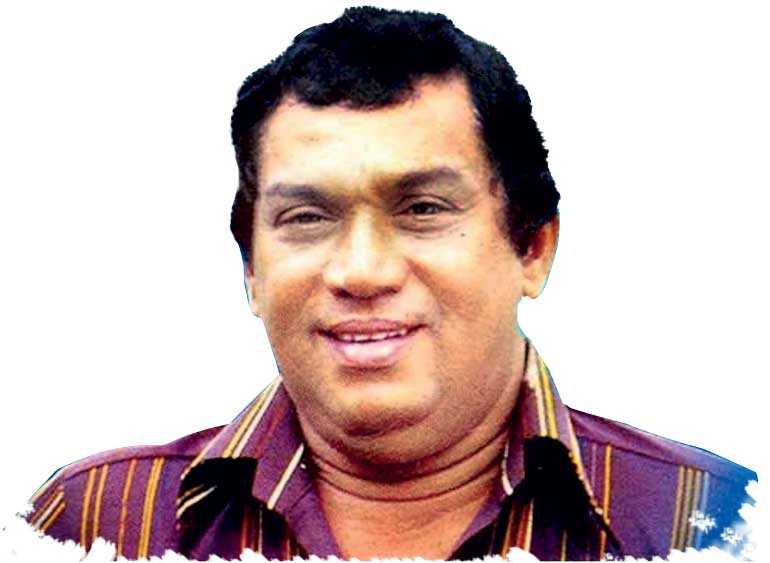 H.R. Jothipala

"Poruthukeesi Karaya, Ratawal Allanna Sooraya," the lilting Baila song from 'Sandesaya' was the first Sinhala film song that I became immensely fond of as a little boy.

I did not see the film 'Sandesaya' when it was first released in 1960 but I memorised the words by listening to the song and sang it with gusto those days. It was only some years later that I saw the film made by Maestro Lester James Peries in a cinema theatre and relished the 'Poruthukeesi Karaya' song and dance on screen. Sadly the film 'Sandesaya' is lost forever but some song sequences including 'Poruthukeesi Karaya' are available on YouTube and still provide much pleasure.

'Poruthukeesi Karaya'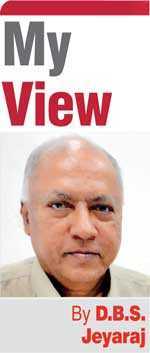 The words of 'Poruthukeesi Karaya' were written by Arisen Ahubudu who was a teacher at S. Thomas' College, Mt. Lavinia. He was known by the name of Ariyasena Arsuboda when I was a student at the school by the sea.

The melody was composed by the renowned musical genius Sunil Santha. The orchestra was conducted by the legendary R. Muttusamy known as "Muttusamy Master" who modified Sunil Santha's original tune slightly. The main singer H.R. Jothipala was accompanied by Sydney Artigala. Singers Mohideen Baig, Ivor Dennis and a few others joined in the chorus.

The song was hugely popular in those days. It also popularised the singer H.R. Jothipala. Although he had been singing in films for a few years, it was 'Poruthukeesi Karaya' from 'Sandesaya' that sky-rocketed him to fame instantly. The song was identified as H.R. Jothipala's number over the radio and on records then.

It was this song which familiarised Jothipala's name first to me in my childhood days as a singer of Sinhala film songs. I continued to be a fan of his as I grew up and he himself grew in stature, fame and success as a movie singer. The inimitable Jothipala was known as "Jothi" to all. Had this golden voiced singer been among the living, he would have celebrated his 84th birthday on 12 February. The 'Spotlight' column focuses on "Jothi" this week.

Playback singing and playback singers

Hettiarachchige Reginald Jothipala known as Jothipala and Jothi was arguably Sinhala cinema's most popular playback singer. He did sing over the radio, perform in stage shows and make records and audio tapes. Yet he was essentially a playback singer of Sinhala film songs. Many regard him as the finest of all. A brief note about playback singing and playback singers first.

As in the case of Indian language films, an indispensable feature of Sinhala language films have been for long the song sequences. These songs are usually picturised on actors or actresses who lip-synch them on screen. Sometimes they are merely montage sense with songs audible in the background. It is common knowledge that the singing voices we hear belong to off-screen singers known generally as playback singers. The songs sung by these playback singers are usually pre-recorded for movies.

Fortunately for these playback singers they are given credit in the film titles as well as the soundtrack albums. Film songs therefore are identified by the singer who actually sings them and not the actor who lip synchs on screen. Indian and Sri Lankan movie playback singers have gained much popularity and many, many fans over the years by their singing.

H.R. Jothipala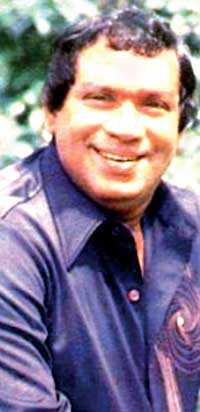 As mentioned earlier Jothipala excelled as a singer of Sinhala film songs. In a singing career that spanned more than three decades from 1954 to 1987, Jothi sang over thousands of songs in hundreds of films. He also staged several stage shows in many parts of the island called 'Jothi Raathriya' or 'Jothi Nite'.

The handsome Jothipala also acted in 35 films of which two were produced by him. Jothi lived for only 51 years on this planet but he enjoyed great popularity and had a huge fan following during the greater part of those years.

Jothipala was a loveable personality. What endeared Jothi to most persons who interacted with him was his unpretentious simplicity, easy accessibility, good-natured friendliness and a happy-go-lucky lifestyle. I too was fortunate in getting to meet Jothi personally on a few occasions at his Maligawatte residence and at other places along with mutual friends. He was at the zenith of his career then but I was bowled over by his charming geniality, frank openness and helpful nature. Jothi was an embodiment of genuine friendliness.

It was this inherent goodness to which touched the hearts of many. It is a fact that Jothipala's initials "H" and "R' stood for Hettiarachchige and Reginald respectively. But Jothi's friend and popular singer Nihal Nelson provided a new meaning to those initials. Nihal Nelson once publicly dubbed H. R. Jothipala as "Hadawatha Raththaran Jothipala" meaning "Heart-of-Gold Jothipala". Nelson reportedly said on that occasion – "Jothipala is a golden man with a good heart… He is someone without qualities like hypocrisy, jealousy, and greed. The heart of such a man is gold. Jothipala will always be golden-hearted."

A perfect match

There is a particular quality about Jothipala's rendering of songs for actors on screen that has impressed me greatly. What is most remarkable about Jothipala's singing in films was the manner in which his voice blended and harmonised with those of the actors he was voicing for in the films. Be it Gamini Fonseka, Tony Ranasinghe, Joe Abeywickrema, Ananda Jayaratne, Roy de Silva, Vijaya Kumaratunga, Ravindra Randeniya or Sanath Gunathilake – Jothipala's voice would sound just like those of the actors when you saw and heard the songs on screen. More importantly he would convey the emotions of the on screen actors expressively through his singing. Jothipala's singing would harmonise with the personality of the actors and the particular roles portrayed by them on screen.

This is a quality I have seen only in the singing of T.M. Soundararajan in Tamil films. The voice and singing mode of TMS as he was known would perfectly suit the actors he lip-synched for like Sivaji Ganesan, M.G. Ramachandran, Ranjan, Udayakumar, S.S. Rajendran, Jaishankar, Ravichandran, Asokan and at times artistes such as Gemini Ganesan, Muthuraman and Sivakumar. The feelings and emotions portrayed by the roles being acted in would be expressed soulfully by TMS through his singing. He would modulate his voice in accordance with those of the actors and emote passionately with the roles they played on screen.

Thuguluva Meenatchi Iyengar Soundararajan known as TM Soundarajan has often been asked by interviewers and fans about how he managed to accomplish this feat. TMS himself has supplied the answer frequently. Among the answers given by TMS, the response he provided just a month before his demise was most revelatory. Here is the relevant excerpt from an interview conducted C. S. Venkiteswaran appearing in 'The Hindu' in April 2013.

Question: You are one of those rare singers who has sung for almost all the major stars in South Indian filmdom. But when you sang for each one of these actors, you adopted a different style and tone that suited the actor's voice and character.

Answer: Yes, I closely follow the voice of the actors and their tonal modulations when I sing for them. For each actor, I sang in a voice that matched his voice, his persona and the character he played in that particular film. On some occasions I had to bring in a melancholic mood, in others, romantic situations, tragedy, comedy… Sometimes I had to make my voice sound masculine, sometimes very youthful or aged. I have done it all according to the situation and the actor. A film singer has to be sensitive to all these things; it's not just a matter of singing in front of a mike. In many instances, I literally used to 'act' while I sang many songs; many of the actors used to come and watch me sing to get a feel of my acting so that they could use it in front of the camera! I think playback singing involves the element of acting too. Most importantly, the actors admired my songs and had great faith in me. My songs helped to lend character to their roles, adding to their charm and intensity, the reason why great actors such as Sivaji and MGR insisted on my singing for them. Jayalalitha once said that it was my songs that brought her close to MGR.

T.M. Soundararajan's forte was his full-throated, high-octave singing. When compared to TMS, Jothipala though possessing a deep voice was a "softer" singer. Almost a crooner at times. Nevertheless it did seem to me that Jothipala like TMS had a singing style made unique through voice modulation and variation that blended well with the voices and expressions of the actors he was singing for.

I once asked Jothi about this. It was in the midst of a "spirited" conversation. Though Jothi laughed and replied in Sinhala that I was asking him about the "tricks of his trade", I could see that he did like my question. He was very happy at being compared to TM Soundararajan. Unfortunately we were in the midst of friends who were in the 'Kaalaa, Beelaa, Jolly Korapallaa' mood and mode. They kept intervening with their own comments. After a while Jothi told me that my question needed a detailed discussion. "Can we talk about this at another time?" he asked. I said, "Yes". Alas! That "another" time never came.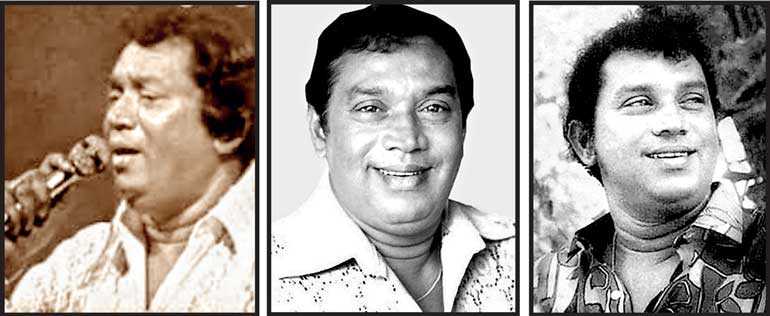 Jothi's singing in the words of Gamini Fonseka

The answer however came 17 years after Jothipala's demise. The super star of Sinhala cinema Gamini Fonseka was interviewed extensively by journalists Prasad Gunewardena and Stanley Samarasinghe for the 'Daily News' in 2004. Gamini passed away a week later. Although substantial portions of the interview were published in 2004, some parts appeared in print some years later.

One segment of the interview was published seven years later in 2011. The focus of the belatedly published interview was on Jothipala. Gamini Fonseka was quizzed intensively on Jothi. I found that the views expressed by Gamini answered to a very extent the question I had about Jothi's singing style suiting the actors he was voicing for. I filed the interview in my journalistic archive thinking I must use this if and when I ever get to write about Jothipala. So I am reproducing it in full here to provide readers with a fresh insight about Jothi's singing in the words of Gamini Fonseka:



Q: Mr. Fonseka, you have acted to the voice of H. R. Jothipala in many films as Jothipala was the main playback singer for films. Did Jothipala's voice suit those roles you portrayed?

A: Why not? That was the only voice that really suited not only me but also Vijaya Kumaratunga and even Joe Abeywickreme.
Q: Did you find anything unique in the voice style of Jothipala?

A: Jothipala was the only film playback singer who offered the true vocal expressions to the lyrics with variations that was an incentive to any actor.
Q: Could you elaborate what those expressions and variations were and how they were helpful to you as an actor?

A:: You see, Jothipala sensed the lyrics. He would at times imagine the location of shooting and call us to say that he would be exercising some voice variations to suit the location of shooting.

Q:: You mean to say that Jothipala was not just a playback singer but also a singer who visualised what he was going to sing?

A: Yes...very few singers are gifted that way with a thorough knowledge of what they were going to offer to the actor in those roles.

Q: Jothipala is now no more. Do you see a void in film playback singing or have others filled it?

A: The void of Jothipala can never be filled by copying him. That void will last till the last day of Sinhala film industry. I am proud to say that I, Vijaya and Joe acted to the vocal expressions and variations in Jothipala's voice.

Q:But singers like Gratien Ananda have now come into film playback singing...How do you view such entries?

A: Gratien is a good singer. His voice may suit some young actors of today who have no method in acting. But the difference is that Jothipala had a very powerful voice with lot of weight.

Q: Why do you say like that when Gratien too has a very deep voice that suits films?

A: It's not matter whether the voice is deep or shallow (Gamini displays a mischievous smile). Jothipala's voice suited the role of the actor and the personality of the actor. It gave the feeling to the audience inside a cinema that the actor himself was truly singing and acting. That is the uniqueness in the voice gifted to Jothipala by nature. I would say that Jothipala was a gift to us in the film industry.

Q: What was so unique in the voice of Jothipala?

A: Unique? I will tell you... Jothipala was the only playback singer who sang to joy, emotion and grief, the three essential areas in film songs.

Q: But, today we see many trying and copying Jothipala. How do you view that?

A: No one can do it. Those who try will fail miserably and fade away in no time.

Q:So you say though Jothipala is no more, Jothipala has come to live forever in the singing scene?

A: Yes...Actors will be remembered after their deaths only when one of their films is shown again. Singers are different. Their voices continue to be heard. Jothipala died 17 years ago but his voice is being heard daily. In contrast, you will not see Gamini Fonseka on the screen daily after his death. Of all singers, H.R. Jothipala is exclusive. He has come to stay. As long as the island-Sri Lanka-exists in the world map, Jothipala will never die. I may die today or tomorrow and be forgotten. But that will not happen to Jothipala till the end of this country and the world. You would realise that my words are true even after my death. Nature has made Jothipala live another day that is why he is unique.

This then was the monarch of Sinhala cinema's opinion about Jothipala. It is indeed great to hear Gamini Fonseka praising the unique singing of H.R. Jothipala and bestowing immortality upon the singer.

Jothipala however was not born with the proverbial silver spoon in his mouth or in this case with a microphone in his hand. He was not of the privileged classes. He never received formal training in classical music or singing. He was essentially a play-it-by-ear person.

Jothi rose up from humble beginnings and reached stardom as a singer through perseverance and talent. H. R. Jothipala's rise to fame is an impressive tale. It will be related in detail in the second part of this article next week.
(D.B.S. Jeyaraj can be reached at dbsjeyaraj@yahoo.com)