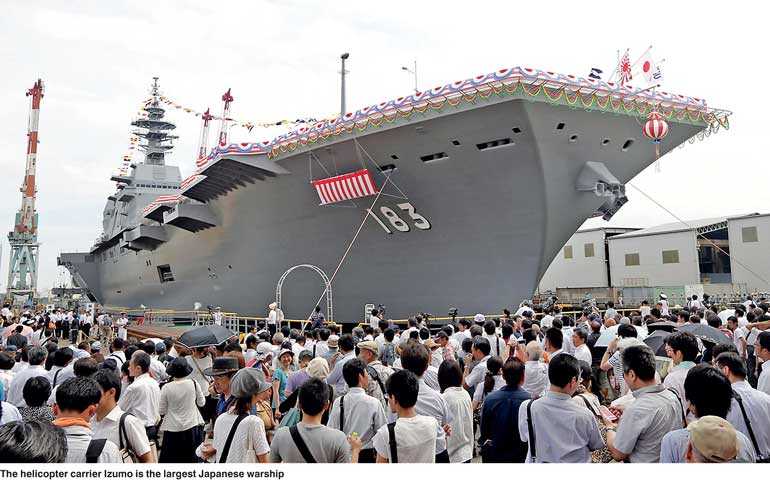 The visit of Japanese Defence Minister Itsunori Onodera to Sri Lanka, the very first in the history of Sri Lanka and Japan, is of great significance to the Indian Ocean region.

Onodera's itinerary, which included a trip to Hambantota, Trincomalee and Colombo ports, assumes importance in the light of China's bid to build ports in Bangladesh (Sonadia), Myanmar (Kyaukpyu) and the Maldives (Laamu Atoll). China already has a presence in the Colombo port (the Colombo International Container Terminals) and Hambantota port, which it has taken on a 99 year lease with a 70% stake. It has built and is operating the Gwadar port in Pakistan which is explicitly part of President Xi Jinping's Belt and Road Initiative (BRI).

Japan is deeply anxious over China's determined moves to secure control over the countries in the Indian Ocean region by executing infrastructural projects which could have a dual civil and military purpose. In this context it is noteworthy that the Japanese naval vessel 'Ikazuchi' was in Trincomalee during Onodera's visit.

In his meeting with President Maithripala Sirisena, Onodera pledged to help strengthen Sri Lanka's maritime security. Japan has already donated two coast guard patrol craft costing over $ 11 million in total. A week earlier, Japan's ally, the US, had given $ 39 million to strengthen the island's naval capabilities.

The Japanese maritime security expert Saturo Nagao says that there is a Japanese-Sri Lankan project for 'Maritime Safety Capability Improvement' worth approximately 1.8 billion yen or $ 16.5 million, which includes the provision of two patrol vessels to the Sri Lankan Coast Guard.

In his report to the Pathfinder Foundation, former Sri Lankan navy chief, Adm. Dr. Jayanath Colombage, says that analysing the country of origin of foreign warships visiting the Port of Colombo from 2008 to 2017, it is observed that 65 Japanese Maritime Self Defence Force (MSDF) ships had arrived in Sri Lankan ports, mainly the Port of Colombo.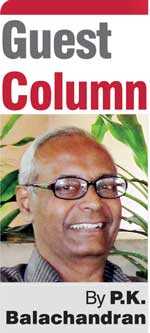 "This is rather a high number and second only to Indian warships visiting Sri Lanka," he notes.

Colombo Dockyard Ltd.

Japan has been involved in Sri Lankan shipping for long. The 40 year old Colombo Dockyard Ltd. (CDL), one of the most profitable enterprises in Sri Lanka, is a joint venture between the Government of Sri Lanka and Onomichi Dockyard of Kobe, Japan.

In the beginning of 2017, the Sri Lankan Coast Guard (SLCG) placed an order for the construction of two 85-meter Offshore Patrol Vessels (OPV) with the CDL to enhance its capabilities in deep sea surveillance. This project will be undertaken by a loan provided by the Japanese government.

"These two OPVs will have the capability to launch and recover helicopters and small utility boats at sea. They will be the biggest ships of the SLCG and will enhance its capability to a higher level," Adm. Colombage says.

Explaining Japan's interest in Indian Ocean security, Adm. Colombage says that with total dependence on foreign sources for its oil needs and with the sea routes under increasing threat from the Chinese, Japan has become the 'most energy insecure nations' in the world.

Japan is not only converting its Self Defence Forces into regular armed forces, but is also sewing up political, economic and military alliances with key countries in the in East-West trade route.

Japan is currently the most energetic champion of an India-Japan-US-Sri Lanka strategic maritime alliance.

Contrasting Japan and China

Unlike China's port and infrastructure building projects under the Belt and Road Initiative (BRI), Japan's investment activities in the Indian Ocean are not publicised and therefore go unnoticed, though they are quite large.

Dr. David Brewster of the National Security College at the Australian National University, writes that Japan's 2015 'Partnership for Quality Infrastructure' initiative involves infrastructure spending around $ 110 billion in Asia over five years. In 2016, the initiative was expanded to $ 200 billion globally (including in Africa and the South Pacific).

Here are some of the noteworthy projects listed by Brewster: Nacala port, Mozambique ($ 320 million); Mombasa, Kenya, port and related infrastructure ($ 300 million); Toamasina, Madagascar – port ($ 400 million); Mumbai, India – trans-harbour link ($ 2.2 billion); Matarbari, Bangladesh – port and power station ($ 3.7 billion); Yangon, Myanmar – container terminal ($ 200 million); Dawei, Myanmar – port and special economic zone ($ 800 million).

Japanese projects come under the rubric of its 'Free and Open Indo-Pacific Strategy' (FOIP). Japan's regional strategy is essentially about providing alternative responses to China's growing economic role in the Indian Ocean region but with one much trumpeted distinction that it is 'transparent' and of a unimpeachable technical quality.

"Its strategy emphasises the Ise-Shima Principles endorsed by the G7, including safety, reliability and resilience, social and environmental considerations, local job creation and transfer of know-how, alignment with host country development strategies, and economic viability. The strategy also emphasises norms such as transparency and non-exclusivity," Brewster notes.

Unlike America, which opposes China's initiative for the sake of opposing in a zero sum game, Japan does not. Japan provides a practical alternative. Unlike the US, Japan realises that developing countries desperately need infrastructural development and strives to meet this need by offering better terms and better quality products, though the Japanese tend to be finicky to the discomfiture of the host countries.

Being a non-military state, Japan is trying to show itself as an economic power with no military ambitions in contrast to China which, with all its claims to the contrary, is seen as expansionist power by many countries especially those around the South China Sea.

There is also this propaganda that Chinese companies get the host countries into debt and then go for a debt equity swap to gain control of the infrastructure as in the case of the Hambantota port. David Brewster says that over time, Chinese companies acquire a 'sole use facility' in place of the initial 'common use facility'.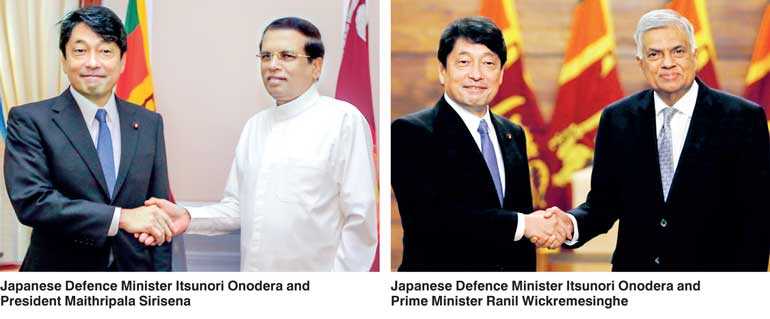 Japan prefers multi-lateral effort

The other major difference between Japan and China is that the Japanese prefer to work with other countries and not exclusively, Brewster points out. The Japanese are eager to co-opt India in their projects in the Indian Ocean region.

For example, they are keen on developing the Trincomalee port and its hinterland in collaboration with India, an idea endorsed by Sri Lankan Prime Minister Ranil Wickremesinghe.

China, on the other hand, has been by-passing India and India too has been suspicious and hostile to China despite frequent Modi-Xi meetings and the issuance of pious communiqués. India and the US used their diplomatic influence on the Sheikh Hasina government in Bangladesh to thwart the award of the Sonadia port project to China and get the Matarbari port project awarded to Japan.

India the cornerstone

Relations with India are the cornerstone of Japan's Indian Ocean maritime security policy. Japan has concluded several security agreements and treaties with India including the 'Joint Declaration on Security Cooperation between Japan and India' in 2008. Japan now participates in several multi-lateral and bi-lateral naval and coast-guard exercises involving India, such as 'Malabar' and 'JIMEX'.

In 2017, for the first time, Japan's MSDF participated in the 'Pacific Partnership' a multilateral exercise off Hambantota with the participation of military and non-military personnel from the USA, Australia and Sri Lanka.